Keeping Track of Your Stuff During a Move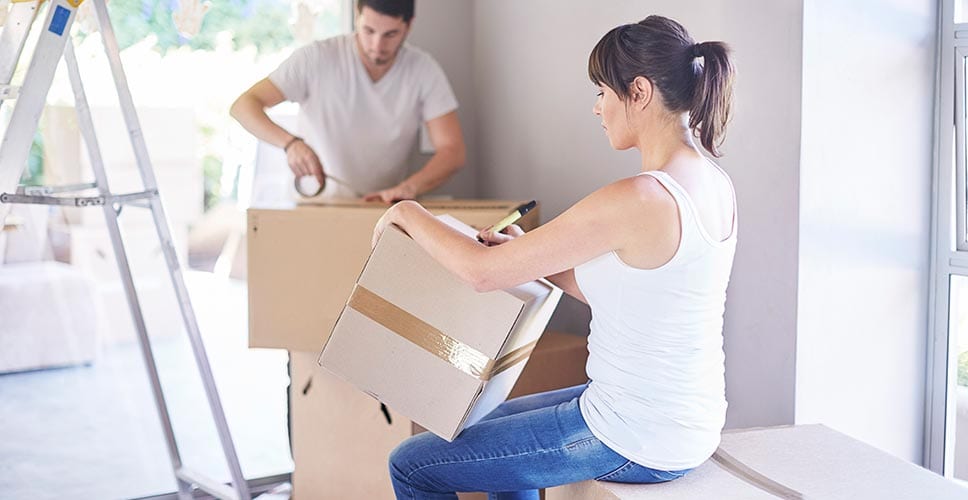 Moving can be exciting, but also daunting. When you're preparing for a move, just the thought of packing up all of your stuff can be overwhelming. But like any other big project, it helps to break tasks down into smaller, more approachable parts. If you keep a home inventory and value organized packing, keeping track of your things during the move will be much easier.
First, channel Marie Kondo. Organize your things and purge what you don't want or use anymore; then perform a home inventory. A home inventory will come in handy both during your move and once you get to your new home, for insurance purposes. Whether you're moving yourself or hiring movers, these thoughtful tips on how to organize a move will help make the change more exciting, and less stressful.
Start with three categories
Not sure where to start? These three categories can help you figure out how to organize a move. First, before making an organized packing list, get rid of items you no longer need or want.
Toss it: It's silly to move junk to your new place. Think of how much less packing you'll have to do if you just toss it! Don't make snap decisions because you're in a hurry, but don't linger over items either.
As you're going through your things, ask yourself the following questions:
When was the last time you used it?
Do you really need to keep it?
Are you willing to pay to move it?
If you haven't used it in a while, you don't need it anymore, or you feel it isn't worth paying to move to your new place, you know what to do.
Give it away or sell it: If the item is in decent shape, donate it to organizations that take second-hand goods, like Goodwill and many others. You also might want to have a moving sale. Or consider selling it on open-market platforms like Facebook Marketplace. It's an easy way to score a few extra bucks that could help you pay for the move.
Move it: If the item made the cut and it's going with you, great. Proceed to your home inventory.
What about food? If you don't want to hassle with packing and moving a few canned goods and packs of pasta, don't waste it, give it to a food charity.
Make a home inventory list
It's easy to break your possessions down into groups of things by room. But a visual aid also can be helpful. Here's how you do it: Draw a rough floor plan of your new home and label the different rooms. Then, make separate lists of the items that will go into those rooms. You'll be using these lists when you start packing.
This is also beneficial down the line because most insurance companies suggest or even require that you keep a home inventory to determine how much coverage you need, or in the case of damage or loss. It may take a little work up front, but once you have it, you can easily update as needed.
Color-code your list
If you're a color-code kind of person or someone who just needs an excuse to buy office supplies, make up a system of color-coding for different rooms: garage is green, bedroom is blue, and so on.
Color-coding, not your thing? That's OK. Just make up a system that will work for you and your family. It might help, too, at this point to start making labels that correspond to your inventory lists by room. But don't just label something "Master Bedroom;" add a more specific description like, "Master Bedroom: nightstand contents."
Certain retailers also offer color-coded packing tape – so if you really want to know how to organize a move, match your color coding system to each color of tape.
Save your list after the move
Remember to save your home inventory list after your move and to add to it as you purchase new items for your home. The list might come in handy one day if your home sustains fire, flood, earthquake damage, or if you experience loss. You'll need to submit an organized record of your possessions to claim insurance reimbursement.
Why should one person have all the fun?
Most couples or families have one person who they see as the "organizer." If that's you, congratulations. As you well know, that can be good and bad. While it's nice to be thought of as organized, it's also an excuse for you to do all the work. So get the whole family involved in organized packing. Make sure that everyone understands the system in place for your home inventory. If children are old enough, make them responsible for their own rooms, and give them fun games, like timed packing, to help make participation enjoyable, not a chore.
The bottom line
Changing homes can be stressful, but with a little know-how about how to organize a move, you'll be in great shape, and able to focus on the exciting new adventure, rather than the hassles involved in moving.
First, you'll want to get rid of things you no longer want or need. Donate them or toss them, just don't move them with you. You'll want to make a home inventory, too. This will help you down the line with insurance estimates and claims, too, so it's a good thing to have. Get the whole family involved and try to make it fun.
Remember: Moving presents a large life change for everyone. Why not make the entire process exciting?
Frequently asked questions
Where can I get boxes for my move?
From your office to schools and Craigslist, there are many options for getting free and cheap moving boxes.
Can I buy color-coded boxes for organized packing?
A few retailers may offer color-coded boxes, but you'd be just as well off using cheaper colorful masking tapes.
How can I make organized packing fun for my kids?
Turn packing into a fun set of engaging games to get your kids excited about the process.
Virginia Brown contributed to this article