10 Charities That Will Take Your Clothes Donation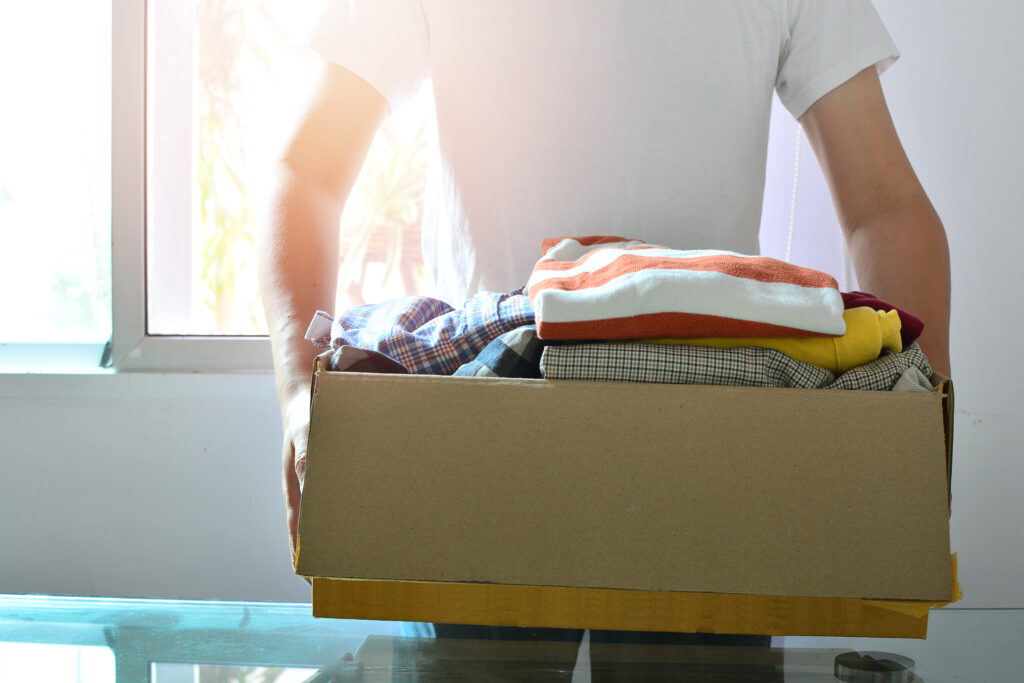 When you move, sometimes you can't bring everything with you. Whether you're downsizing or just want to get rid of excess stuff before moving into a new home, donating clothes can be a great option. You can get rid of lightly-worn clothes that you don't have use of, while also allowing for those things to find another home and cutting down waste: two birds, one stone.
Clothes donations can also benefit you when tax season comes. Most places will give you a receipt so you can deduct the value of your donation from your taxes.
So, the main question remains: Where are the best places to donate clothes? Let's take a look at a few.
The best places to donate clothes when you move
1. Goodwill
Goodwill has been in business since 1902 and operates across the nation. Chances are, you'll be able to find a Goodwill location just by searching "donate clothes near me."
The clothes you donate are either put in their stores, auctioned in bulk if they aren't sold, or recycled. In return for donating clothes, Goodwill will give you a receipt so you can write off the donation on your taxes.
Donations they accept: Goodwill takes all types of clothes, including shoes and accessories.
How to donate: Most Goodwill locations offer both pick-up and drop-off services near you. Find a Goodwill in your area here.
2. The Salvation Army
The Salvation Army was founded in 1865 and has locations all across the country. Where do your clothes go after you donate them? They are put in the Salvation Army's thrift stores and then recycled if they can't be sold. The organization provides receipts so you can write off your donations on your taxes.
Donations they accept: The charity accepts all forms of clothes in addition to other household items..
How to donate: Salvation Army offers both drop-off and pick-up services.
3. American Red Cross
The American Red Cross has been around since 1881, and it's been providing essential disaster relief aid for over a century. You might not think of the nonprofit as a place for donating your clothes, but they currently partner with GreenDrop, an organization that specializes in the sale of donated clothing and household items. These funds then go directly back to the American Red Cross.
Donations they accept: GreenDrop accepts new or gently used clothing, household items, kitchenware, small furniture and more.
How to donate: Visit a drop-off location or schedule a pick-up.
4. Vietnam Veterans of America
The Vietnam Veterans of America began in 1978 and now has chapters nationwide. They sell the donations they receive to provide funds to soldiers, and then they recycle the clothes they can't sell. When you donate, you can get a deduction on your taxes.
Donations they accept: They accept clothing donations of all types and sizes.
How to donate: Vietnam Veterans of America offers both pick-up and drop-off donation services.
5. One Warm Coat
One Warm Coat has a simple mission: provide free coats to children and adults in need. Last year, over 260,000 people received free coats from the organization.
Donations they accept: New or gently used coats.
How to donate: Find a coat drive near you (usually in fall or winter months) or drop off at one of One Warm Coat's nonprofit partners.
6. Dress for Success
Dress for Success began in 1997 and now operates nationwide. Your clothes donations are given to women who need business or career clothes for interviews and jobs. Donations are tax-deductible.
Donations they accept: Dress for Success takes clothing that is business casual and work-appropriate.
How to donate: You can drop off your donations with Dress for Success. Find a donation center in your area.
7. St. Vincent de Paul
St. Vincent de Paul was founded in 1833 and is a worldwide nonprofit. The donations they receive are put in their thrift stores and sold at a lower price. Anything that can't be sold is recycled. You can deduct your donation from your taxes.
Donations they accept: St. Vincent de Paul takes most clothing as well as shoes, belts, handbags, and jewelry.
How to donate: They provide clothes donation pick-up and drop-off services. Find a location near you for specific details.
8. United Way
United Way was founded in 1887 and is a worldwide organization. The donations they accept are put into their stores so people in need can purchase clothes at a low price. Donations to the United Way are all tax-deductible.
Donations they accept: United Way takes just about any type of clothes, including swimsuits, snow boots, winter coats, and prom dresses.
How to donate: They have both drop-off and pick-up services. Find your location to donate.
9. Big Brothers Big Sisters of America
Big Brothers Big Sisters of America was created in 1904 and is a nationwide organization. They take used clothes and put them in their thrift stores to sell or auction them off in bulk. The funds help them provide more services to children and the community at large. Additionally, any donation to Big Brothers and Big Sisters of America is tax-deductible.
Donations they accept: Accepted items vary by location.
How to donate: They offer both clothes donation pick-up and drop-off services.
10. Soles4Souls
Soles4Souls was created in 2006 and is a regional nonprofit based in Tennessee. They take gently used shoes and give them to people in need across the U.S. and around the world. They also help people start businesses by selling the donated shoes they receive. You can write off your donation on your taxes.
Items they accept: Soles4Soles accepts gently used shoes.
How to donate: They have several drop-off locations, or you can ship your shoes for free. If you're feeling ambitious, consider hosting a shoe drive!
How to decide what clothes to donate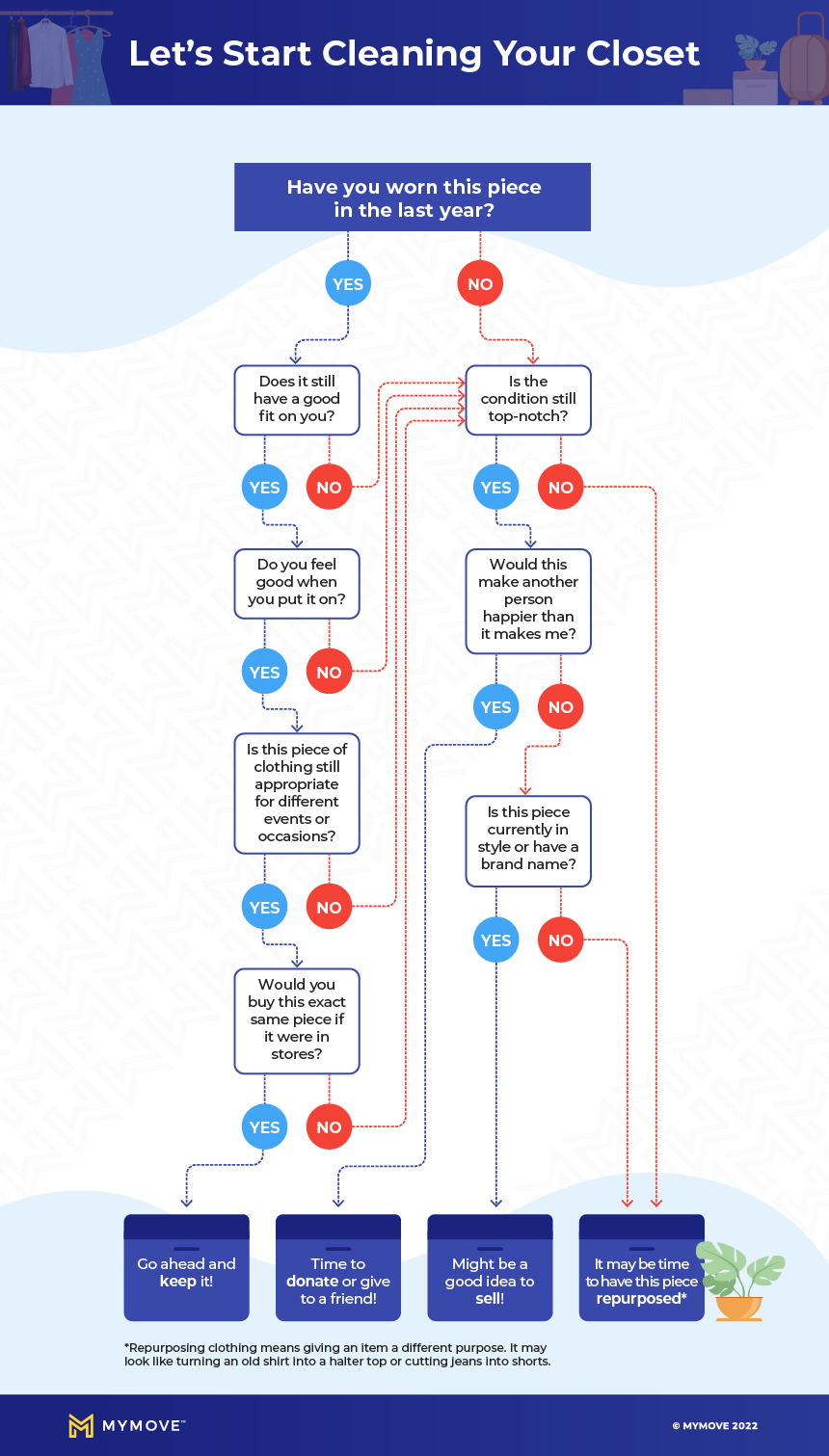 Deciding to donate and deciding what to donate are two completely different things. Don't worry, though. We have some tips on how to decide what to keep, what to donate, and what to toss.
Step 1: Make three piles of clothes
When going through all your clothes, it's best to create three separate piles: what you need to keep, what you want to donate, and what is in such bad condition that it's not worth donating and should just be thrown in the trash. It can make the process much less overwhelming.
Step 2: Try to only donate clothes that are clean, hole-free, and gently used
While some clothes donation organizations will take just about anything, it's best to give them only the stuff that is wearable. The people getting the donations will appreciate them much more if they are clean, free of holes, and only slightly used.
Step 3: Check to see what the organization will take
Before you go to drop-off at your donation or have your donation picked up, make sure to check what the organization takes. Not every organization near you may take shoes or certain types of clothing. It will save time if you know beforehand what to bring and what to leave behind.
Step 4: If you've had it for a few years and haven't worn it, donate it
If you've had something for more than a year or two and there are no occasions coming up for that piece of clothing, donate it. It's clear you don't love it as much as you thought you would. Donate it, and hopefully, someone else will fall in love with it.
Step 5: If it's too big or too small, donate it
You also only want to keep things that fit you now. Having clothing in your closet that doesn't fit you takes up much-needed space (in moving boxes and in your new home). Give it to a clothing donation organization near you and buy smaller or bigger clothes when you need them.
Step 6: Does it fit your current lifestyle?
Does that mini skirt still make sense with your 9–5 daily grind? Are you ever going to wear that Hawaiian shirt again? If something no longer fits your current lifestyle or personal style, donate it! Most likely, it will just spend time in your closet at your new home if you don't. Donating it will free up some space for you and the item might be the perfect thing for someone else.
The bottom line
If you're planning on sorting through your closet before your big move, the charities we've covered (or one you find on your own) will certainly benefit from your clothing donations. You won't regret the donation — and you definitely won't regret having a clean and organized closet once you're done.
Frequently asked questions
Q:
How do I organize my clothes for donation?
A:
Go through all your clothes and sort them into three piles: keep, donate, and toss. Whatever you choose to donate can go in bags or boxes and either be dropped off or picked up by the clothes donation organization.
Q:
Should I donate or sell clothes?
A:
That's really up to you. Do you need extra money for your move? You might try selling your clothes, but there is no guarantee they will sell. By donating, you can almost guarantee someone in need will appreciate your donation and get some use out of your old clothing.
Q:
Is it better to donate to Goodwill or Salvation Army?
A:
Neither is better than the other. They both help poor, impoverished, and/or homeless people who need jobs, clothes, and food. Both help with job training, but Goodwill specializes in it by having people work in their stores. Salvation Army also helps with disaster relief, veteran services, and services for the elderly.