Where to Donate Food When You Move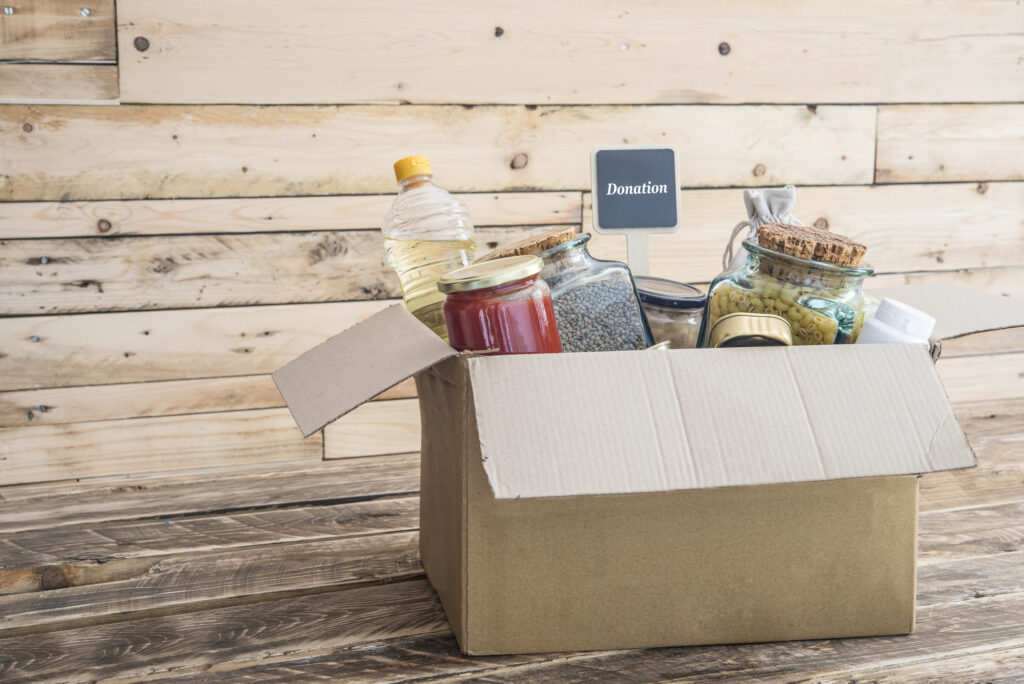 There are many aspects of moving that are easily forgotten in the middle of transitioning. You could have your nose to the grindstone and then with a week left before the moving truck arrives, you find yourself  asking the question, "Where can I donate food?" The good news is, there are quite a few choices for food bank donation.
Here are 6 places where you can donate canned foods when you move
1. Feeding America Food Banks
Feeding America is one of the most prolific organizations in the United States, running food banks and other places to donate food in almost every state. This includes 200 Feeding America Food Banks where volunteers collect millions of pounds of food to distribute to all of their surrounding counties. The organization secured and distributed 4 billion meals last year by sending food to food pantries and supplying meal programs. its goal is to end the fight against hunger in America and beyond.
How to donate food to Feeding America Food Banks:
Visit its online tool to figure out if there is a Feeding America Food Bank near you. Each of its foodbanks has a separate website and information regarding drop-off times and requirements for where to donate food.
2. Second Harvest Food Bank
Second Harvest Food Banks can be found all over the nation. Although each Food Bank is its own entity, they all work together to serve those that are food insecure and aim to develop struggling communities. They collect millions of pounds of food each year, taking donations from grocery stores to limit their waste stream, from farmers if they have excess produce, and from individuals in food drives. The food banks often provide health management classes and help find pediatric care when needed.
How to donate food to Second Harvest Food Bank:
To find out if there is a Second Harvest Food Bank near you, conduct a Google Search with your area or state name and type in "Second Harvest Food Bank." This will aid you in finding the address of the nearest one as well as their individual requirements for dropping off food donations.
3. Central Texas Food Bank
The Central Texas Food Bank supplies food in 21 counties in Texas, distributing over 3.1 million pounds of food to around 16,000 people each month. It doesn't focus only on supplying food to those in need, but also on culinary training and garden education programs for anyone interested. Its goal is to provide its community members with life skills that will enable them to find success. The Central Texas Food Bank doesn't only work on a state level, but a federal one as well; it has a government advocacy program to encourage political leaders to work to end hunger.
How to donate food to Central Texas Food Bank:
Food donations can be made at the headquarters in Austin Texas. Canned goods of any kind can be donated to its kitchen from 8 a.m. to 5 p.m., Monday through Friday. Central Texas Food Bank's address is:
6500 Metropolis Drive
Austin, Texas 78744
4. North Country Food Bank
Despite being headquartered in Minnesota, the North Country Food Bank doesn't serve just one state. It benefits a whole region, including Minnesota and part of North Dakota. This region includes 21 counties. This foodbank partners with more than 230 agencies and other food relief programs to distribute more than 7.4 million pounds of food a year. It doesn't only accept food donations from individuals but also utilizes surplus food coming from farms, grocery stores, and manufacturers.
How to donate food to the North Country Food Bank:
You can donate food to the North Country Food Bank by visiting its home base in East Grand Forks, Minnesota. Contact them at (218) 399-7356 for more information. Address:
1011 11th Ave NE
East Grand Forks, MN 56721
5. Northeast Iowa Food Bank
If you are moving from inside Iowa, or an area near northeastern Iowa, the Northeast Iowa Food Bank is an excellent choice for your food donations. The food bank serves 16 counties in the region, reaching out to an estimated 47,000 food-insecure citizens. This foodbank provides the food to 200 different nonprofits along with supplying its own service programs. It runs a garden to supplement the summer food it offers to the area.
How to donate food to the Northeast Iowa Food Bank:
Food can be dropped off at the Northeast Iowa Food Bank Monday through Thursday from 8 a.m. to 4 p.m. and Friday from 8 a.m. to 1:30 p.m. Simply go to the door labeled "Food Donations."  Check out its site to figure out the most needed items or items that it cannot accept. Northeast Iowa Food Bank's address is:
1605 Lafayette Street
Waterloo, IA 50703
6. FeedMore
FeedMore has its headquarters in Richmond, Virginia, and serves 34 counties and cities around it. This East Coast food bank has food programs available for children and seniors who find themselves in need. To do this, it partners with Meals on Wheels and offers other mobile and emergency food services and a Hunger Hotline. This hotline connects people in need to food resources in their area.
How to donate food to FeedMore:
If FeedMore is located in your area, donate canned foods and other goods by collecting nonperishable items in sturdy boxes. You can drop any food donations off at its Richmond campus, along with several Midas repair shops in the area.
How to donate nonperishable food, step by step:
Step 1: Research what food bank institutions are near you to find where to donate food.
Step 2: Find out which food items can be donated to that specific food bank.
Step 3: Gather up all of the items that you wish to donate, being sure to stick to the guidelines on the products and provided by your selected food bank.
Step 4: Once you have gathered the food, check to make sure no expiration dates have passed.
Step 5: Check out the packaging on each of the items. Do not send in any rusty or heavily dented cans, boxes that have been crushed, or anything that leaks.
Step 6: Take the food to the designated address during the appropriate time.
How to not waste your perishable food:
If some of your food is perishable and not fit for immediate donation, there are still options to keep it from going to waste: eat it or freeze it. Any items that need to be kept cold should be frozen and then placed in coolers right before the start of the move.
Try to use any food that you can before you leave by planning meals around the perishable food you have left in your pantry. Use sealable bags to store food items that shouldn't be left out in the open.
The bottom line
Donating food items to a food bank gets them off your hands and gives you a solution to an inconvenient problem: bringing your heavy cans of food with you on your trip. Better yet, it helps those in need. Find the food bank nearest you to donate all of your non-perishable items before you load up the moving truck.
Frequently asked questions
How do you pack food when moving?
Put bagged food into grocery bags and seal it with duct tape to stop them from leaking during the move. If there are spices and other glass jars place them in protective plastic wrap and set them securely into a box. Label perishable items so you can use them or refrigerate them immediately.
What do you do with frozen food when moving?
It's not generally recommended to bring many frozen foods with you on a move, since they can be kept cool for only so long. If you do need to bring some with you, fill coolers with ice and store your frozen foods until you are able to move them to a freezer.
Where can I donate food items?
If you're looking for where to donate food, search the internet for the food bank closest to you. Locating a food bank allows you to find the perfect place to donate non-perishable food items.