How to Stage Furniture to Make the Most of Your Space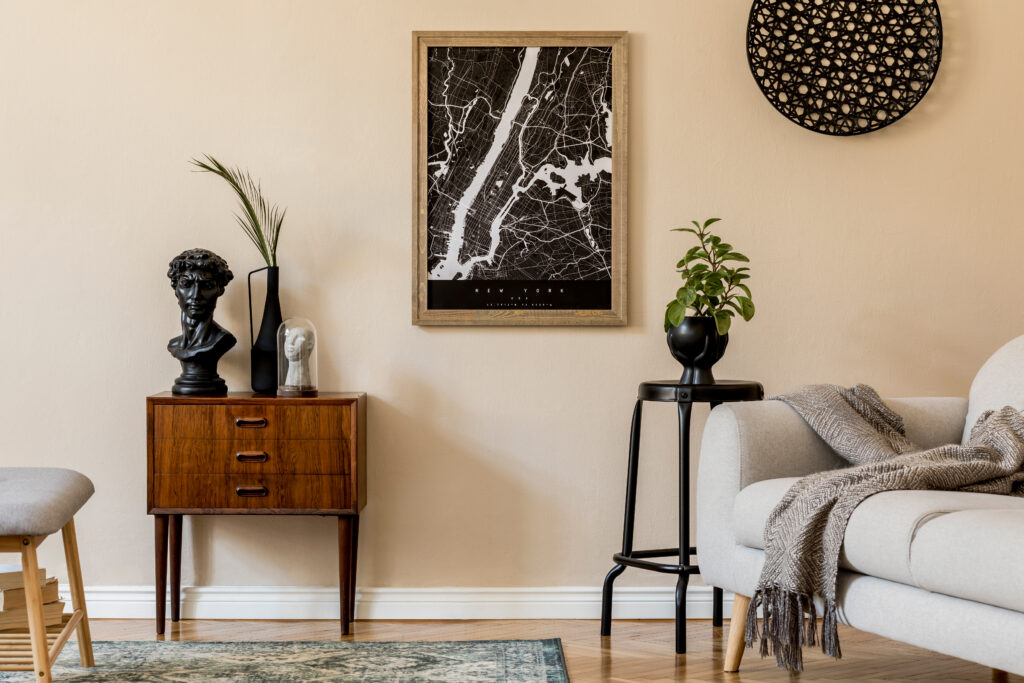 If you're a fan of home improvement and DIY shows, you most likely know that staging furniture is an important part of the pre-home sale prep. Home staging levels up your real estate game by arranging furniture and decor in a way that highlights the desirable selling points of your home.
And the statistics on the benefits of staging are favorable. According to the National Association of Realtors (NAR), 83% of buyers' agents felt a staged home made it easier for a buyer to imagine the property as their future home. The NAR also reported one-quarter of buyers' agents revealed the dollar value offered on a staged home increased between 1% to 5% in comparison to similar unstaged homes on the market.
Staging can be as in-depth as replacing and restyling the decor of your entire home, or taking a more basic approach by concentrating on the specific rooms that buyers tend to focus on. Whether you choose staging furniture that is already in your home or renting temporary furnishings, staging furniture to showcase your home is easy with these industry tips and tricks.
Staging furniture if you have a smaller space
The goal of staging furniture in smaller spaces is to create a look of openness. The last thing you want is for buyers to feel claustrophobic as they tour your home. If your current decor has unnecessary items that take up valuable real estate, embrace a minimalist approach. As buyers walk through your front door, wow them with the sense of airiness that helps them envision your home as theirs.
Furniture shape and decor placement also make a positive impact when staging a house for sale. Simple visual illusions showcase the true potential your home has to offer. A well-placed mirror creates a sense of depth and amplifies natural light. Armless side chairs, furniture with raised legs, and round pedestal tables can instantly transform a small space. Remember, less is more when staging a compact area. Be sure to research how to stage a home for sale and take advantage of the many resources and staging tips from the experts.
Staging furniture if you have a larger space
Bigger isn't always better when staging a house for sale. Sellers may think homes with larger square footage need lots of furniture. But it's a fine balancing act to stage spaces in a larger home, especially if it's already furnished with things like a bulky couch, oversized dining room table, or a floor-to-ceiling armoire.
Unsure if your home has an excessive amount of furniture? Step back and look at it through the eyes of potential buyers. Does it appear cramped and crowded? If it does, work to pare down the rooms to create a more spacious feel with furniture that is suitably scaled to the home.
In contrast, if your large home is lacking the right furniture to properly define a room, there are clever ways to revamp empty spaces. Simply bringing the couches and end tables a few inches out from the walls can create a "fuller" room. Go shopping within your home. Is there furniture that can be relocated to the room that's lacking? If your current contents just don't add up, consider renting short-term from a staging company.
Staging an empty house
An empty house creates its own set of challenges. In a home that is void of furniture, decor, and wall art, buyers will potentially find it difficult to visualize the layout of the home. While you may think an empty house would give the impression of being spacious, surprisingly, these homes actually appear smaller. Buyers may feel uncertain if their existing furniture will fit as the empty rooms don't provide an idea of scale. Empty homes can also bring unwanted attention to flaws and lackluster spaces that leave buyers less than interested.
Staging furniture in an empty home can be a daunting task to accomplish. The last thing sellers want to do is purchase furniture that won't be used after the house sells. This is where sellers leave staging a house for sale to the experts. Everything from furniture and accessories to artwork and area rugs can be rented. Before you put the for-sale sign out, speak with your realtor about home staging options. Some realtors offer staging as part of their selling package, while others will refer you to a professional stager. Prior to renting furniture to stage your home, ask if there's a minimum contract length. Some staging contracts are at least three months, even if you sell your house after two weeks on the market.
The bottom line
It's absolutely possible to stage your own home and feature its finest elements to attract buyers. Home staging isn't one size fits all, so it's essential to take a hard look at your space, the improvements needed, and determine the easiest and most economical way to unveil your new and improved home.
Frequently asked questions
How expensive is staging a house for sale?
The 2019 Profile of Home Staging from the National Association of Realtors (NAR) reports the median amount spent for staging furniture and other home staging was $400. However, every home has unique staging needs. The square footage of your home, number of rooms selected to stage, and furniture or decor rental will affect your final cost.
Do I actually need to be staging furniture? 
You're never required to stage. But staging furniture sets your home apart from comparable ones on the market. Statistically speaking, 40% of buyers' agents said home staging affected their buyers' outlook of the home. Ask an expert such as your real estate agent to weigh in on the potential benefit of staging your home. An initial consultation with a professional home stager will also provide valuable insight.
How do I know what staging decor will have the greatest impact? 
Certain rooms have a greater impact than others. Top contenders are the living room (93%), kitchen (84%), and the master bedroom (78%). If you're trying to stage your home on a small budget, skip the rooms with a smaller impact such as a children's bedroom (29%) or the guest bedroom (28%).

---