When Selling Your Home, Are Neutral Colors like Builder Beige Too Boring?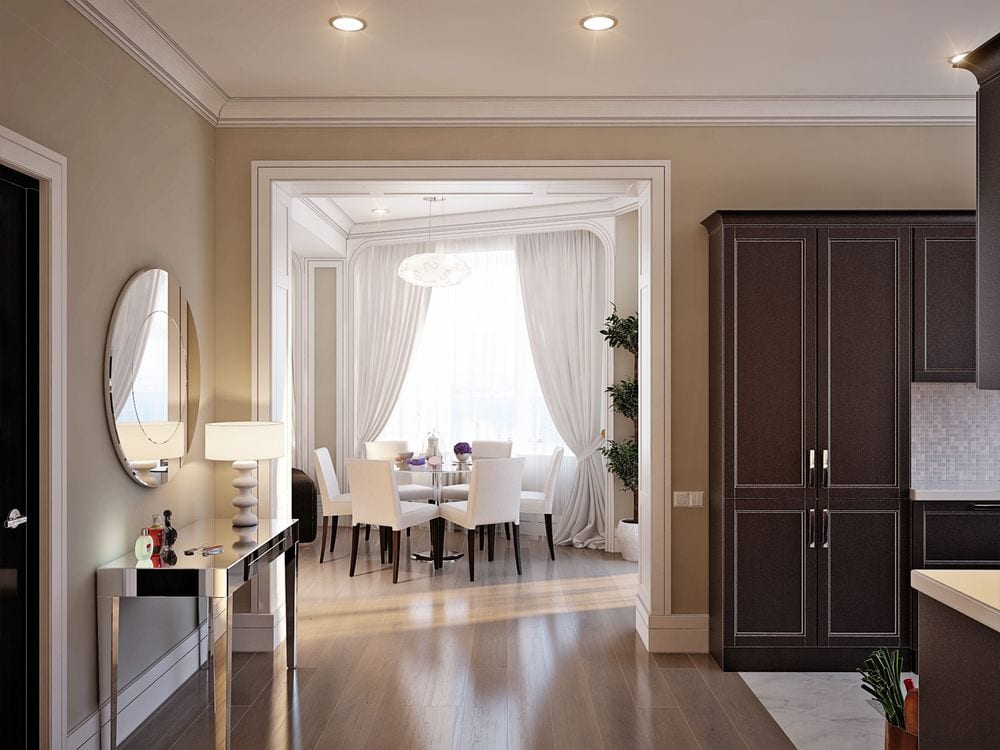 Although black is the most stylish color of every year, it's conventional wisdom to use neutral colors like builder beige, gray and taupe when putting your home on the market. However, some people (myself included) actually like these colors apart from resale factors. We believe that these neutral color palettes have gotten a bad rap. Is builder beige really boring? And is gray really too gloomy? What do realtors really think about these color choices when putting your home on the market?
Below are examples of these color palettes that might change your mind regarding neutral colors – along with advice from a handful of experts.
Today's beige isn't boring
Perhaps the issue with builder beige is related to the color choices of the past. "Today's more taupe-based beiges have a wonderful quality of warmth but don't have a yellowish cast," according to Carole Marcotte, lead designer at Form & Function in Raleigh, NC. "For example, WhiteTail by Sherwin Williams provides a warm backdrop for just about anything, and it's definitely not boring," she says.
She also likes Benjamin Moore's Maritime White, especially in the foyer.  "It is beige-esque, but has a lovely reflective quality and allows the artwork and other elements to standout."
As another alternative to the usual builder beige, Marcotte says she also likes Creamy by Sherwin Williams. It is a more flesh-based white. "Again, it has the warmth of a beige but with a decidedly different cast, and in strong light, it pairs down the flesh or potential peachiness."
When your home is on the market
So, is the builder beige adage still true when selling your home? "Beige is certainly a good color choice for the majority of a home's rooms when it's on the market – although I personally prefer white," says Sandra Miller, principal broker and licensed partner at Engel & Völkers in Santa Monica, CA.
"Regardless of the neutral shade you choose, I have also found that having subtle walls of color can be effective in driving a faster sale," she says. But Miller says it's important to know which color palettes are in style at any given moment.  "Right now, these trendy colors include any shade of gray, and mossy light green or blue," Miller explains. "Subtle color can help potential home buyers connect to a home on an emotional level, resulting in a faster sale."
Beige or gray can serve a purpose
According to John Manning, manager broker at  RE/MAX On Market in Seattle, WA, whether you love or hate builder beige and similar colors, they're used for a reason. "These colors create a neutral backdrop that allows prospective buyers to envision their own furniture, design and color scheme," Manning says.
"Color preferences are highly individualistic — one buyer may feel strongly about monochromatic grey, while another plans on using every jewel tone of the rainbow." Manning says he wouldn't advise a homeowner to paint their home beige to get an advantage – and if you do, learn how to paint over bold colors using fewer coats. "However, if you have the choice, keep the beige and dress up the home's best features with bright and interesting staging," he advises.
This sentiment is echoed by Rick Gehrke, a real estate agent with RE/MAX Executives in Boise, ID.  "I think that for the most part builder beige is the way to go because it appeals to a broader range of buyers."
However, he's noticing that trends can vary. "Baby boomers are still very much attracted to muted colors and beige really is the safe way to go." However, Gehrke says millennials tend to like statement walls with bright colors. Location can also make a difference. "In a suburban area, I recommend beige, but if you are in an upcoming and urban environment, a pop of color can be a selling point."
Adding color accents can help your home sell
Some realtors are noticing a trend away from builder beige and other neutral colors throughout the home. "Last spring, I had a listing in which every room was a different color: the living-room was crimson, the kitchen was black and white, and the four bed-rooms were all different colors — gold, green, brown and yellow," explains Angela Williams, a Birmingham, AL, based realtor at Extreme Agent Realty. She says she wanted to suggest that the homeowner paint over these colors, but refrained from making that suggestion. Williams was surprised that this home ended up being the hottest listing that she has marketed in a long time.
"We set at least ten appointments a week — and I thought we would have to replace the door hinges," she jokes. The eventual buyer loved the color scheme and said she had no plans to change it.  "We  learn something new every day," Williams says. "Trends are so much more fluid and diverse these days, and I believe that it is OK to let your personality shine through because there's probably a buyer out there who shares the same taste."
Matt Van Winkle, founder and CEO of RE/MAX Northwest, shares her theory. He flatly declares that building beige is boring. "Consumers don't want things that are boring," he says. "Now that doesn't mean to go too bold, but some well curated, professionally selected colors will go a long way to make the home more appealing."
What are your thoughts on builder beige and other neutral colors? Let us know in the comments!