Caring for Windows: 5 Tips for People in Glass Houses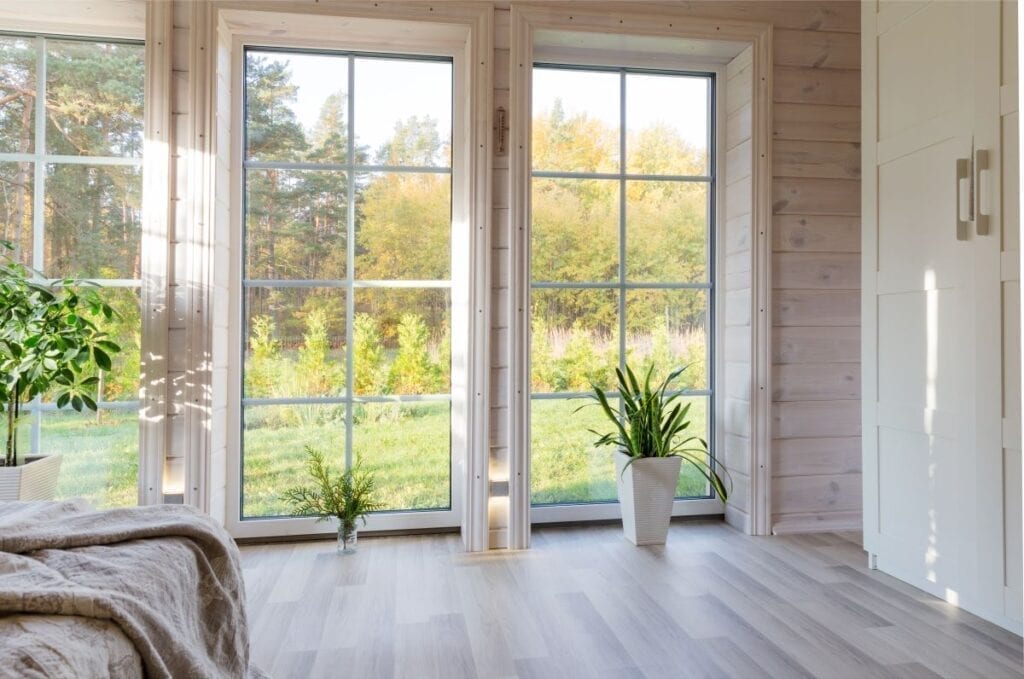 We hope you like the products we recommend. Just so you are aware, Freshome may collect a share of sales from the links on this page.

They say that people in glass houses shouldn't throw stones, but 13 years in a window-heavy home has taught me even more. The entire front of my home is made up of 12 windows and, while they're visually interesting, I'll be honest with you: they can be a major pain to keep clean. But as homes trend toward the more modern, windows and glass are only becoming more popular. Sure, that's great news for the window-washing company I use, but it also means a lot of homeowner upkeep, too. Caring for windows is more than just a spritz of blue glass cleaner. Here are some of the best tips I've learned through life in my own glass house.

[deals-hub-ad]
1. Go commercial
Regular window cleaner is okay for quick shine-ups, but your glass will need more. Homes that feature a lot of glass — especially in place of exterior walls — will accumulate buildup from weather, dust, animals and more. And sometimes, you can't even really see how dirty your glass is until the sun shines directly through. In any case, it's best to go for commercial window cleaning solutions. One of the best methods is to simply use soap and water to remove the grime. Then, use a commercial-strength window cleaner (it usually comes in foam, not spray) to shine up.
2. Wash and dry, but skip the hose
When I first moved into my glass house, I figured a quick spray with the hose outside would be enough to get rid of dirt and grime. But my window care contractor told me that I was probably just making it worse. Hose water is usually pretty hard and, what's more, mineral deposits can be absorbed by the porous surface of the glass. Caring for windows properly meant filling a bucket with water from inside my home, washing and then making sure to dry the glass before finishing. Never wash your windows in direct sunlight, either, since that's the time windows are most porous.
3. Check your sprinklers
Automatic sprinklers are super convenient, but they're really hard on windows. Having a sprinkler system that splashes up against the glass in your home means wave after wave of hard water and scale buildup over time. I definitely fell victim to this issue the first year in my home; the sprinklers had to be reconfigured. Limescale and hard water buildup are notoriously hard to get off of glass, so it's best to avoid them altogether. Make sure your sprinklers are pointed away from your windows and water areas close to your home by hand instead.
4. Reseal annually
Having a home that is heavy on the glass can be stunning, but it's not always the most energy efficient feature. Caring for windows can make your home more efficient and help keep energy bills low. Seals around windows and glass can shrink and warp over time, letting out precious heat in the winter and letting it in through the summer months. It's best to do an annual checkup of your window seals to make sure they're tight and still pliable. The good news? It's an easy fix. A tube of caulk can make all the difference in keeping your glass house comfortable all year long.
5. Call in the pros
I do my best to keep our glass home in good shape but I'm not an expert. That's why I have professional window maintenance come twice yearly to clean windows, clear debris, check seals and otherwise keep my windows in good shape. When your home features a lot of windows, having them look grimy or in disrepair makes a huge difference in the look and feel of the house. It's usually $150 to $300, but it's money well spent in keeping my house efficient. While I'm sure we'll have to replace our windows eventually, it's a huge cost. Taking care of your windows will extend their life and keep them looking great, so a professional opinion is definitely a worthy investment.
The bottom line
Caring for windows is a major part of homeownership. It's even more important when glass is one of your home's major features.