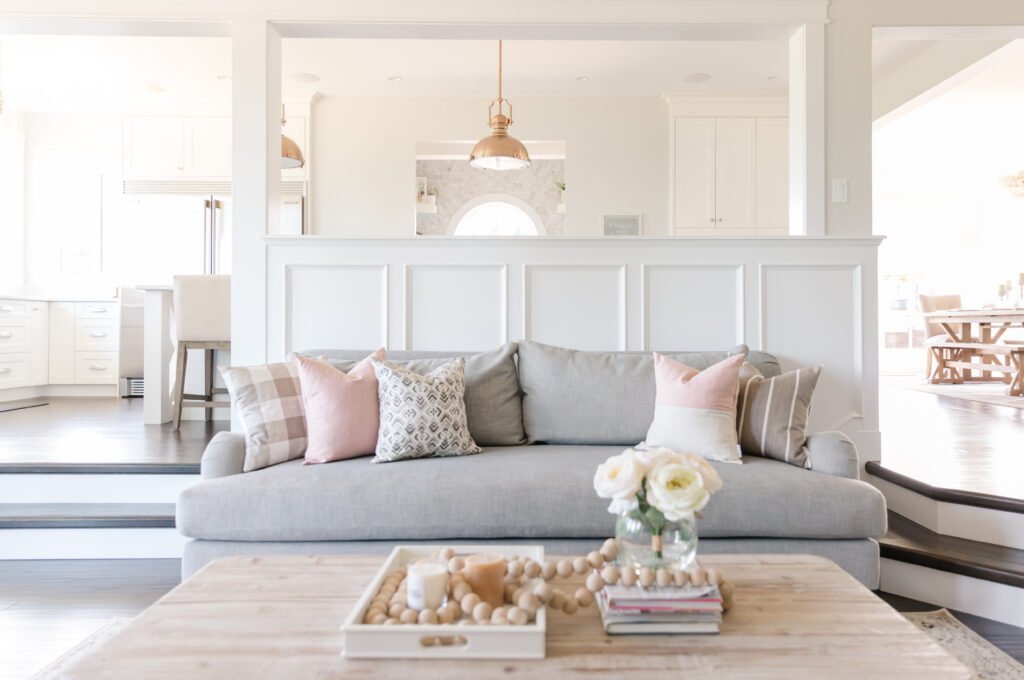 We've all seen pictures of gorgeous homes when paging through glossy magazines or perusing decorating websites. Potential buyers expect to be "wowed" when they walk through a home that they're thinking about buying, just like we want to be wowed when we're scrolling those home decor sites. Buyers don't want to see baskets of pet toys or your child's school photos. Instead, they want a beautifully manicured "blank slate" that they can picture decorating and personalizing. That's where home staging comes into play.
The best way to make listing photos and video walk-throughs look incredible is by staging your home. So what is home staging? Home staging involves adding decor, dressing up the home, and rearranging furniture so your house looks its best when it is up for sale.
In some circumstances, home staging can just be removing clutter, doing heavy-duty cleaning, and putting away day-to-day items. Other instances require more forethought. For example, if you need to paint, bring in furniture pieces, or complete landscaping. Up to 28% of sellers' agents state that, before listing a home for sale, they spend time staging them all. Statistics further reveal that 40% of buyers' agents believe that home staging has a positive effect on how a buyer reacts to homes.
Why home staging is important
We learn a lot about home staging from the 2019 Profile of Home Staging by the National Association of Realtors Research Group. For example, 83% of buyers' agents believe it's easier for a buyer to visualize properties as their future home if staging occurs. The most popular room to stage is the living room, with 93% of sellers' agents completing home staging here. A close runner-up is a kitchen, with 84% of sellers' agents making staging a priority there.
Home staging is more than refreshing paint or decluttering. Instead, you're making the home as appealing as you can to the most potential buyers as possible. By taking your personality out of each space, you're helping potential buyers visualize it as their future home. That visualization creates an emotional connection with a potential buyer throughout various areas of the home.
Other reasons why home staging is important:
Selling your home quicker: If a home stays on the market for too long, its price tends to drop. According to the Real Estate Staging Association, if you stage your home, it's on the market for up to 72% less time.
You can be objective: It's difficult to be objective if you're staging your home yourself because it contains many things that you love. Hiring a professional home stager helps keep you objective because they know how to create appealing, neutral spaces others are going to love.
Buyers can visualize: Home staging is all about painting a picture for potential buyers. If they can't see themselves in your home, then it's not going to sell. You're giving potential buyers opportunities to picture how their things are going to look in each space.
Staging is crucial because the real estate market is competitive. If you're selling during a seller's market, home staging could help you sell your home quicker and for a higher amount. If you're selling during a buyer's market, staging your home helps create additional foot traffic as soon as the listing goes up, increasing the chances of multiple offers.
Things to keep in mind when home staging
Home staging involves pre-planning, budgeting, and, under some circumstances, hiring contractors. During the pre-planning process, you're looking at what it's going to take to complete the task. For example, do you have family photos or children's toys that you need to store? Or do you have personal mementos from family vacations or anniversaries that you should put away? Making these plans takes your personality out of the space. It allows future buyers to visualize what it could look like with their possessions.
Next, inspect your home for things that might make a potential buyer turn down your property. Aside from looking at the paint in each room, inspect areas for damage. Do you have cracks in any of your windows, or do you need to repair a section of sheetrock? Here's where it's beneficial to hire a contractor to complete the work quickly and correctly. If your budget is low, determine which tasks you can take on as a DIY project. Taking this step also frees up funds for replacing furniture, adding décor, and improving the landscaping.
Additional points to keep in mind when home staging:
If your home is cluttered or messy, potential buyers may not feel it's worth the price you're asking.
Your home should speak to potential buyers with clean lines and minimalist décor. You don't want to distract them with overstuffed bookcases or toy bins.
To stage your home DIY, rearrange the best of what you have and remove any clutter or unnecessary pieces. There's no need to do a complete remodel or redecorate every room.
If you're hiring a professional stager, you don't have to do a complete remodel or decorate every room. They can help you prioritize and curate what you have. For maximum sale price, though, some stagers will recommend you store your furniture and fully stage certain rooms.
If your furniture needs an upgrade, you can rent high-scale furnishings to enhance your spaces. For example, if your couch looks beaten down or has stains, potential buyers are going to remember that instead of the room's square footage or paint color. You can use the furniture you own if it's in good condition, has no tears, isn't broken and it matches the staging décor you bring in. If it isn't in your budget to rent different furniture and store what you own, consider using furniture covers and tablecloths.
The bottom line
If you're interested in listing your house, you might be wondering, "what is staging" and why it is important. It doesn't matter if you're selling a vacant home or one that's full of your possessions; staging is important. Your goal is to create bright and inviting yet neutral spaces that allow potential buyers to picture themselves in their future home.
---