First Apartment Checklist: Everything You Need for Move-In Day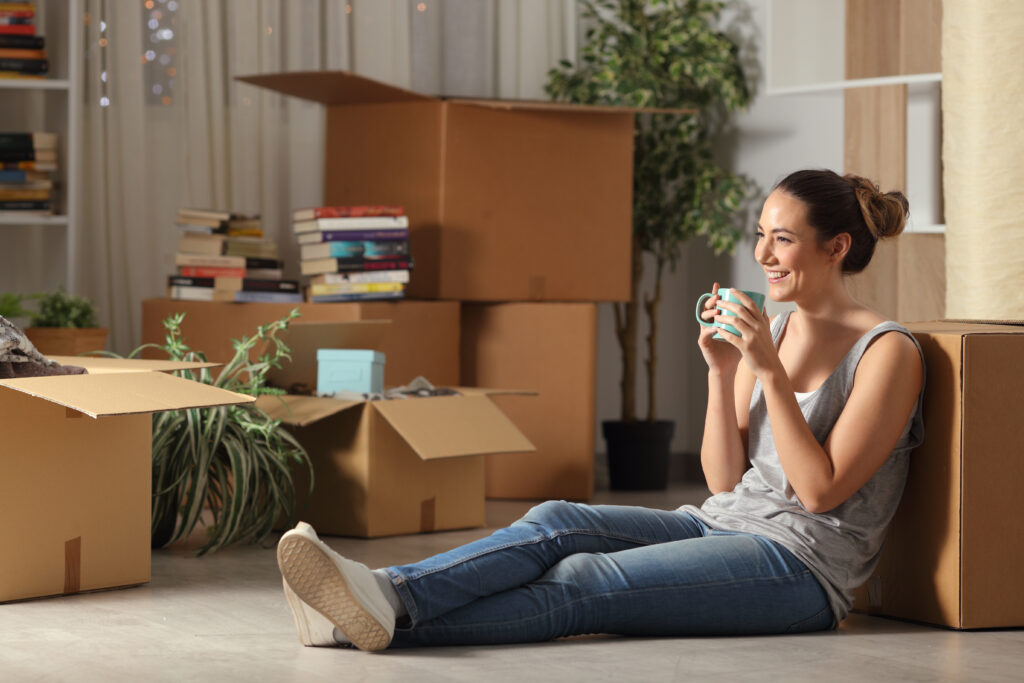 Deciding what to bring to your first apartment can be overwhelming — get yourself organized by creating an apartment checklist. Don't want to forget the essentials — like toilet paper and cleaning supplies? Add it to the list. Are you bringing along a furry friend? Make sure to include your pet's needs as part of your apartment essentials.
Use this guide to create a comprehensive apartment checklist and make Moving Day a breeze!
Your complete first apartment checklist
When planning to move into your first apartment, there's a good chance you will have many needs but limited resources. Buying all of the essentials for your apartment will be expensive, so keep your budget in mind when crafting your checklist.
New apartment essentials you won't want to skimp on:
While you will need many items when you move into your new space, there are specific apartment essentials that you simply cannot do without. As you budget and plan your time, make sure you prioritize the following necessary items.
Garbage bags
Trash cans
Hand soap
Cleaning supplies (like dish soap, disinfectant spray/wipes, dust spray, window cleaner, etc.)
Extension cords
Surge protectors
Light bulbs
Document folders
Flashlight
Batteries
Curtains
Broom and dustpan
Office supplies
Iron and ironing board
Mop
Step stool
First aid kit
Sewing kit
Small fire extinguisher
Laundry basket
Dishtowels
Buckets
Matches or lighters
A small toolset
Vacuum cleaner
Your room-by-room must-haves
To ensure that your apartment checklist includes all the must-have items, you may want to consider the essentials on a room-by-room basis. Here is what you will need for the different rooms in your apartment.
Kitchen
With the important role that the kitchen plays in any home, you should start your apartment checklist should start with the kitchen in mind.
Living room
You will be spending a considerable amount of time in your living room. As such, you should buy the required essentials to make this room comfortable and functional.
Couch: The couch is arguably one of the most important elements of a living room. Be sure to get a comfortable sofa — preferably one that someone could crash on. Other sitting alternatives are cushions and beanbags. A quality sofa can range from a few hundred dollars to well over $1,000 — so budget accordingly.
Coffee table: Before investing in a dining room table and chairs, a coffee table can be used for beverages and meals. A good coffee table will cost about $87.
Lighting: Extra lighting for your living room can help you create a cozy and welcoming ambiance. An LED standing light fixture costs about $40.
Curtains: Quality curtains will afford you privacy and keep direct sunlight from entering the room. Window curtains sell for around $32.
TV: Depending on your watching habits, you may or may not deem this an "essential item." But if it is, make sure to budget for your TV (and corresponding cable or streaming services). If you're budget-conscious, don't worry. You can find a quality TV for under $200!
Bedroom
Your bedroom is where you relax after a day-long hard work. The room must have the right essentials to make you feel comfortable and relaxed.
Mattress: A comfortable mattress is arguably the most important part of your new apartment. You need somewhere to lay down your head after a long day of work or exploring your new city! You can buy a quality mattress online but plan to spend anywhere from a few hundred dollars to well into the thousands.
Bed frame: You will need not only a comfortable bed but also a good quality frame. For about $90, you will get a metal bed frame for your new apartment.
Bedding: Invest in a few sets of sheets, so you have back-ups on laundry day. Also, get a comfortable and stylish comforter! These items can cost about $30 and $70, respectively (depending on size).
Closet organizers: Just as the name suggests, closet organizers will help you keep your bedroom neatly arranged. Closet organizers will not only save you time and money but also help you create more storage space. A basic closet organizer will cost about $50.
Under-bed storage containers: You will also need under-bed storage containers to minimize clutter in the room. A good storage container will go for around $40.
Nightstand: A nightstand provides a surface on which you can place the various items you will need during the night. You can expect to pay around $40 for a nightstand.
Hangers: Clothes hangers will ensure you make the most of your closet space and keep your bedroom organized. These essentials will cost you just $22 for a set.
Dresser: Having a dresser in your bedroom will provide you with increased storage space, helping to keep your personal effects within reach. You can find a quality dresser for about $70.
Bathroom
An apartment essentials checklist cannot be complete without the items you need to have in your bathroom. Below is a list of what you should buy for bathroom use.
If there is room in your budget, consider splurging on:
Here are some items that aren't "need-to-haves," but are probably "nice-to-haves." If you have budgeted for all the items in your apartment checklist and you still have some money left, consider splurging on:
Decorations: You want your space to reflect your personality. Whether it's art on the walls or fun pillows, personalize your space with items that show off your personal taste.
Area rug: Add some warmth and comfort to your space with a rug, or two!
Throw blankets: Keep you and your guests warm with comfy plush throw blankets.
Greenery: Bring the outdoors to you with plants — real or fake! Put a small succulent garden on your countertop or start a small herb garden on your patio.
Fan: Depending on your space, you may or may not have a ceiling fan. Whether you need something to cool you off at night or you want to generate some white noise while you sleep, consider splurging on a small box fan.
The bottom line
Moving into a new apartment can be a taxing experience, especially if you're doing it for the first time. The good news is that proper preparations (and a comprehensive first apartment checklist) can help make the entire process more manageable!
Feel free to download our free and printable First Apartment Checklist