The Advantages of Using a Local Home Insurance Agent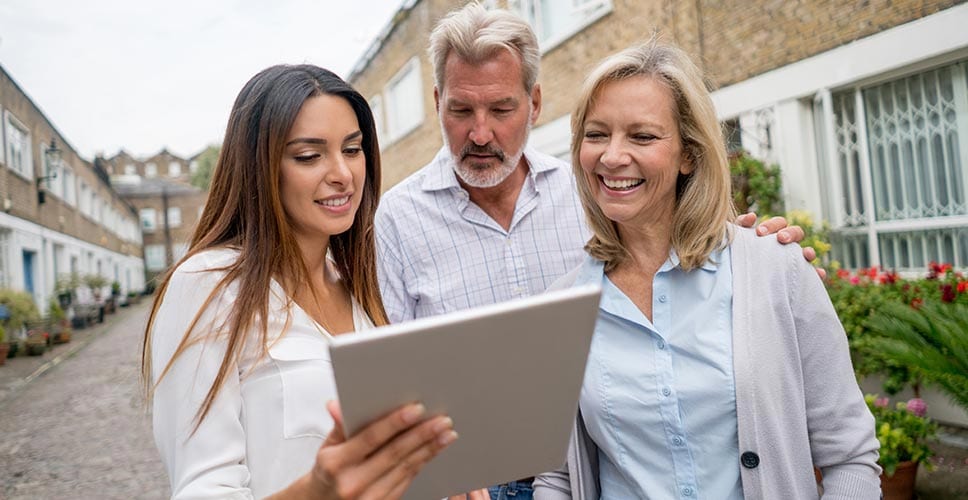 First-time homeowners understandably get caught up in the excitement of buying their own place. It's easy to focus on the new rooms and how your furniture will align in the space. But something that's often lost in the mix is home insurance — an essential part of finally closing the deal on your dream home.
Before a lender hands over the money (and the mountain of paperwork) that allows you to buy a place to call your own, they're going to ask a simple question: Where's your home insurance policy? This is often a question that stops first-time homeowners in their tracks, so we're here to make the process easier for you. We talk a lot about what to expect when it comes to homeowners insurance around here, but first, let's talk about why opting for a local home insurance agent is best.
Getting started with local homeowners insurance
There are lots of ways you could go about purchasing home insurance. Your lender may have a suggestion. Your real estate agent could have one as well. Those suggestions could be fine, but they also might have someone else's best interests in mind instead of yours.
If you're looking for trustworthy home insurance, why not consider someone who works and lives nearby, knows the community, and can be accountable when a crisis strikes? Shopping close to home for local insurance agents could be your best bet.
Why you should consider using a local insurance agent
Insurance can be complicated. In a nutshell, your home insurance premiums will be based on the risks associated with the home. A local insurance company will know the best deals to take advantage of and have a real-life understanding of the risks you face in your area. They also outweigh other insurance companies in several ways:
Local knowledge
Their local knowledge is unmatched. Travis Biggert is the chief sales officer at HUB International.
"Local agents understand local issues that can arise," Biggert says. "For example, a local agent in Oklahoma, which is prone to high winds and tornados, understands how important it is to properly explain and cover wind and hail losses. An agent in California has a whole other set of localized issues to address."
Community is key
Community is a big plus for local home insurance companies. Jayson Greene works with Carolina Insurance Professionals in Raleigh, North Carolina.
"Local agents have insider knowledge of your home's location and community, giving them an edge over big-name companies that may be located states away," Greene says. "Local agents that work and live in the same area you do provide distinctly personalized service to homeowners shopping for insurance."
Adding that personal touch
The customer service that comes with a local insurance agent is unmatched. Many customers find themselves developing a strong, personal relationship with home insurance agents.
Brian Davis, co-founder at SparkRental.com, says, "My agent knows me, knows my needs and preferences, and all it takes is a 90-second phone call with him to set up a new policy."
Davis continues, "If my premium is late, he calls me, and doesn't let the coverage lapse while I get payment to him. He even calls me if a less expensive policy becomes available."
Face-to-face interactions
The ability to interact on claims in-person is a big plus when it comes to choosing local homeowners insurance.
Biggert, with HUB International, says it's vital: "It's always good to have someone that you can meet in person for these things so you can get a 'gut check' on them, as buying the right insurance is really, really important when you have a claim. If and when it hits the fan, it's good to be able to go to an office and discuss the claim if necessary and have a local advocate on your side."
Cut out standard algorithms
Online is not always more straightforward. Many homeowners may think that opting for an online rate will save them time, but will it save them money?
Brent Thurman, president of Keystone Insurance in Provo, Utah, put the online sellers to the test.
"Three years ago, my brothers and I wanted to test the user experience of an online insurance shopper, so we checked the usual suspects that we all see on TV and found something interesting," Thurman says. "There's very little education on what they're actually selling, and virtually no interaction to ask questions along the way. The websites basically asked us if we wanted 'good,' 'better,' or 'best' coverage … but what does that mean?"
References are easy to find
Agents that have reliable online reviews are always a great place to start. However, who better to get a recommendation from than the people you know and trust? Ask your neighbor or a friend if they're happy using their local insurance company.
Ashley Mayter, a local home insurance customer claims, "My father recommended me to our local insurance agent when my husband and I decided to purchase our house. We have been a loyal customer to him for over 12 years! Occasionally we will compare our rates to other corporations, and we are always paying less!"
Don't just be a number
As we covered here, local insurance agents are more likely to have a more personal relationship with their clients. Those that opt for a larger insurance company are often met with the same scripted responses that are directed towards an account number instead of an actual name.
To drive home the point, Greene, of Carolina Insurance Professionals asks, "Would you rather deal with someone who just knows you as your insurance ID number, or would you rather work with an independent agent who understands your specific needs and can walk you through the process to find the best solution for them?"
What are the benefits of using a local insurance agent?
By using a local agent, you get several value-boosting options:
You're not alone: Go with an agent who has hundreds if not thousands of policies with a carrier. If a problem arises in a claim, like an underwriting or billing issue, that carrier will want to keep the top agent happy because they own the rights to huge premiums generated for the carrier.
You're investing in a local business: Purchasing a local agent can save you money, as they often have a ton of options to choose from. Local agents donate their time and resources to better their communities, and when a catastrophe strikes, they will be there to see their clients are taken care of.
You will have an adviser: Did a pipe break over the weekend, and you wonder what to do or if coverage exists? Do you need a local water extraction company that won't take advantage of you? You may have other life events like getting married or a kid going away to school that your local agent can review with you.
Did you know?
Your vehicle's location has a big impact your car insurance premiums. Even if you're moving in the same city, you might see a change in your rate. That's why moving is such a good time to compare car insurance quotes — from at least three providers if you can. Switching car insurance providers can often save you hundreds of dollars a year in some cases.
What are the specific things you should take your insurance agent's advice on?
Coverage. Find a trusted agent with excellent online reviews or as a referral from someone you know. Find an agent that asks you what's important to you, explains your plan's coverage, and discusses the pros and cons of electing or rejecting certain endorsements.
What decisions are best left to your insurance agent?
None. Insurance coverage is a very personal decision that's affected by your place, stage of life, familial status, life experiences, and many other personal circumstances. Only you know what's best for you. Work with your agent to understand your needs, and together you will make a good selection on what carrier, coverages, and options you choose.
Make sure to raise the following questions and topics with your agent:
What does my policy cover? What doesn't it cover?
How do the deductibles compare?
What's the difference between replacement cost value and actual cash value?
Make sure you're getting adequate coverage (Basic Form, Broad Form, Special Form)
Which preventive actions can reduce premiums?
How does replacement coverage differ from the market value?
Why should you document all receipts? How is jewelry covered?
Why does good maintenance matter?
How can I save by combining policies?
When do I file a claim?
The Bottom Line
Don't settle for bigger, online-based, home insurance companies. By choosing to partner with a local home insurance company, you're investing in a local business, but you're also choosing a more personal experience. Local insurance agents are often more knowledgeable about the specifics of your home and the coverage you need. They will give you the best price, and you'll always be met with a genuine smile and called by name. Don't waste your time with insurance companies that know you as an account number and use standard calculations that steal the best insurance deals away from you.