Ask an Expert: Homeowners Insurance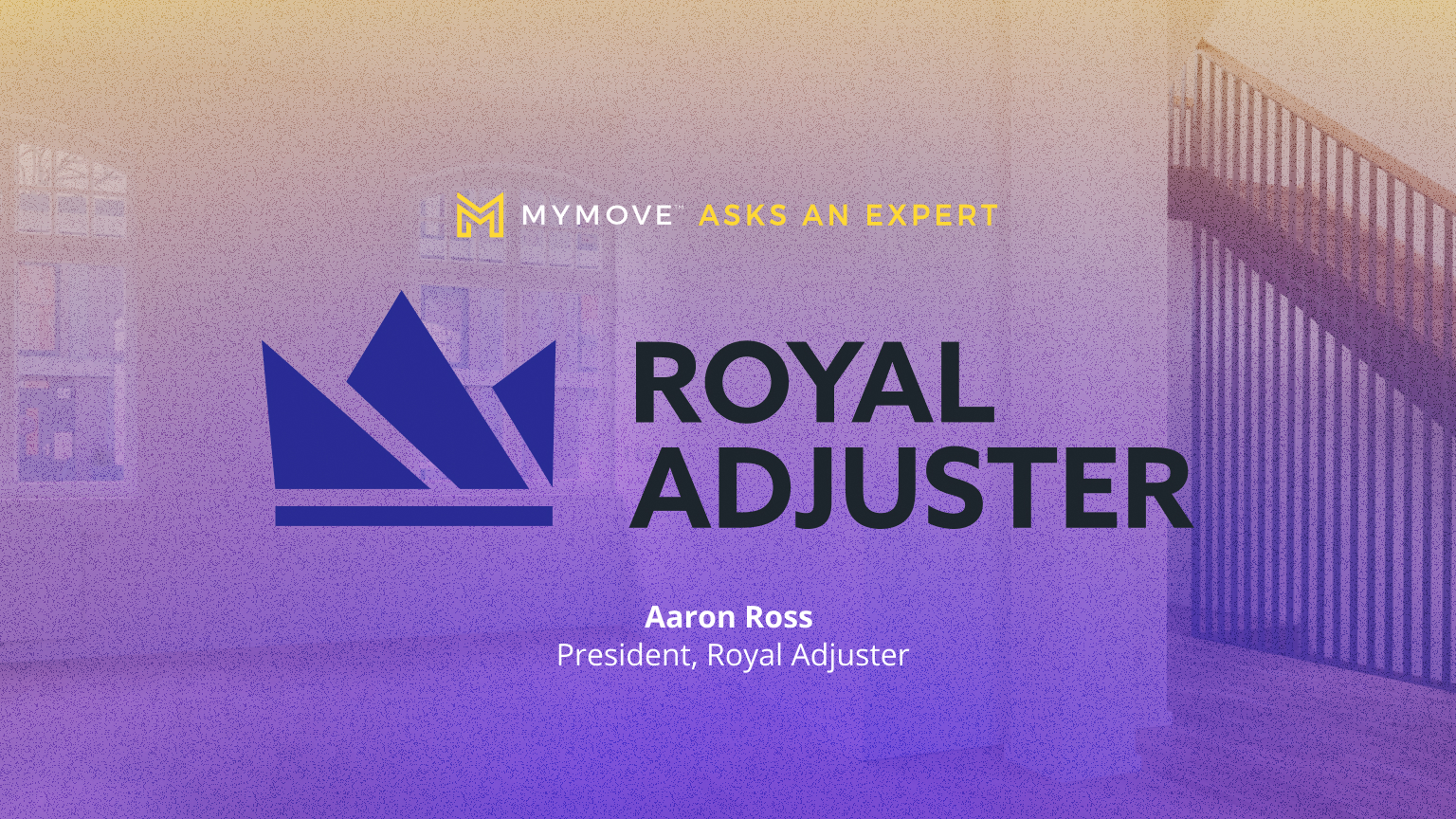 Buying a home is exciting. Insuring that home? Not so much. Maybe that's why nearly two in three Americans are underinsured on their homes — a number that's only growing with the rising cost of building materials over the past few years.
To help break down some of the complexities of homeowners insurance, we spoke with Aaron Ross, the president of public adjusting company Royal Adjuster. Below is a lightly edited transcript of our conversation.
---
MYMOVE: How much should you generally budget for homeowners insurance when you're thinking about buying a house?
Aaron Ross: The best way to budget is to go to any contractor and say, "If you had to knock my house down and rebuild it as it is, how much would it cost?" If the guy says $800,000, you add on 20% and say, "Okay, I need a million dollars worth of insurance." And that's just for your home. For your content, you want to take usually 65% of that. So a typical million dollar home will have $650,000 worth of content to cover.
MYMOVE: How should people shop for insurance providers?
Ross: The best way is to find a good broker. A good broker is a broker that can sell more than one type of insurance. So for example, if you go to an Allstate broker, they're only going to sell you Allstate insurance.
You want to find a broker that will go out there and really listen to you and discuss what you have. If your broker doesn't return your call right away, then he's not a good broker because you're going to need a broker to call you back if you have a quick question.
With car insurance, you could just call one or two places. You call GEICO and save 20% — it's an easy decision. With home insurance, there are so many options and so many little caveats or problems within the policies, you want to find a great broker.
MYMOVE: What other insurance should you update when you make a move?
Ross: Many people bundle their home and car insurance. There are pros and cons to that. The pros are they'll both drop by about 10%. So if you GEICO home and GEICO car, it sounds like a no brainer because you're saving money.
But the problem is, frequently the car insurance is run completely different company. For example, in New York state, GEICO is a top car insurance company, but they don't actually do home insurance — they sub it out to other vendors. And those companies are terrible. But people think they're getting a great deal but if they have a flood, almost nothing is covered.
Home and car insurance are completely separate animals. Unless you have two great policies, you want to take the time to make sure that your home insurance is being taken care of by a good company even if you have to pay a little extra.
MYMOVE: How should you choose a deductible?
Ross: The best questions to ask are: How much is my home worth? How much would it cost to replace the home? And then you also want to find out what your deductible is. Very often brokers will try to sell you a $500 or $1,000 deductible. That's really silly, because if you have $2,000 of damage in your home, you're likely going to fix it yourself. It's much better to take a $5,000 deductible, which is what I have and many people have. That way your premium stays lower because you have a much higher deductible.
MYMOVE: Are there any additional coverages that you do think are worth looking into?
Ross: One great coverage to have in the policy is equipment breakdown coverage. For example, we're seeing lots of large air conditioning units that break and they flood the house. People don't realize that might not be covered automatically by your homeowners insurance policy.
Liability insurance is also good to have. If something happens outside your property and someone trips on your sidewalk, they're going to sue you. You want to make sure that your home insurance will cover anything that happens to you and cover you in the court case.
Another coverage worth talking about is moving coverage. There are certain types of policies that will not only allow you coverage of your house, but the property even if it's off the premises. So if I have $300,000 worth of stuff in a moving truck, they'll still cover my property. The other option is to take out a specific policy just for the move to cover delays or damaged content, things like that.
Another big thing going on is flood insurance. And these days because of what's going on, especially in the US, it's mandated by the federal government, but you can obviously buy more or less. But it's not connected to regular insurance. Flood insurance is typically water damage from outside your property that touches the ground. So if it's flooding outside and it pours into your house, no home insurance will cover that. But you can buy flood insurance to cover that. It's not expensive. Actually the government does require you to have flood insurance in certain flood zones. And it could save you tremendously if you have some sort of flooded area, which we've been seeing a lot of.
MYMOVE: Is that moving coverage a part of the homeowners insurance policy?
Ross: It could be. You could add that in many policies, and that would cover the move until it gets under the umbrella of your new home. They'll very often cover that move in between because it's the same company or under the same policy. But it's very important for people to check their policies and ask their broker.
MYMOVE: Are there any other ways that you can lower your premium?
Ross: There are a lot of great ways to lower your premiums. Keeping your house updated with fire alarms and smoke alarms is the number one thing you can do. An incredible new thing that's out now — which many companies offer for free — is a water meter. If it notices a water usage that shouldn't fit into your pattern, it'll send you a text and if you don't reply, they'll cut the water off. Water damage is much more common than fire damage. So just getting fire alarms in every room and a water blocker set up in your house can cut your premium by 15% to 20% right off the bat.
Another things you can do to cut your premium is remove things that are not needed. One of the most common things that people get is something called ALE, or additional living expenses. God forbid, someone has a fire or flood they have to move out for a year. I have seen ALEs that are $300,000 to $400,000. But who in the world is spending that? The most you'll be spending $5,000 a month for a year or even two years, which ends up being $120,000. So that ALE is just an extra thing that you'll never use and you're paying a premium.
MYMOVE: How do you know that you're getting a great broker? What are the things that you should look for?
Ross: One way you can tell you have a good broker is to ask them for a list of references and call them up. And ask the broker questions. If they take the time to answer your question, whether in person, email, or phone, that means they're a good broker. There are many brokers that will give a quick response — yes or no.
Your broker should be able to sit down, talk with you, and go through the details in your policy. If it says you have an exclusion, RUB247, and you say to your broker, "What's that?" He should never say, "I have no clue." Because that exclusion means that if there's water damage from outside the house, you're completely not covered. And that's it.
Or if it says that you have a $10,000 limit of damages in your basement — and it's just written up as an obscure number — your broker should tell you clearly, "Yes, your basement only has $10,000 of coverage." You would need to know that so your broker is able to answer questions, look at you in the eye, and tell you what's right and what's wrong with each policy. That means he's great. If your broker doesn't give you the time of day, that's a clear sign that he doesn't know what he's talking about.
Aaron's top five tips for buying homeowners insurance:
Shop around for a good broker.
Don't automatically bundle home and car insurance just to save a little money.
Invest in extra flood insurance.
Check your policy for moving coverage.
Keep your house updated with fire alarms and smart water meters.
Did you know?
Your vehicle's location has one of the biggest impacts your car insurance premiums. Even if you're moving in the same city, you might see a change in your rate. That's why moving is such a good time to compare car insurance quotes — from at least three providers if you can. Switching car insurance providers can often save you hundreds of dollars a year in some cases.