What You Need to Know About Renters Insurance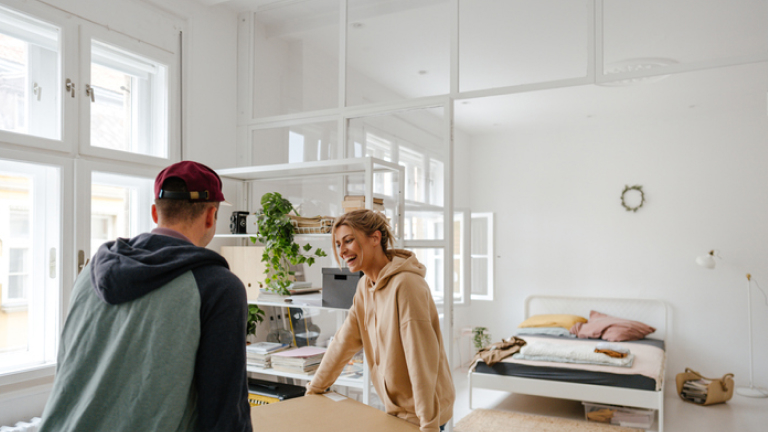 Whether you're renting an apartment or a home, chances are you may have wondered what renters insurance is, and what renters insurance covers. It's your landlord's job to maintain and insure the property, but it's up to you to insure the belongings inside it.
That's where renters insurance comes in. For a monthly premium, you can have peace of mind that your possessions are financially protected if vandalism or disaster strikes. Here is everything you need to know about renters insurance.
Jump to:
What is renters insurance?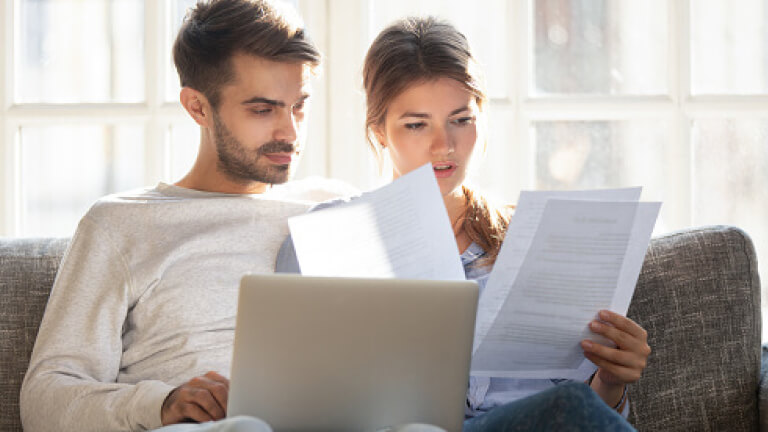 A renters insurance policy, also known as an HO-4, covers your losses in case of theft, fire, or other damage. It also offers liability coverage, which means your insurance company will pay legal fees and court awards in case of injury or damage due to negligence. For example, if someone gets injured in your rental home and sues, renters insurance could help cover those legal costs. Standard policies also offer additional living expenses for situations where the rental property gets damaged and becomes uninhabitable, displacing you from your home.
Your policy will come with a deductible. The cost of your deductible depends on the policy you choose. A renters insurance deductible is the amount you will have to pay if you file a claim. The higher the deductible, the lower the monthly premium — but the more you'll have to pay should the worst-case scenario occur.
Renters insurance is not legally required, but some landlords might require it if you want to rent from them. However, even if it's not required and the chances of these things happening are slim, it's still best to prepare for the worst so you can have peace of mind.
What does renters insurance cover?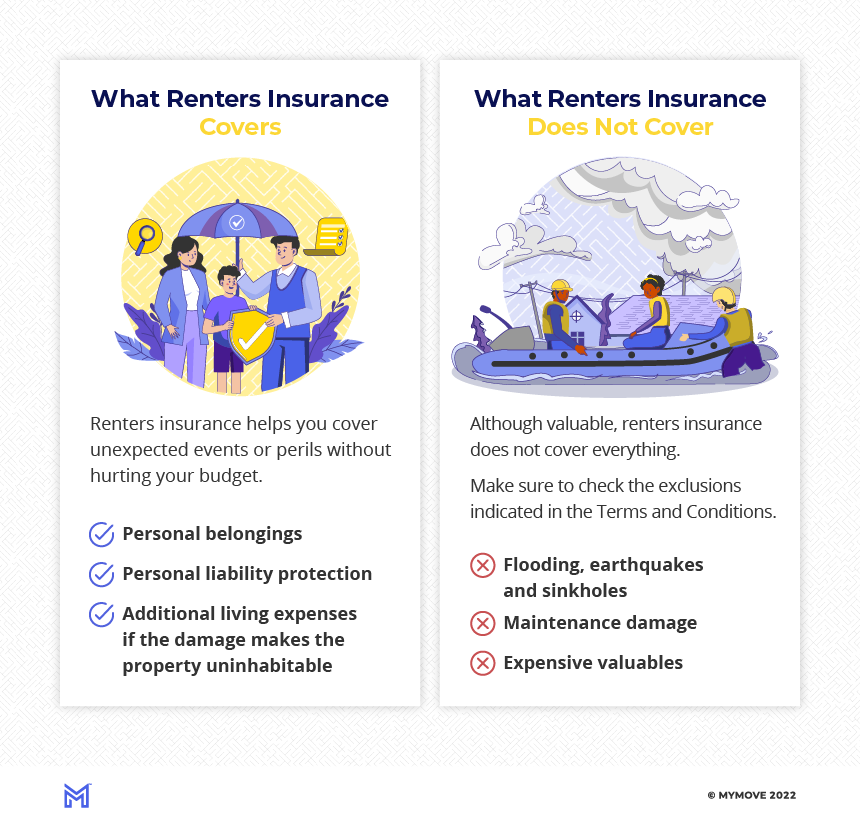 Policies can differ slightly from state to state, and offerings vary between insurance companies. But overall, renters insurance policies are pretty standard. Here are what many renters insurance policies include.
Personal belongings
The personal belongings part of your policy protects your things against damage from the following listed disasters and incidents, called named perils.
Fire or lightning
Windstorm or hail
Explosion
Riot or civil commotion
Damage caused by aircrafts
Damage caused by vehicles
Smoke
Vandalism
Theft
Volcanic eruption
Falling objects
Weight of ice, snow, or sleet
Water damage caused by steam, heating, AC, sprinklers, or an appliance
Sudden and accidental tearing apart, cracking, burning, or bulging of a hot water heating system, AC, or sprinkler system
Freezing of plumbing, AC, sprinkler system, or appliance
Damage caused by short-circuiting
Liability
Most policies offer personal liability protection — meaning the policy would help cover the legal costs and court payouts (up to the policy limit) should someone sue you or your family members for bodily harm or property damage. Liability protection can also pay for damage caused by your pet. Ask your agent about this.
Additional living expenses
Should damage make your home uninhabitable, your policy can help cover the costs of living elsewhere. Policies can cover hotel bills or temporary rental costs, meals, and other expenses while you're away from your home.
Miscellaneous
Most policies protect from some losses that you may have not given much thought to, but should still ask your agent about.
These other types of coverage can include:
Medical payments to others should they get hurt in your home.
Credit card and bank forgery in the event that someone breaks into your home and tries to use your stolen credit card or checks.
Other peoples' property should their items get damaged or stolen while in your home.
What doesn't renters insurance cover?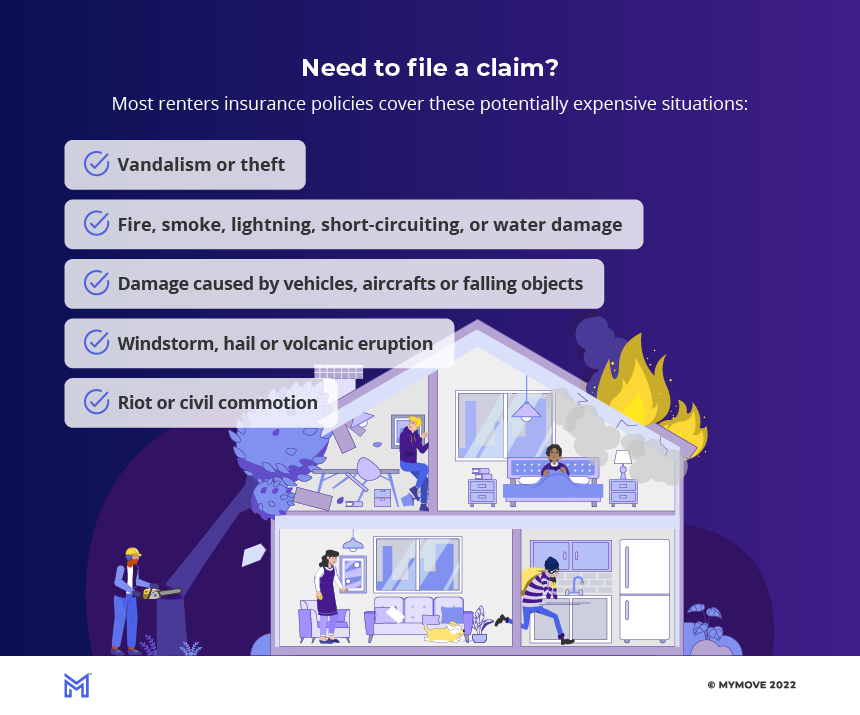 Renters insurance doesn't cover all types of damage. Here are a few things renters insurance doesn't cover.
Flooding, earthquakes, and sinkholes
These natural disasters aren't covered by renters insurance. If you live near a fault line or your rental is in a flood zone, think about taking out additional coverage. Ask your agent about common weather events in your area, and plan accordingly.
Maintenance damage
Home insurance companies rule that it's the policyholder's responsibility to take precautionary steps to protect the rental from damage. So, policies will not cover incidents due to a lack of maintenance or infestations like mold or termites.
Expensive valuables
Expensive belongings like art, jewelry, and antiques may not be covered due to policy limits. You can take out supplementary policies (called riders) to cover those valuables.
Your renters insurance policy won't cover any damage to your vehicle either. Make sure you have an updated auto insurance policy in place to cover any damages or vehicle theft.
How much renters insurance coverage do I need?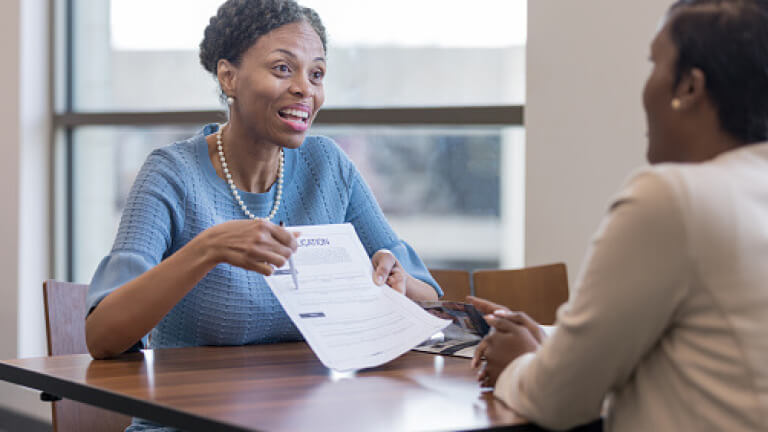 To answer this question, you'll need to make a list. Take an inventory of everything you own and every item's value. Take a picture or video of your rental and your most important belongings. Include any serial numbers for things like electronics and instruments. Also, think through the big-ticket items you'll need additional coverage for. Now, tally all of that up. If you can't get a precise number, at least get an estimate. Your agent will need to know that number. The valuation of your items will also impact whether you should go with an actual cash value policy (ACV) or a replacement cost value policy (RCV).
ACV: Under this type of policy, insurers will pay out the depreciated value of an item. The payout will likely be less than market value and it could cost you more money to replace the item.
RCV: This type of policy pays to replace your lost or damaged belongings with a similar item at the current market value. The payout would be enough to replace your item.
The bottom line
Don't wait to own a house before you insure your belongings. For a small premium, you can have peace of mind that your belongings are covered, you have liability protection, and you have a safety net if accident or disaster makes your home uninhabitable.
Frequently Asked Questions
Does renters insurance cover moving?
No, your renters insurance policy is designed to protect one property and the belongings inside of it. Most coverage is restricted to a single address, but some companies will allow you to purchase special insurance for your move.
What happens to renters insurance if you move?
When you move, you need to inform your insurance company so they can update your account. Your policy will be updated to reflect your new address, so your premium could be affected, going up or down depending on where you live.
How do I update my renters insurance?
Most insurance companies make it easy to update your renters insurance. Some companies have excellent mobile tools, allowing you to change your address either through the app or on the website. Or you may be required to call a customer service number to change the address on your policy. You can only change your mailing address online.
How can I save on renters insurance?
One reliable way to save would be to bundle your renters insurance with your auto insurance. Contact your auto insurance provider and see if there's a discount!