Ask an Expert: Should You Change Your Auto Insurance When You Move?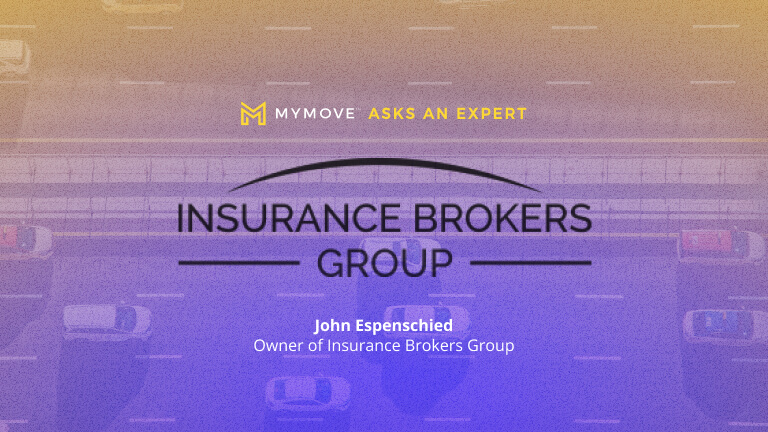 Your car insurance probably isn't top of mind during your move, but it's just as essential as finding moving boxes or setting up your internet. Even if you just move down the street, you'll still need to update your policy with your new address — and it's worth comparing auto insurance quotes from a few providers, too.
To help break down everything movers need to know, we chatted over the phone with John Espenschied, the owner of Insurance Brokers Group, an insurance agency based in Missouri. Below is a lightly edited transcript of our conversation.
---
MYMOVE: Why is it important to change your address on your auto insurance policy when you move?
John Espenschied: Rates are based on where you live — particularly the ZIP code. I'm out in the county, as opposed to the city and suburban area, and the likelihood of having my car stolen or wrecked is severely reduced. So if you're in the city, you are just going to pay a higher rate because there's more risk that's involved.
MYMOVE: What about moving from one state to another? Does that have an impact too?
Espenschied: Every state has different risks, based on their loss experience with any particular carrier. So, statistically, your insurance company is looking at how many policies it has in the area, how much loss, and how much revenue they're taking in.
Some companies can get heavy in particular ZIP codes, so they're going to either raise rates for anybody that's new, or just kind of limit any new business because if there was something like hail damage or flood in a particular area, they'd be in trouble.
Every state has different risks. Some are what they call PIP states, personal injury protection, which means if you get into a car accident and you're injured, your own insurance policy is responsible for your injuries, even if it's not your fault. So, and that's why certain states like Michigan, Florida, and Texas are a little bit on the high side. The cost of insurance is so much higher because it's unpredictable.
MYMOVE: When should you update your policy with your new address?
Espenschied: When you're getting your plates renewed is a good time to do it. It's not generally an emergency that you get it done right away, but you're probably going to want to do it at least by the time you change your plates.
MYMOVE: Is moving a good time to re-evaluate your auto insurance policy?
Espenschied: If you're making a move, obviously, you're probably going to be looking at property insurance — whether it be homeowners or renters. Even if you're staying in the same house, it's always good to take a look around every couple of years and compare rates.
But moving is a great time to take a look and see what the rates are. Even if you do get a decent rate with your current insurance provider, it's never a bad idea to check around. We always say to compare rates.
And you might find out that you're lacking some coverages. When you talk to a few different agents or brokers, they might suggest, "Hey, you might want to look at getting an umbrella policy or excess liability coverage in addition to your regular auto insurance."
MYMOVE: Where do you stand on bundling your home and auto insurance?
Espenschied: Sometimes it does make a lot of sense. It can be good savings. It's more convenient. It really just depends on if it works out financially. If I say, "Hey, Joe, listen, I can put both policies in this one company and here's what the premium is. It's going to save you 400 bucks a year." It's up to you to decide what you want to do. A good broker will try and present the facts of the situation and explain what's going on.
MYMOVE: What are some things that you can do to lower your auto insurance premiums?
Espenschied: Shop early. Most carriers offer what's called an advanced quote discount. If you sign up for your policy at least seven or eight days before you want it to start, you'll get a discount that is available if you don't procrastinate.
Just ask the broker or agent, "If I wait for an extra day or two, does that save me any more money?" And they can adjust the effective start date on the policy and they can tell right away if there's a difference in the premium.
MYMOVE: What if you're moving in the middle of your policy?
Espenschied: You can switch anytime. Say your policy is $1,000 a year and you're only six months into it. Your $1,000 is not going to disappear. Insurance carriers are required to refund any unused or unearned premium. They are going to refund you the $500.
MYMOVE: Anything else that's important to think about when you're moving?
Espenschied: Moving is a great time to see what's out there. Even if you're moving across town — because the ZIP codes are different, you might find, "Wow, I just saved a ton of money." You might not even bother to look around and just stay with the same company. But if you find that your rate is increasing, that might be a great time to take a look around and see if there are other opportunities to save money.