7 Ways to Create the Ultimate Cozy Bed This Winter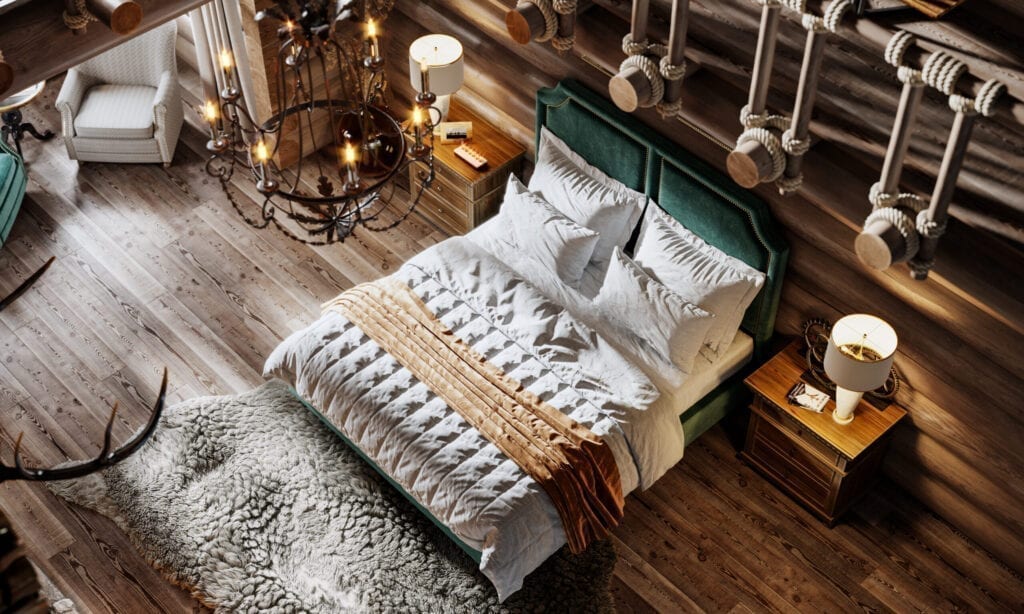 We hope you like the products we recommend. Just so you are aware, Freshome may collect a share of sales from the links on this page. 
There's something about the long nights and cold temperatures of winter that make you want to stay in bed. That might be a problem on Monday mornings, but it all balances out because of the luxurious feeling that comes with cozying up in your covers on a chilly winter evening. Or, at least, that's the idea. But what if your bed isn't beckoning you as the temps drop? It's time to incorporate some different elements and create the ultimate cozy bed for yourself.
Seriously, adding just a few elements can transform your bed from a place to sleep to a place to enjoy chilly winter nights and those darker weekend mornings. Grab these items, a good book and a cup of something warm and you're ready to make the most of the colder months.
On the bed
Creating a cozy bed starts in an unsurprising place – on the bed itself. Lightweight blankets, be gone! This is the time to go plush, textured and layered to create a luxurious bed you can enjoy all winter.
Consider your comforter
What type of comforter do you have on your bed? If you've thought about investing in a fluffy down or down alternative comforter, this is the time. Or, if you're happy with the aesthetic of your current comforter but want some extra coziness, layer an electric blanket underneath it.
Toss on a throw
A throw can be like a sweater for your bed. We personally love cable-knit (very sweater-y!) and faux fur options for the extra texture and warmth they bring.
Don't skimp on sheets
You can't have a cozy bed without sheets that invite you in. Cotton is all well and good, but if you're looking to upgrade this winter, consider an alternate. Linen adds a great texture to your bed and still works well in summer. Or, if you live in a really chilly climate, swap your summer sheets for flannel ones this season.
And when you're looking for new sheets, consider a bed skirt as well. If you've got a cold metal bedframe, hiding it under a layer of fabric can do wonders for the feel of your bedroom.
Beside the bed
Creating a cozy bed doesn't have to stop at the perimeter of your mattress. Adding soft, warm elements around your bed helps establish the aesthetic.
Rely on rugs
When you get out of bed, you don't want to be greeted with a cold floor. Add a soft, plush rug to either side of the bed so your toes can sink into something welcoming. It will make it that much easier to get up for work! We love faux fur for its inviting texture. You can also layer rugs to add a dash of trendiness and extra softness.
Look at lighting
Creating a cozy space is all about ambiance. So, of course, lighting is key. To start, switch out any bright white lighting with soft, warm bulbs in all lamps and overhead lighting. Then, make sure you have a lamp near your bed that you can turn off without getting out of the covers. There's nothing worse than cozying up for the night only to remember you need to get up to turn off the lights.
Behind the bed
When it comes to establishing your bed this winter, don't forget the space behind it. Much like a frame can bring out the best elements in a picture, using the area behind your bed can help it really shine.
Get help from your headboard
If you really want to establish a cozy bed, don't forget one of its most defining features: its headboard. A metal headboard is going to trap cold. A fabric one, on the other hand, adds a layer of softness to your bed. And, fortunately, these are a fairly easy DIY. If you don't want to swap out your headboard entirely, throw a plush blanket over your headboard to help it blend into your cozy bed.
Add an accent wall
If you really want your bed to pop, an accent wall is just the thing. And, fortunately, this is a style element that works in any season. If you're looking to make your room feel extra snug, don't be afraid to go for a dark color. Black is even a great option. The dark wall behind your bed will give your room a secure and intimate feel.
With winter on its way, there's no better time to invest in creating your ideal cozy bed. What elements are a must-have for you in the winter? Let us know in the comments!