How to Choose Appealing Lighting for your Bedroom
Your bedroom is the one place in the house that the ambiance is not about your guests, but about the inhabitant. Bedrooms are personal and we love them to be dramatic, romantic, modern, or a little bit crazy! Whichever is your design style; lighting can set the mood and transform your space instantly once the sun goes down. Whether you are choosing lights for a master bedroom or your children's room, here are tips for choosing appealing lighting for your bedroom.
What functions will your lighting serve: Depending on the size of your room and what functions you perform in it, will be a large determining factor for lighting. If you enjoy watching television in bed with your kids, you may opt for ambient lighting overhead and table lamps on the adjacent end tables.  If you only like your room for yoga meditation and relaxing, overhead indirect cove lighting that washes the ceiling may be perfect for your bedroom.
Create a mood/theme: In your bedroom decide what type of mood you want to evoke. Whether it's a romantic feeling with soft incandescent wall sconces besides each side of the bed, or a dramatic approach with an ornate chandelier. Creating the mood is what lighting's second duty is. It first illuminates and then makes you have an experience. Look through interior design magazines and seek inspiration for how you want your room to feel.
Display: Lighting in your bedroom can also be for displaying and highlighting wall artwork, floor sculptures and architectural detailing in your room.  Depending on what you'd like to highlight, the lighting should follow the same cue. For large, dramatic artwork consider directional lighting that casts directly on the piece. For sculptural pieces, floor directional lighting aimed up can bring drama and visual interest.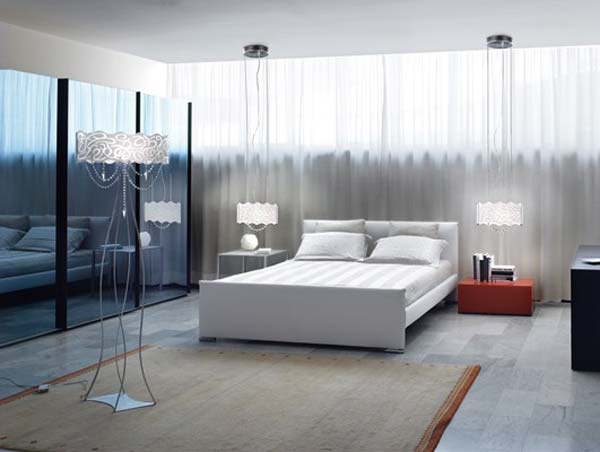 Children's lighting is important: Your child will enjoy their room more when they have appealing lighting to enjoy their activities. Overhead lighting should be bright, but not directional into their eyes to produce squinting or a glare. Side table lamps are perfect when they are in bed reading or winding down from the day. Consider night lights and soft glow wall sconces for little ones that are afraid of the dark. For decorative touches match bedding, décor and lamp shades together for a pulled together yet functional look.
Colored lighting: Colored lighting can be from cool lava lamps to subtle pink light bulbs in your adjoining sitting area for a calming effect.  Colored lamp shades, glass globes and light bulbs cast a beautiful glow into your bedroom and that can relax or inspire!
Lighting in bedrooms is important for relaxing and rejuvenating the human spirit. Use these tips to bring your bedroom some much needed illumination and inspiration. For a different aesthetic, try changing lighting based on the time of year. Seasonal lighting like Christmas lights look gorgeous around a headboard. Create the bedroom you've always wanted that will inspire and enlighten!
Freshome readers tell us what kind of lighting you love in your bedroom. Do you have a dream bedroom that you'like to recreate with lighting? Tell us about it!
---
Everything for your move, all in one place
Curate your personalized moving checklist, set up TV & Internet, and more with a free MYMOVE account.
Save on your move and tackle upcoming to-dos with your free MYMOVE account.