Choosing The Right Size Bed For Your Bedroom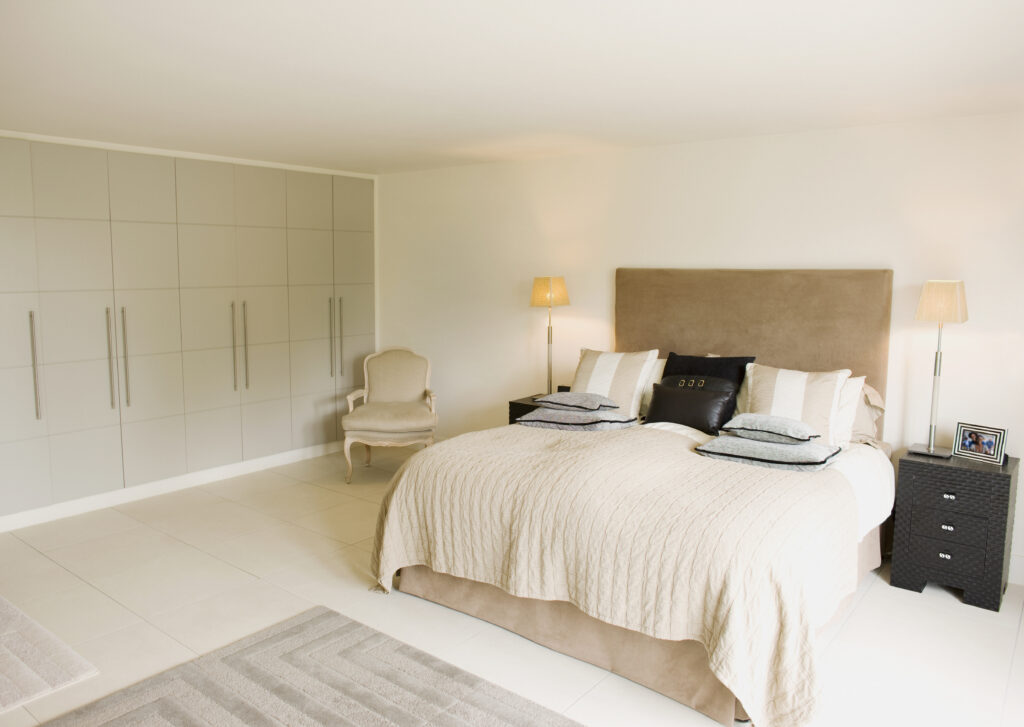 It is very tempting to select a larger bed when you see the beautiful ones available on the market. In 2017, Statista found nearly 50% of American adults were sleeping in a queen-size bed. But if your bedroom is on the smaller side, a large bed can make it feel cramped and uncomfortable. Choosing the right size bed can give you the extra room you need to breathe, move, and sleep comfortably.
Find the minimum space around your bed
You can find out the minimum space around the bed by calculating the dimensions of your bedroom using this basic formula: length x width = area. If you do not have a square-shaped room, you can split the room into different sections. Then calculate each section and add the sizes up.
Once you have the bedroom size, you can consider the size of the bed. You need to calculate how much space around the bed there will be with different bed sizes in the room. A bed should have two feet of walking space around it to have room to make the bed without knocking into walls. It's also important to factor in space for the bedroom doors, closets, and drawers to open without any obstacles.
Finding the right size bed for the space
Now that you have the correct bedroom measurements, you can select the right bed size for your bedroom. Using a mattress size chart is the quickest way to pick the best mattress size for you. Next, think about how many people will be occupying your bed at any one time. Don't forget to include any children or pets who jump in for a cuddle. Mattress size options include:
| Mattress size | Mattress dimensions |
| --- | --- |
| Toddler bed | 27×52" |
| Twin | 38×75" |
| Twin XL | 38×80" |
| Full | 53×75" |
| Full XL | 54×80" |
| Queen | 60×80" |
| California king | 72×84" |
| King | 76×80" |
The size of your bedroom dictates the right mattress size and the right size bed. A Twin XL is suitable for individual sleepers and tall people as they are longer than a standard twin. A standard twin bed is ideal for children or adults that don't need a lot of sleeping space. A full bed works for an active single sleeper, whereas a full XL helps taller, active single sleepers, as it is a bit longer. A queen bed is space-efficient for couples. A California king is longer than a king or a queen, so it is suitable if one or both of you are tall. And finally, a king bed is great for couples who are active sleepers or who have kids and pets taking up space.
Tips for saving bedroom space
There are other ways to free up valuable space in your bedroom outside of downsizing your mattress. Here are some tips to take advantage of space within a small bedroom:
Buy a bed with built-in storage: Some beds are designed to lift-up, giving you extra storage space inside and under the bed. Or buy a bed with storage drawers.
Change to sliding doors: Save more space in the bedroom by placing sliding or pocket doors on your closet, bathroom, and other doors, eliminating the need for doors to swing open into the room.
Get organized: Get in the habit of using designated storage containers in the bedroom. You will gain more room and be able to find things.
Hideaway beds: It's not only the right size bed that can make a big difference. A Murphy wall bed can be hidden away, creating loads of space while you're not sleeping. Or use a foldaway bed that you can store anywhere.
Rearrange the layout of the room: Be critical about your current bedroom floor plan. Move items to create more walking space, so that you can maximize the minimum space around the bed.
Select the right furniture: Be selective of the furniture you use. Mounted end tables and headboards with side shelves can help to save space.
Use the height of the room: It's not just the floor space where you can work your magic. Put the room's height to work with taller furniture such as bunk beds and shelves on the walls to free up floor space.
Frequently asked questions
Q:
How do I find the right size bed for my bedroom?
A:
Start by asking yourself, "How much space around the bed do I have?" Measure your bedroom dimensions. Then calculate the minimum space around the bed that you need so that you can buy the right size bed for the room.
Q:
How much space do I need around my bed?
A:
There should be at least two feet of walking space around your bed, so you have space to move and change the bedding. Allow space for any nightstands, lighting and other furniture as needed.
Q:
What size mattress do I need?
A:
Consider how many people (and pets!) will use the bed. Use a mattress size chart to check what will work best for you. You can also mock up the bed size you're considering with paper or painter's tape on your floor to visualize it within the space.
Q:
How can I create more storage in a bedroom?
A:
To save space, buy a bed that lifts to create extra space or that has drawers in the frame for extra storage. Utilize vertical space on the walls with mounted lighting, nightstand storage, and wall shelves.