22 Small Bedroom Ideas That Are Big in Style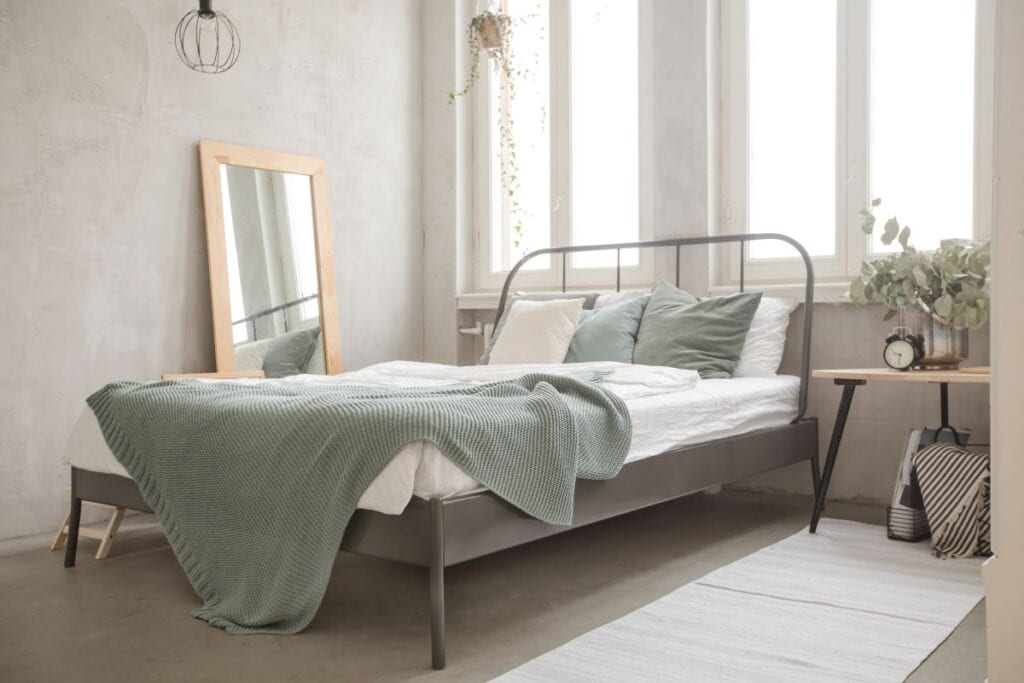 The products featured here are independently selected based on thorough research from our editorial team. If you buy something through links on our site, we may receive a commission.
Calling all small space dwellers! If you need small bedroom ideas for a DIY makeover but don't think you have enough bedroom to work with, you're in the right place. We've got some lovely small room design ideas to maximize space and prove tiny spaces can be stylish.
While modern and luxurious design ideas often tell you that you need to have a sitting area, small office, or a king-size bed in your bedroom, don't forget that a bedroom's main function is to be a place to rest and recharge. And you don't have to do much to create a beautiful space to do so.
Your small bedroom may be a blessing for a better night's sleep. The American Sleep Association recommends keeping stimulating activities out of the bedroom. They warn that distractions like the TV, internet, and work can disrupt your sleep patterns. So, the less there is to do in your bedroom, the more sleep you set yourself up for. How's that for smart design?
Here are tiny room decor ideas that will help you learn how to maximize space in a small bedroom.
Creative small bedroom ideas that maximize space:
1. Light and bright decorating ideas to make small rooms feel bigger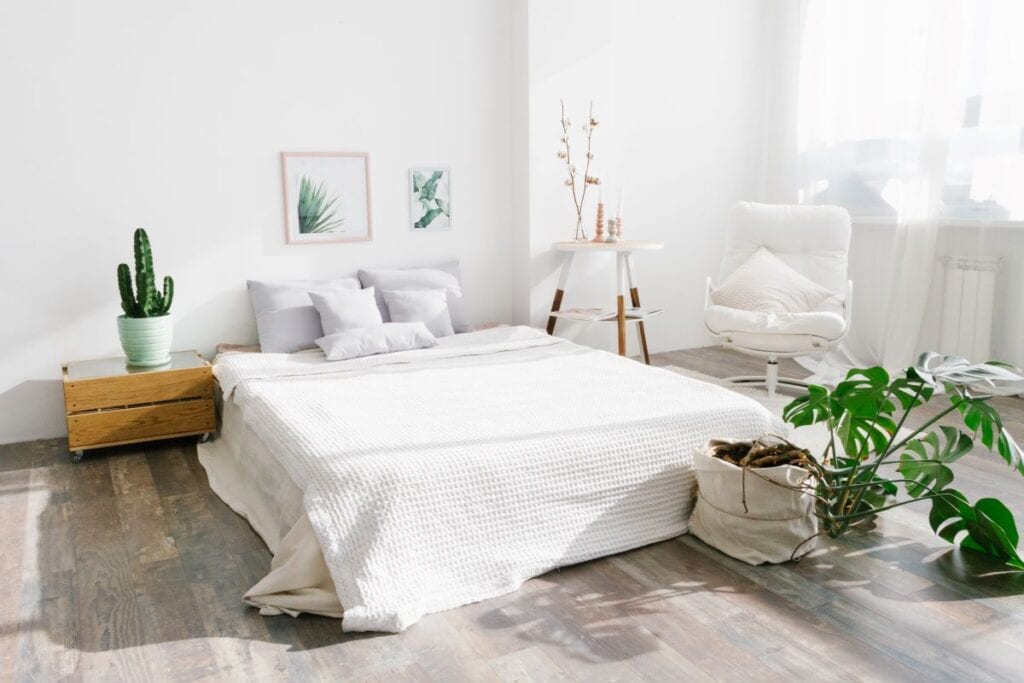 The color white is an expansive and practical choice for small bedroom decor. It keeps the space from looking too busy or boxed in. Painting your bedroom white will make it look bigger. Using white or lighter colors combats the absence of large wall space or windows to brighten up your space.
Afraid of white paint being too stark? To keep your small bedroom from feeling cold or void of personality, layer your whites with different textures and white-on-white patterns for drama. In the bedroom above, the simple addition of a patterned throw and chrome bedside lamps transforms the room from sterile to stylish.
2. Cozy corner bed for small spaces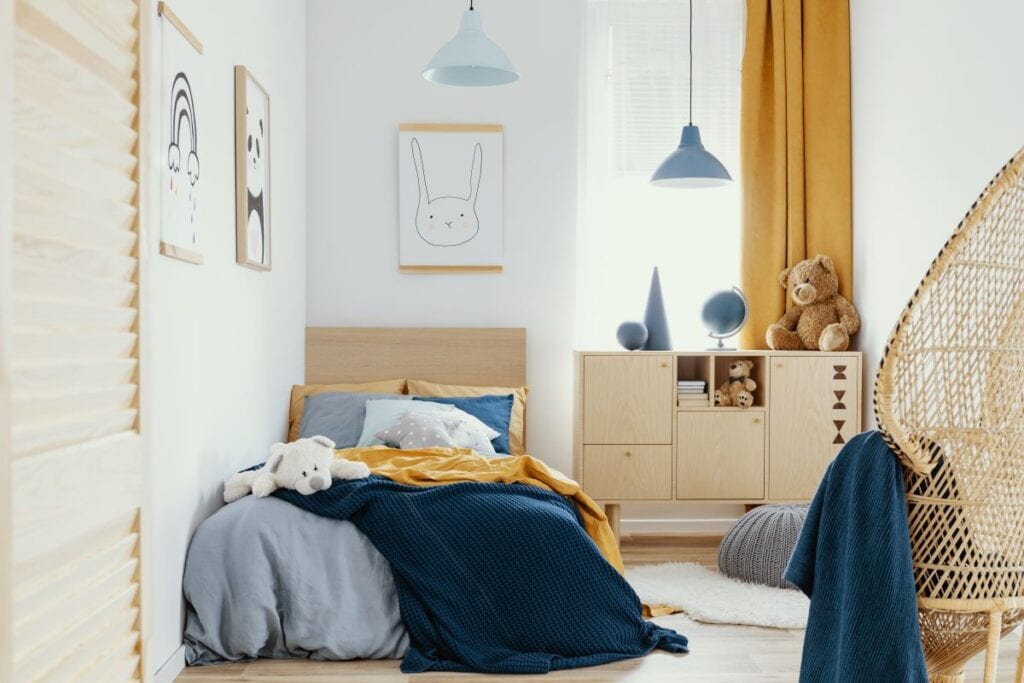 Most bedroom decorating ideas feature the bed by centering it on the wall. However, narrow floor plans and limited space often call for a different approach.
To maximize the floor space, tuck your bed up against a wall or corner. Doing so will create a sleeping area that feels snug and cozy. If it feels too much like a college dorm, add a two headboard corner system to create a finished, designer look to a bedroom.
3. Slim headboard and bed frame to increase small bedroom space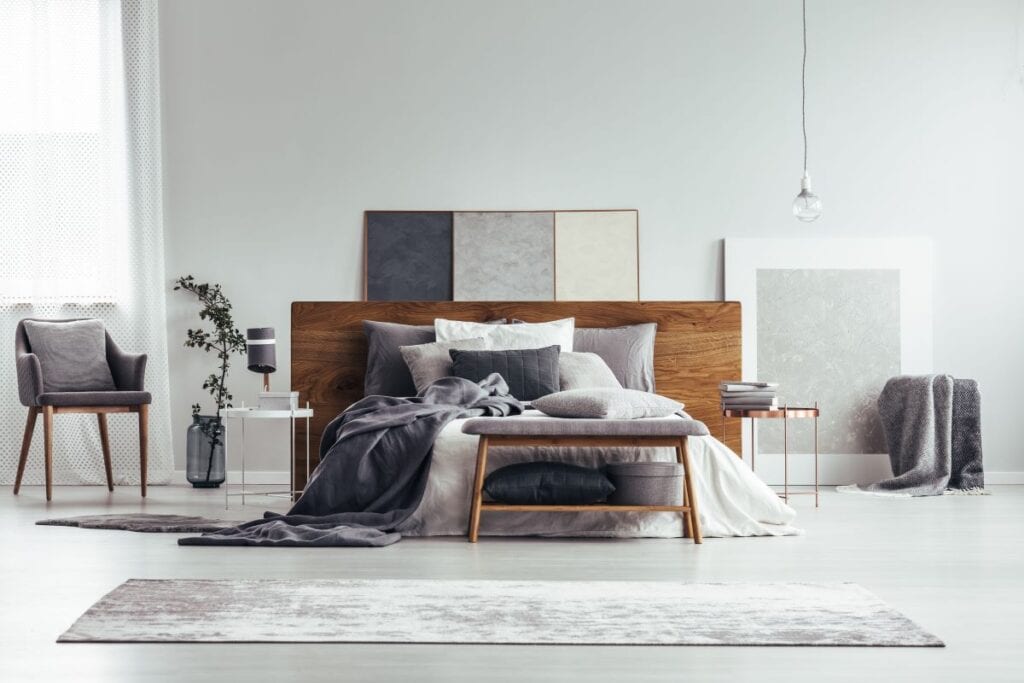 A few inches of extra space can make a small bedroom feel like a luxurious master bedroom. Part ways with your footboard-style bed frame and replace it with a simple modern platform bed to finish the look.
4. Minimalist style for a small master bedroom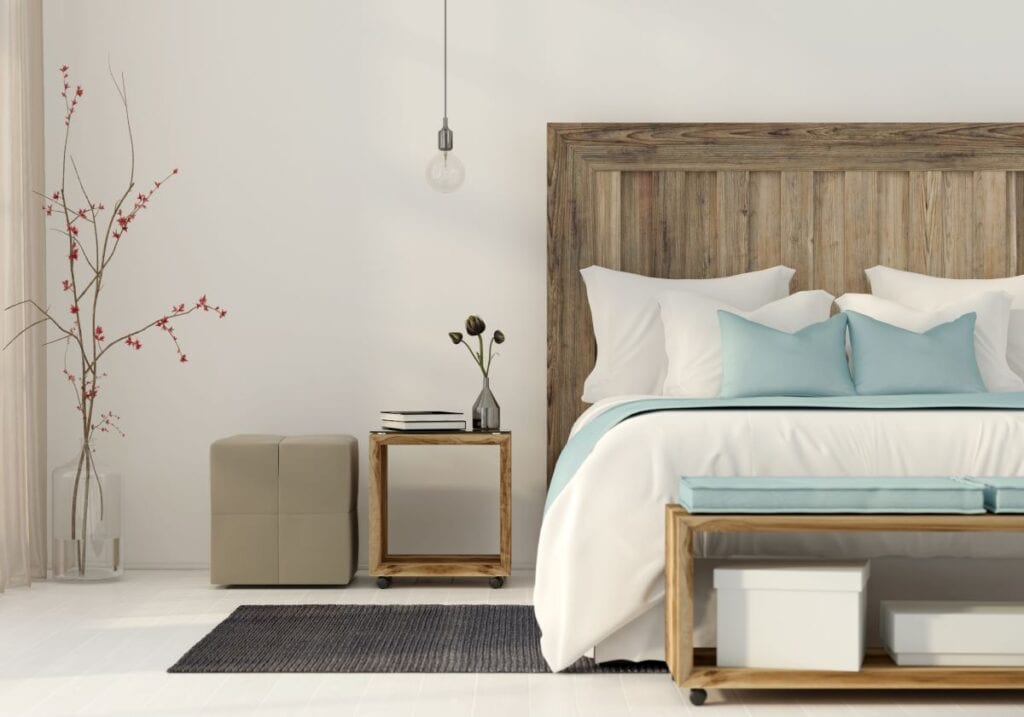 Add space to your small master bedroom by paring it down to your favorite essentials. The focus of this space is undeniably the bed, so keep furniture pieces and accessories down to a minimum.
Even better, use sleek, contemporary built-ins for additional storage. Built-ins maximize storage while looking like they're not even there. A good built-in around your bed creates a cozy sleeping nook while adding plenty of storage.
5. Mirrors can make a small bedroom look bigger
Mirrors expand a small bedroom by creating the illusion of a bigger room. Positioning a mirror to reflect the light of a window is also the only way to up the natural light in your space.
The easiest way to incorporate a big mirror? Try this easy technique. Find a body-length mirror and lean it up against the wall. No holes needed. Though, you'll want to secure it with wall tacky for peace of mind.
6. Small bedroom storage under the bed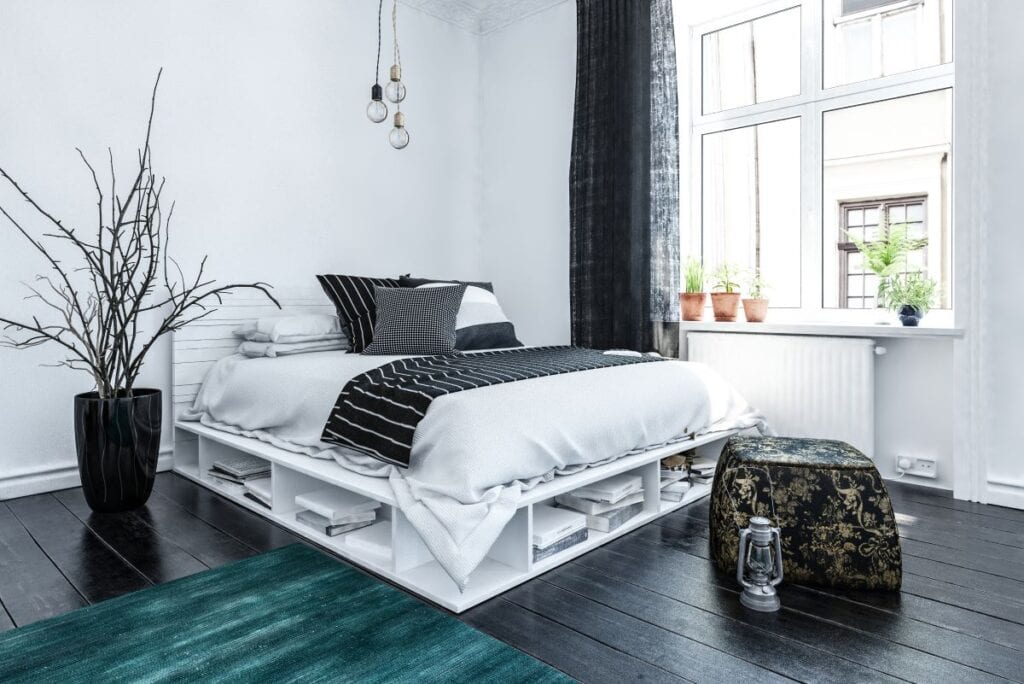 If you're in the market for a new bed, consider a bed with drawers underneath for extra storage. If space is so limited that drawers may not open easily, use decorative bins under your bed for additional storage. We love milk crates and other woven baskets that hold up well and look good.
7. Incorporating loft living to small bedrooms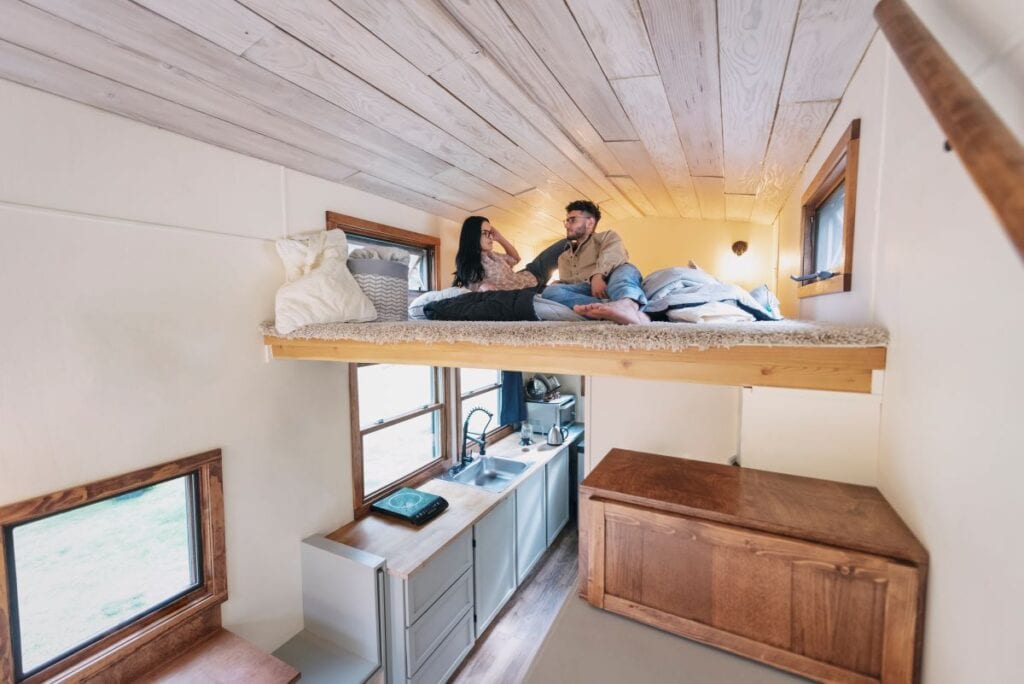 If floor space is limited but you have higher ceilings, consider adding a loft or platform for your sleeping area with storage or seating underneath. This isn't an option for everyone, but for those who don't mind climbing into bed, this layout can completely transform a small room.
8. Bold wallpaper for very small bedroom ideas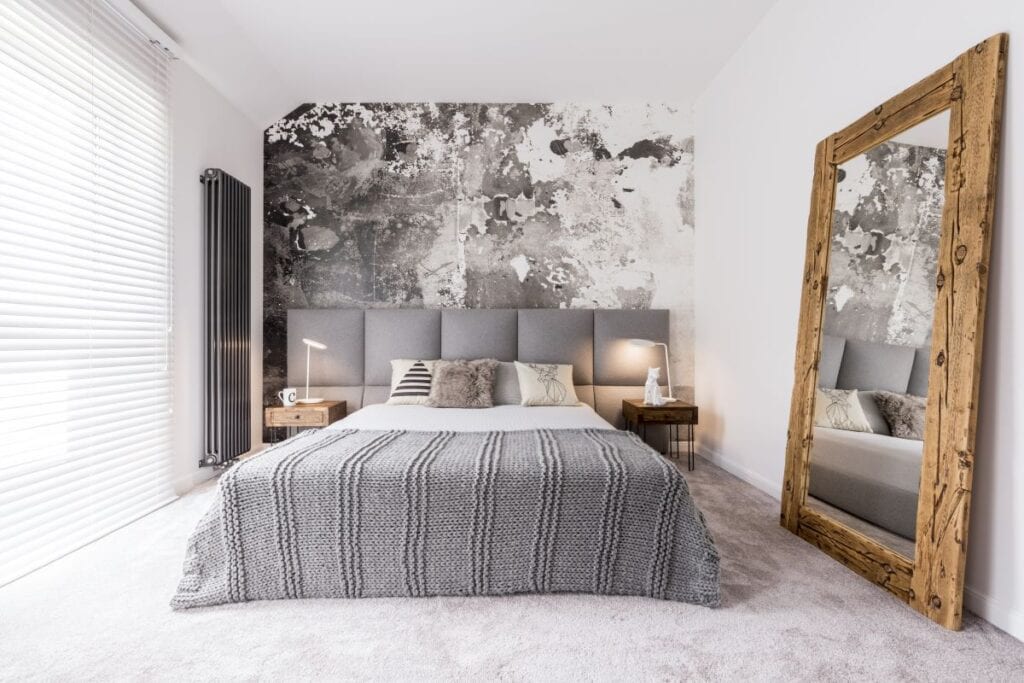 Just because your bedroom is small doesn't mean it has to be dull. Add a bold wallpaper pattern to a focal wall, like your headboard wall.
Wallpaper tends to get a bad rap for making rooms look small and cluttered, but using the right style and technique does just the opposite. Add a bold wallpaper pattern to a focal wall, like your headboard wall.
When selecting wallpaper, choose a large-scale pattern over a small, busy one. Don't forget to create a cohesive look by coordinating your bedding with your beautiful, new wallpaper.
Renters, you can play with wallpaper too. Have a look at our article for removable wallpaper.
9. Floating shelves for small bedroom decor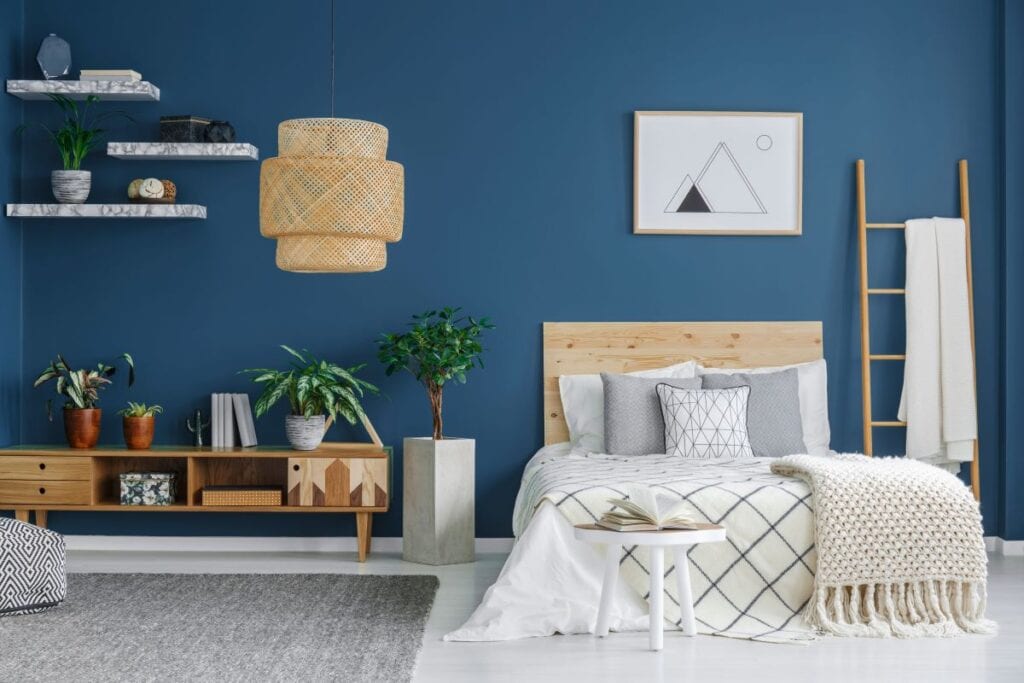 The versatile floating shelf can work in many useful ways in a small bedroom. Here are some floating shelf decorating ideas for the bedroom:
A nightstand replacement
An entry table by the door
A bookcase
A laptop desk
10. Wall niche
A wall niche gives you storage space without taking up floor space. In newer construction buildings, drywall is normally hollow and supported by vertical 2 x 4 wood beams (studs) that are 16" apart. If your bed is set up on a non-exterior wall, use a stud finder to mark where your wood wall beams are to cut out an alcove. Your new alcove may not be incredibly deep, but it may be all you need for small necessities like an alarm clock or some personal items. Maximizing your small bedroom with minimal effort
11. Creative nightstands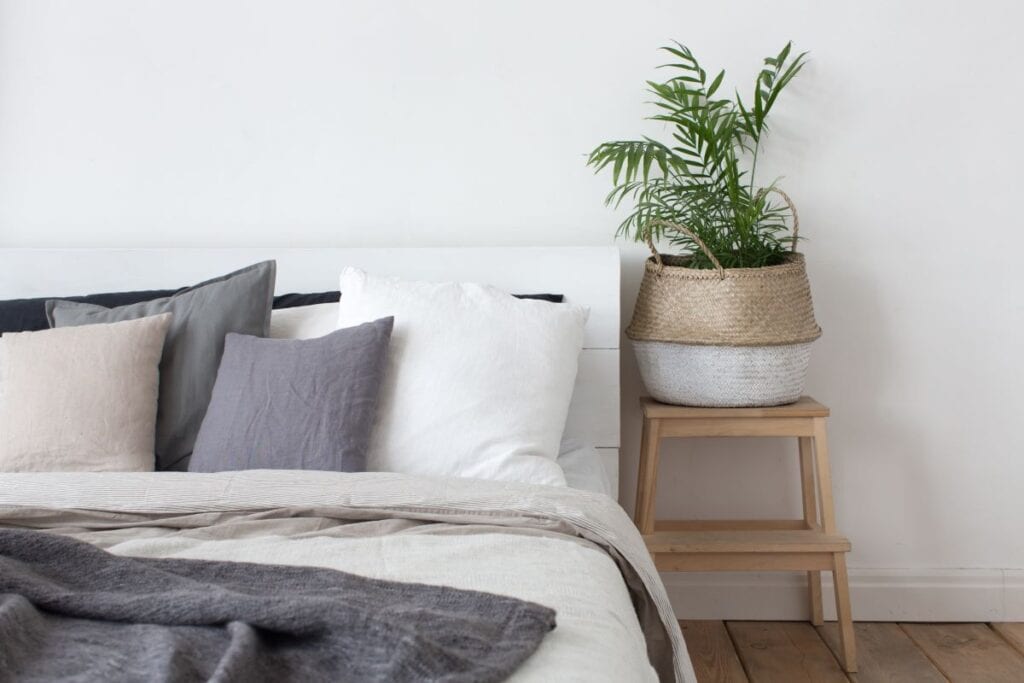 Finding the right size nightstand can be tricky for any bedroom. When you have a small bedroom and a tight squeeze next to your bed, you have to think creatively. Consider using a decorative stool or chair.
12. Floating desk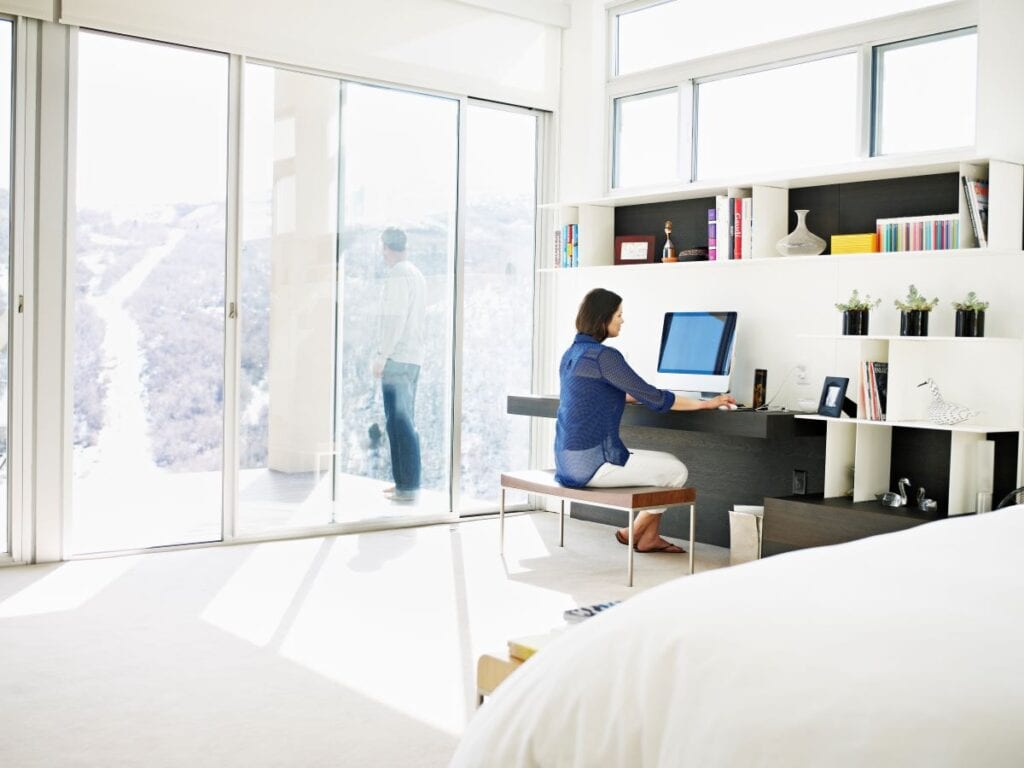 Is your home office in your tiny bedroom? Maximize your space with a floating desk, which is basically an extra-large floating shelf. You can create a DIY floating desk by putting a piece of plywood on top of a couple of shelf brackets. Then slide a comfy chair underneath and you're done!
13. Colorful throw pillows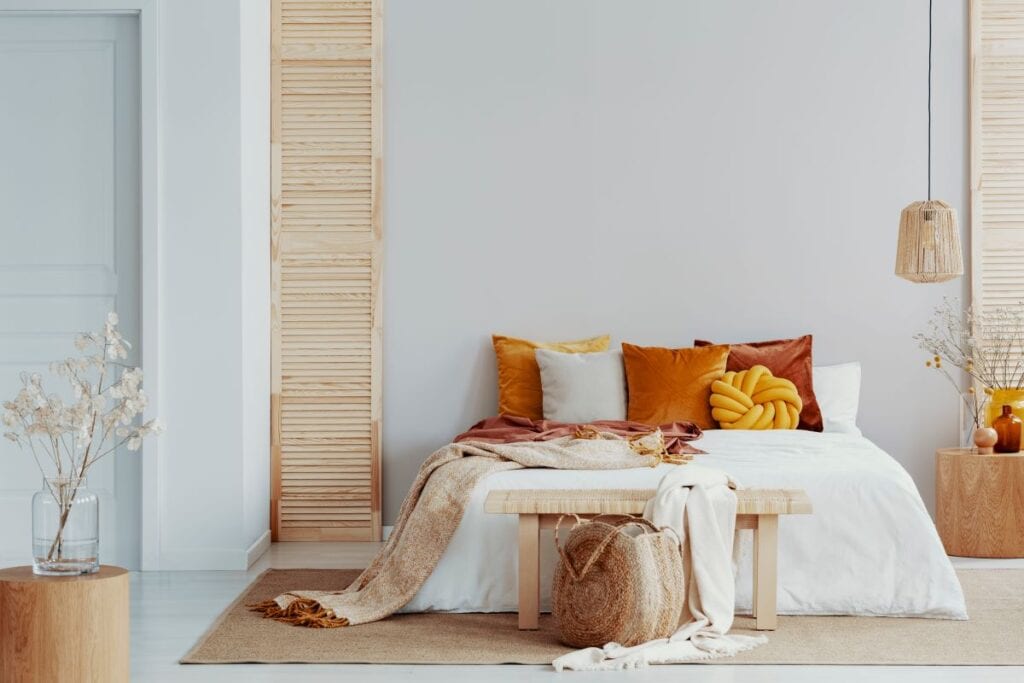 If you love color, but prefer an all-white room to make your small space look bigger, you don't have to compromise. Simply add color to your room with vibrant throw pillows.
14. Eye-catching chandelier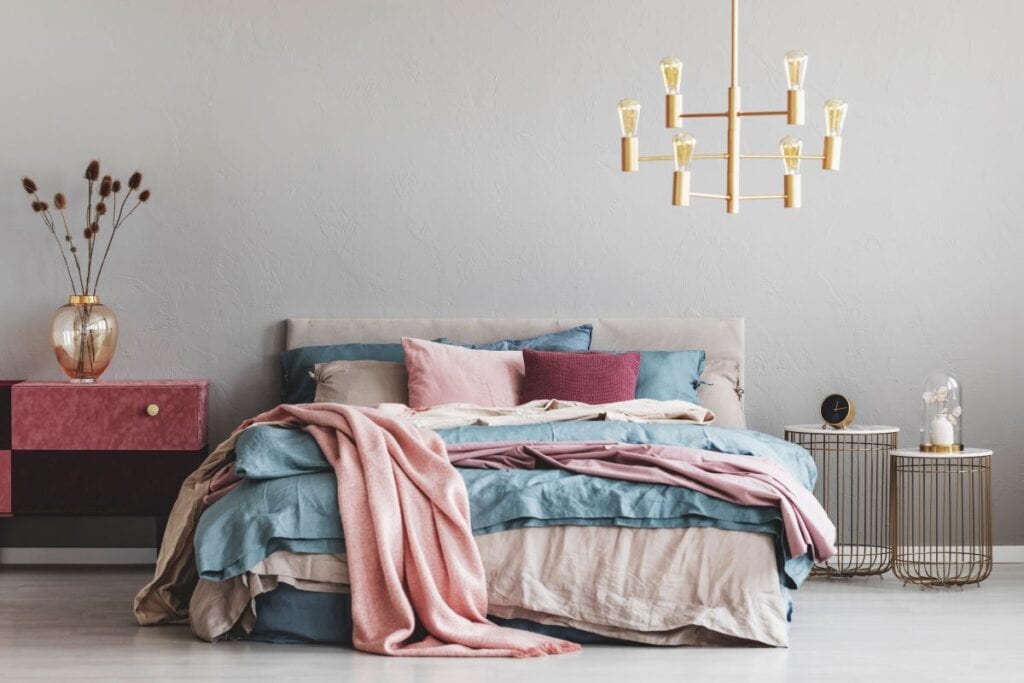 Your options for small bedroom decorating ideas are starting to look up! Adding a unique chandelier or pendant light is an excellent way to give your room a focal point and add some cozy lighting.
15. Cozy area rug for small bedroom ideas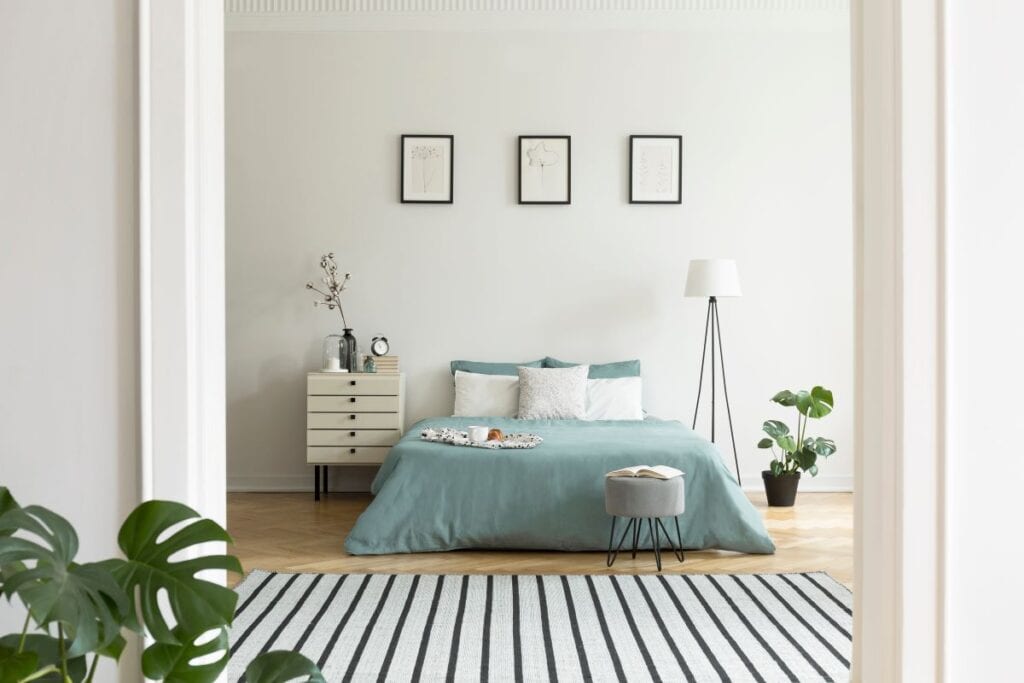 People often focus their bedroom decorating on the walls, shelving, furniture, and bedding. But don't forget the floor. An interesting area rug can instantly add warmth to a room or a pop of color. Play around with the texture and find something that looks good and feels great on your feet.
16. Bedside table shelving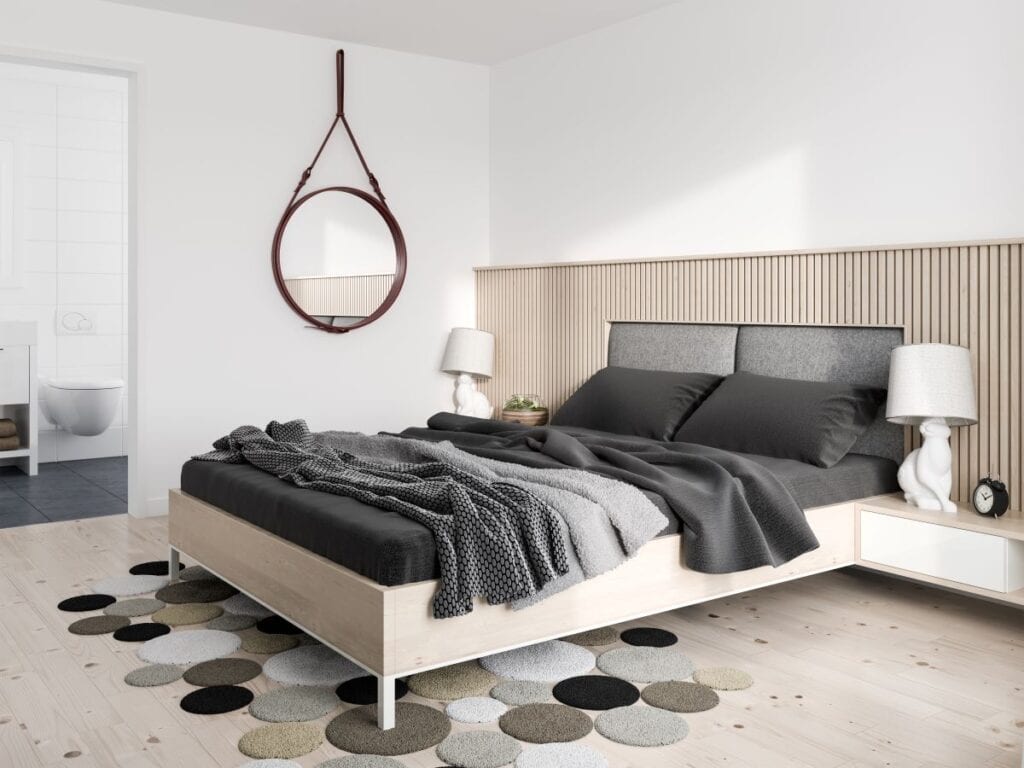 One more bedside table idea — shelving. Floating shelves work great as a nightstand. You can place them at the perfect height and if you DIY it, you can get the shelving cut to the exact size that fits your bedroom. Floating shelves come in a wide range of materials, too, from wood to glass to metal.
17. Sleek sconces for small bedrooms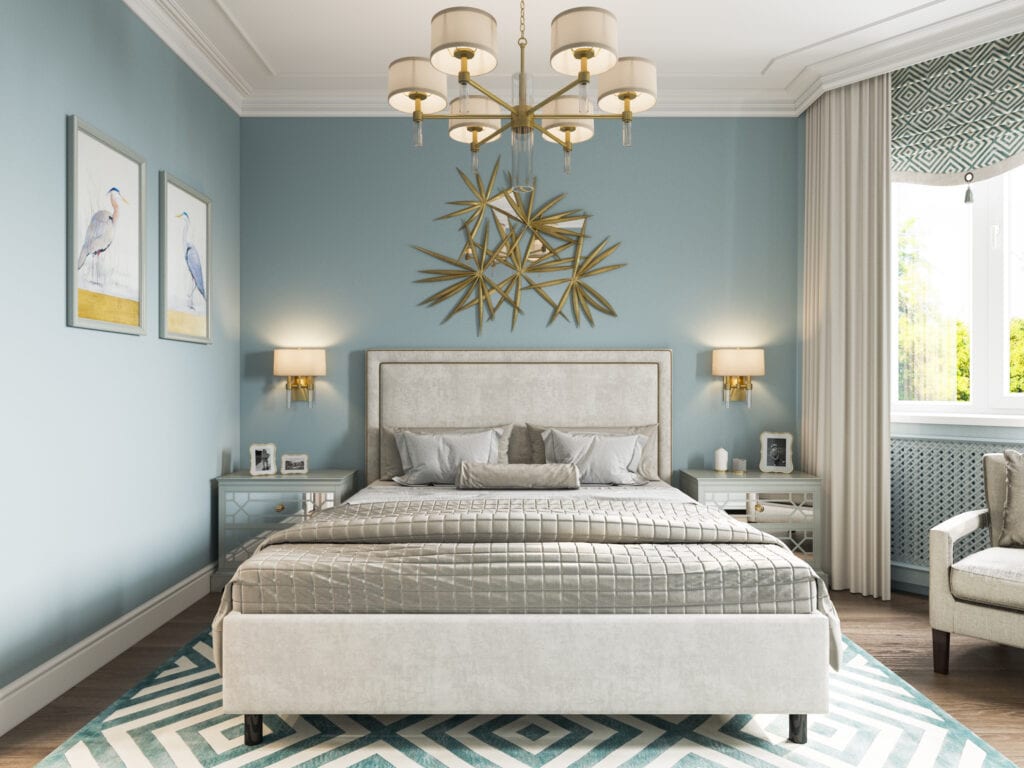 No room next to your bed for a lamp? Wall sconces are a smart solution to add reading light to a small bedroom. You can go for a modern look or a traditional style. Or get crazy and mix and match your sconces for an eclectic look.
18. Gorgeous greenery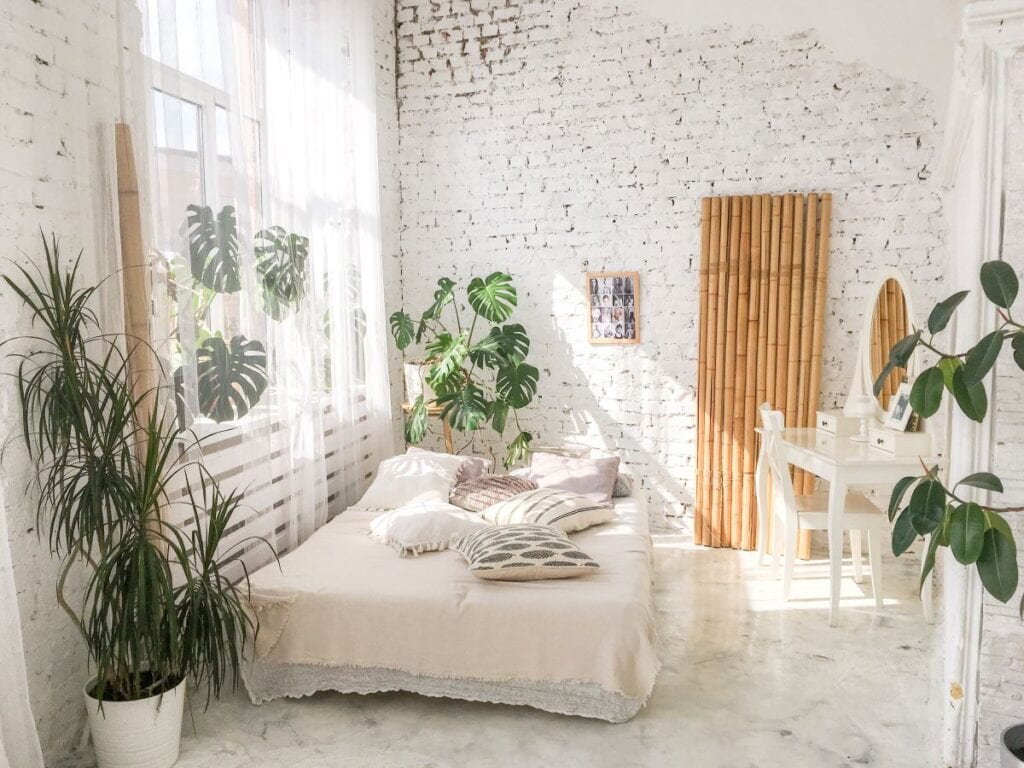 Make room for plants! Just because your bedroom is small doesn't mean you have to skip the greenery. Adding houseplants to your room makes it feel more alive and plants actually help clean the air. To maximize space, try wall planters. They turn your plants into works of art.
19. Breezy curtains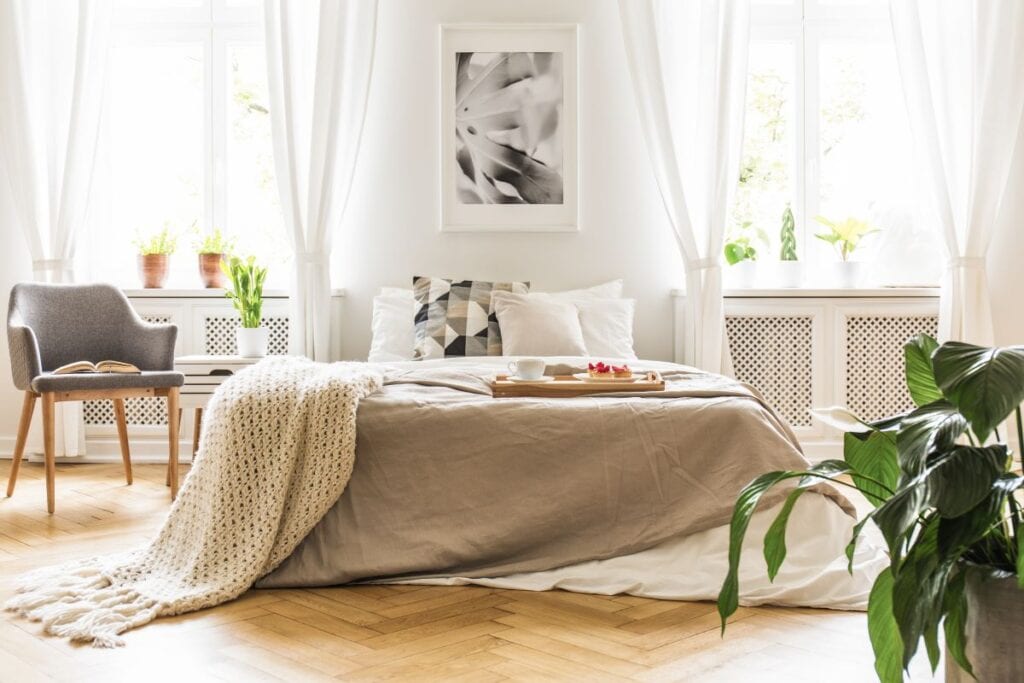 If your small room is short on windows, you can still get things flowing by using curtains to decorate. Two smart ways are to replace closet doors with curtains or use curtains to create a room divider. Either way, be sure to pick colors and textures that feel good in your space.
20. Sparkling string lights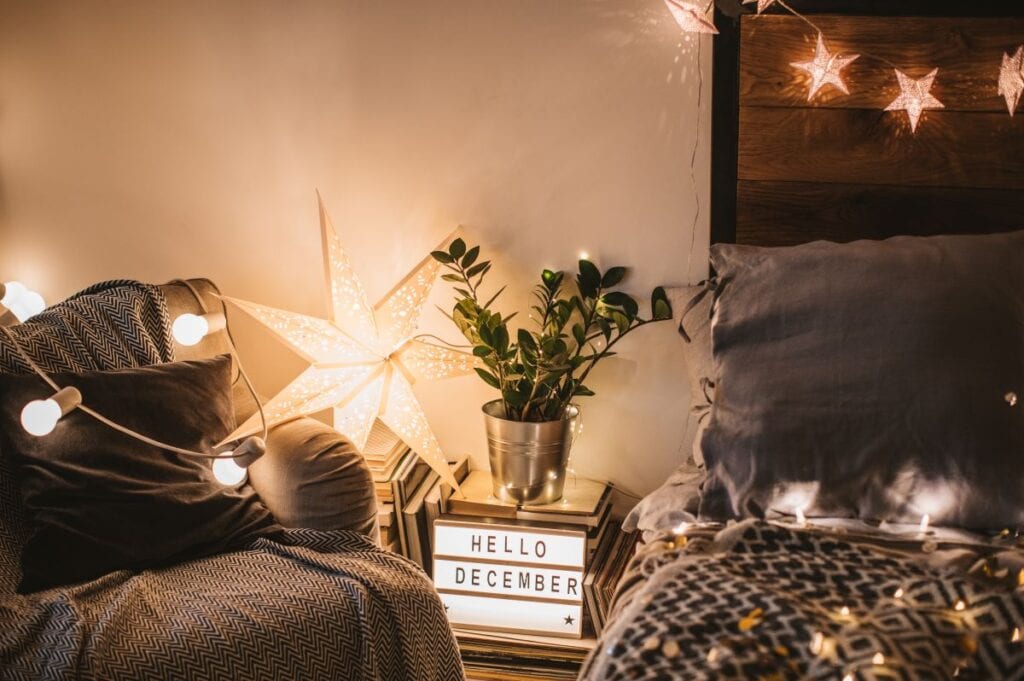 String lights aren't just for the holiday season! They're a cool way to create interesting lighting or art features in a small bedroom. Hang them on the wall, ceiling, headboard, or anywhere you can imagine. And tiny lights come in a wide range of colors to make your small bedroom look even more magical.
21. High-contrast color scheme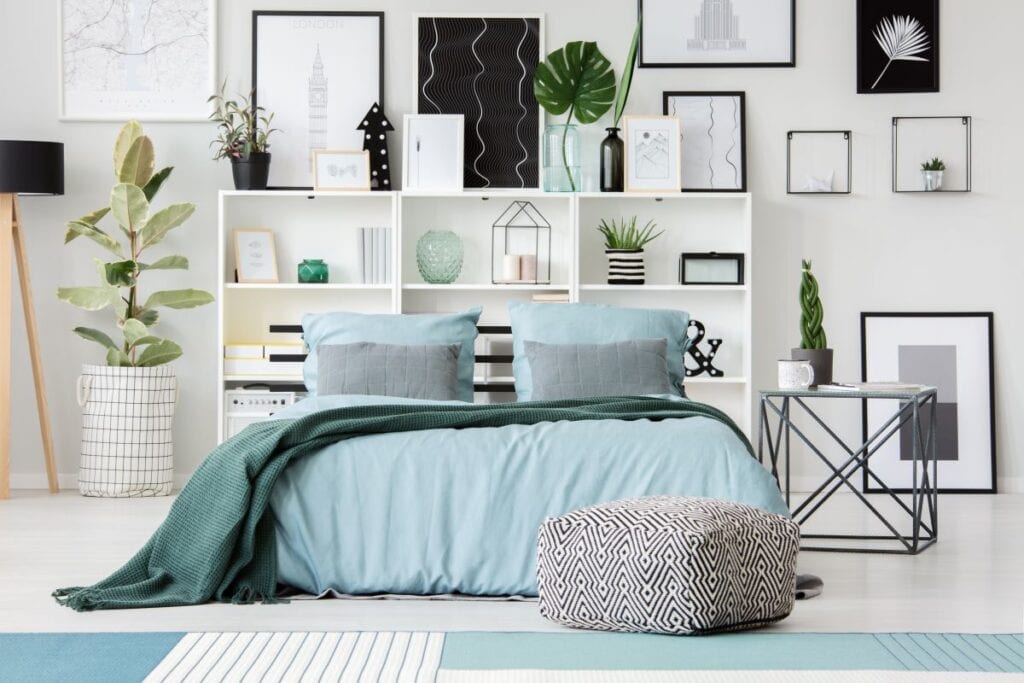 Pairing white with a high-contrast color is a big-impact way to decorate a small bedroom. Sticking with just one bold color, plus white, creates a dramatic look. And you can use this high-contrast effect in bedding, wall paint, artwork, rugs, and beyond.
22. Tiny wall art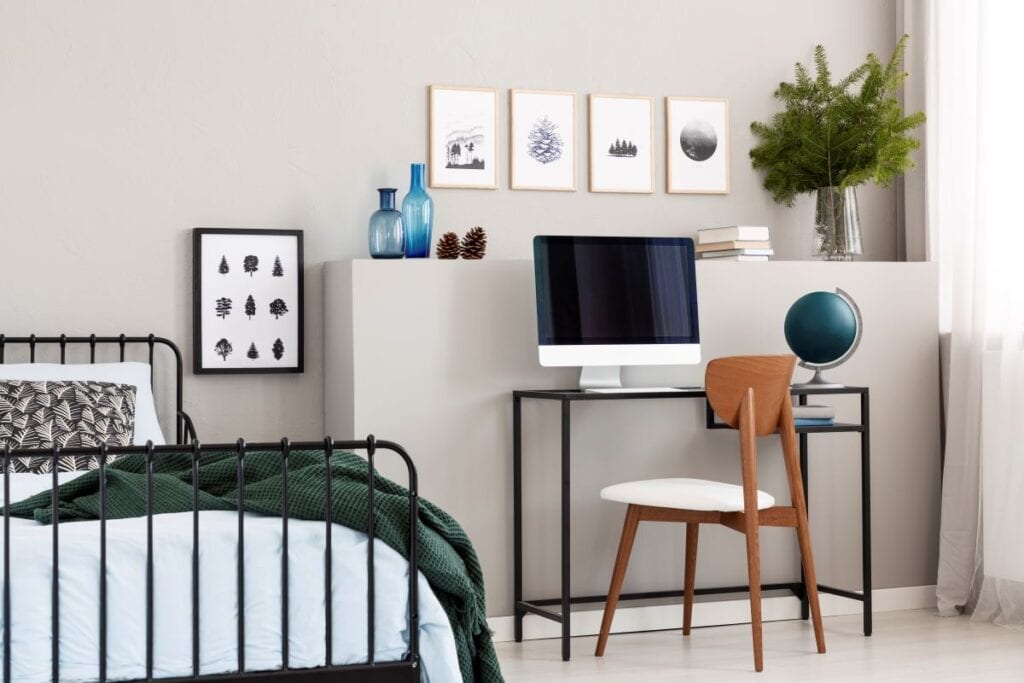 Small rooms are the perfect place to create the tiniest art gallery. Shop thrift shops, galleries, and home decor stores for small paintings and prints. Then hang a bunch of them on one wall for an eclectic collection. You can even make your own art by painting small canvases or canvases of different sizes that are on the smaller side.
The bottom line
Having a small bedroom doesn't mean you have to sacrifice style. There are plenty of room design ideas that maximize efficiency while elevating your room. The key is to find options that work best for your personal taste and space.
Frequently asked questions
Q:
How do you design a small bedroom?
A:
When designing your space. pick items that brighten and open up your room to make it feel bigger than it is. Things like mirrors, good lighting, and sleek furniture go a long way.
Q:
What is the size of a small bedroom?
A:
Bedrooms vary greatly in size and shape. The average size of a bedroom is around 11 x 12 feet.
Q:
How can I maximize space in a small bedroom?
A:
The best way to make the most of your small bedroom is to opt for practical furniture pieces that serve more than one purpose.
Claire Ballor contributed to this post.