6 Living Room Storage Tricks from Top Interior Design Pros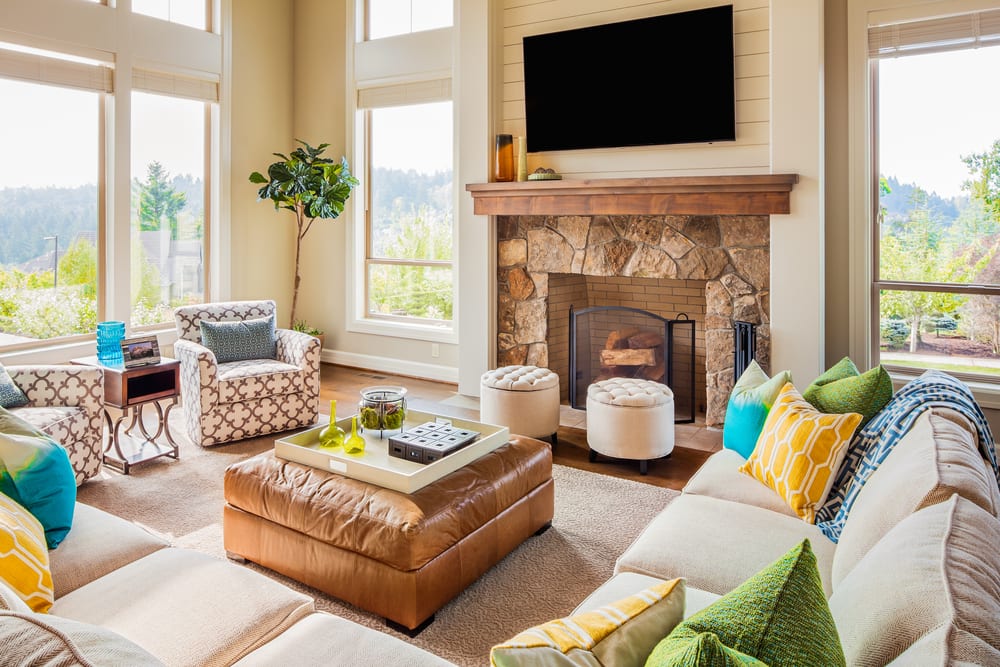 We hope you like the products we recommend. Just so you are aware, Freshome may collect a share of sales from the links on this page.
If you've ever wondered how to make the most of your living room storage, you're not alone. Nearly every homeowner is on the hunt for ways to keep their most-used room functional while still keeping it aesthetically appealing. In light of that, we decided to ask the experts for their advice. We asked six interior design pros to share their best living room storage tricks.
Here's what they had to say:
[caption width="1000" id="attachment_318836" align="aligncenter" ] An ottoman can be a great option for storing odds and ends. Image: Breadmaker/Shutterstock[/caption]
"Storage ottomans are a great solution for living rooms because they serve a dual purpose. In addition to having a lovely place to rest your feet, they provide a good-sized space to tuck away items you don't want all over the living room. This could be a good place for blankets or extra pillows, maybe even sheets if you have a pull-out sofa bed. Storage ottomans can tuck away DVDs and games, remote controls and those magazines that pile up in the living room. This functional piece of furniture is the perfect place to stash items before guests arrive."
—  Erika Bodine, Decorator, Interior Planner and Sales Manager, 
LuxeDecor
[caption width="1000" id="attachment_318838" align="aligncenter" ]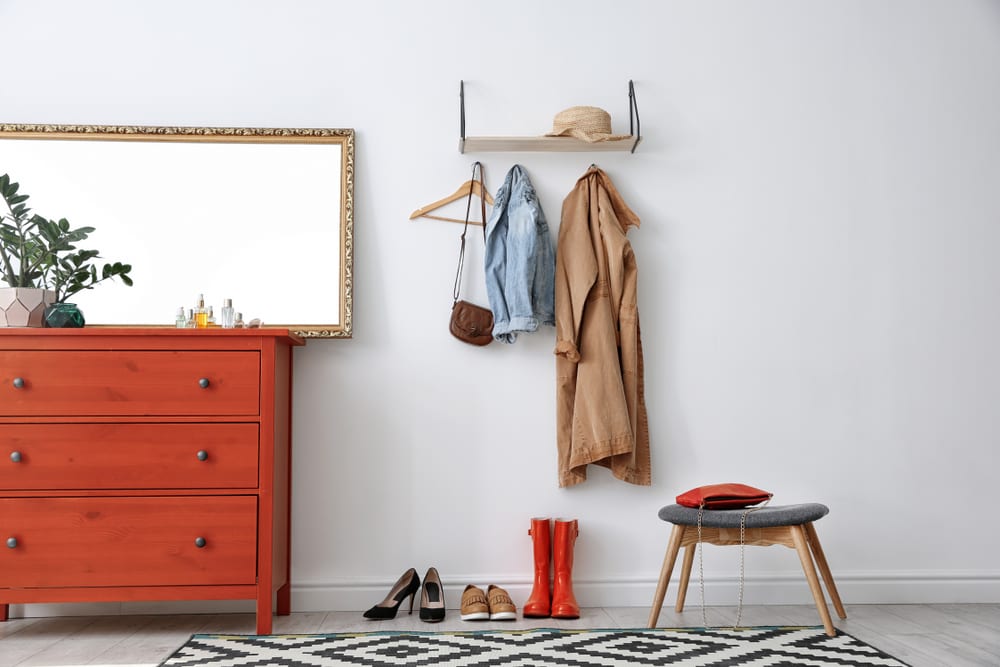 Create your own entryway with a few wall hooks. Image: New Africa/Shutterstock[/caption]
"Installing a couple of wall hooks is an effortless way to organize hats, coats and purses without cluttering drawers and counters. It's important to
find balance
and spacing that works for the item you are hanging, as it will create visual appeal and also naturally function as wall decor."
— Emilie Baltorinic, Interior Designer,
Living Spaces
[caption width="1000" id="attachment_318840" align="aligncenter" ]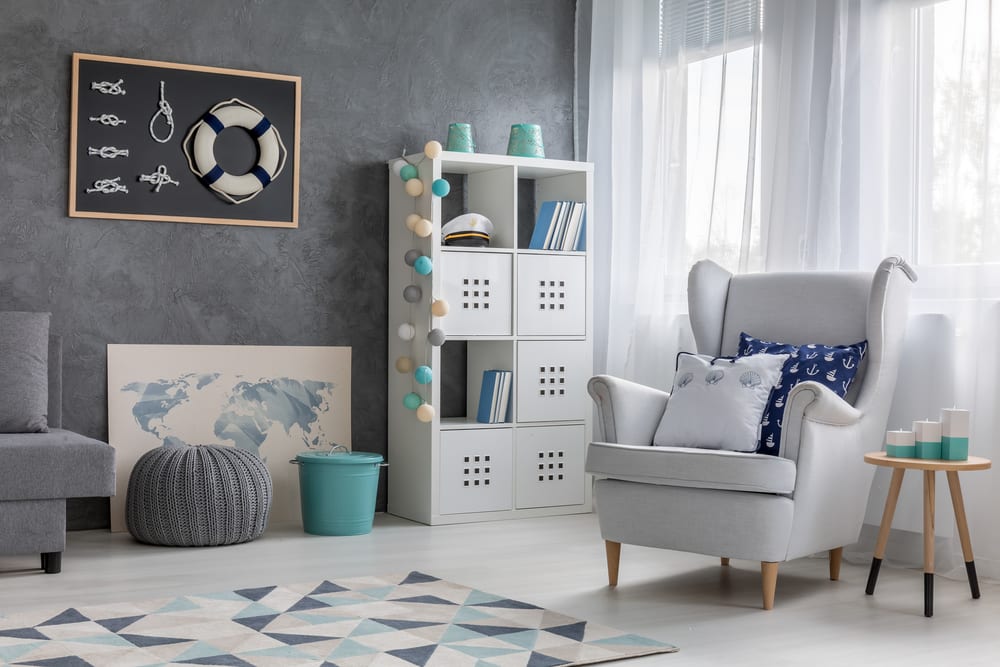 Use closed storage to your advantage. Image: Photographee.eu/Shutterstock[/caption]
Hide clutter in closed storage
"Some items, like books, can store really beautifully, while other items, like papers, children's toys or small electronics, can be an eyesore.  For these more difficult items, consider closed storage like a
fabric cube
or
wicker basket
. This strategy still makes all items accessible but makes it easier to also design a functional space with storage in mind!"
— Kayla Hein, Creative Director,
Modern Castle
[caption width="1000" id="attachment_318841" align="aligncenter" ]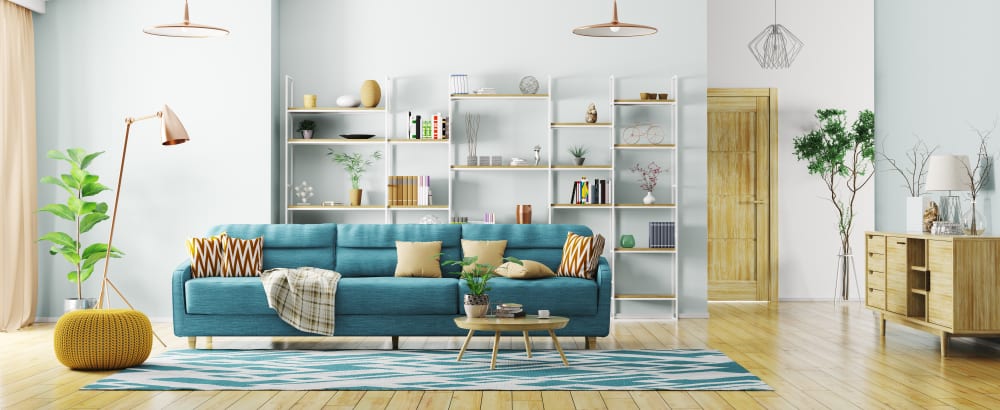 Go vertical with a wall storage unit. Image: Vadym Andrushchenko/Shutterstock[/caption]
Think about using a wall storage unit
"Symmetry creates order out of dissimilar items. Storage wall units like the
IKEA Kallax
create a wall of squares that get items up and off the floor and other horizontal surfaces. They can also be used to create these little feature cubes where you can play with color, theme and texture."
— Darla DeMorrow, Certified Professional Organizer and Owner,
HeartWork Organizing
[caption width="1000" id="attachment_318843" align="aligncenter" ]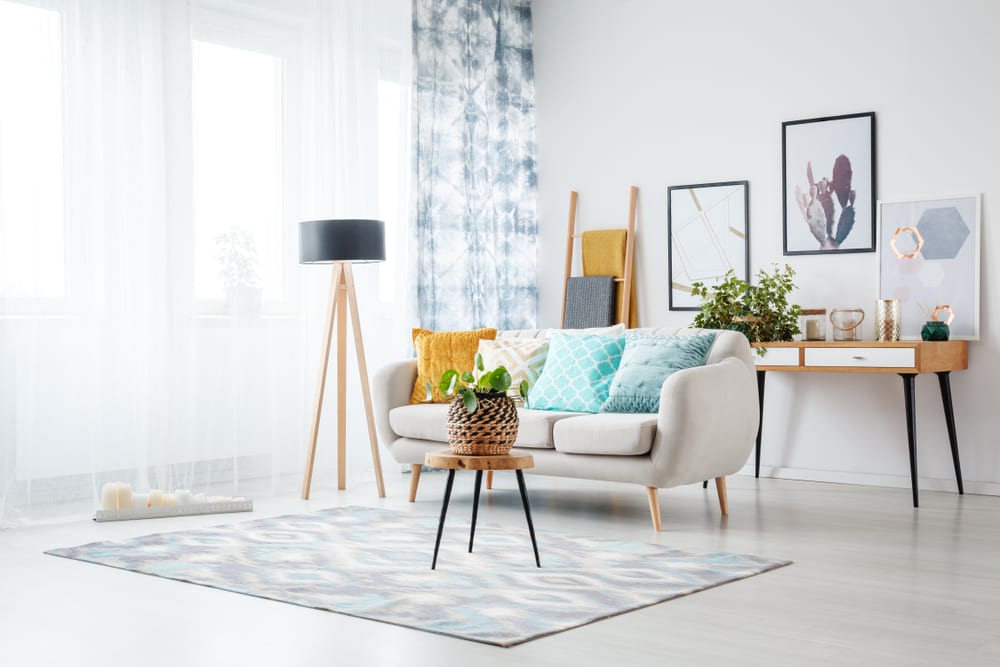 Use a sofa table to add storage that won't take up much space. Image: Photographee.eu/Shutterstock[/caption]
"My favorite tip for increasing the storage space [in a living room] is to add a sofa table. In most cases, there is a little bit of space left between the couch and the wall. Take advantage of this space by placing a narrow table behind the couch. Pick a table with complementing color that's the same length as the sofa. You can use it to store magazines, books, remotes, frames, decor or lamps. You can even install an outlet in the table to create a phone charging station."
— Eva Bowker, Home Improvement Coordinator,
Fantastic Handyman
[caption width="1000" id="attachment_318844" align="aligncenter" ]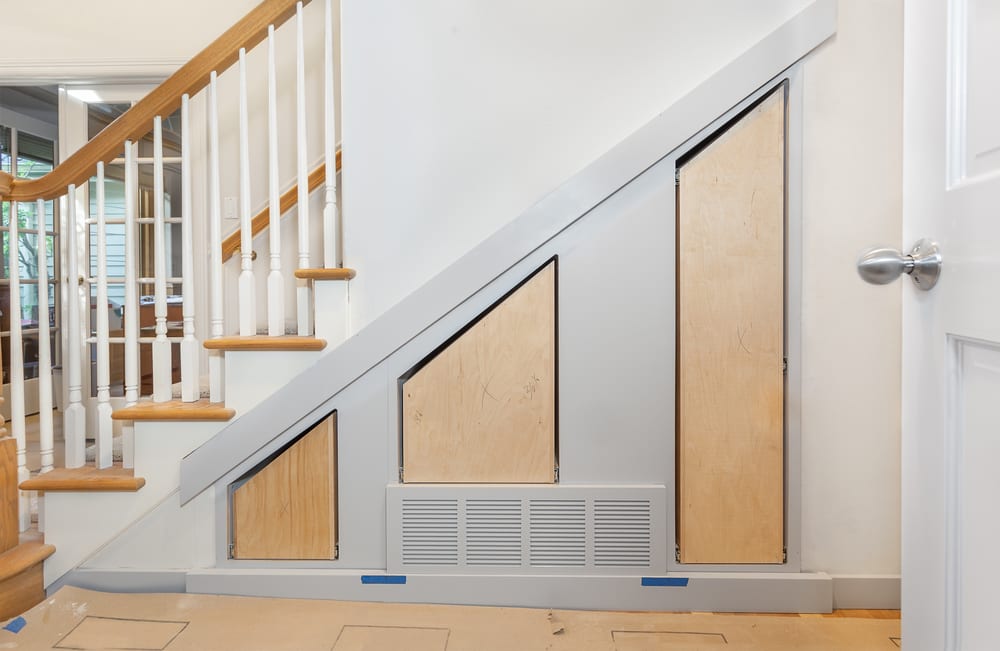 Store larger items in the space under the stairs. Image: Jo Ann Snove/Shutterstock[/caption]
Utilize the space under the stairs
"The space under the stairs can be used as a closet space with pull-out shelves or racks. A
remodeling contractor
can create this extra storage safely while maintaining the structural integrity of the stairs. This storage space can be used for many purposes like shoes, coats or a mini library."
— Amira Johnson, Interior Designer, 
Emerald Doors