How to Move a Mattress in 7 Steps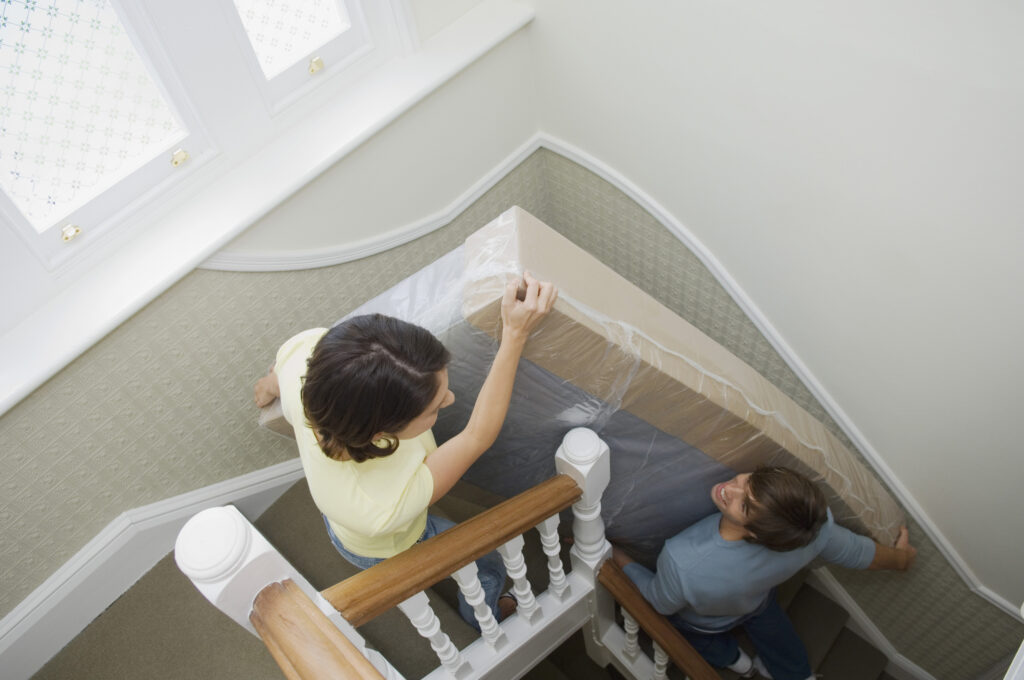 A National Sleep Foundation poll found 92% of respondents considered a comfortable mattress was key in having a good night's sleep. Let's face it; nothing feels better than going to sleep in your bed after a long, hard day of moving. So, when you settle into your new home, creating a comfortable sleeping environment for yourself is essential. Luckily, moving your mattress doesn't have to be hard. Using items such as a mattress bag and a mattress cover for moving can help you move it with minimal fuss.
This guide will explain, step by step, how you can move your mattress with ease and keep it safe, dry, and protected. The process isn't complicated if you use these seven simple steps. You can feel happy knowing that your sleeping sanctuary will be waiting for you at the end of Moving Day. A perfect way to start life in your new home!
How to move a mattress in 7 simple steps
Step 1: Remove your mattress from the bed frame and place it against the wall
Prepare the mattress by removing all sheets first. Then lift the mattress from the bed frame using the proper lifting technique. Place the mattress on its side (long edge) against a wall.
Step 2: Put a plastic mattress cover over the mattress
A plastic mattress cover for moving is a great solution to avoid dirt or any possible stains. Raise the mattress at one end and slide the mattress cover over the full mattress, from the bottom to the top. Expel any air from inside the cover and then seal it with packaging tape.
Step 3: Place the mattress into a mattress bag
You can further protect your mattress with a mattress bag. Slide the mattress into the bag, the same way as you did with the cover. Once your mattress is bagged, close the zipper or self-adhesive strips to seal it.
Step 4: Remove any potential obstacles
You need to make sure that the path is clear for you. Check that the route from your bedroom to the transport is free from all obstacles.
Step 5: Lift and carry the mattress correctly
Decide who will move backward and who will walk forward. Keep the mattress on its side and lift it from the bottom corner that is nearest to you. Remember to lift at the same time and to use your legs (not your back) when you pick it up.
Step 6: Carry the mattress to the vehicle
It can get tiring carrying a mattress, so take your time and don't rush. If one of you needs a short break, let the other one know in advance, so you can put the mattress down at the same time. You can also use moving straps to help you.
Step 7: Secure it safely in the vehicle
The best way to transport your mattress to your new home is in an upright position and on its side. You can secure it in your vehicle by using heavy-duty ratchet tie-down straps.
A mattress cover for moving and other things you'll need for this task
Here's what you'll need to successfully and safely move your mattress:
*Pricing as of 04/29/2020
Factors to consider when moving a mattress
The key to moving a mattress without damaging it (or hurting yourself) is to plan. Think through these questions:
Is your mattress worth moving? The Better Sleep Council calculates the shelf-life of a mattress is about seven years, depending on the quality of the mattress and how you sleep on it. If your mattress is older than this, it might be best to buy a new one instead of moving it.
Do you have a big enough vehicle to move the mattress? Imagine carrying your mattress to your car only to realize that it won't fit. You can avoid this situation by measuring the mattress and your vehicle's space in advance.
Do you have somebody who can help you? Friends and family might offer to help but could end up disappearing on the day of the move. So, make sure that you ask somebody you're sure you can count on. Moving the mattress by yourself is a definite no-no, as you might injure yourself.
Where should I unpack the mattress? A rookie error is to put the mattress straight into the bedroom in your new home. You should set it in a different room until the bed is ready.
The bottom line
If you want to move your mattress to your new home safely, you need to get organized and buy a few items in advance. Plan to pack it safely and securely using a mattress cover for moving and an extra mattress bag, and use straps to lift and carry it to avoid any injuries. Also, make sure that the passage from your bedroom to your car is free from any obstacles. You can secure the mattress in your vehicle with tie-down straps, so it's ready to arrive at your new home in good shape.
Frequently asked questions
How much does it cost to move a mattress?
The cost can depend on the size and weight of the mattress. The distance it travels can also affect the price. You might be able to move the mattress yourself (with the help of a friend). If you don't have access to a truck or a car big enough to hold your mattress, you might have to rent a moving truck.
How do you move a heavy bed by yourself?
The simple answer is that you shouldn't move a heavy bed by yourself. At least two people should move a bed or mattress to avoid any injuries.
Is it possible to fold a mattress?
You can only fold a mattress if it's all-foam and is thin to medium thickness. But it's best to keep all mattresses flat to prevent damage.
How can I transport a memory foam mattress securely?
Memory foam mattresses can be wobblier in general. Use bubble wrap and a shipping box to help keep its shape during transport.