11 Powder Room Ideas That Transform Your Small Half Bath From Ordinary To Extraordinary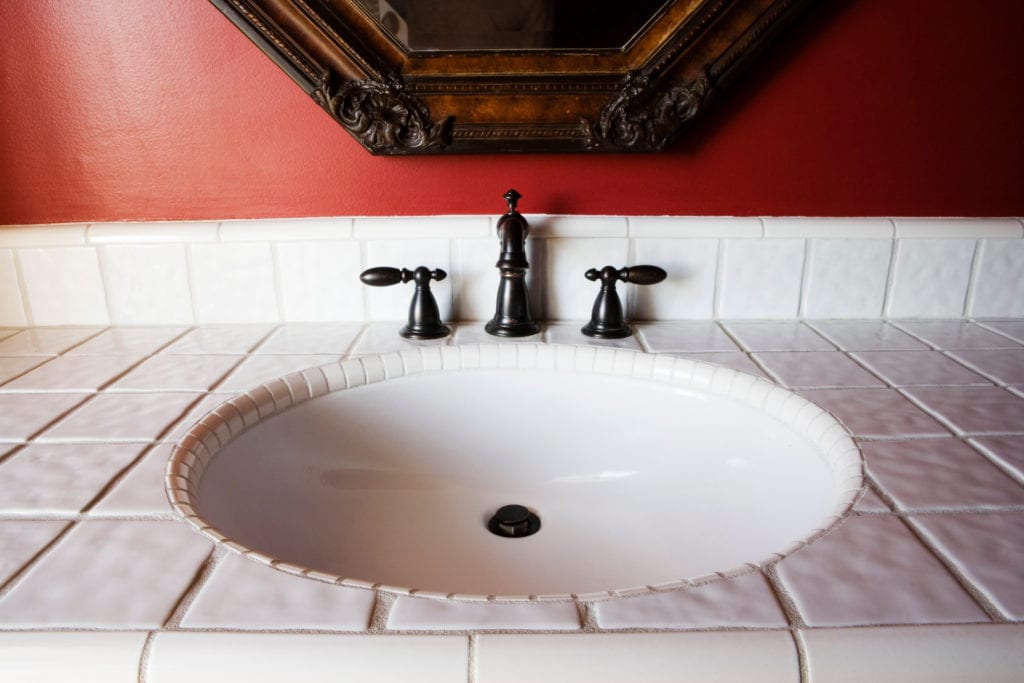 The powder room, also known as a small guest bath or half bath, is usually located near a home or apartment's entrance and consists of a toilet and sink. Most half bath spaces are small and basic, but they don't have to be.If you entertain often, your guests will most likely use your half bath. What does the room say about you? It's time to transform your half bath from ordinary to extraordinary with our powder room ideas and tips that will make your guests' visit a swoon-worthy experience.
Use Some Creative Powder Room Ideas To Create A Picture-Worthy Setting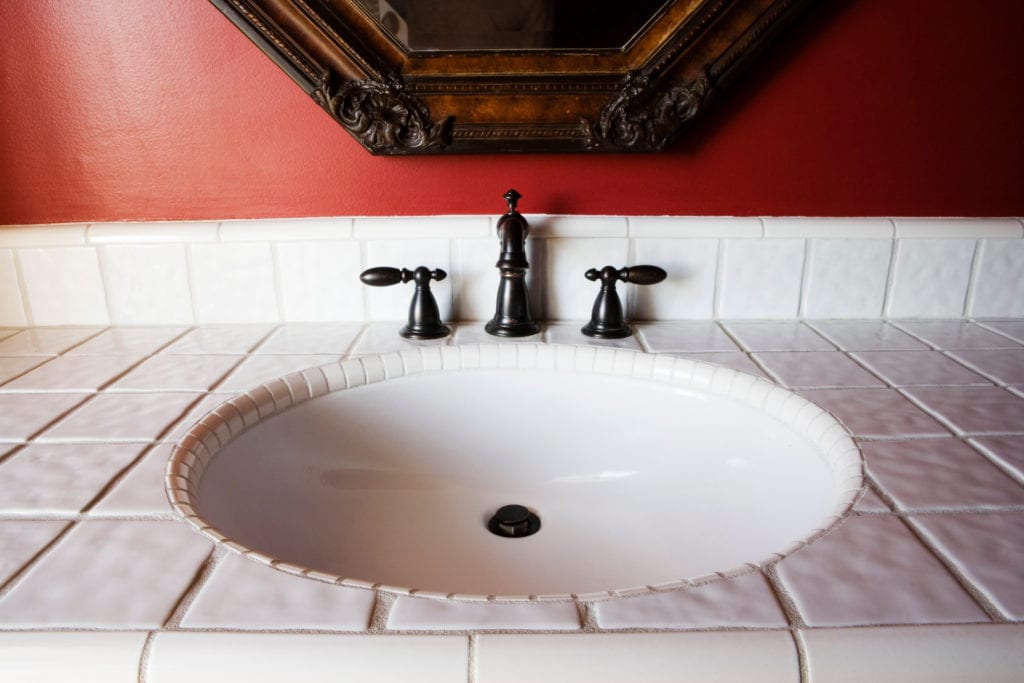 Shop These Products Now: Antique Faucet – Round Sink – Mirror
First things first. Don't treat your powder room like an ordinary bathroom. See your half bath as a tiny treasure box waiting to be opened and discovered. And so the first secret to creating a gorgeous space is to consider what guests will see the first time they open the door.
Tip: Open the door to your half bath and visualize what it should ideally look like. Will there be a bold splash of color? Will the vanity and lights be symmetrical and perfectly centered in the door opening? Will the colors and textures draw you in?
Pretend you're a photographer and snap a photo of your half bath from outside the room with the door open. Then see how you can improve the design for a better photo, like these half bath ideas:
Half Bath Ideas Featuring Color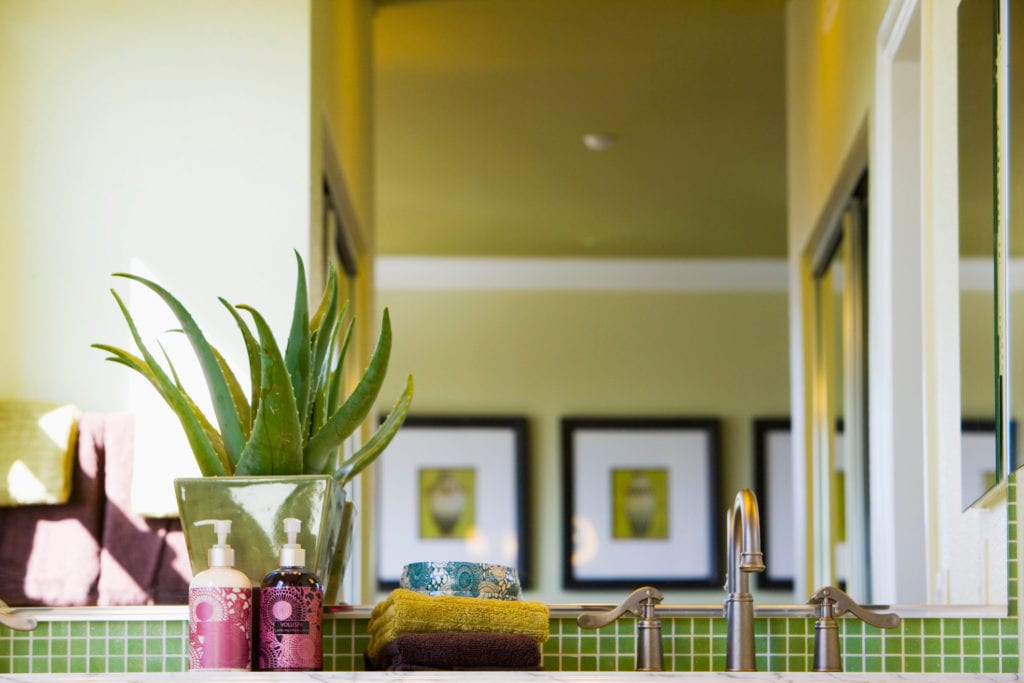 Shop These Products Now: Sink Faucet – Pump Bottle – Aloe Vera Pot
You're dealing with a small space, so don't be afraid to be bold. One of the easiest ways to make a big statement is with a bold color.
Tip: Forget the rule that small spaces should be white or light. Add your favorite color to the walls. Some powder room ideas that add color to your space include:
Painting the entire room in a deep, rich color – ceiling included
Painting the wall behind the vanity in a high-gloss, bold shade
Adding colorful accents like towels and art in bright tones
Read more about small bathroom rules worth breaking here.
Here are some powder room ideas featuring color for inspiration:
Wallpaper Your Powder Room Walls
The latest wallpaper designs are a great way to breathe life (and design) into your small powder room. The variety of colors and patterns available can transform your powder room into quite the showcase!
Tip: Choose a vinyl, water-resistant wallpaper, just in case splashing happens. And if you live in a rental, look for removable wallpapers that make it easy to take the wallpaper down without damaging the walls when you move out. You can read more on removable wallpaper here.
Splurge On Stunning Tile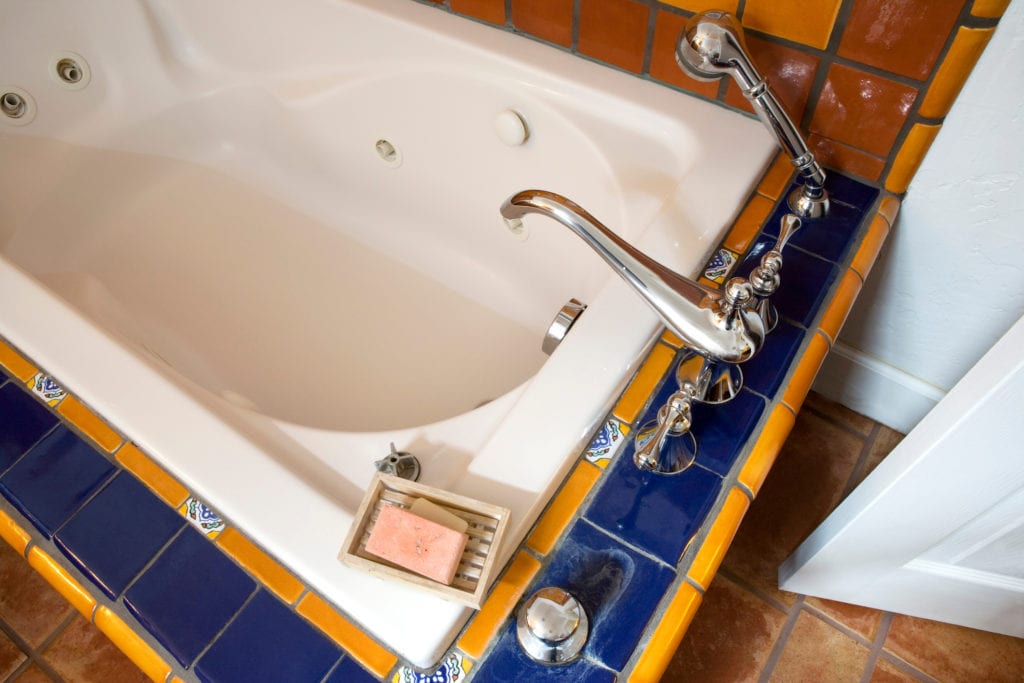 Shop These Products Now: Bathtub Faucet – Bathtub – Bathroom Tiles
Tile can be expensive. But if you have a tiny half bath, you don't need a lot of tile to make a big statement. Go for it – the effect far exceeds the initial cost.
Tip: If you're going to splurge on tile, choose a tile with a graphic pattern or unique look and use it floor-to-ceiling. If your budget is limited, tile the vanity wall and use a less expensive flooring option, like vinyl adhesive tiles, that look like stone or real tiles.
Don't Settle For Ordinary Powder Room Mirrors
Your half bath square footage is limited, so make every inch count! Powder room mirrors are not only the exclamation point in your half bath's design, but they also expand a tiny bathroom.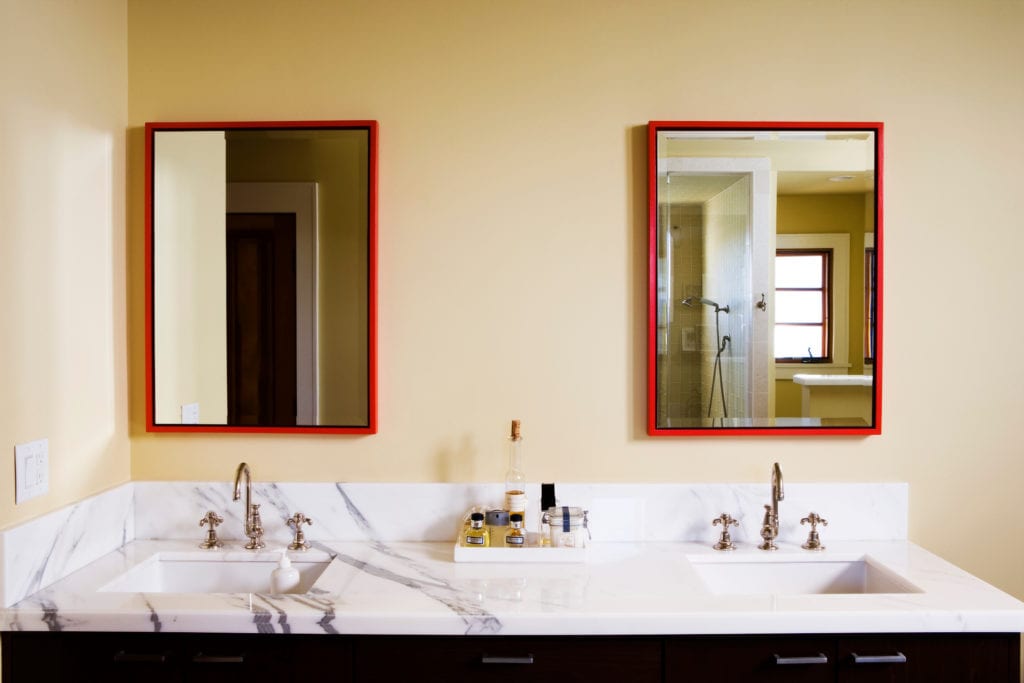 Shop These Products Now: Mirrors – Sink Faucet – Pump Bottle
Tip: Don't shop for a basic mirror. Look for an interesting art frame and add a mirror to one. Or do something unexpected like creating a gallery wall of small mirrors over your vanity. Get creative!
Choose Powder Room Lighting That's Functional And Fashionable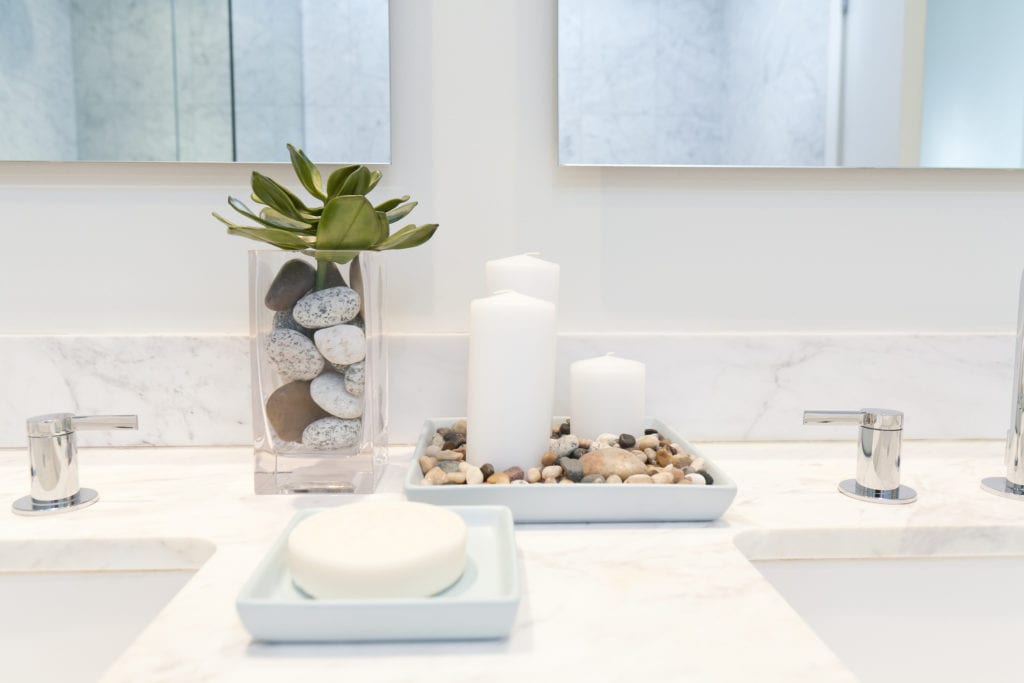 Shop These Products Now: Pillar Candles – Glass Pot – Soap Dispenser Set
Good lighting can make all the difference in your powder room. Consider the powder room lighting to be the earrings that complete your outfit (or half bath).
Tip: Layer your lighting to include mood lighting and functional lighting. A pendant can create a statement and still light up the room. Wall sconces or candles can add to the ambiance. Consider a brighter, cooler-temperature bulb for your functional lighting and dimmer, warmer bulbs for your ambient lighting.
Offset The Elements On Your Focal Wall For Visual Interest
Want to do something fresh and modern in your half bath? You can center everything and go for a symmetrical look. Or you can break the rules to add interest by grouping things to one side.
Tip: Some ways you can add visual interest by offsetting the elements in your powder room include:
Mounting the mirror to the left or right of the vanity
Hanging lighting or pendants in a grouping on one side
Grouping accessories on one end or the other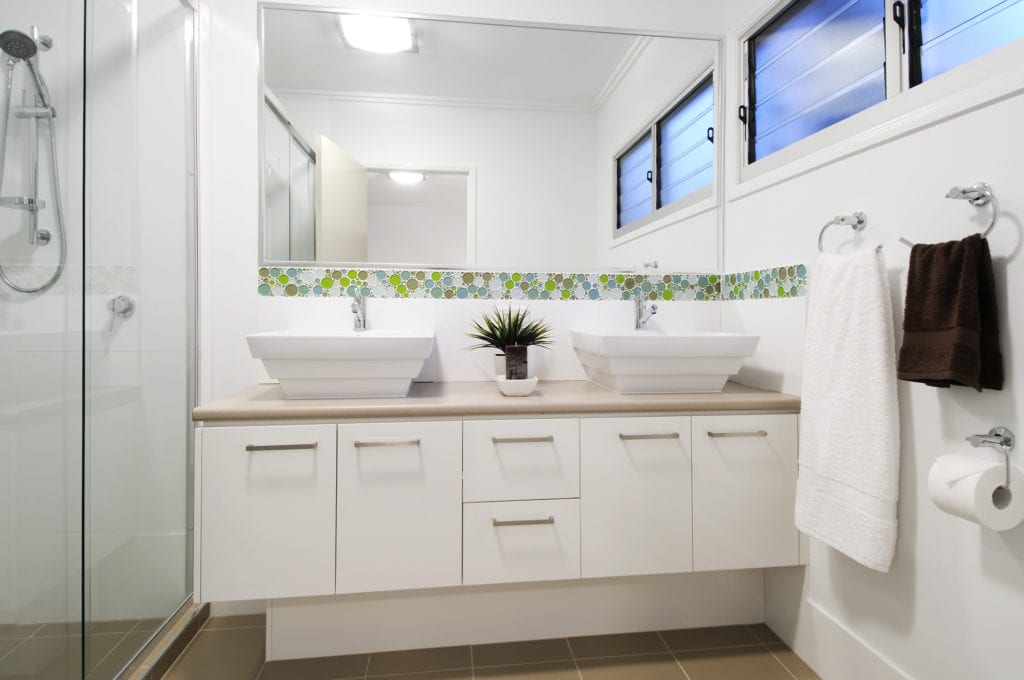 Shop These Products Now: Towel Holder – Toilet Paper Holder – Wall Mirror
Make The Vanity The Star Of Your Half Bath
The powder room has two main functions: washing up and using the toilet. The vanity, therefore, is very important in your small bathroom. Make it a showstopper.
Tip: Choose a small piece of furniture to repurpose as a vanity. Add a vessel-style sink that sits on top of the piece. Or to save space and go for a contemporary look, mount a floating-ledge counter. Looking for the perfect small bathroom vanity? Check this roundup out, featuring the best small bathroom vanities for sale now.
Dress Up Your Half Bath Walls To Add Value
A little bit of carpentry can add a high-end, expensive feel to the most basic half bath. If you own your home or apartment, adding wainscoting, paneling or molding to your powder room can increase your home's property value.
Tip: Mount crown molding or pre-fab wood wall panels to your half bath and paint them in a semi-gloss or eggshell finish for a high-end feel.
Small In Space But Grand In Texture Is The Secret To A Stunning Half Bath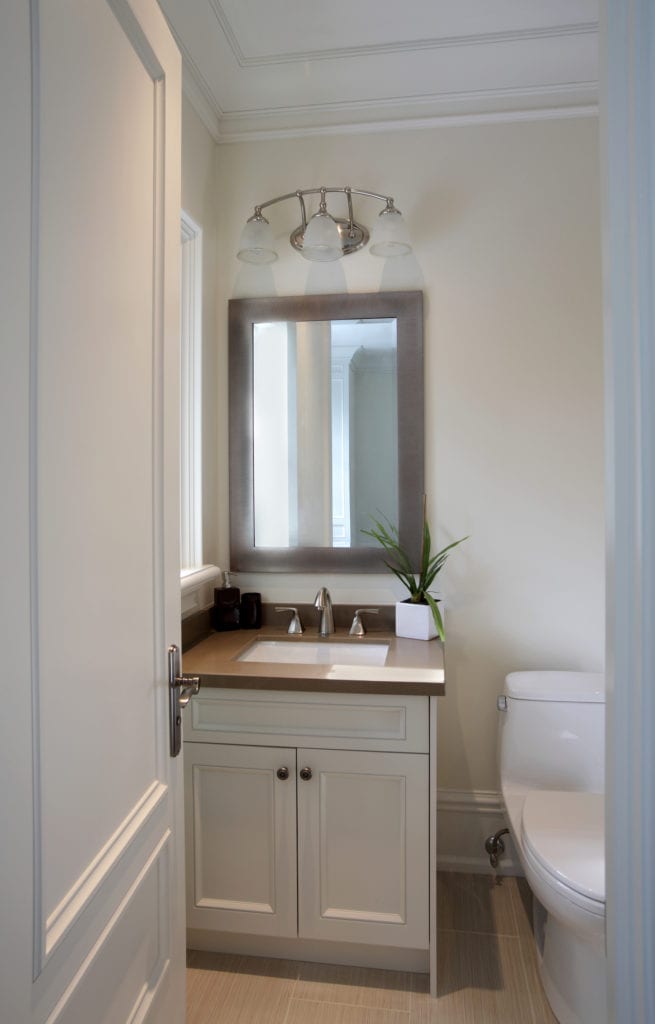 Shop These Products Now: Vanity Cabinet – Mirror – Wall Lamp
Texture adds an air of sophistication to any interior. Texture is also incredibly attractive to most people because of its tactile feeling that draws people closer to touch. Although your powder room is small, layer as much texture as you can to add depth.
Tip: When working with texture, stick to a soft, monochromatic color theme. If you stick with natural colors that are varying shades of the same tone, mixing and matching different patterns and textures will be successful.
Complete Your Half Bath With Accessories
Now that you've created the coolest powder room ever, it's time to pull it all together with the perfect accessories. After all, the magic is in the details.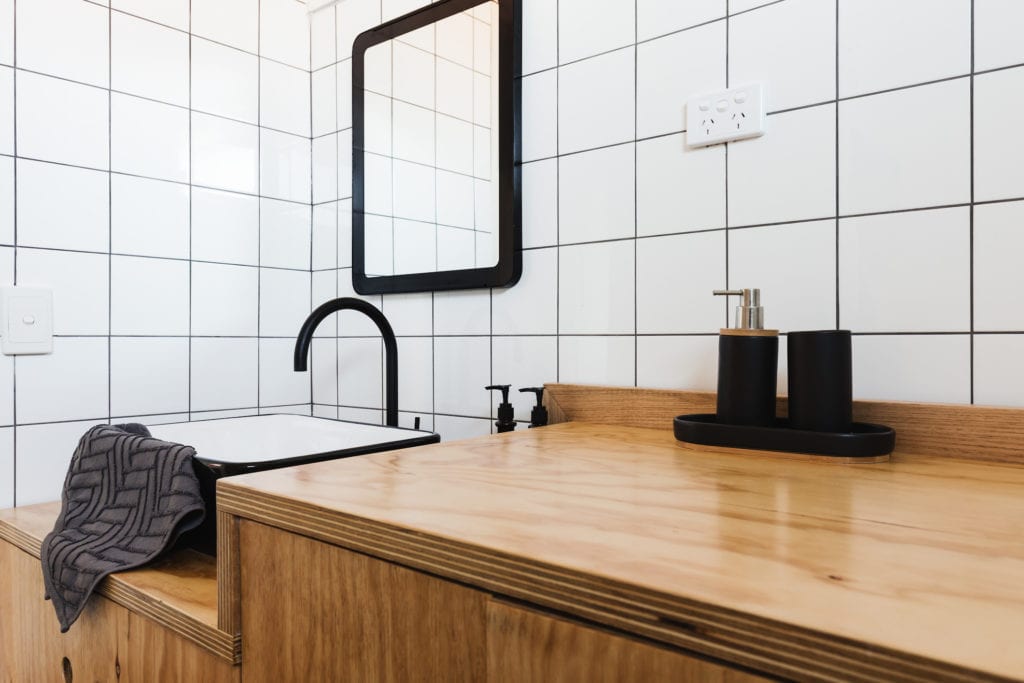 Shop These Products Now: Soap Dispenser Set – Wall Mirror – Towel
Tip: Some items you may want to add to complete your powder room include:
A wastebasket that coordinates with a soap dispenser, tissue box cover and tray
Candles or room diffusers
A vase or decorative vase collection
Plants or orchids
Check out these half bath decor ideas that complete the space: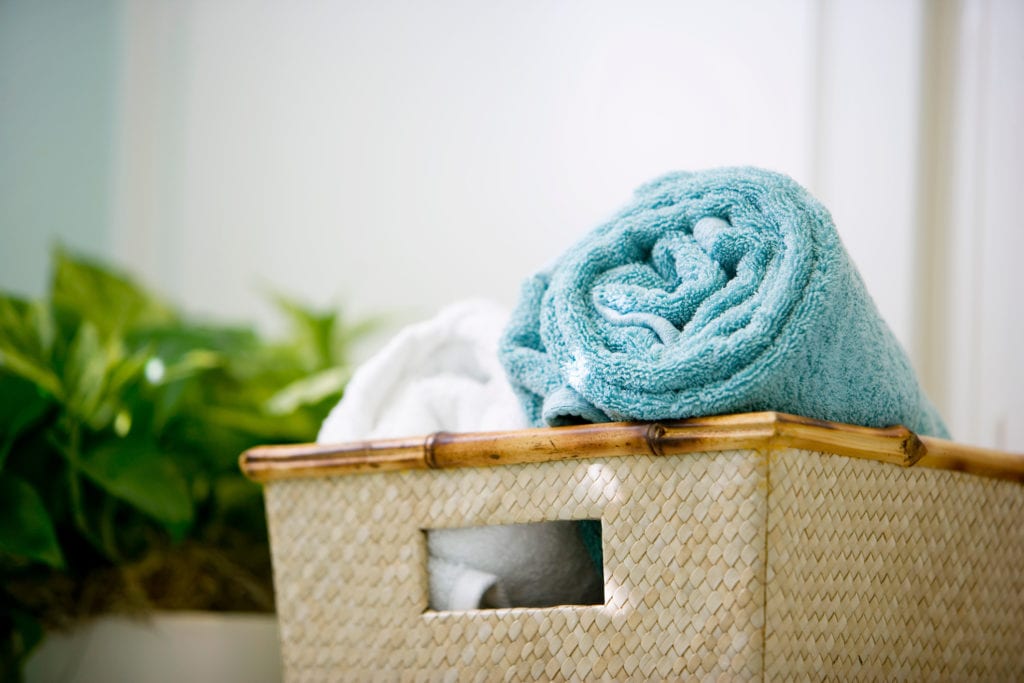 Shop These Products Now: Towels – Basket – Bathroom Plants
We hope you've found plenty of inspiration in these powder room ideas so you can execute the most memorable half bath ever.