How to Hang a Gallery Wall: Ideas and Tips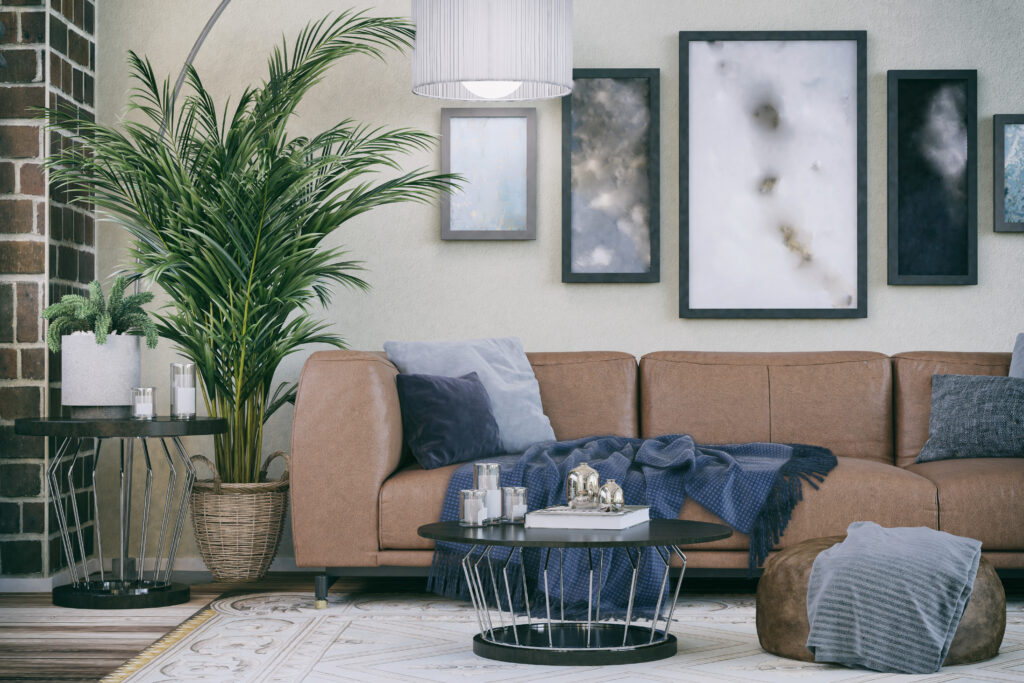 A gallery wall is an artfully displayed collection of photos or objects. We have some ideas, as well as planning and design tips, for you on how to hang a gallery wall that will add a modern look to any room. We're here to inspire and help you from start to finish. In this article, you'll learn designer secrets to creating a gallery wall, choosing style options, and planning the project, as well as ways to hang the items. We'll also give you some ideas for what to use besides photographs to create a gallery wall.
Planning Your Gallery Wall
While gallery walls often look as if they evolved organically over time, they require some planning to get the look right. First, identify a wall that needs a style upgrade. Good gallery wall candidates include large, empty walls or awkward spaces where traditional artwork doesn't quite fit (next to a stairway, for example). Another good place for a gallery wall is the first wall you notice when you enter a room. Next, determine what kind of style you want your gallery wall to be. Take a look around the room; would classic black-and-white images work best with your furnishings and decor, or would colorful artwork or objects make the wall pop? Do you want an ordered, symmetrical wall, or would you prefer an organic, free-flowing collection? Finally, estimate how much space you'll use. Do you have an entire wall to play with or a few square feet? Is it a very vertical or horizontal space? This will dictate how many items you use.
Choosing Your Gallery Wall Collection
You now have a space is chosen and a style goal. What will you be hanging? There are two approaches to your collection.
Unified: A collection of similar items such as photographs, mirrors, or dishes
Eclectic: A combination of items such as pictures, objects, and paintings (like the image below)
Some gallery wall ideas include:
Baskets
Vinyl album covers
Framed wallpaper or patterned fabric
Empty antique frames on a contrasting color wall
Mirrors in different shapes and sizes
How to Hang a Gallery Wall
Get your collection in order and plan the hanging layout. You can do this in one of three ways:
On the floor. Use some painter's tape to mask out a space on the floor the same size as the wall area. Start arranging your collection within the outline on the floor until you're happy with it. Once the layout is complete, take a picture of it and note distances between the items. Hang the items on the wall in the same spacing, one item at a time.
On the wall. Outline the shape of each object on a piece of paper and cut it out. Label each shape to represent the object on the wall, and tape the paper shapes on the wall until you're happy with the layout. Hang the actual piece where the paper shape is taped.
Using a wall gallery kit. Perfect Picture Wall makes hanging a gallery wall simple. You can order predefined gallery layouts on the company's website that come with photo frames, mats and a wall template. Insert your favorite images in each frame, hang the paper template on the wall and then hang your photo gallery. Here's an instructional video on how to use the wall gallery kit.
Alternatives to Nails
If you can't (or don't want to) put a lot of nail holes in the wall, here are some other options you can use to hang a gallery wall:
• Use Command Picture Hanging Strips. The adhesive on these strips is strong enough to hold photo frames. They come with a velcro backing to make removing or replacing items on your wall easy.
• Use floating shelves. If you like to rotate the items in your gallery wall collection, try hanging some floating shelves to hold your items instead. Although shelves also require nails, you'll use a lot fewer than if you were to hang each item individually.
• Use a museum gallery hanging system. Composed of interchangeable steel hardware and cables that hang from a track on the ceiling or upper wall, museum gallery systems add an industrial, contemporary edge to your gallery wall (see image below). One company that offers several options is Systematicart.com.
The coolest part of making your gallery wall idea a reality is the many ways you can create collections. Get creative with your displays to make a sce that's contemporary and unique to your personal style.