There's a Small Bathroom Design Revolution and You'll Love These Rule-breaking Trends
We hope you like the products we recommend. Just so you are aware, Freshome may collect a share of sales from the links on this page. 
Tired of your small, dark and uninspiring bathroom? Are you ready to finally give it an overhaul? Well, there's no better time to give your small bathroom a fresh look. Small bathroom design is finally stepping out of the cookie-cutter bathtub, sink cabinet, mirror and toilet combination. The latest small bathroom design ideas are fresh and revolutionary, rethinking what we all expect a bathroom design to look like. Wall-mounted toilets and sinks defy gravity. Cabinet doors are gone. Bold texture and patterns take over a small bathroom space. Get ready to break some rules and open your mind to what your small bathroom should look like with the following nine concepts.
1. You don't need as much bathroom storage as you think
The first small bathroom design idea for 2017 is a big one: you really don't need more storage, just a more minimalist attitude! Think about this one for a minute. Those large vanities with the deep cabinet space under the sink are really an inefficient use of space. Things get lost at the back of the cabinet. And the scale takes up so much real estate in your small bathroom design that your bathroom ends up looking smaller. So how do you solve the issue?
Get rid of clutter and unnecessary items. How many towels, cosmetics and hotel toiletries do you really need?
Replace the clunky bathroom vanity with a floating sink or cabinet or narrow open shelves. You'll be less tempted to clutter your bathroom when the stuff is on display. And you'll open a lot more visual space in your bathroom. Like this bathroom image:
2. Instead of adding storage, add function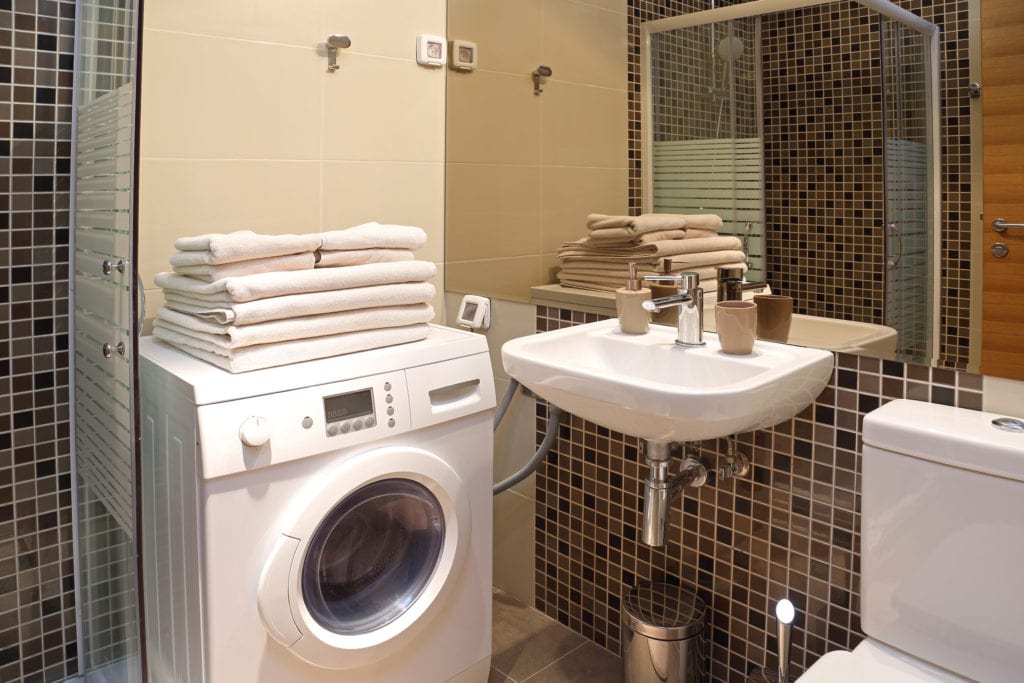 Shop These Products Now: Washer – Sink Faucet – Mirror – Floating Sink
Once you clear clutter and replace the oversized bathroom vanity with something more minimalist, think of all the useful things you can do with the space. Like adding an all-in-one washer and dryer. Or creating a vanity space.
3. Small bathrooms mean you can splurge on finishes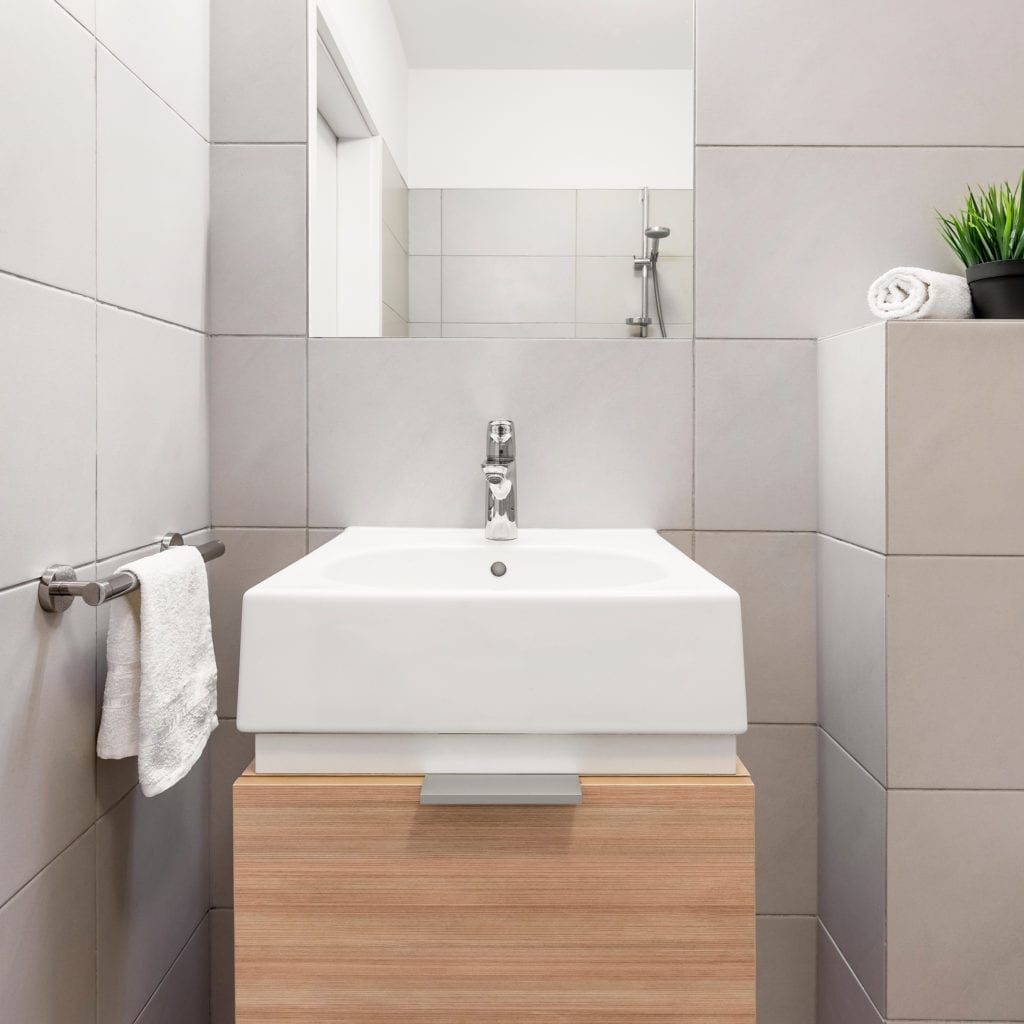 Shop These Products Now: Towel Bar – Sink Faucet – Mirror
Some of the most expensive items in a bathroom design are the fixtures, tile and finishes. Since you're working with a smaller space, you need less. It's time to break out of thinking that a small bathroom isn't worth the money. It's time to splurge on making your small bathroom design look like a million bucks! Some ways to add more luxury on a little less budget include:
Choosing quality accent lighting fixtures
Tiling a stripe (or the upper half of your bathroom) in a more expensive tile or marble
Adding a towel warmer that doubles as a towel rack
Swapping your toilet for a new floating style
Upgrading to a glass shower door, which is the next small bathroom design idea
4. Add a seamless glass shower door to your small bathroom
Here's a small bathroom design tip that may not sit well with traditionalists: tear out the bathtub and add a modern walk-in shower surrounded by seamless glass. It's a great way to save tons of space in your small bathroom. A seamless glass door may be more expensive than a shower curtain, but will definitely be more durable. Not to mention, it will open up the space and add value to your home. Not ready to give up on the bathtub? You can still add a seamless glass shower or tub enclosure.
5. Go crazy with texture and pattern in your small bathroom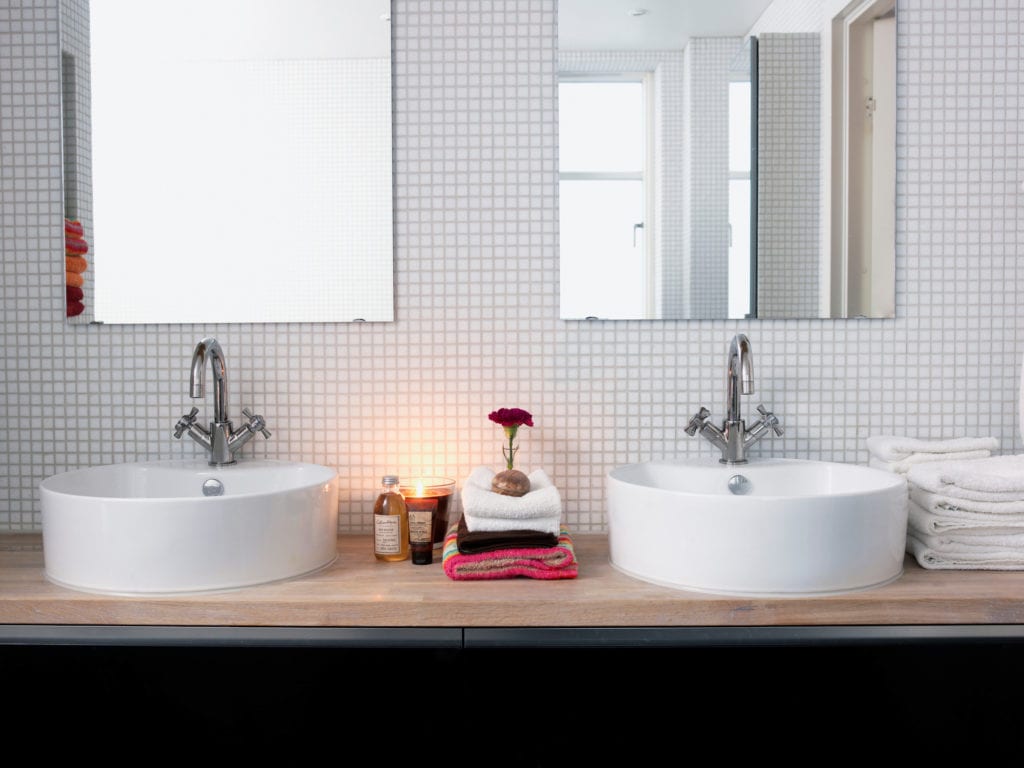 Shop These Products Now: Bathroom Tiles – Sink Faucet – Towels
Most designers tell you that dark colors or busy patterns are not a good idea in a small space. Think again. Strong patterns and textures add depth and play to a space, creating the illusion of more size and life.Here are some of our favorite tile patterns and textures for your small bathroom
6. Wall-mount everything and throw away the doors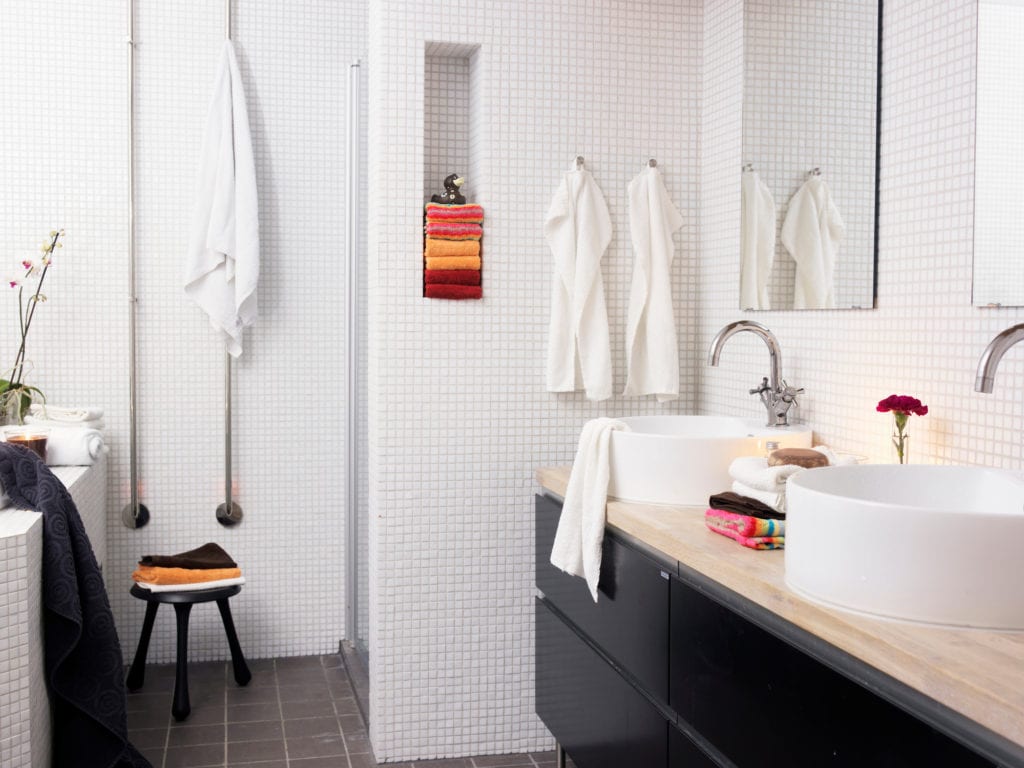 Shop These Products Now: Towel Bar – Wall Mount Shelf – Towel Holder
The small bathroom design keyword for 2017 and beyond is: floating. Float everything, including the toilet, from your walls. It's a great way to make cleaning easier, when you can access the floor below. Not to mention the space looks bigger, because our eye tends to judge space by analyzing the floor area. You also maximize valuable wall space, which is often left bare. And let's be honest, it looks pretty fresh and cool!
7. Cubbies aren't only for toddlers
It's time to tear up the walls (or add new ones) for cubbies. The inset wall cubby is an ingenious way to add integrated storage to a small bathroom without sacrificing space. It's also known as an alcove, niche or recessed niche.Behind bathroom walls, between the studs, is just enough of a gap to create a useful cubby. And nowadays, you can even buy a DIY tile-ready niche at Lowe's.Don't want to tear up the walls? Find new ways to add cubbies to your small bathroom, by adding a shelf, wall mounting a floating cubby shelf or choosing a cabinet with open shelves to store extra items, like the bathroom below.
8. Mirrors instead of walls
Mirrors do an incredible job at creating the illusion of more space. Want to add more space to your small bathroom design? Then add more mirrors, like the inspiration images above.
9. Add more black to your white
An all-white bathroom does feel brighter and lighter, but it can look a little cold or lack the depth your eye registers as space. Adding black to your bathroom, in the form of black walls or a black-and-white tile design or a black ceiling adds the "POW!" your small bathroom is begging for.
---
Everything for your move, all in one place
Curate your personalized moving checklist, set up TV & Internet, and more with a free MYMOVE account.
Save on your move and tackle upcoming to-dos with your free MYMOVE account.