15 Small Bathroom Ideas to Take Your Tiny Space to the Next Level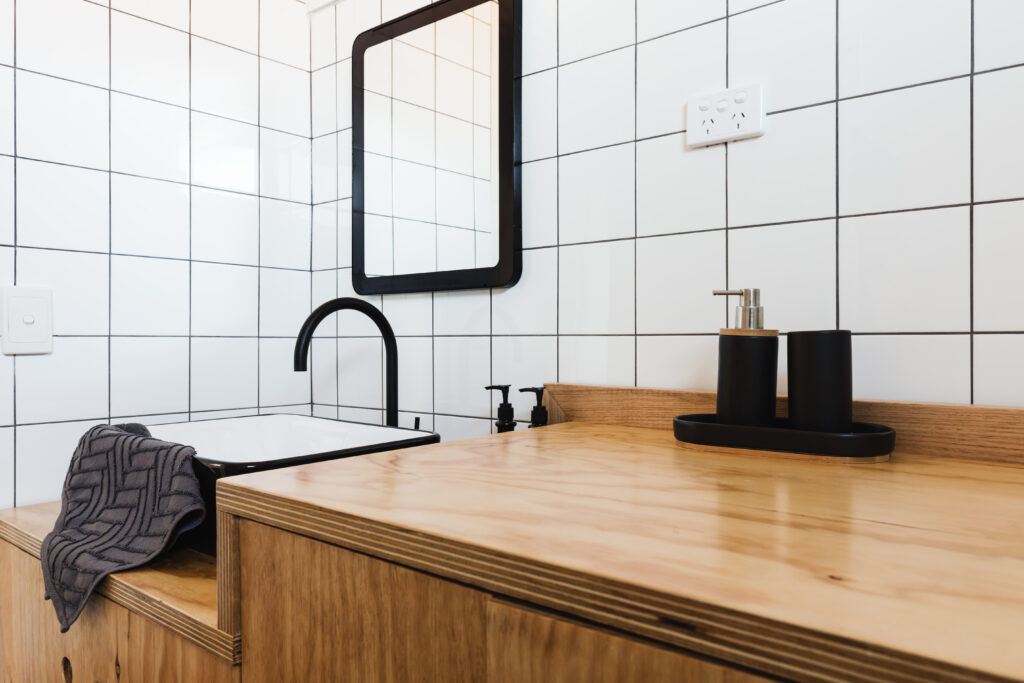 Tired of your small, dark and uninspiring bathroom? Are you ready to finally give it an overhaul? Well, there's no better time to give your small bathroom a fresh look. There are so many ways you can elevate your bathroom, even if it's tiny. It's all a matter of getting creative with what you've got.
Ahead, we have a ton of small bathroom design ideas that will take your space from cramped to chic in no time. Best of all, these ideas won't require a total small bathroom remodel, but can simply be done with some paint and some new decor pieces.
15 ideas for your next small bathroom remodel
Idea 1: Use vertical space.
One of our best small bathroom design tips is to use the vertical space wisely. When you have a small space to work with, you have to use all of it. That means going up! Use as much of the vertical space as you can, like shelves up the walls to give the bathroom more storage. Also by using minimal shelves, they won't overpower the space, so floating shelves are a great idea here.
What you'll need: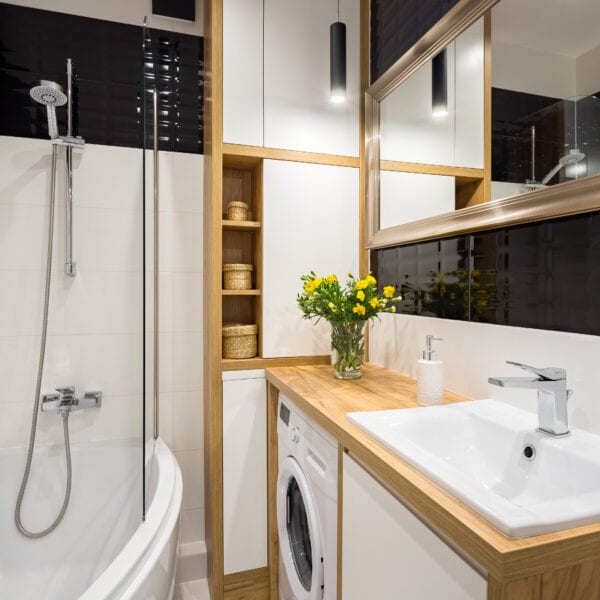 Idea 2: Make the space multifunctional.
Just because your space is small, it doesn't mean it can't serve a functional purpose. Try tucking an all-in-one washer/dryer into your small bathroom with a countertop over it if you can fit it. You might be surprised at how easy it is to rearrange to make it work. Now you have a laundry room and bathroom all in one.
What you'll need:
Idea 3: Splurge on the floors.
You're working with very little space, which means you can splurge on the flooring. Opt for a really high-quality tile in your color palette to make the floors the star of the room. Or you can even get fancy bath mats if that's more your speed. This is a small bathroom decor idea that's ideal to make your space feel luxurious.
What you'll need:
Idea 4: Use a large mirror.
Mirrors automatically open up a space, so use the largest mirror that will work in your bathroom. While a medicine cabinet over the sink provides storage, they're generally pretty small, so save that space for a big mirror and use other areas for storage instead.
What you'll need:
Idea 5: Go with a corner sink.
Tucking the sink into a corner can save you some space. Keep the sink and cabinet (if you're using one) small so that you aren't taking up much room. This also gives you the opportunity to use two mirrors over the sink — one on each wall of the corner.
What you'll need: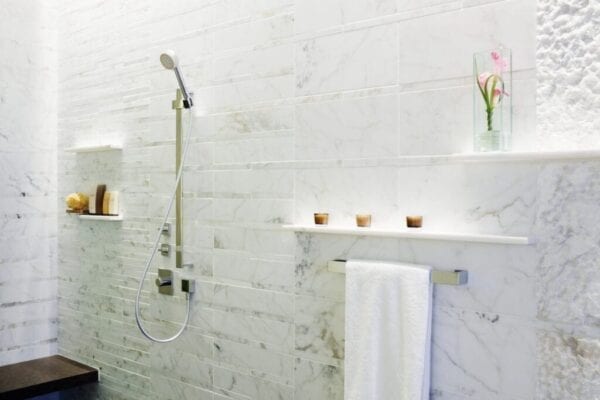 Idea 6: Install shelves in the shower.
You really need to get creative with storage in a small space, so that might mean installing some shelves in the shower. This also gives you an opportunity to add another decor element — yes, inside the shower! You can do a real reno and install matching shelves with the shower tile or go with a quick shelf install with suction cups.
What you'll need:
Idea 7: Make the most of awkward spaces.
Small spaces sometimes mean awkward leftover spaces. If your bathroom has a weird space that you can't figure out what to do with, see if you can use it for storage. Even if it's tall and narrow, you can add some shelves and store towels in it.
What you'll need: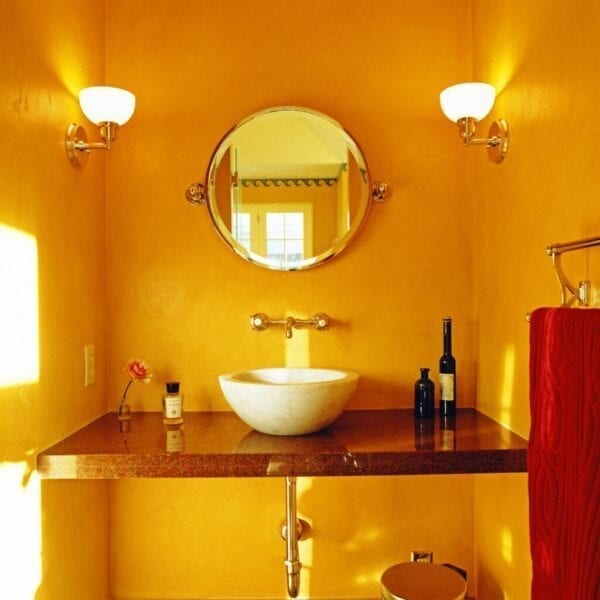 Idea 8: Paint a bold color.
When it comes to tiny bathroom ideas, paint is an easy option to change the space. Bright colors can open up a space, as can white. But that doesn't mean you can't paint a rich, darker color, but we recommend not doing the whole bathroom that color. Try doing a dark accent color with white or an all-over bright.
What you'll need: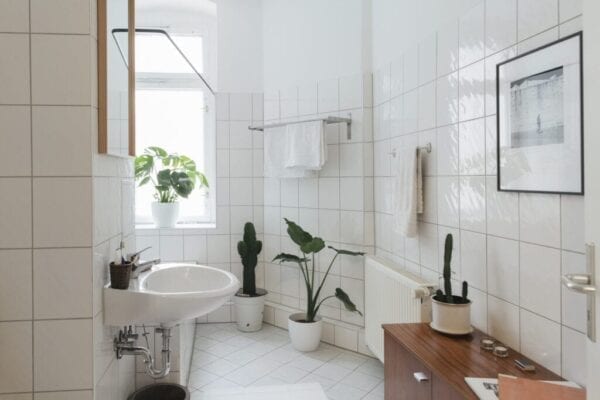 Idea 9: Hang towel racks in small spaces.
Tuck your hand towels in small spaces. They don't take up a lot of room so they're perfect for a small gap between the toilet and a shelf over it.
What you'll need: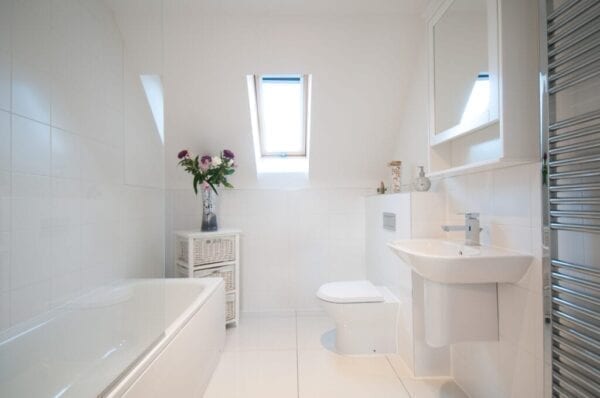 Idea 10: Install a skylight.
This may be the most labor-intensive tip we have, but if you can install a skylight, it will definitely brighten up a small space. Natural light is the best thing for small spaces, plus you'll bring a little bit of the outside in.
What you'll need:
Idea 11: Find dramatic light fixtures.
In a small space, drawing attention to something that's not about the size of the room will help keep the focus where you want it. In a tiny bathroom, add some drama with a funky light fixture, but make sure it's not too big. You want it to be a focal point but not comically large.
What you'll need: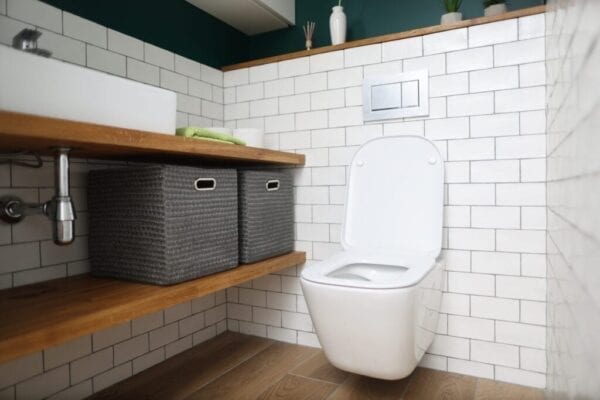 Idea 12: Tuck everything away in baskets.
Clutter will make your space instantly feel smaller, so invest in some baskets or bins that look chic but hold a lot of stuff. Tuck them away where you have the space so you don't have anything excess sitting out.
What you'll need: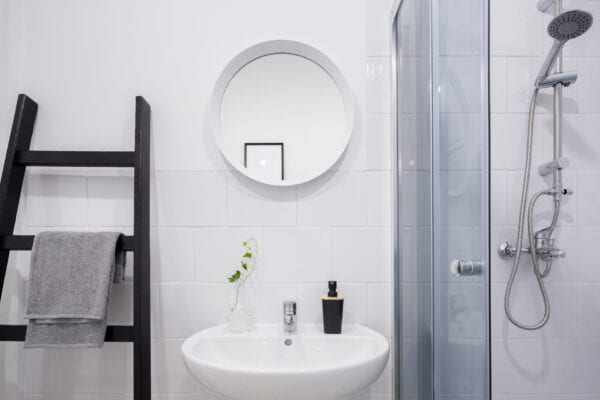 Idea 13: Get a vertical towel rack.
This is an especially good tip if you don't have a linen closet. If you also don't have storage space in your bathroom for your towels, get a vertical towel rack that will allow you to store them while using very little space.
What you'll need: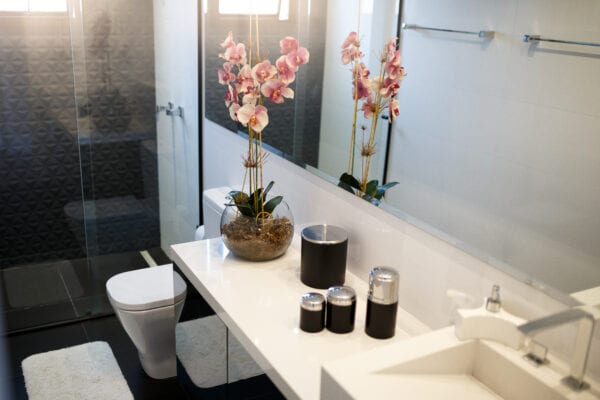 Idea 14: Use glass shower doors.
Closing a shower curtain cuts off the space, so instead, opt for clear shower doors. These won't cut off any of the little bit of space you have and instead keep the room open. These are especially good if your bathroom window is on the other side of the shower. Using a glass door will keep the light shining into the room.
What you'll need: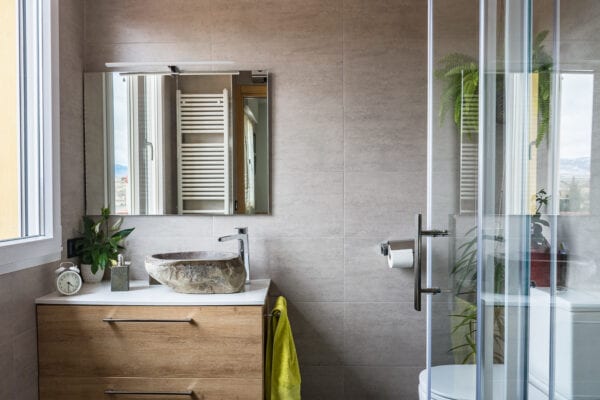 Idea 15: Add a plant.
We really mean it. Adding live greenery makes a space feel more inviting, which can make it feel larger and more beautiful. If you're worried about taking up too much floor space, hang a plant near the window or in a corner that won't take up any precious storage space.
What you'll need: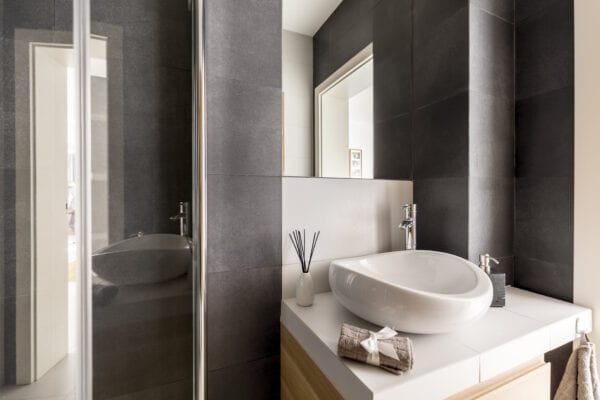 4 tips to make your tiny bathroom look bigger
Tip 1: Get creative with mirrors.
Mirrors open up a space because the reflection makes a space look twice as large. You could even do multiple mirrors to make the space feel practically infinite. Just don't go overboard with mirrors or your bathroom will start to feel like a funhouse.
Tip 2: Use floating shelves.
Floating shelves on the walls will give you more space for storage without overpowering the walls. These shelves blend into the background, and if they're really small, you'll practically not even see them, yet they'll provide a resting place for your things.
Tip 3: Use a lot of white.
White always makes a space appear lighter and brighter, so by featuring white walls or floors, you can open up the space. Bright colors can also open up a room.
Tip 4: Tuck away the clutter.
Too many things out on display can make a small space feel cluttered. Instead, keep everything put away so that your space looks tidy and minimal.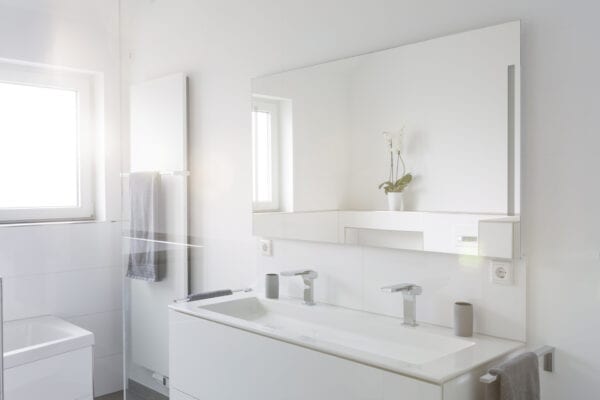 The bottom line
When you're looking at small bathroom decor ideas, you have to remember to be creative with space, but there are plenty of ways to do that. Use the vertical space and tuck things away that you don't need, that way you won't clutter the little bit of room you have! Small bathroom designs can be fun and easy!
Frequently asked questions
Q:
How can I make the most of my small bathroom?
A:
With any small space it's important to utilize as much of it as you can. Take your decor vertical and get creative with storage. Also find multifunctional pieces that serve more than one purpose.
Q:
How do I add storage to a small bathroom?
A:
Consider hanging shelves on open space on the walls or finding an over-the-toilet rack that adds more storage space.
Q:
What colors make a small bathroom look bigger?
A:
White will make your space look bigger, as well as other bright colors. If using brights, though, just be mindful of how rich the colors are, because if they're a little on the dark side, they'll make the space feel closed in.
Q:
How can I make my small bathroom look luxurious?
A:
Use high-quality or fancy-looking fixtures on cabinets and sinks to level up the space. Metallics also add a level of glamour, as does minimal decor.