8 Essential (and Painless) Spring Cleaning Tips for Your New Home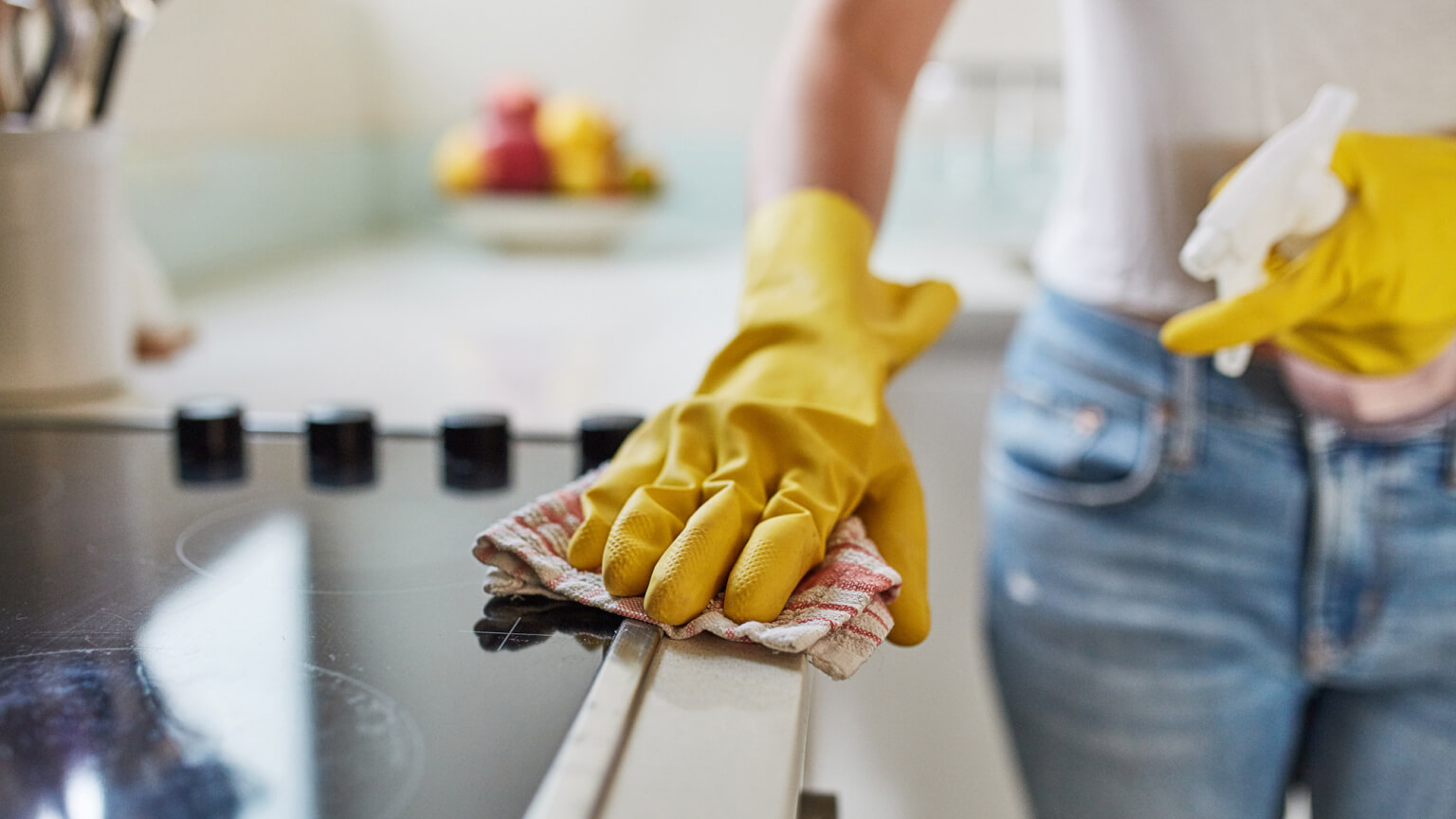 Spring cleaning can conjure images of long hours spent covered in grime and sweat as you slog through winter's accumulation of clutter, dirt, and more. However, if you organize your cleaning priorities and break them up over a period of days, it won't seem such a heavy lift.
Spring cleaning is more than just chasing dirt out of your home once a year. It's an opportunity to re-energize your living space after the cold, dark days of winter have passed.
It's also a vital part of maintaining a healthy home. In cold months, bugs seeking refuge from the elements make their way into your home. You may spot gnats, flies, and ladybugs congregating around windows, but most shelter in the crevices and walls of your home. Beware if you're squeamish: When they die, they decompose, become airborne, and mix with other particles like rodent droppings, soot, or dirt. When left to accumulate, this mixture of allergens — plus the pollen and mold that naturally come with spring — can settle on surfaces, creating a veritable minefield of germs.
Spring cleaning is important for everyone and crucial for anyone with respiratory issues. But if the thought of deep cleaning an entire house overwhelms you, try breaking it down into individual projects with these tips.
Spring Cleaning Checklist
If you're like us, you know that having good advice, making a list, and crossing items off your to-do list are essential to finishing any large task. Check out our spring cleaning checklist to accomplish your spring routine.
1. Schedule your spring cleaning list
Before you start, create a spring cleaning schedule by considering how many days you want to commit to the project and choose areas of your home to tackle first. Pick one or two rooms per day and decide how much time you want to devote to each.
2. Clean and tidy room-by-room and top to bottom
To stay organized, cleaning room-by-room will help you stay on task. Start on each room by doing a clutter sweep. Decide what you want to keep and create a place for it. Create as much workable storage as possible and set about putting away toys, clothing, magazines, and other storable items. Decide what items you want to toss and either donate, recycle, or trash.
Then, working clockwise, clean each room from top to bottom to avoid having to reclean surfaces. This way, the dust can settle downwards making it easier to clean as you go. Dust and wipe down moldings, sconces, mantles, shelves, furniture, and finally the floor.
3. Spring cleaning in the kitchen
Moving from zone to zone, empty and organize shelves and drawers. Discard old items that are no longer useful, and organize utensils and cookware you want to keep. Throw out old ingredients, gadgets, and devices you no longer use.
Spray cupboards and countertops with a cleaning spray and wipe clean. Check under the sink to ensure there are no leaks or wet spots and thoroughly disinfect the area. Put items you'll keep back into the cupboards with the least used things in the back.
For baked-on debris on cooktops, soak a rag in warm water and lay it over the area for about five minutes. It'll loosen the mess and be easier to clear away. Clean your oven using a blend of baking soda and water mixed into a paste. Remove the racks and coat the interior. Let the mixture sit overnight before wiping it out. Spray the remaining areas with a vinegar and water solution and wipe it all down. Clean the racks using the same method.
Use a baking soda paste (baking soda mixed with water) to clean your backsplash. Apply it liberally to sticky, dirty spots and let it sit for 10 minutes before wiping away the grime. Follow up with white distilled vinegar mixed with lemon juice. Check the caulk located between your backsplash and countertop to ensure it's intact. If not, scrape it off and reapply.
Make short work of microwave splatters by placing a glass bowl filled with 1 cup of water and 1 cup of white vinegar. Heat for five to seven minutes and then let stand for about three.
Remove old and expired food from the fridge. Empty and remove the shelves and wash them with dish soap and hot water. Wipe out the drip pan and check the rubber seals around doors to ensure they're clean and functioning properly. If you'd like to clean behind the fridge, pull it out carefully. Some units have a water connector made of delicate copper tubing that can easily crack or become disconnected when moved around. If this happens, your refrigerator will leak every time it makes ice or dispenses water. The result will be rotted out floorboards beneath the refrigerator.
4. Spring cleaning tips for bathrooms
First, remove your hamper, towels, shower curtain, and floor mats from the bath, shower, and sink areas.
Go through cabinets and discard old medicine, hair products, old makeup, and grooming items that are past their use-by date. Makeup has a short shelf life, so discard any if it's older than six months. Mascara older than three months should be tossed.
Starting with the ceiling, thoroughly spray and wipe it, taking special care over the shower and bathtub areas where mold populates most easily. Pull down and remove vent covers and wash them with detergent. Wipe fan blades and replace old light bulbs with energy-efficient ones.
Spray and wipe down walls and cabinets. Be careful when using bleach products on painted or papered walls as it can create undesirable drip patterns and, in some cases, lift out the pigment. Wipe and clean the light fixtures and bulbs and wash any glass shades in detergent.
Remove the showerhead and soak in vinegar for about an hour to remove bacteria and mineral buildup. Use a mixture of baking soda and vinegar to create a paste to clean grout and tile safely. For stubborn stains, let the mixture sit for an hour before scrubbing with a plastic bristle brush. Check the caulk where the tub and tile meet and make sure it's in good shape. If not, scrape it off and replace it. Allow the caulk a full day to dry.
Add a couple of cups of vinegar to the toilet water and let it soak, then add detergent and thoroughly scrub out any stains. Wash windows using a solution of one part white vinegar to 10 parts water to safely clear grime and mildew. Sweep the floors, then mop, paying attention to corners and behind the toilet. Wash all towels, rugs, and shower curtains and dry well before returning them.
5. Spring cleaning tips for fabrics
Vacuum your sofa and chairs well. Remove all cushions and pay special attention to nooks and crannies where crumbs and debris hide. Read the manufacturer's tags to determine how to clean them. Some manufacturers offer replacement covers as well as replacement cushions if yours are hopelessly smashed down and aren't comfortable to sit on any longer.
Vacuum mattresses and flip them over or rotate them depending on what your brand specifies. Air area rugs outside after vacuuming and shake well to remove debris. Vacuum curtains and decide if blinds need replacing.
If you have carpeting, nothing will freshen your home like deep shampooing. You can do it yourself or hire a pro. Make sure to let your carpet dry completely.
6. Laundry room spring cleaning tips
The last room you should tackle is the laundry room. Once again, start from the top, cleaning out light fixtures and organizing cabinets.
Run about two cups of white vinegar through your empty washer using the hot water setting and wipe it inside and out afterward. Clean the fabric softener dispenser by removing and soaking, if it is removable.
Remove the lint trap from the dryer and, using a long lint brush, pull errant lint up and out. Check behind your washer and dryer for dust, debris (and probably some missing socks) and vacuum. If possible, pull your washer and dryer forward and vacuum behind them.
If your laundry room has a sink, scour it with scrubbing powder and rinse it down with water followed by white vinegar and baking soda to freshen the drain if you have lingering odors. Lastly, sweep and mop the floor.
7. Spring cleaning list for the outdoors
One of my favorite tasks in the spring is to put out the patio furniture and garden ornaments that have been stowed all winter. This is a good time to take stock of what furniture needs refurbishing or replacing. Check for worn spots on iron chairs and repaint them. Repair or replace cushions and outdoor pillows.
Clean up leaves and branches that have accumulated, and check that rain gutters are clear. Wash the outsides of windows by hand or use an outdoor window cleaner made especially for the task.
8. Don't forget spring cleaning for your air
Spring is the best time to replace filters that keep your heat and air conditioning flowing smoothly all year. They only take a moment to remove and replace; the trick is making sure you have the right model and size for your unit. If you're not sure, remove the one that's currently installed, measure it, and search online to find the right one. Order it online or find a store that carries it.
If you use a humidifier, make sure it's in good working order and clean it out. Refer to your instruction manual or look up instructions on the manufacturer's website.
You may not think of it until it has lost suction, but your vacuum needs regular cleaning too. Most vacuums can be disassembled and cleaned by following instructions printed right on the unit. Remove the parts, rinse them, and let them dry before reassembling.
If you love opening your windows for a blast of fresh air, do it later in the day. Pollen counts are lowest in the afternoons and highest between 5 a.m. and 10 a.m. When you open your windows, pollen, dust, and allergens can enter, so if this is an issue for your household, limit the time the windows are open.
Make spring cleaning easier by forming good habits
Consider creating a plan to keep your house sparkling year-round. While it requires attention and time, studies have shown that maintaining a clean, clutter-free house can reduce stress and make you happier overall. To do this, try to maintain a cleaning schedule (and home maintenance schedule!) so each task is on a regular rotation. If you live with others, share the load and delegate. Set out days of the week for routine tasks, like laundry on Mondays, bathrooms on Tuesdays, and so on. Plan larger tasks like refrigerator cleanout monthly.
Post your schedule in a prominent place. Chalkboards and wipe boards are great, or good old pen and paper. You can also plot out your task list digitally with apps like iOS Calendar, MS Outlook, or Slack.
Another way to maintain your home is to stay on top of messes when they occur. Spills in the kitchen are easily wiped away when they happen but require so much more effort to remove once they have dried. Make a point of doing a clutter sweep every evening before you go to bed. Put clothes away, stow toys, straighten pillows, fold laundry, hang up wet towels, and stack books.
Keeping humidity at an even level year-round will prevent mold from developing on soft surfaces. Pick up a relative humidity meter and keep your indoor level below 55%.
By forming good habits year-round, your spring cleanup will be much easier and you can enjoy that stress-free, positive energy feeling every day.
The bottom line
Spring cleaning your home is a great way to refresh your living space, get rid of any allergens and dead bugs that accumulated over the winter, and freshen the air in your home. It's an important step for your physical and mental health.
Spring cleaning is a lot of work, but don't let that stop you. By creating a schedule and breaking the tasks up by room, you'll have it all done in no time.
Frequently asked questions
Q:
What is included in a spring cleaning?
A:
Spring cleaning includes tackling every area of your home, including your kitchen, bathrooms, fabrics, laundry room, outdoor space, and all other living areas. It requires both removing clutter and deep cleaning.
Q:
When should you start spring cleaning?
A:
The perfect time to start spring cleaning is when it's warm enough outside to open the windows and let in the fresh air. By that time, you'll have good weather to tackle your outdoor spaces.
Q:
What can I skip in spring cleaning?
A:
The whole point of spring cleaning is to get rid of every bit of dirt and clutter in your home. But if there are parts of your home that you clean daily, they may not need a seasonal deep clean.