Move It or Replace It? How to Know What to Pack and What to Leave Behind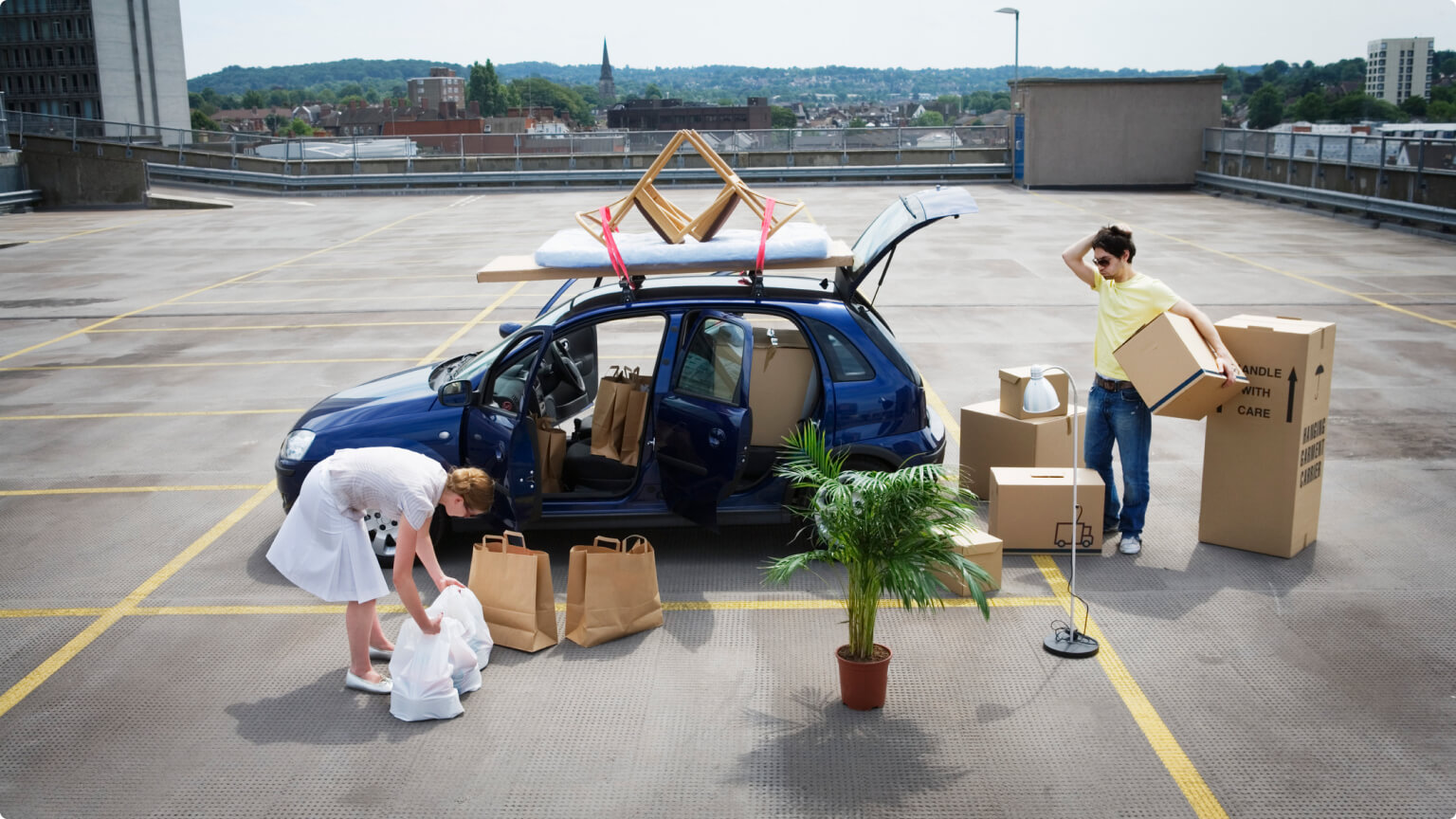 You're faced with a lot of tough decisions when you move. But one question that pops up over and over again is "Should I bring this old item with me or buy a new one?"
To help you figure out whether it's time to part ways, we looked at seven of the most common household items that are often on the chopping block during a move.
---
Jump to:
---
Microwave
Cost to replace: $50 to $300
Microwaves have one of the shortest lifespans of any kitchen appliance. The age and condition of the microwave are the most important factors to consider when deciding whether to move it or not.
You'll generally get around five years with most models before you need to make some repairs. Consumer Reports advises replacing your microwave after five years if it needs any repairs and you paid $400 or less originally.
Microwaves are also relatively easy to move, and won't take up too much space in your moving truck. Whether or not your microwave is installed into a kitchen cabinet is another thing to consider.
Verdict: Move it if it's less than five years old and working well
Refrigerator
Cost to replace: $600 to $5,000
Refrigerators are one of the most difficult items to move in the house, and you may be tempted to avoid the hassle by leaving it behind. According to the U.S. Department of Energy, refrigerators last around 12 years on average.
Movers usually charge between $150 and $250 to transport a refrigerator locally, although the actual cost will probably be less if it's included with the rest of your move.
While it's a hassle to move, buying a new fridge is one of the most expensive purchases you can make in your new home, with most models starting around $2,000. On the plus side, most retailers include free delivery when you purchase a new refrigerator from them.
Verdict: Move it if it's less than 10 years old
Mattress
Cost to replace: $200 to $3,000
Whether or not you move or replace your mattress is a more personal decision than a lot of other household items. There aren't usually repair costs you'll have to consider or outdated technology you'll want to upgrade. What it comes down to is simple: How much do you like sleeping on your bed?
That said, sleep experts recommend replacing your mattress every eight years, but cheaper innerspring and all-foam mattresses tend to degrade faster. If you notice sagging or body impressions, it's probably time to replace. (You can extend the lifespan of your mattress by rotating it every three months.)
If your mattress is close to that eight year cutoff, we recommend buying a new one. You'll likely need to replace it in the next few years, and you'll save yourself the hassle of moving it.
Verdict: Replace it if it's more than six years old
TV
Cost to replace: $300 to $3,000
Like mattresses, the "move or replace" decision ultimately comes down to how happy you are with your current TV.
Manufacturers often claim that their TVs last anywhere from 50,000 hours to 100,000 hours. That would translate to an astounding 48 to 96 years at the 2.86 hours the average American watches TV every day.
Of course, most TVs will start to dim long before that. But the bigger issue is the technology. You'll probably want to upgrade to a better TV long before your old one breaks down on you.
The last big leap in TV technology was the 4K TV. They've been around for about a decade, so prices have come down considerably. If you're still using an HD TV, we recommend using your move as an opportunity to upgrade. Prices start at just $367 for a RTINGs.com's choice for the best budget TV (50 inches).
Verdict: Upgrade the TV if it's not 4K and move the old one to a spare room
Exercise equipment
Cost to replace: $200 to $1,000
Should you bring your home gym with you to your new home? Exercise equipment is cumbersome to move and takes up a lot of space in the moving truck, but it can also last a decade or more if it's taken care of properly.
If you purchased an expensive piece of equipment like an exercise bike, treadmill, or elliptical machine in the past few years, moving it is probably your best option. That said, these items tend to hold their value pretty well, so you can try selling them on Craigslist or Facebook Marketplace to recoup some value.
Verdict: Sell it if it's not being used regularly
Large furniture
Cost to replace: $300 to $5,000
There's no hard and fast rule when it comes to deciding which furniture to move into your new home. Our advice? Take what you love and what fits your new home and leave the rest. If your couch or armchair is in good shape, you can usually sell it for decent value on Craigslist or Facebook Marketplace, and several charities also offer free furniture pickup.
If you decide to bring your furniture with you, check out MYMOVE's tips for incorporating existing furniture into a new space.
Verdict: Start fresh with furniture to match your new home. Bonus points: You won't have to worry about moving it.
Wi-Fi router
Cost to replace: $50 to $300
There's a good chance you'll need to change your internet equipment when you move. Maybe you're switching internet providers, and your old router isn't compatible with them. Maybe you rented your router from your old provider. Maybe your new home is just too big for the equipment you've been using.
Experts recommend replacing your router at least every five years, so there's a good chance your equipment needs an upgrade when it's time to set up Wi-Fi in your new home. A mesh system is also worth the investment if you're moving from an apartment to a house.
Verdict: Invest in a new router if you're switching internet providers or moving to a bigger home
How to get rid of your old items
If you do decide to replace some of your household items when you move, you have a few options for getting rid of them.
Sell them
Selling your unwanted items makes sense for things like exercise equipment, furniture that's in good shape, and newer TVs. Here are a few popular websites for selling stuff online before your move:
Craigslist: A great option for local pickups, Craigslist is one of the simplest ways to sell things online. You don't need to set up a profile — it's entirely anonymous — so be sure to take safety measures like meeting in a public place and bringing a friend.
Facebook Marketplace: Facebook Marketplace is similar to Craigslist, but you need to create an account to use it, so there's an added layer of security. That said, you should still take the same precautions when selling items.
Nextdoor: Primarily used as a place to post about neighborhood news, you can also use it to sell or donate items to your neighbors.
Everything But the House: Like the name implies, Everything But the House help you sell all your items in one go. Their team comes to your house and handles the sales themselves in exchange for a commission. You can learn more online, or call for a free consultation.
Donate them
If your items are in decent shape, you can likely donate them to a charity. The following organizations all offer free donation pickup, including bigger items like couches:
You can also drop them off in-person at a location near you if pickup is not available.