Moving and Shaking: How to Minimize Anxiety During a Move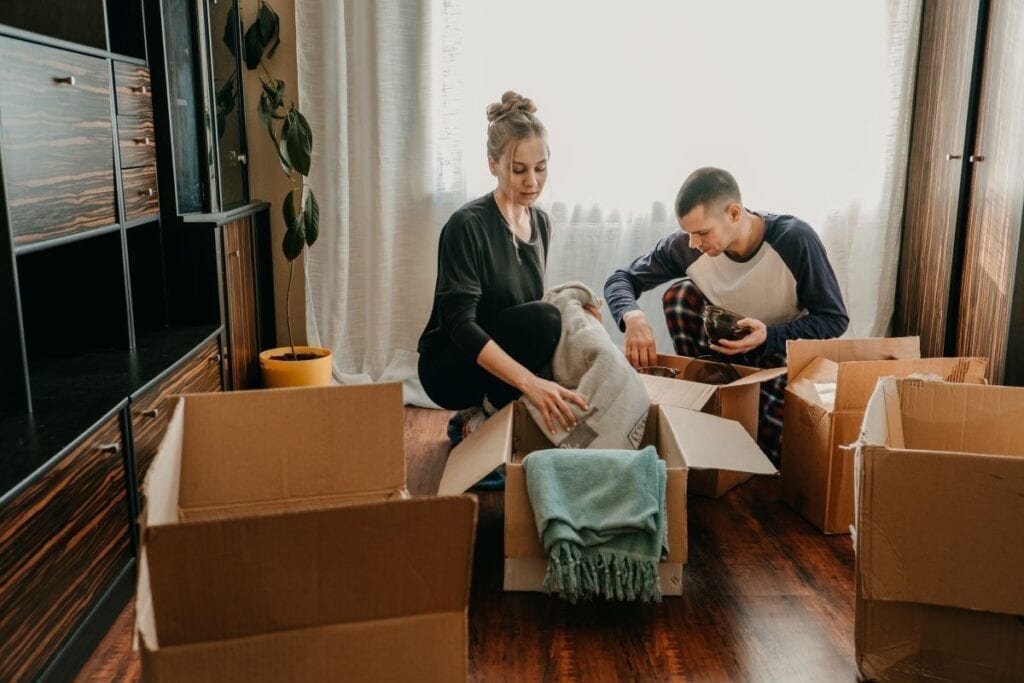 Moving is a major life event that causes stress and anxiety, according to the Mayo Clinic. Managing the stress of moving includes planning, organizing, eating healthy, exercising, and asking for help. Let's go over moving stress and how to handle moving anxiety.
Why moving can trigger anxiety
The American Psychiatric Association (APA) conducted a poll that showed Americans are anxious about finances, health, and safety. Moving, already a top stressor in its own right,  can trigger anxiety because it affects your finances and safety.
Money is a huge factor with moving stress. You have to make a down payment whether you're moving to a new apartment or a new home. Plus, it costs money to physically move your belongings.
Planning for a move can be stressful. You often have to squeeze it in between working or going to school.
Packing up your things and moving them to your new place is another facet of moving stress. You won't have access to many of your belongings until you get to your new home and unpack everything.
Your pets need to move with you, which can cause some stress for both you and your furry family.
 The unknown may be the worst stressor when it comes to moving anxiety. You may not be familiar or know what to expect with the new place, town, or people.
Try these stress-saving steps
Plan and prioritize while expecting the unexpected
You can't foresee every twist and turn, but you can reduce moving stress by planning ahead for what you can control.
Change your address
Use USPS® to schedule your mail to begin forwarding to your new address around your move-in date. Once updated, USPS will automatically forward mail sent to your old residential address to the new one. Notify important parties (bank, doctors, etc.) of your new address. While you're at it, order a new driver's license with your modified address from the DMV. Many states require an updated license within 30 days.
Clear your calendar
Don't set yourself up for failure through unrealistic expectations. Clear your calendar as much as humanly possible surrounding your moving date. At a bare minimum, try to request a day or two off work or other engagements so that you're not belaboring the process. It will also help prevent you from spreading yourself too thin.
Schedule your utility transition
Schedule the utility and water shut-off date for your current home and start date for your new address. The best way to prevent moving stress? Arrange for your utilities and water to be activated the day before your arrival, so that you have access to what you need-without question-on move-in day.
Begin the purging process
Even if you plan to hire movers, moving is the perfect time to eliminate unnecessary belongings. Do you really need that "vintage" teddy bear? We'll let you answer that. The good news? Purging can be extremely cathartic. It's an invigorating precedent to set for your new chapter and well-being. Break up your purge into three categories: trash, donations, and selling. Throw away, or recycle, what you can't sell or donate.
Start collecting boxes
Caveat to the purging process: avoid purging boxes! Boxes are one moving expense you can avoid. Salvage any you already have, and ask friends, family and colleagues to hang onto theirs.  You can get free boxes at liquor stores, bookstores, on Craigslist and on Freecycle, at grocery stores, and at fast food places. All you have to do is ask. While boxes are on the brain, learning the best tips for packing can help you dodge stressful packing mistakes.
Tools to help reset and rest your brain and body
Moving can really take it out of you. Sometimes our bodies crash as soon as our heads hit the pillow, but other times our minds race a million miles a minute, thinking about the next step for the move. To sleep better, start with some downtime without devices; try for thirty minutes screen-free right before bed. You can also try a melatonin supplement or  magnesium supplement.
Some relaxation techniques can also assist with recentering yourself. Try taking a soothing bath with epsom salt; the Cleveland Clinic notes that epsom salt can help your mind and body by relaxing your muscles, relieving pain, and relieving stress and help you feel calm.
5 free wellness apps
Calm has guided meditations, stories narrated by celebrities, calming music, and nature sounds. Try it for free. Access to some features costs $70 a year after a free trial of two weeks.
Play games on Happify to help reduce anxiety and stress while learning some stress-management. It's free, but you can get Happify Plus for $14.95 a month with discounts on one- or two-year purchases.
Headspace will help you learn how to mediate and has articles to teach you about mental health.  There are also inspiring stories and mini meditations. Get two weeks for free and then it's $69.99 a year, or get one week for free and then pay $$12.99 a month.
This app uses music to help you improve relaxation, focus, or sleep. Brain.fm uses their own patented technology. Listen five times for free. After that, it's $6.99 a month or $49.99 a year.
Insight Timer claims to be the number one app for sleep, anxiety, and stress. There's a free library with thousands of guided meditations. It's completely free, but you can choose to access even more with their Member Plus with a 30-day free trial and $60 a year after that.
Lean on your support system
As with any stress, bottling it up can wear you down. Confiding in someone as a sounding board, whether it's for advice or just to vent about moving stress, can help you release built up tension. If your household includes children, remember this move could be an intimidating time for them as well, especially if the move requires changes in schools and friends. Make sure you're keeping the lines of communication open during the shared moving challenge. Though easier said than done, channel as much optimism as possible and avoid negative self-talk. Positive thinking can lower stress levels.
How to say goodbye to your old home
Parting with the home you're moving from can contribute to your moving anxiety. But there are some ways to say goodbye to your old home to ease that mental burden. Try hosting a goodbye party to officially say farewell (free packing help, anyone?). Take photos of your home for a photo album, or commission an artist to capture your old home so you have a souvenir to hang up in your new one. Share memories with your friends and family at your party. Encourage your kids to journal or draw about this transition.
Take something with you to help remind you about your favorite part of living there: some leaves from your favorite tree or the door frame where your kids' height markers are. Lastly, leave a positive note welcoming the new residents. Give them some advice or tips that will help them with their own transition.
The bottom line
There are some things you can do to help prepare for your move to help reduce the moving stress and anxiety. Plan ahead, organize, and prioritize your moving checklist. Here are some resources for if things get hard for you and you're feeling a lot of moving anxiety:
Disclaimer: This content is not intended to be a substitute for professional medical advice, diagnosis, or treatment. Always seek the advice of your physician or other qualified health providers with any questions you may have regarding a medical condition.