Biggest Packing Mistakes from Moving Experts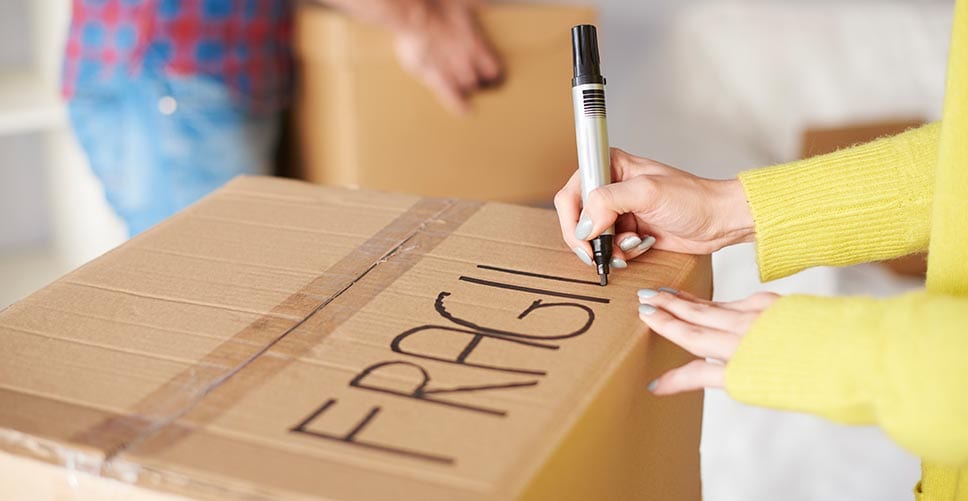 When it comes time for your move, you'll find plenty of companies that provide not just moving services, but also packing and unpacking. It's worth considering since moving companies are usually not liable for damage in any boxes that you pack yourself.
For some people, the risk of damage is lower than the expense of professional packers. Others simply prefer to handle the work on their own, as part of the process of downsizing and categorizing household items. That's why MYMOVE reached out to professional moving companies and packing experts to ask for advice.
We asked each of the experts one question:
What are some of the biggest mistakes made when people pack their own possessions, and what are some ways to overcome them?
Here you'll find some useful tips for packing so you'll be better prepared to avoid problems when the moving truck arrives:
2 College Brothers
Common packing mistakes include:
The wrong materials. It is important that you have the appropriate-sized boxes for what you will be moving. Keep it simple and try to stick with three different sizes, rather than a hodgepodge of old liquor and fruit boxes. This ensures a more uniform pack job in the truck. Don't forget to pick up packing tape, packing paper, and a marker to label the boxes.
Boxes weighing more than 50 pounds. Too heavy of a box can compromise the integrity and stability of the box when carrying it and can cause injury to the movers attempting to lift it. Use small boxes for books, files, or canned goods.
Waiting until the last minute. On the days leading up to the move, take an hour each day to spend on each room. Most rooms can be completely packed up when a solid, uninterrupted hour is dedicated to it.
Arpin Van Lines
Common packing mistakes include:
Inadequate packing tape.
Purchase quality, pressure-sensitive 2-inch wide packing tape. Seal carton bottoms with 3-4 layers of tape and tops with 2-3 layers. Wrap items loosely with 2-3 layers of newsprint or paper.
Poor labeling procedures.
All labeling should be printed 2 inches high on two sides of the box and the top. Using a black wide tip marker, print your last name, the room the cartons go to, and a list of contents. Number each carton and cross-reference it to a listing of the contents listed on a home inventory. Any special instructions, such as "keep upright" or "top load," should be labeled on all four sides.
Not packing correctly.
Fragile items like platters, plates, and framed pictures should be triple-wrapped and placed on their edge. Lampshades and flower arrangements should be packed along with room above them in the carton. Electronic devices like notebooks and tablets can be destroyed internally by exposure to magnetic fields when packed with speakers. Food should never be mixed with poisonous cleaners/chemicals. Delicate items like speaker fronts and computer/TV screens should be placed flat against the inside of the carton. Power cords, cables, and remotes should be packed with the main item. Liquids like water, drinks, and cleaners shouldn't be packed.
Improper preparation and scheduling.
Take the time to sort, purge, and organize. Start with the least-used items and work toward the most-used items. Set up bins for different items — trash, donate, recycle, and keep. Pack critical items on the top of the cartons. Create "open first" cartons, which should be unpacked first, that contain items you will need right away.
Packing in a disorganized fashion.
Set up a wrapping station with additional materials, tape, and utility knives. Pack items on counters or furniture items next, then empty and pack built-in areas like cupboards and closets. Lastly, pack decorative items from walls. Label each carton as it's packed, and neatly stack with the label facing out.
Atlas Van Lines
Common packing mistakes include:
Not knowing box limits.
A standard box measures about 1.5 cubic feet, which can hold around 65 pounds at the most. To some, boxes might all seem the same, but manufacturers use a system to measure overall weight capacity. For example, the standard box mentioned above is 200#. The next level up from it is 275#, which can hold up to 95 pounds. It is worth noting these are estimates of the strengths, and it is important to inspect boxes to make sure they are not damaged.
Not layering your box properly.
To start off, layer the bottom of the box with packing peanuts to protect items without taking up precious room. Every box should be packed with heavy items on the bottom that are wrapped in bubble wrap. Then layer lighter items on top. Before sealing box add more packing peanuts to add much-needed cushion between items.
Global Van Lines
Common packing mistakes include:
You limit carrier liability when you pack yourself.
First, the moving carrier that transports your DIY packed goods has only limited liability for damaged or destroyed contents. Your mover is only responsible for the contents of the cartons it packs. You have a lifetime's collection of valuable possessions and family heirlooms that should be fully protected and packed by professionals who know the ins and outs of packing safely and securely. When you have a professional pack for you, the carrier is responsible for damaged items.
Packing hazardous materials.
In addition, many hazardous materials should not be packed along with your shipment. Even nail polish remover, which seems harmless, can endanger your entire shipment. And, finding the right packing materials, boxes, and other supplies is easier today; however, if you have a unique, hard-to-fit item, such as a chandelier, you need specialty materials.
moveBuddha
Common packing mistakes include:
Using bags, not boxes.
People will often fill up trash bags with miscellaneous stuff during last-minute packing. When big furniture pieces are packed next to a bunch of trash bags, the furniture has more room to shift. A shifting load can cause major damage. Always use heavy-duty boxes to keep the load tight!
Using plastic totes.
Plastic totes may seem like a great idea, but oftentimes totes will buckle and crack under normal amounts of weight. It's better to use moving boxes, which do a better job of absorbing the weight and keeping the load tight.
OZ Moving and Storage
Common packing mistakes include:
Packing with used boxes.
Use the right boxes. If you are packing heavy stuff in a raggedy old box, it could break or cave in and damage your stuff. Packing things like lampshades, make sure to use sturdy boxes.
Overconfidence.
If you're not sure if you can accomplish some part of your move without professional help, don't try. Don't be like the trio of college students we helped who got their couch stuck in a staircase. Getting in over your head and having to call emergency help is not ideal.
Packing the truck incorrectly.
Your heaviest boxes and items should go at the bottom of your truck, with the lighter stuff on top. Doing this in reverse can crush your belongings.
Leaving empty space.
Don't leave empty space in your boxes; fill them with packing material. You don't want things shifting too much in transition.
Rachel and Company
Common packing mistakes include:
Packing everything that you have.
Take packing as an opportunity to review your inventory. Get rid of damaged items or things that you don't use. You'll only end up packing and unpacking them.
Forgetting about the floor plan.
Before you pack, think about your future space and what will fit. Will your future living room fit your existing couch? Will your utility shelving unit fit in your new garage? Are you downsizing and no longer need guest bedroom furniture? Make a plan to dispose of or sell these items.
SpareFoot
Common packing mistakes include:
Forgetting to delegate.
You can't do it all yourself, so if a friend offers to help or you have hired movers and they have some free time to lend a hand for unpacking, give them an area to focus on or a task to handle that will help get you to the finish line. For example, they can help you break down and stack empty boxes and put packing paper and trash in a bag. It's better to clean as you go rather than wait until the end of the day when you just want to go to sleep.
The UPS Store
Common packing mistakes include:
Dumpster diving.
Instead of digging through the dumpster at a local supermarket looking for used boxes, which often won't be sturdy enough to withstand a move, get new boxes of all sizes, specially engineered to withstand the stress of a move.
You Move Me
Common packing mistakes include:
Starting in the kitchen.
Begin packing with your storage areas: Anything you haven't used for a year and cannot guarantee you will need again and items that have no sentimental value, should be the first to go. Move on to the rooms you will use infrequently prior to moving day. Box up the items to be transported to your new home. The last items you pack up prior to your move should be your everyday kitchen, bedroom, and bathroom belongings.