MYMOVE's Checklist for Moving Day and Beyond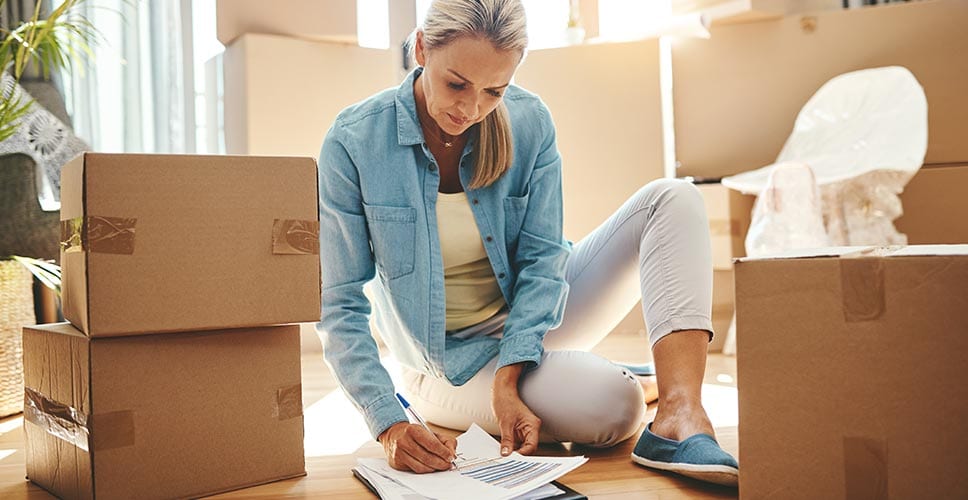 The big day finally arrived. You've completed all the pre-move activities, packed the boxes, and loaded the truck. All that's left now is to get your stuff to the new place, unload, unpack and settle in for your new life in your new place. Except, of course, that it's not quite that easy.
Following is MYMOVE's checklist for moving day and getting settled in.
Day of the Move
Protect the old place. Yeah, you're moving out, but you don't want it to be damaged. Put down carpet, floor and door frame protectors throughout the home.
Stay out of the way. If you're using professional movers, they know what they're doing. They will pack your stuff in a way that makes sense.
Not using pros? Then you'll want to pack large appliances – washers, dryers, refrigerators – first, then pack your labeled boxes by room, finishing with the kitchen and master bedroom. Those are the rooms most people want to set up first after a move.
Check it again. Go through every room and closet in the old place to make sure you didn't forget anything. Lock all doors and windows.
Make a clean getaway. No, you don't want to clean the old place. But you need to, if for no other reason than you won't feel guilty when you …
Leave a note with your address. Ask the new residents to forward any mail that makes it past your change-of-address request.
Save your receipts. Remember, your moving expenses could be tax-deductible. But you'll – of course – need receipts for everything.
Before unloading: Check out the new home again to make sure everything is in good working order. This is much easier while it's empty. Find the fuse box and the main water valve.
Make a clean start, too. Do it before anything is unloaded. Because you'll never have this opportunity again.
Keep an eye on things. Stay out of the way, but check furniture and appliances (if professionals are moving you) for scratches and dings as they're brought into the house. Contact the moving company immediately if you see anything. (If you're depending on friends for the move, you might have to turn the other way to any minor damage.)
First Week After the Move
Finish the job. Chances are you didn't finish unpacking every box on moving day. Keep at it every day until you do.
Change the locks. You never know how many keys to your new home are in circulation. Unless you change the locks.
About your driver's license. Most states give you 10 days, and some allow you to do it online. But there may be a trip to the DMV in your future.
Switch your voter registration. Do it now to make sure you can participate in the next election. Some states allow you to do this when you change your address with the DMV.
Make insurance a premium. If you didn't do this pre-move, let your auto insurer know you've moved. Otherwise, you run the risk of voiding your coverage.
Be friendly. Meet the neighbors. They can be invaluable as you settle in and afterward.
Explore. Take a drive and find out where stuff is.
Second Week Post Move
Find new services. This includes physicians, a dentist, a pharmacy, veterinarian, etc.
Fill in what's missing. Now that you're moved in and finished unpacking, decide whether you need new furniture, artwork, etc., to make the place "yours."
There's much more to do, of course. If you have children, get them settled in their new school and/or daycare. Know where city hall is. Just remember, you don't have to everything at once.
---
Everything for your move, all in one place
Curate your personalized moving checklist, set up TV & Internet, and more with a free MYMOVE account.
Save on your move and tackle upcoming to-dos with your free MYMOVE account.