Why Moving Always Costs More Than You Think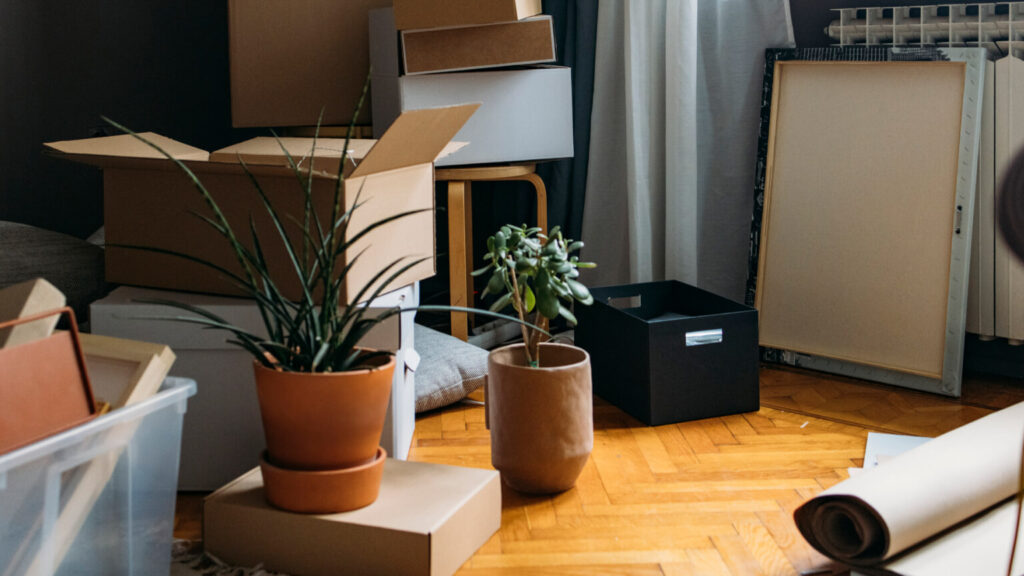 Whether you're a plan-out-every-expense mover or go the swipe-the-card-ask-questions-later route, the toll that moving takes on your finances always seems to be bigger than you were expecting.
Unfortunately, there's no one culprit to watch out for. Moving comes with a lot of expenses, and many of them seem to end up costing more than you bargained for. But if you know what to look for throughout the process, you can at least budget accordingly — and hopefully even make your move a little cheaper.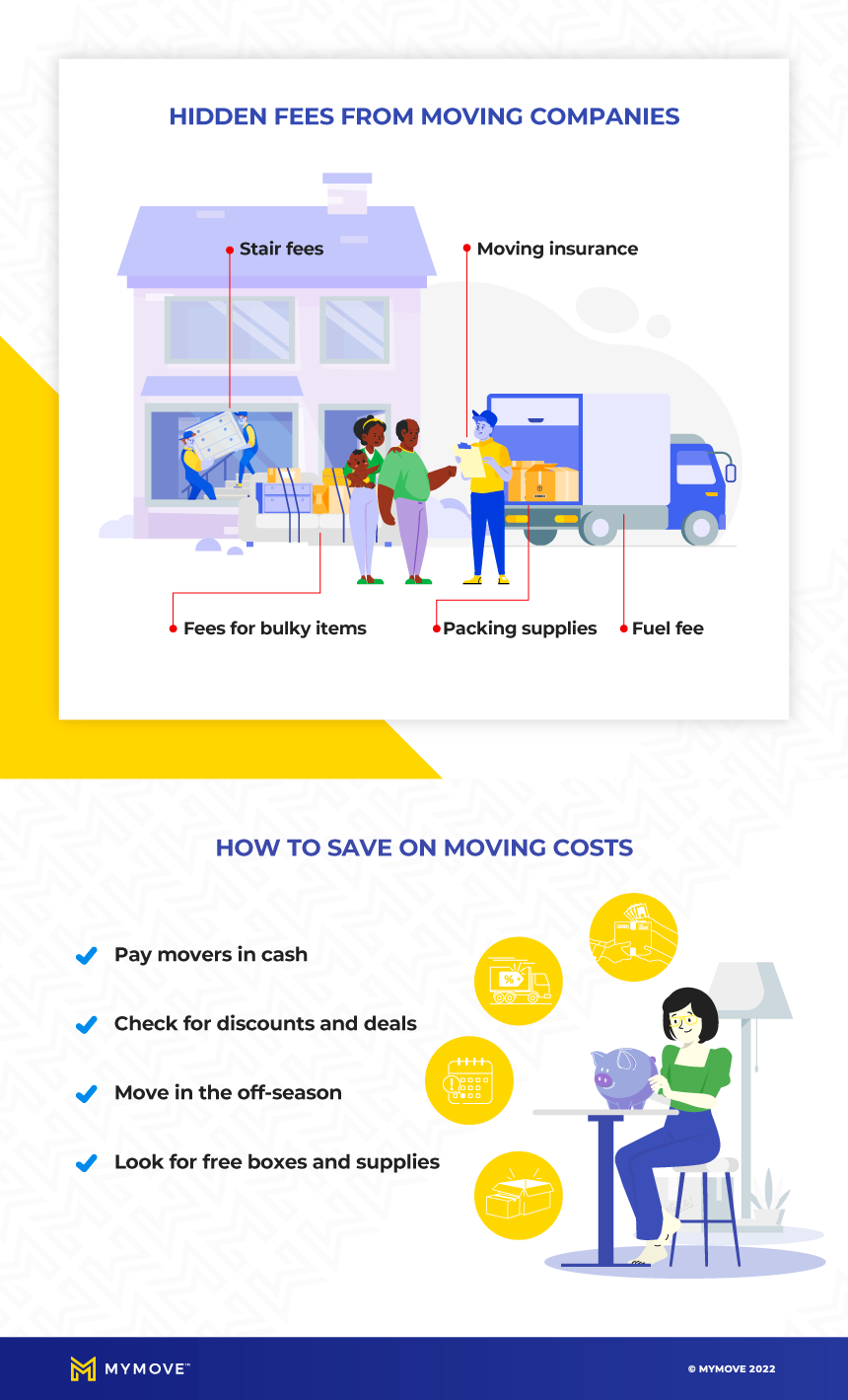 You might be tempted to go with the cheapest hourly rate or estimate when picking a moving company, but that's not always the price you'll end up paying. There are typically a number of extra fees that are included in the final bill:
Stair fees: If you live in a building without an elevator, you may be charged extra for stairs. Some moving companies charge by the flight, while others will actually count each step. (One recent quote we saw added on $2 per stair after the first 15.)
Moving insurance: By federal law, moving companies are required to cover a percentage of your items if they're damaged or lost. However, many companies offer additional moving insurance for your items.
Fees for bulky items: Most movers charge extra for bulky items like pool tables or pianos, but you may also get hit with an unexpected fee if they have to disassemble any large furniture.
Packing supplies: The cost of packing supplies isn't included in every moving quote, and some companies will tack on an extra charge for things like shrink wrap and tape.
Fuel fee: Some companies charge a flat fuel fee for the entire day, while others charge by the mile. However, many companies don't include fuel as a part of the price for local moves.
When looking at moving estimates from different companies, make sure you're comparing apples to apples. If a company just tells you their hourly rate, it's probably not the full story. You'll want to give them a detailed inventory of everything you'll be moving — an in-person or video consultation is even better — and ask for a final estimate with all of the fees itemized.
Paying for packing
Most movers include an option to pack up your belongings for you, but it will add a lot to your final bill. You can expect to pay anywhere from a few hundred dollars to several thousand for this add-on. Typically, the cost of packing supplies is included in the price.
Getting out of your utilities contract
You may have a contract with your electricity, gas, water, or internet provider, and getting out of it early could cost you some money. In most cases, you'll have to pay a certain amount for every month you have remaining on your contract. If you have AT&T internet, for example, you'll be charged $15 for every month remaining on your contract, with a maximum fee of $180. On the bright side, some internet providers, like Spectrum, offer contract buyouts to help offset this.
Food, lodging, and gas
If you're doing a cross-country move — or even if there's a small gap between your move-in and move-out dates — you'll want to budget for meals, hotels, and transportation costs. Gas for a U-Haul from coast to coast can add up to nearly $1,000, and hotels along the way will be around $100 per night, too. Whether you're packing your meals beforehand or eating out on the road, food costs can add up on a moving trip as well.
Packing supplies
Depending on the size of your home, packing supplies can put a major dent in your moving budget. U-Haul, for example, sells a supply kit meant for a 1-2 bedroom apartment for $213.66. You may not need to spend quite that much, but it's best to factor in some extra money for boxes, tape, and wrap.
Tips for your movers
A good rule of thumb is to tip movers $4-5 per person for each hour of work. For an all-day move with several movers, this could easily add up to more than $100. Some people also like to provide water, coffee, snacks, or meals for their movers as well.
Restocking household items
Chances are, you won't want to bring your old plunger and mop along to your new place. No matter how much you bring over, you'll inevitably have to do a run to Target to stock up on some essentials. We recommend budgeting about $200 for this "miscellaneous" category. You might not think you'll need it, but moving day is usually more expensive than you think.
How to save on moving costs
Moving can be a serious drain on your savings, but there are a few things you can do to help trim down some of the bigger expenses. Follow these tips to make sure you stay within your moving budget.
Pay movers in cash
A lot of moving companies offer a discount around 5% when you pay for everything in cash. That might not be feasible for a cross country move that's running in the thousands, but for less expensive moves, you can shave off some money by planning a trip to the bank before moving day.
Check for discounts and deals
No matter how much you're bringing over from your old place, there's probably plenty of new stuff you'll need to buy along the way. Fortunately, coupons are readily available for new movers. Before you make that trip to Target or Home Depot, look around to see what discounts you can get.
Move in the off-season
If you can be flexible with your move date, you'll usually save money by avoiding peak moving season, which occurs between April and October. This flood happens for a variety of reasons — school's out, warmer weather makes moves easier, and there aren't many major holidays to avoid. In the summer, moving companies are in much higher demand, which means you'll likely get a higher quote than you would if you moved in the off-season.
Look for free boxes and supplies
You're probably not the only one in your area who's moving. You can usually find someone near you who's recently moved in and has some boxes and moving supplies they're looking to pass on. Before you spend money on fresh moving supplies, do a search on your local Craigslist, Facebook Marketplace, BuyNothing, or NextDoor group.