What is Peak Moving Season?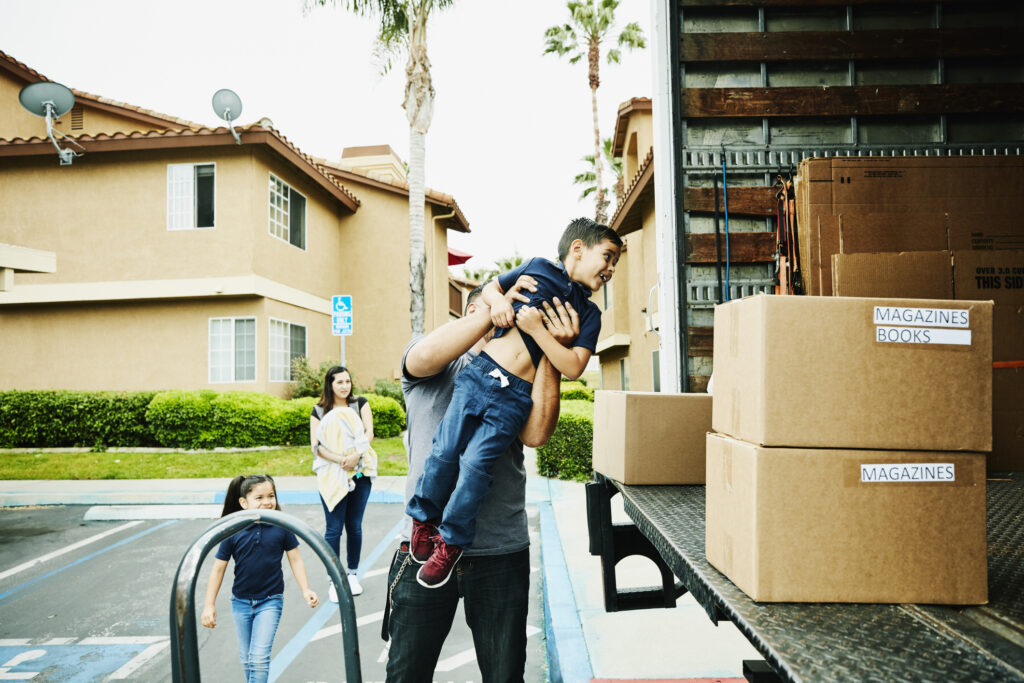 What time of year is considered "peak moving season?"
Whether you're moving to begin a new job, start school, live in a bigger house, or some other major life event, one thing is true — you're not alone. MYMOVE data finds that one in five U.S. households move each year. That adds up to 24.1 million moving households annually!
If you're planning an upcoming move, you might be wondering, what's the best time to move? While that depends on your specific situation and personal preferences, consider whether moving during peak moving season is right for you. Peak moving season runs from April through October.
Why is the summertime peak moving season?
Warmer weather:
For much of the country, moving during the summer months is preferable to moving during the winter. Snow and ice not only pose a challenge for safely transporting your household goods from one location to another, but they also make loading and unloading a tougher process than usual. Another benefit of moving during the summer is the longer days, giving you more time to complete your move before nightfall. And while summer heat can make moving an unpleasant task, at least you won't get frostbite.
Summer break from school:
Summer break presents an ideal time to move for families with school-age children. Moving to a new town or school district can often be a disruptive experience for students, especially in the middle of the school year. Relocating during the summer can ease the transition by already being settled in, ensuring the school year begins without interruption, and giving kids the time to say goodbye to old friends.
College movers:
When colleges break for the summer, a large number of students change housing. Many will move home for the summer and then move again when the semester starts. Whether they're transitioning from dorms to apartments or are graduating, college movers are significant contributors to peak moving season demand.
Peak season for military moves:
About one-third of military members move every year, typically between May and August, with the majority of military moves taking place during June and July.
Holiday celebrations:
The fall and winter months are stacked with major holidays that you'd probably rather be spending with friends and family. Moving might be the last thing on your mind when you're prepping for Turkey Day or planning for Santa's arrival. The holidays can be stressful enough without thinking about driving moving trucks and packing boxes!
So, what's the best time to move?
The best time to move depends on your specific circumstances. Moving during either peak moving season or the off-season both have their pros and cons. For example, if you don't have kids, moving during the school year may not matter to you. Here are a few more considerations that could impact your decision:
Factors that could impact your moving date
Your moving budget: Since most of the demand for moving services is over the summer, it's considerably cheaper to move in the late fall or winter.
Family calendar: If you want to avoid moving during the school year, that puts you smack in the middle of peak moving season.
Job requirements: If you're relocating for work, you might not have much choice when it comes to your moving schedule. But some employers may be open to you teleworking until an ideal move date — it doesn't hurt to ask.
Housing availability: The sale of your existing home or the end of a lease might dictate when you can move. It's no surprise that peak home-buying season also coincides with peak moving season. When it comes to apartment-hunting, you might have more options to choose from for the same reasons.
Personal circumstances: Unfortunately, moving isn't always a joyous occasion. Whether you have to move to take care of a loved one, as part of a divorce, a natural disaster, or some other reason, sometimes it's necessary to move with little notice.
Peak moving season pro tips:
Pro Tip #1: Book your move reservations at least two weeks in advance. Due to the demand during peak season, scheduling your move will take some advance planning. The earlier you book, the more likely you can secure movers with the best reputation. Booking early will also give you time to get multiple quotes for the most affordable service.
Pro Tip #2:  Book your move during the middle of the week, in the middle of the month. Weekend moves can cost 20% to 30% more than during the rest of the week. Booking during the middle of the month is also cheaper than the beginning or end of the month.
Pro Tip #3: Purge unwanted items. If you're moving long-distance, you'll be paying by weight. And since you'll be paying the highest rates during peak moving season, one way to save some money is by reducing the number of household goods you move.
Pro Tip #4: Pack and prepare your household goods early. Local movers usually charge an hourly rate, so you can save money during peak season by packing everything in advance and placing as much of the contents to be moved by the door. That way, movers will spend less time loading.
Pro Tip #5: Enlist your kids to help. Since they aren't in school, older children should be able to help with packing. Allowing them to pack their own stuff and choose what they want to bring along gives them some handy life experience for when they move on their own.
The bottom line
Peak moving season runs from April through October and is often the most convenient and comfortable time of year to move. But that also means it's busier and more expensive. If you're flexible on your moving timetable, you can save money by moving during the offseason.
Frequently asked questions
What's the best week of the month to move? 
The middle two weeks of the month are the best time to move if you are on a budget. Movers typically charge more during the first and last week of the month.
What's the best time of the week to move? 
Monday through Thursday is the best time of the week to move if you're looking to save money. Weekend moving rates are typically 20% to 30% more.
What's the best time of day to move? 
Try to book your move early in the morning, so you're the first one of the day. Movers will be fresh and maybe faster. It also avoids any delays from other earlier jobs.
Will the coronavirus impact peak moving season? 
The spread of coronavirus has delayed the start of peak moving season in 2020 with the real estate market stalled and people generally nervous about making any major life transitions. Most military moves are also on hold as a result of COVID-19, but there is a chance that moving could take place later in the season if the impacts of the virus wane.