Moving Quote Terminology, Decoded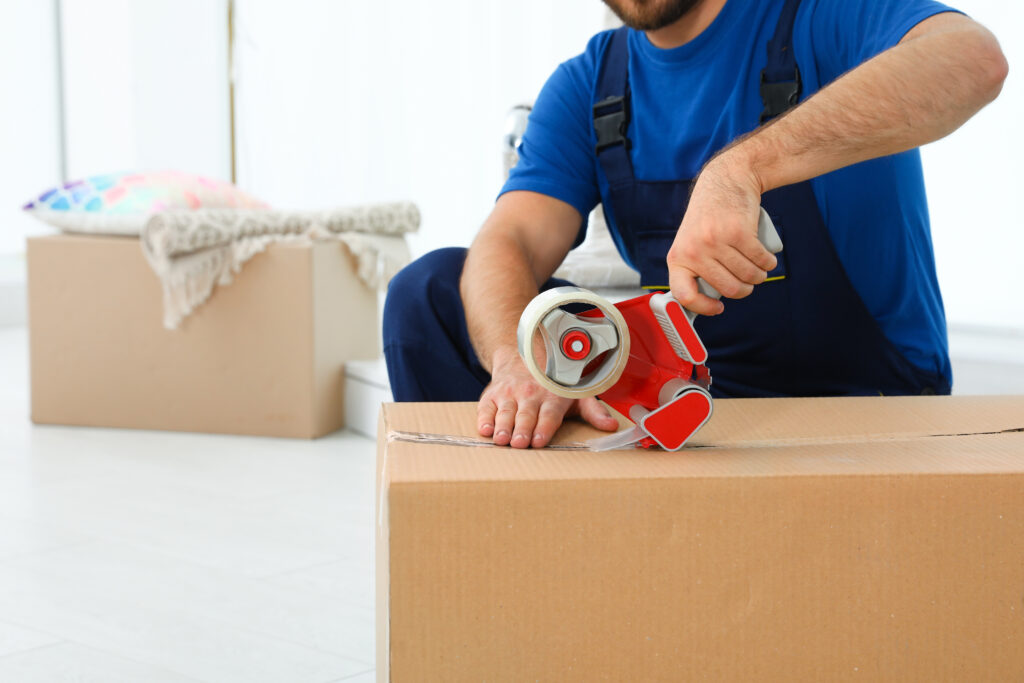 What does my moving company estimate mean?
Moving quotes give you an accurate idea of how much it will cost you to move. You'll typically receive one after providing some information, such as the items you're moving, whether you need the items packed and where your belongings are headed to.
Some moving company quotes are given over the phone, while other companies allow you to request a moving quote online. The most accurate moving company estimate usually requires an in-person consultation. However, some companies have limited in-person moving company quotes in light of the COVID-19 pandemic. Some companies are conducting move cost estimates virtually to limit public interactions and abide by social distancing guidelines.
No matter the delivery method of the moving quote, one thing remains the same — reading through a moving company estimate can feel a lot like trying to decipher the Da Vinci Code.
But it doesn't have to be that way. Becoming familiar with some of the most commonly used moving company estimate terms and acronyms empowers you to engage in better negotiations.
Here are some of the terms you're likely to see on your moving company cost quote papers, and what they mean.
3 types of moving company quotes
1. Non-binding estimate
You should approach non-binding moving estimates with caution (or avoid them altogether). 'Non-binding' can mean that movers don't actually have to honor the quote.
This usually occurs because the company provided a moving estimate by weight or cubic feet. A moving company may use this method to give you a lower estimate and win your business. But once you agree, if your items were heavier than the non-binding quote you were given, you'll pay significantly more than you expected.
2. Binding estimate
As you get serious about selecting a mover, steer clear of non-binding estimates and push for binding moving company quotes instead. In a binding estimate, the moving company will have to guarantee the flat fee they quoted you, regardless of how much over the weight or volume estimate is. But note that it goes both ways — if they overestimated your contents, you won't get a discount.
If you end up needing to add more items to your move, you'll need to negotiate ahead of time with the moving company to accept the new items for no additional fee or negotiate a new binding quote.
3. 'Binding not to exceed'
A 'binding not to exceed' moving company estimate is the most popular because you'll know the maximum you're expected to pay. If your shipment is heavier than what the company originally quoted, you won't have to pay for anything more. But if your belongings are lighter than quoted, you'll only pay for the actual cost, saving you money.
Moving estimate by weight or cubic feet: Which should I trust?
If you're wondering if you should get a moving company estimate by weight or cubic feet, there are more important factors to consider. Questionable movers will underestimate weight or volume and try to lock in your business with a non-binding quote, knowing you'll end up having to pay more in the end.
Only work with reputable moving companies that provide you with binding or binding not to exceed moving quotes. Regardless of whether the binding moving quotes use weight or cubic feet, you'll know what to expect and won't get hit with surprise additional charges upon delivery.
Understanding your moving quote: terms to look out for
Before you sign on the dotted line, brush up on the following 10 moving quote terms. They'll come in handy when you're comparing moving company quotes.
1. Bill of lading
The bill of lading, sometimes known as the BOL, is the official contract between you and the movers, and it's the most important document you'll receive. Review it carefully before you sign it to make sure the moving contents are listed correctly, and the pick-up and delivery addresses are correct. If anything goes wrong, you'll need to refer to your BOL, so keep your copy in a safe place.
2. CP 
If you have your movers do some of your packing, you may see "CP" on your bid or mover's quote contract. This stands for "Carrier Packed." It indicates how many boxes or cartons your movers packed for you.
No surprise here: there will be an additional fee for this service. If you blend self-packed and mover-packed strategies during your move, pay special attention to how many boxes are labeled "CP" on your quote and final invoice, so you don't overpay.
3. COD
Short for "cash on delivery," you'll need to pay for your shipment when it arrives at your new home. Ask the moving company ahead of time about payment methods, such as credit card, check, or cash. If the shipment is cash only, make sure you receive a signed receipt for the amount you paid.
4. Cube sheet
If your moving quote makes any reference to the "cube sheet," it's the vendor's way of referencing the document they use to estimate the weight of your cargo. Movers first determine the number of cubic feet your belongings will occupy in the truck, then translate that to a weight estimate to create your moving bid.
5. Flight charge
You paid for a truck, not an airplane, right? This term doesn't refer to the cost to ship your stuff via plane; it relates to how many flights of stairs your movers have to navigate as they haul your furniture and boxes. Make sure this number is zero on your quote if you're moving from a bottom floor apartment to a single-story home.
6. Inventory
The inventory is the list of your household goods. It's long and detailed, showing quantities and describing the condition of each item. It's all too easy to gloss over the inventory, but doing so could cost you. If anything is missing or damaged upon arrival, you'll need to refer to your inventory list to prove that the item was in the shipment and wasn't already marked as damaged.
7. PBO
The short acronym means "Packed By Owner." You can usually save a few bucks by packing your own stuff instead of having your movers do it for you. If your contract says "PBO," and you do, in fact, pack all of your own belongings, your final bill should not reflect any packing service.
8. PAD
Your movers will pad furniture and other valuables with foam and bubble wrap while you move, but the acronym "PAD" actually stands for "Preferred Arrival Date." If you're asked to fill out a form with this term, enter the date you want your belongings to arrive at your new home.
9. Standard coverage
Movers must legally include a free minimum amount of insurance for your goods in all moving quotes. It's not much — if your goods are damaged, you'll receive money based on the weight of the item. Standard coverage is usually no more than 60 cents per pound of damaged goods.
Think about this — your Macbook weighs a couple of pounds. If it's lost or damaged during the move, you'll receive a whopping $1.20 for it. So, consider adding additional insurance to cover the cost of higher-value items. Full value protection will cover the replacement cost of any lost or damaged items.
10. Valuation
Valuation goes hand-in-hand with moving coverage. It's what the mover says your goods are worth and the maximum amount they'll accept liability for, based on the weight of your belongings. As mentioned, consider purchasing extra coverage to protect yourself if the mover loses or damages your belongings.
What to do before you sign on the dotted line
Never sign a moving company estimate until you're absolutely sure you've chosen the best one from several moving quotes. By now, you should have reviewed references from the moving company and checked out what customers have to say online about them. Review all the details of the quote, making sure the information disclosed is correct and complete.
Avoid agreeing to a non-binding moving company estimate — chances are high you'll end up having to pay more than you agreed to. And if there's anything you don't understand about the moving company estimate, ask for clarification and use Google to do a quick fact check to confirm the explanation is legit.
The bottom line
A successful move starts long before you start packing. Your moving quote will be packed with all sorts of terms and figures, and knowing what they mean gives you leverage. Make your movers peg you as a knowledgeable customer by learning the lingo! You'll be better able to advocate for yourself and check your moving quote for anything fishy.
Frequently asked questions
What are moving quotes?
Moving quotes are an estimate provided by a moving company of how much it will cost you to move your items. There are three types of moving quotes — binding, non-binding, and binding not to exceed. Avoid non-binding moving quotes because the moving company can change your cost at any time.
How much does it cost to use a moving company?
There are many factors that determine the cost of using a moving company, such as whether you're packing the goods yourself or needing movers to do it for you, how far you're moving (interstate or long distance), and the weight and number of items. Two moving companies may give you significantly different moving quotes for the same goods and service, so it's best to get several moving company estimates before you choose one.
How do moving companies estimate weight?
Whether you do it over the phone, by getting a moving quote online or even in an in-person consultation, it's difficult to get an exact weight. The company will typically make a list of the items and use moving industry weight charts to estimate weight. To avoid any surprises, choose a binding or binding not to exceed moving quote. You won't be charged any extra money if your goods turn out to be heavier than the moving company quotes you.
Is an instant online moving quote binding?
No quote is binding until you sign it. Feel free to get an online moving quote from several moving companies to find the best price.