Coronavirus Moving Study: People Left Big Cities, Temporary Moves Spiked In First 6 Months of COVID-19 Pandemic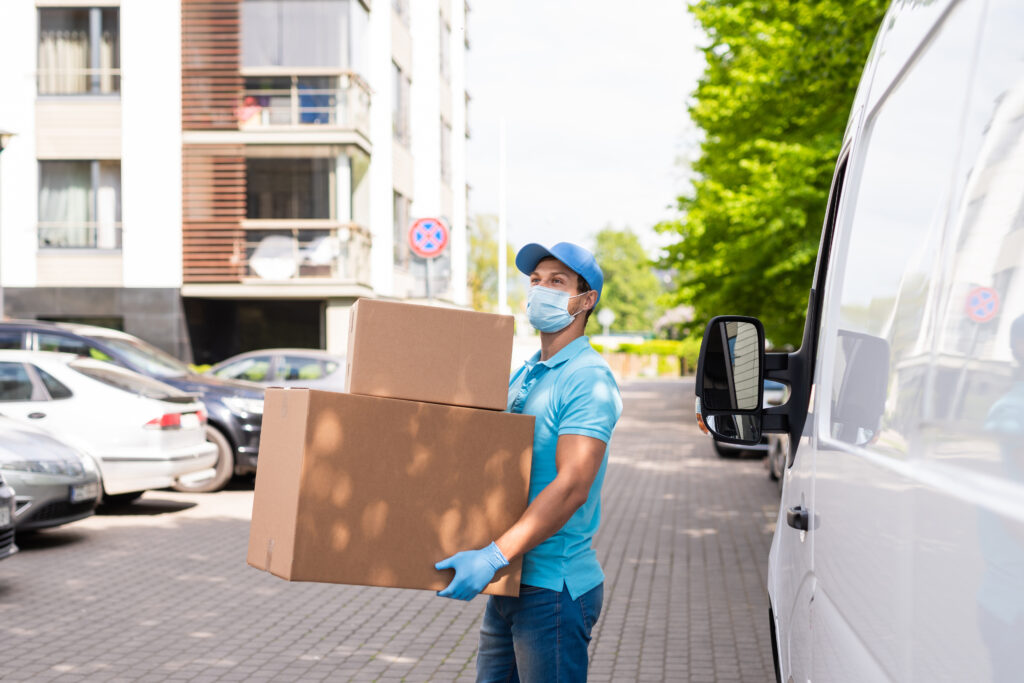 Updated 6/1/2021 – Coronavirus moving study: How remote work spurred moves out of big cities via Allconnect.com
The coronavirus pandemic is responsible for a dramatic change in the way the world lives and works. The workplace is undergoing the largest-scale remote work experiment in history, with nearly seven in ten workers doing their jobs from home. As we limit our time in public and practice social distancing in an effort to stop the virus' spread, entire families are performing basic functions, such as schooling, work, shopping, and even healthcare visits from their homes using a screen and an internet connection.
The telepresence boom is creating a coronavirus moving phenomenon. Now that people can continue with their life remotely, they can do so from anywhere. And so people are leaving big, densely populated areas and spreading out to suburbs or smaller communities across the country — at least for now.
To better understand COVID-19's impact on U.S. movers, we collected United States Postal Service® change-of-address data from February to July 2020. USPS® processes millions of address change requests each year for people wanting to forward their mail from their old homes to new residences. An address change can be permanent or temporary (if the mover plans on living at a second location for less than six months). You can file a change-of-address for a business but for our analysis of coronavirus moving trends, we only looked at residential requests.
Here's what we found:
Over 15.9 million people have moved during the coronavirus, according to USPS data.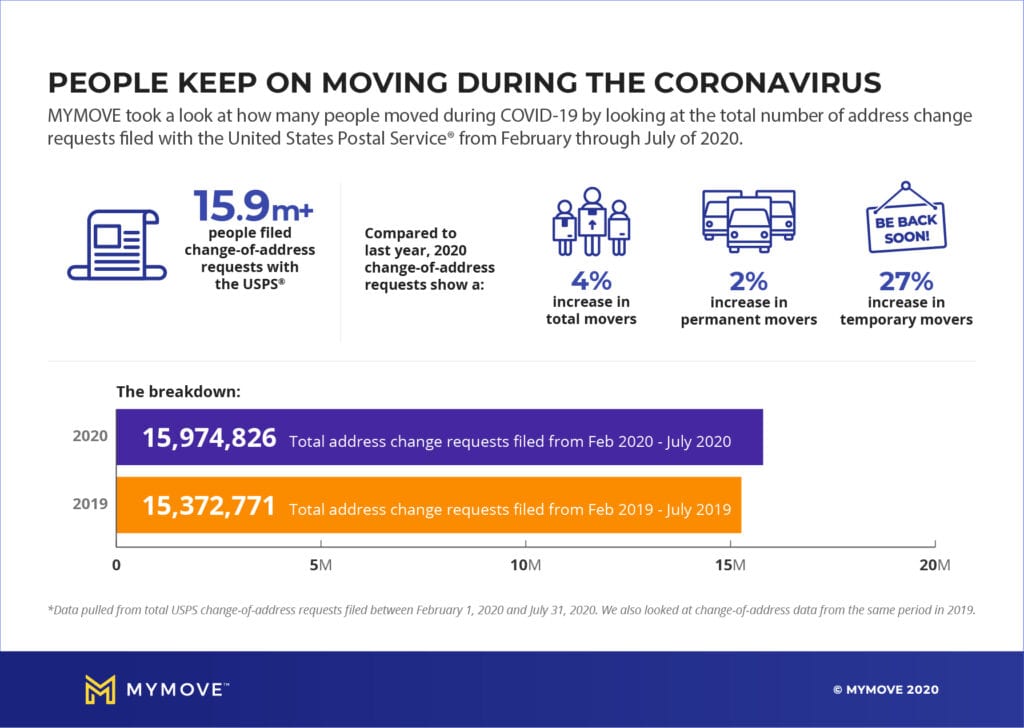 While it seemed like everyone was staying at home, they were actually moving in even larger numbers than usual. Looking at the number of movers who filed for mail forwarding from February to July 2020, requests are up 3.92% from the same time the previous year. There have been more than 15.9 million requests in 2020. In comparison, there were just over 15.3 million requests during the same period in 2019.
A look at why people are moving during COVID-19:
A Pew Research Center study conducted in June looked at almost 10,000 U.S. adults to understand COVID moving trends better.
D'Vera Cohn is the senior writer and editor for Pew who published the findings from the coronavirus moving study. She says she asked residents who relocated during COVID-19 to identify the driving factor behind their move.
"About a quarter (28%) told us [they chose to move] because they feared getting COVID-19 if they stayed where they were living," Cohn says. "About a fifth (20%) said they wanted to be with their family, or their college campus closed (23%). A total of 18% gave financial reasons, including job loss."
Furthermore, roughly one in five of the survey participants responded that they packed up and left because of the pandemic — or know someone who was moving during COVID, shedding light on the increased moves during this time period.
Temporary Change-of-Address requests were up almost 27% from last year.
| COA Requests | 2019 | 2020 | Change |
| --- | --- | --- | --- |
| Permanent | 14,148,295 | 14,423,108 | +1.94% |
| Temporary | 1,224,476 | 1,551,718 | +26.73% |
Data shows that the most significant increase during the first six months of the coronavirus pandemic was with temporary filers. Temporary change-of-address is for filers who need to forward their mail to a new location, but plan to move back to their old address within six months.
USPS data shows that temporary change-of-address requests were up almost 27% from February to July, with spikes in requests in March and April. This could mean that toward the beginning of the pandemic, when large urban areas (like New York City) were hit hard with new cases, residents relocated for a set period of time to quarantine with family or escape to less densely populated areas.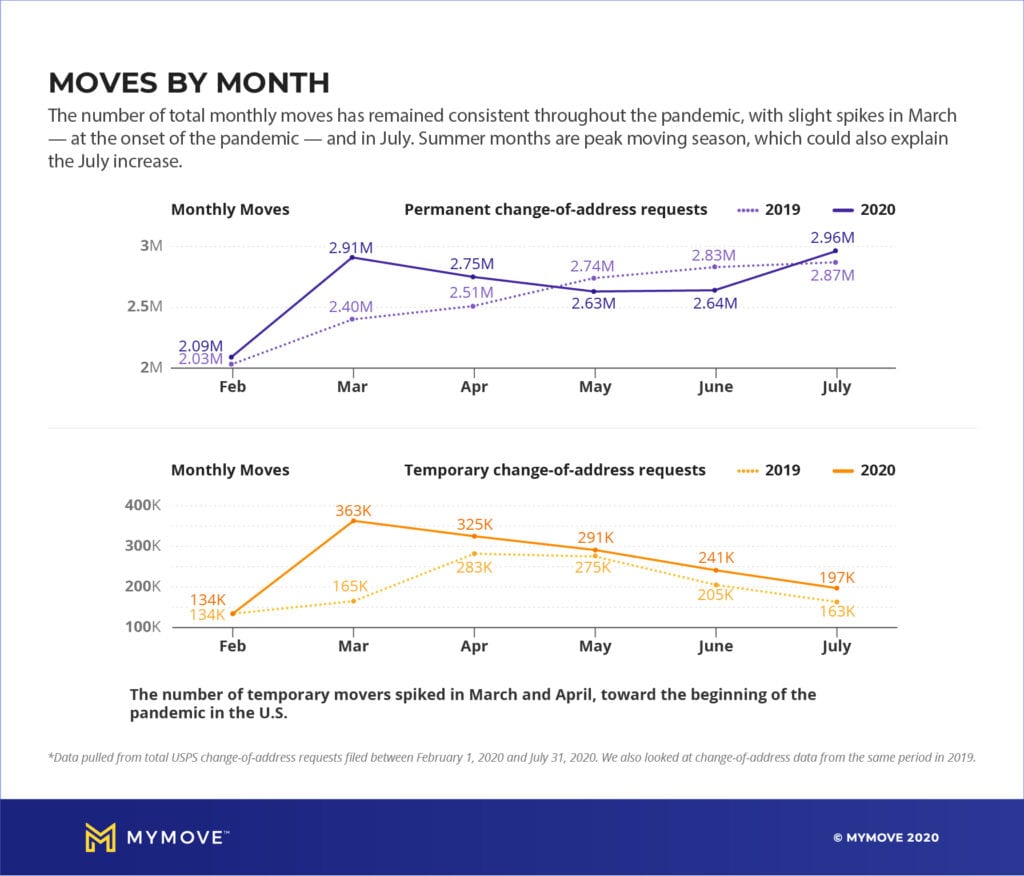 Riding things out seems to be a weighty reason behind the temporary moves. Noel Roberts, real estate agent for Nest Seekers International and star of the Netflix show "Million Dollar Beach House," says he's had a number of clients who are temporary big city movers.
"Over the past several months, we've seen an influx of renters in the Hamptons coming from New York City to come and escape the city as well as wait out the virus," Roberts says.
Some people may be taking advantage of online learning or remote work to save money on housing and living expenses, and probably expect to return to their college campus or office spaces soon enough.
The impact of urban density on coronavirus moving trends:
There's much we still don't know about COVID-19, but one thing is certain — the virus spreads fastest among people in close proximity. SARS-CoV-2 can float through the air in tiny moisture droplets or enter your system after contact with someone that's infected.
To further complicate things, many people are asymptomatic — meaning they're infectious but don't feel or look sick. Medical experts say avoiding exposure to the virus by keeping a safe distance from others who may have contracted COVID-19 is of the utmost importance.
Based on these facts, it's only logical that large, densely populated cities and crowded spaces present a higher risk of spreading and contracting COVID-19, and that people would relocate to areas with fewer people, where the risk of infection could be lower.
People are moving out of big cities during the coronavirus, data shows.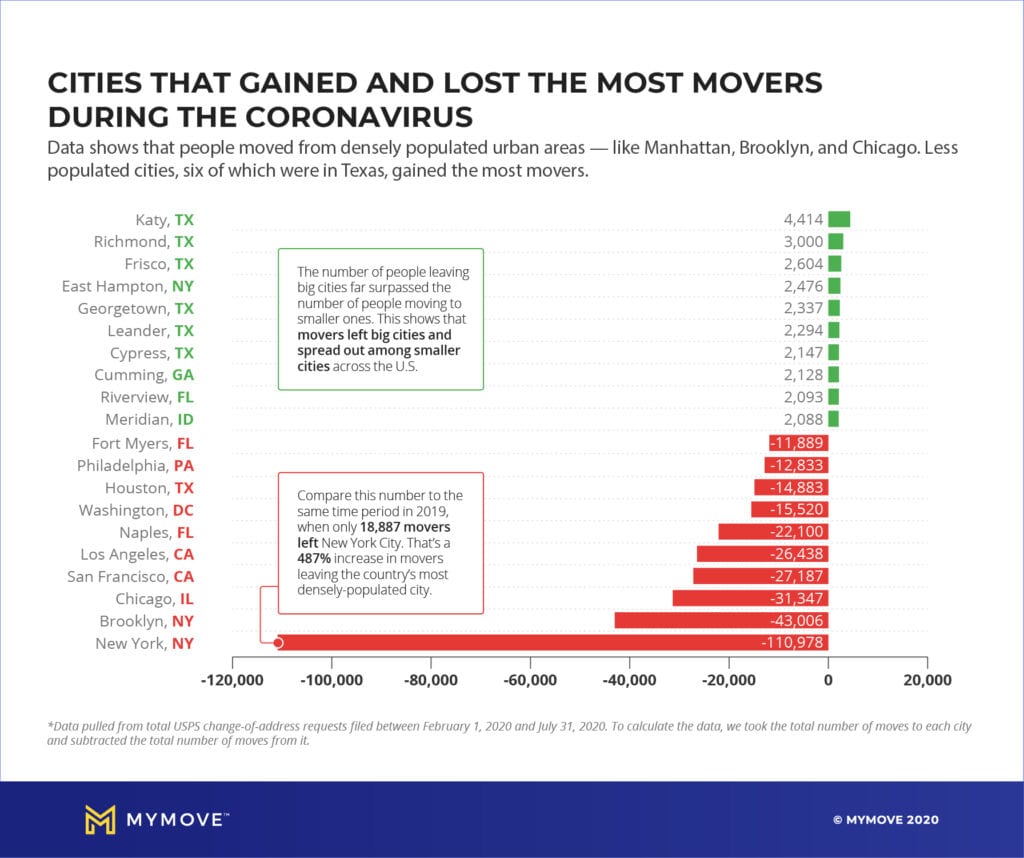 According to USPS data, big cities lost the most movers during the first six months of the pandemic. When we looked at what cities experienced the highest net losses, some of the country's most populous areas like Manhattan, Brooklyn, Chicago, and San Francisco made the top of the list.
But for context, people move out of big cities every year. Frank Donnelly, Geospatial Data Librarian at Baruch College, CUNY, has been researching migration patterns from New York City for years. He says, "migration from New York City has been a long-term trend."
And that trend isn't unique to the Big Apple. When you take a look at 2020's 10 most moved-out-of cities and compare them to the previous year, you see that the list remains relatively consistent. Eight of the 10 cities make both lists.
Cities that lost the most movers during coronavirus in 2019 and 2020:
| 2020 Top Cities Ranking | Number of movers the city lost in 2020 | Compared to 2019 | Number of movers the city lost in 2019 |
| --- | --- | --- | --- |
| 1. New York, NY | -110,978 | New York ranked #2 in 2019 | -18,887 |
| 2. Brooklyn, NY | -43,006 | Brooklyn ranked #6 in 2019 | -10,144 |
| 3. Chicago, IL | -31,347 | Chicago ranked #3 in 2019 | -15,278 |
| 4. San Francisco, CA | -27187 | San Francisco ranked #7 in 2019 | -9,683 |
| 5. Los Angeles, CA | -26,438 | Los Angeles ranked #4 in 2019 | -13,474 |
| 6. Naples, FL | -22,100 | Naples ranked #1 in 2019 | -27,202 |
| 7. Washington, DC | -15,520 | D.C. did not rank in the top 10 list for 2019. It ranked #26. | -5,896 |
| 8. Houston, TX | -14,883 | Houston ranked #8 in 2019 | -9,106 |
| 9. Philadelphia, PA | -12,833 | Philadelphia did not rank in the top 10 list for 2019. It ranked #13. | -7,853 |
| 10. Fort Myers, FL | -11,889 | Fort Myers ranked #5 in 2019 | -13,359 |
While residents moving out of big cities isn't a new thing, data shows that the number of moves has only increased during the pandemic.
New York City experienced the highest losses — more than 110,000 residents left the city from February to July of this year. That's 487% growth (or nearly five times) when compared with the number of outgoing movers that left Manhattan in 2019. Brooklyn ranked sixth last year, but numbers quadrupled in 2020, pushing it to second place. What could be causing the large migrations during the key months of the pandemic? Consider these factors:
Density
New York City is the most crowded place in the country — before the pandemic, the city's population doubled every day as commuters made their way to work. Consequently, New York became the first U.S. epicenter of the virus.
A highly contagious and rapidly spreading virus can cause the average person to want to get away from a densely-populated area.
Eric Soto is a real estate broker for TC Orlando Homes in the greater Orlando, Florida, area. He sees this trend in real-time and says client interest in suburban neighborhoods and areas with low population density has spiked.
He says some of his clients have expressly stated that "they don't want to risk being locked into a city" during the pandemic.
Cost of living
Some of the country's most expensive cities made the top 10 list. There are significant coronavirus moving migrations out of New York City, Brooklyn, Chicago, San Francisco, and Washington, D.C.
So, the decision to move at this time may be two-fold — to avoid catching COVID-19 and for economic reasons.
The coronavirus is affecting more than our health — it has essentially stalled the economy. The national unemployment rate hit as much as 16% by May. People who were already struggling in the highest-rent areas could likely no longer afford to be furloughed or unemployed.
According to Rostislav Shetman, of 9Kilo Moving, the rise of remote work and schooling is also an impetus to leave high-cost areas.
"Now that offices are being shut, people have realized that they do not have to live close to work anymore," Sherman says. "[People] might as well save the difference in rent by moving further away."
Either factor has led to the same result — people who live in urban centers fled to move "back home" or somewhere cheaper.
Freedom
Many of the larger cities suffering from high contagion numbers had to impose strict lockdown mandates. For many who were holed up in their small New York City studio for weeks, hearing that restaurants and public spaces have opened up in less population-dense or less affected areas could have been the motivation they needed for COVID moving.
Possibility of homeownership
Some people might also be taking advantage of record-low interest rates to become homeowners.
Roberts, of Nest Seekers International, has found that "renters are becoming buyers." He says some of the vacation renters leaving big cities during coronavirus aren't going back.
Roberts says his clients "recognize the value in having more space, more property, a place for the kids to play, and home offices for the parents who are now working from home."
Some smaller cities gained movers during the pandemic.
| 2020 Top Cities | 2020 Net Gain | 2019 Top Cities | 2019 Net Gain |
| --- | --- | --- | --- |
| Katy, TX | 4,414 | Frisco, TX | 3,224 |
| Richmond, TX | 3,000 | Richmond, TX | 2,448 |
| Frisco, TX | 2,604 | Las Vegas, NV | 2,349 |
| East Hampton, NY | 2,476 | Meridian, ID | 2,221 |
| Georgetown, TX | 2,337 | Katy, TX | 2,109 |
| Leander, TX | 2,294 | Georgetown, TX | 2,019 |
| Cypress, TX | 2,147 | Livingston, TX | 2,012 |
| Cumming, GA | 2,128 | Leander, TX | 1,978 |
| Riverview, FL | 2,093 | Cumming, GA | 1,969 |
| Meridian, ID | 2,088 | Cypress, TX | 1,813 |
Six of the ten cities that had the highest net gain of movers during COVID-19 were in Texas. Based on the factors of why people are leaving the large urban centers, Texas provides many attractive features, such as lower cost of living, a variety of smaller towns, and plenty of open space.
But it's important to note that the net losses experienced by big cities eclipsed the net gains experienced by the smaller cities. It's more likely that residents relocating from big cities didn't move en masse to Texas. Rather, they spread out to smaller areas across the country.
This brings us to another significant coronavirus moving trend. MYMOVE registration data* shows that some residents moving from densely populated cities relocated to smaller nearby cities and suburbs.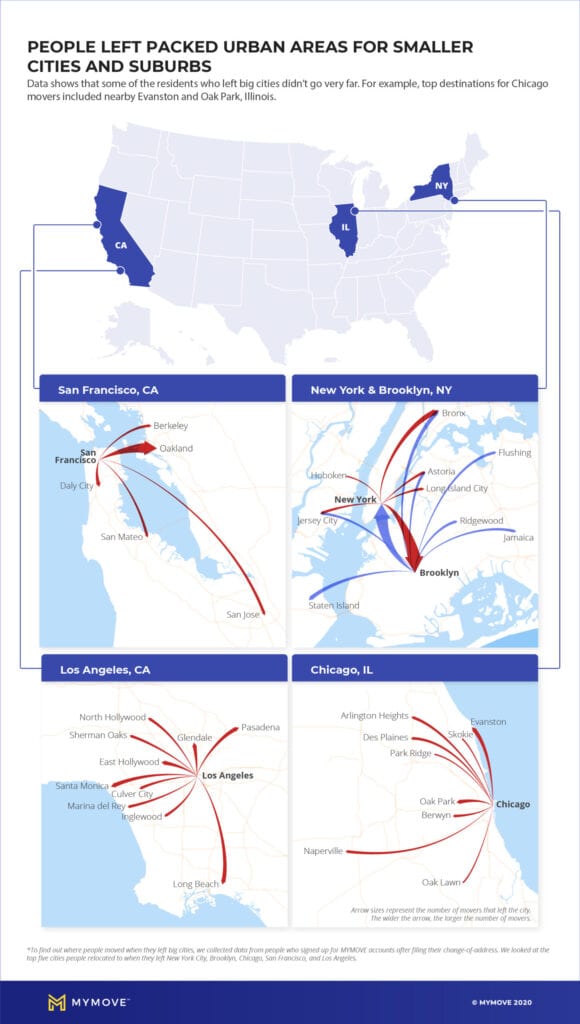 East Hampton, New York, for example, saw an influx of movers during the first six months of the coronavirus. East Hampton is roughly 100 miles from New York City and Brooklyn — the top two cities that experienced the highest amount of net losses.
And in Chicago, Illinois, data shows that some residents didn't go far when they moved. Some relocated to Evanston, Illinois — less than 20 miles from Chicago. Evanston has a population of over 74,000 residents, compared to Chicago's more than 2.7 million.
Some also moved to Oak Park, Illinois, (less than 10 miles away with a population of around 52,000) and Naperville, Illinois (about 40 miles away with a population of more than 148,000).
Pew Research Center's look at who has moved during coronavirus is in line with MYMOVE data findings that big city movers are forwarding their mail to nearby residences in less-populated areas.
Cohn, of Pew Research Center, says, "Among those who moved due to the virus, 13% [of respondents] told us they moved to a second home or vacation home, many of which probably are outside cities."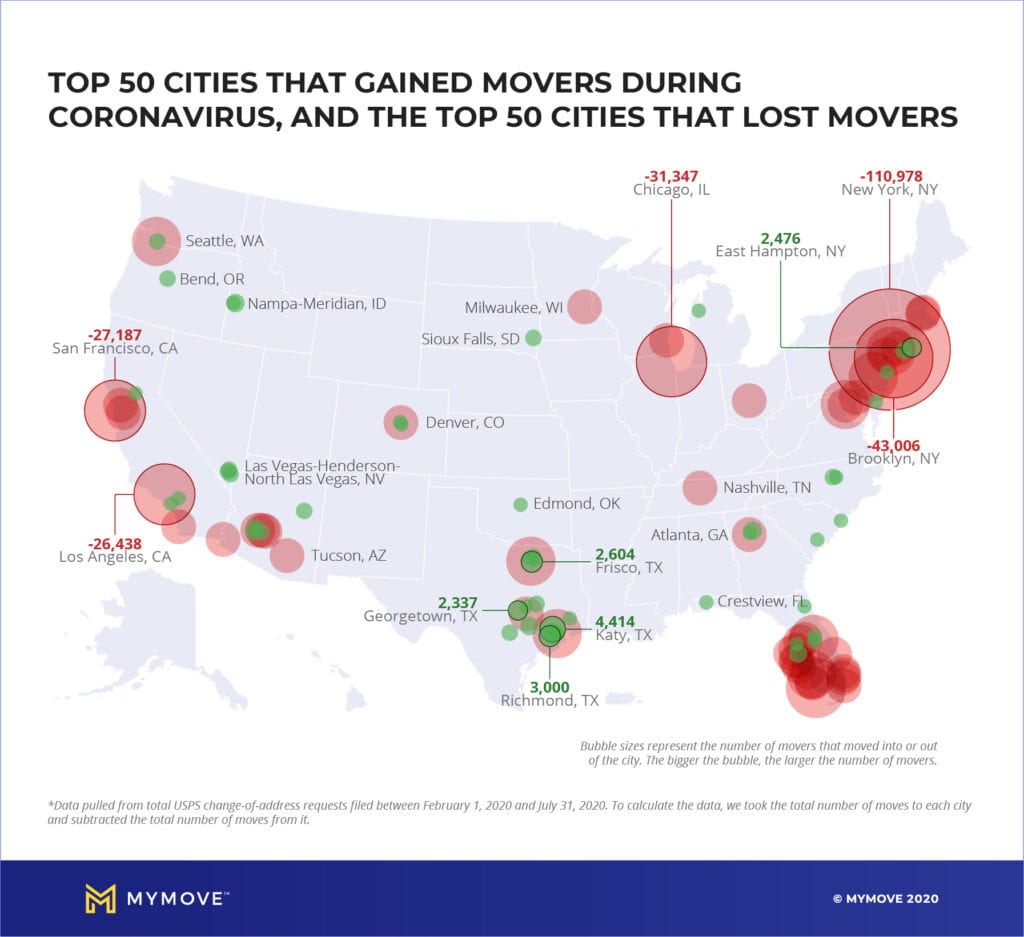 States with big cities lost the most movers.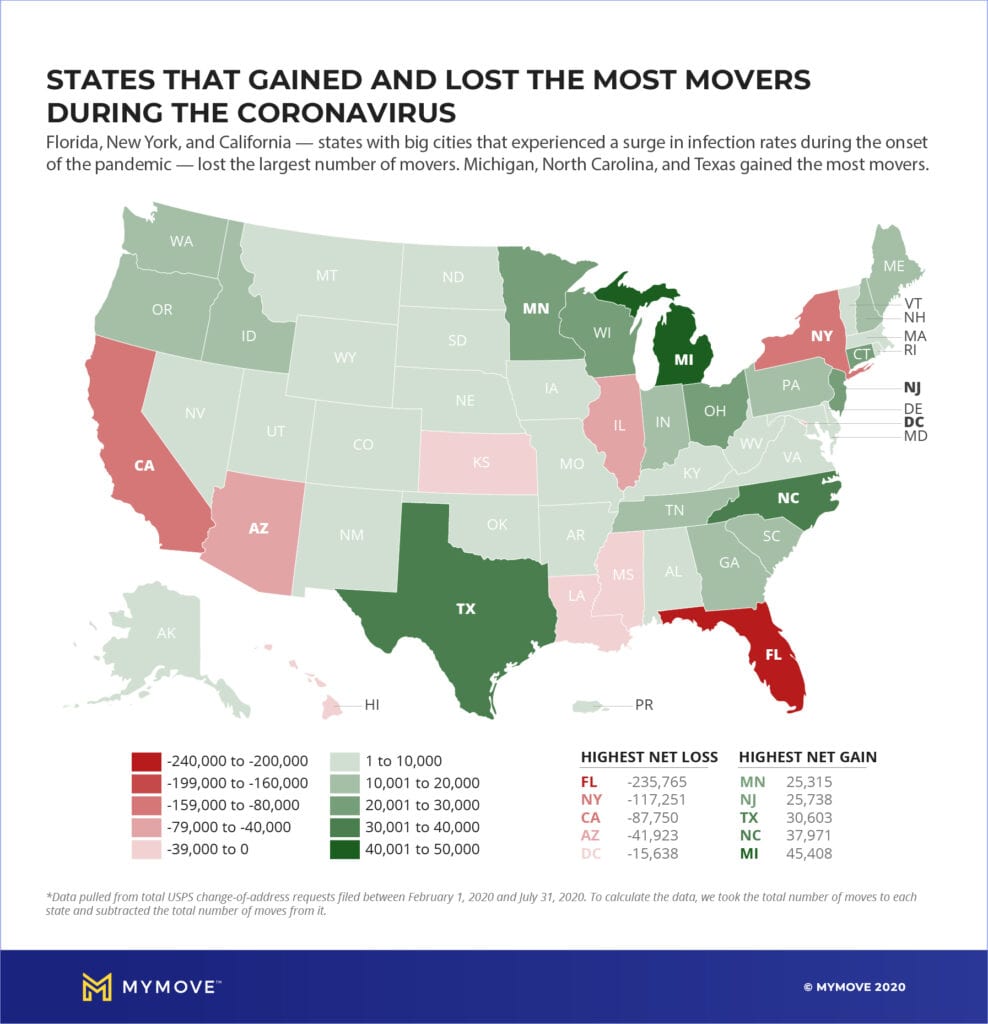 Will people continue to relocate during coronavirus?
Experts worldwide see a spike in COVID-19 numbers in the fall and winter. Other respiratory viruses tend to spread more easily in colder months, and without the ability to have outdoor socially-distant gatherings, people may be tempted to host meet-ups indoors — increasing the risk of spread and infection.
Furthermore, Dr. Anthony Fauci, director of the National Institute of Allergy and Infectious Diseases, told Business Insider that even with the possibility of a working vaccine by the end of 2020, he doesn't predict that we'll return to our pre-pandemic sense of normal until late 2021 or early 2022.
If infection rates start to spike and we begin to plan for another year living in a pandemic, we could see similar moving patterns from the first six months of the coronavirus play out through the rest of 2020 and into the New Year.
Frequently asked questions
How many people have moved during the coronavirus?
According to the Postal Service's Change of Address requests, over 15.9 million people have moved during the coronavirus.
Who's moving during the coronavirus?
The bulk of the individuals moving during the coronavirus are leaving largely populated cities, such as New York, Brooklyn, Chicago, and San Francisco to move to smaller cities or suburbs.
A Pew Research study conducted in June found that one-in-ten young adults (ages 18 to 29) moved due to the coronavirus. According to the study, young adults were the largest age group to report COVID-19 impacts. The study says this trend could be due to job loss or the closing of college campuses during the pandemic.
Why are people moving during coronavirus?
Many people are coronavirus moving because they're college students who can now complete their courses online while the campus is closed or are working remotely and don't have to report to an office. They may choose to live somewhere with lower infection rates and/or to save money. Other people are moving out of expensive areas because they're unemployed or furloughed.
Is it safe to move during COVID-19?
Coronavirus moving is safe with the right planning and by taking precautions. Be sure to work with movers who follow CDC safety guidelines that include COVID prevention, such as limiting close contact with homeowners and wearing protective gear.
What coronavirus moving steps do I need to take?
If you're planning on moving, read Coronavirus Moving: Everything You Need to Know for information and checklists to get ready for moving during COVID.
View all of the data visualizations from the study in a full infographic here.
*Methodology:
Our findings come from USPS data showing the total number of change-of-address requests filed between February 1, 2020, and July 31, 2020. We then compared that data to the total number of requests filed with the USPS during the same period in 2019.
To determine how many people moved out of a certain state during the pandemic, we took the total number of moves to the state and subtracted the total number of moves from it. We followed the same methodology for cities.
To find out where people moved when they left big cities, we collected data from people who signed up for MYMOVE accounts after filing their change-of-address. We looked at the top five cities with the highest percent of movers who left New York City, Brooklyn, Chicago, San Francisco, and Los Angeles by determining the most-moved-to ZIP Codes.