How to Move to College During COVID-19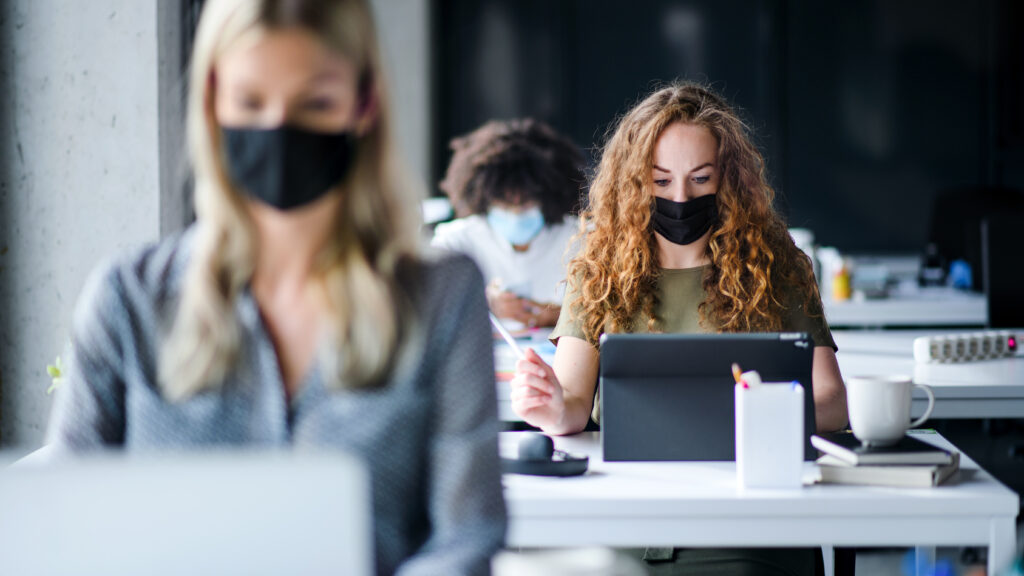 Coronavirus and moving aren't necessarily two words you want to hear in the same sentence. Add starting college to the mix, and you've got a lot on your plate. As of August 2020, only 6% of colleges in the US say they're moving to exclusively online learning in the fall semester. While Rutgers, Harvard, USC, and other major schools have announced virtual learning plans, many other schools will welcome back the student body in person.
Schools like the University of Texas at Austin will fill classrooms to a capacity of just 40%, while other colleges will teach all classes with more than 50 students remotely. No matter what your campus' plans are, you should have your own strategy for staying safe at college. Moving during coronavirus requires some expertise… and we're here to offer it.
Should I move to college during coronavirus?
The right choice for each student will be different. Variables including your own health history, your finances, and how far you'll have to travel will factor into your plans for moving away to college.
Some questions to ask yourself about coronavirus and moving to college include:
How is the campus planning to keep you safe?
Would you have access to online classes if you stayed home?
Can you defer your enrollment for one semester or more?
Do you have pre-existing health conditions that make you a higher risk for severe illness?
Will you have a support system at or near your new home at college?
If you decide to move to campus this fall, follow these 13 essential college coronavirus moving tips:
Tip #1: Rethink your living arrangements
As the Centers for Disease Control and Prevention points out, the highest risk for students on campus is when residence halls are full and operating shared spaces like communal kitchens and bathrooms. While roommates are a typical part of the college experience, they're not super safe right now. If you can find a single room to rent off-campus or a single dorm room, consider living there for at least a semester.
Tip #2: Make sure to mask up
Face masks slow the spread of COVID-19, and you should have plenty on hand when moving to college. The moving process may require flying, stopping for gas, or other high-contact activities. Once at school, have a few cloth masks on hand that can be washed and dried by hand and some disposable paper masks as a back-up in case your other masks are all dirty at once.
Tip #3: Make safe study plans
Public areas like the library are a higher risk for picking up germs in general, especially contagious diseases that thrive indoors. Instead of working at a study table in a public space, find more solitary places to get work done. Bring anti-bacterial wipes with you at all times to sanitize your personal space. Have a plan before you arrive on campus, so you're not scrambling on week one.
Tip #4: Stay outside when you can
Fresh air is constantly moving, and the Mayo Clinic says outdoor spaces and activities are a lot safer than being indoors with circulating air. While there's only so much you can do about staying outdoors when you move; you can control your behavior once you arrive on campus. If you make new friends, suggest sitting outside at a distanced picnic instead of congregating in a small apartment.
Tip #5: Stock up on sanitation
Any good coronavirus moving plan includes how to sanitize surfaces, furniture, and yourself. Clean all surfaces in your new dorm or apartment thoroughly before you move your belongings in. Open the windows to keep air flowing while you move. Make sure to have an ample supply of hand sanitizer, wipes, and hand soap.
Tip #6: Avoid sharing classroom tools
The CDC also points out that sharing classroom supplies or materials is risky behavior. Before you move to college, find out what supplies you'll need for your upcoming courses. Pack what you already have (calculators, rulers, pens, note cards) and order the rest to be sent directly to your new address.
Tip #7: Follow all signs and rules
Your new college will probably have a lot of signage up about how to behave during coronavirus. You may have to sit socially distanced in dining halls, avoid certain areas, or have your temperature taken before you enter buildings. Don't find out the hard way what the consequences are of breaking the rules.
Tip #8: Stay connected with loved ones at home
It's more important than ever to stay connected with friends and family at home. Being away at college is always tough, already. It may get difficult for you if you have to limit social interactions and end up missing out on some of the most fun college experiences (like football games or dorm parties). Make video call dates with people you care about back home.
Tip #9: Maintain a regular schedule
You're about to lose a lot of your routine. Classes may begin in person and transition online. If the virus peaks, community buildings may be suddenly off-limits. Creating structure wherever possible can help you maintain a foundation of positive coping skills. Make a schedule for working out, sleeping, and engaging in self-care where you can control it — since so much else might be out of your control.
Tip #10: Locate resources in advance
Where is the student health services building located on campus? Can you get a coronavirus test there? What mental health resources are available on campus? College moving during coronavirus is stressful and full of uncertainty. You can help yourself in the long run by locating vital resources before you move, so you're able to get help ASAP if the need arises.
Tip #11: Don't plan on traveling far from campus
The sad news is that schools and the CDC are not encouraging study abroad programs right now. If you think you'll be spending the spring in Barcelona, adjust your plans before you move to college in the fall. You may not even be able to safely go on weekend trips for a while. Get cozy on campus for the immediate future.
Tip #12: If you can, walk instead of taking public transit
While there's not an abundance of research on public transportation and the spread of coronavirus, it's generally recommended that you not ride in a full train car or bus. If you can walk between buildings on campus instead of taking a shuttle, do it. In the time of coronavirus, moving via private car or rental truck is better than flying or taking other communal transportation.
Tip #13: Manage your expectations
Finally, manage expectations around having a "normal" semester. While you'll have to postpone some experiences, including massive parties and other campus events, you can still meet people, enjoy your college experience, and earn credits toward your degree.
The Bottom Line
At the end of the day, coronavirus moving strategies can only mitigate risk so much. Moving to college during COVID-19 is best for students who can live alone on campus and social distance while they learn and study. Make sure your college has a coronavirus plan in place and learn it. Meanwhile, take this summer to seriously consider what you'll need to have a safe, fun, and fulfilling college experience.
Frequently Asked Questions
Are colleges opening campuses in the fall during coronavirus?
Yes, most campuses are reopening in the fall, either part-time or full-time.
How can I move safely during coronavirus?
Find a moving company with safe coronavirus moving practices. If your movers refuse to wear a mask or don't wear gloves, you may be more at risk. Deep clean your space, request a video consultation for quotes, and follow other tips for safe moving during coronavirus.
How is coronavirus spread?
Coronavirus is spread via droplets in the air. Standing close to someone indoors is believed to be the most common way of spread.
Is there a coronavirus vaccine?
No, there is currently no coronavirus vaccine.
Can you get coronavirus through packages and mail? 
It's unlikely that you'd get coronavirus from touching your mail, but you can protect yourself by washing your hands immediately after handling packages and disinfecting mail as a precaution.