Your Questions About Moving During Coronavirus, Answered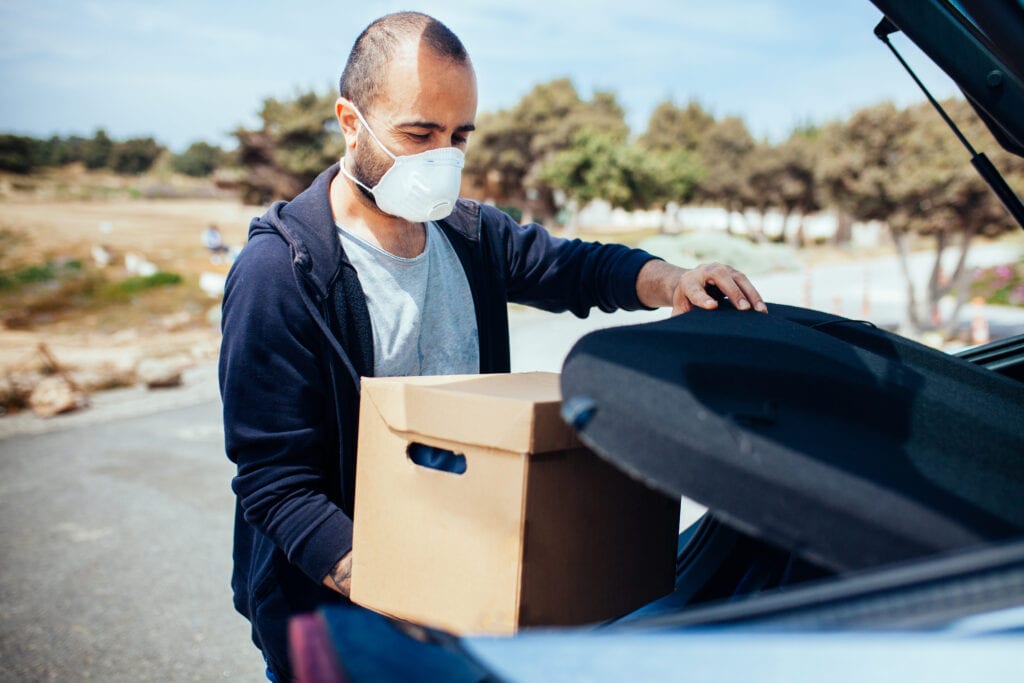 As health officials and governments are hard at work trying to stop the coronavirus spread, people across the country are staying at home and practicing social distancing. This means we're limiting our time in public and staying six feet away from strangers — all in an effort to try and stop COVID-19's spread. With businesses across the country shutting down or operating at limited capacity, and people spending more time at home, what does that mean for pending moves?

Moving is stressful enough on a normal day without the added chaos of a pandemic. We know you have a lot of coronavirus moving questions. So, read on to have those questions answered.

[deals-hub-ad]
First things first, should I move during COVID-19? 
It depends on your circumstances. You may have just closed on a house or signed a lease, so you might not have a choice. With proper preparation and extra caution, you can move. Just make sure to keep yourself safe and healthy. Sanitize all of your moving supplies, wear a mask, and avoid close contact with movers.
But if you're at a higher risk of contracting COVID-19, consider if your move can wait. Weigh your situation to see if moving later is better for the health of you and your family.
Are moving companies still operating during the COVID-19 outbreak? 
Yes, many moving companies are still up and running during the coronavirus. Check your moving company's website for any COVID-19 updates. Most companies will have some sort of press release with information about any closures or changed hours of operation. For example, Two Men and a Truck says it's still offering service at locations across the country. For customers that have an upcoming move scheduled, Two Men and a Truck says you can count on that move happening unless "your local… franchise has called to cancel or postpone your move."
Moving truck rental services like Penske are also still operating. Penske says it's "monitoring developments related to coronavirus closely" and is taking extra steps to sanitize facilities, vehicles, equipment, and any additional touchpoints.
If your local moving company has shut down operations, talk with a service representative about steps to reschedule your move. If your move is canceled, ask the moving company about their refund policy.
Can I get a refund if I postpone my move?
With most companies, you're allowed to cancel or postpone your move without facing any penalties if you give them a few days' notice. Check your confirmation email for information about cancelations. If you can't find what you need there, give your moving company a call.
Just know, if you put down a deposit to secure your Moving Day, you might not be able to get that back. Companies may have temporarily changed their refund policies due to COVID-19, so call and check.
What if I have to move long-distance?
If you have to fly or take a bus or a train for your move, make sure to take the proper safety precautions. The Centers for Disease Control and Prevention says, "travel increases your chances and spreading COVID-19." Crowded airports and terminals mean more people and a higher chance of the virus spreading. Social distancing is difficult when you're sitting on a crowded plane or bus for hours.
But if you're flying, the CDC says, "most viruses and other germs do not spread easily on flights because of how air circulates and is filtered on airplanes."
So, should you travel during coronavirus? The answer: it depends.
If you're above the age of 65, have a pre-existing condition, or are pregnant, strongly consider postponing a flight or a train/bus ride. Consider renting and driving a moving truck instead. We know — that's a much longer trip. But this way, you can sanitize your truck and limit your public interactions, all while successfully completing your move!
But if you're willing to travel, do it safely. That means, wear a mask, maintain a safe distance from others (when you can), and wash your hands frequently.
How do I stay safe while I move during COVID-19?
When moving, take extra steps to make sure you're putting your health and safety first. First, follow the CDC's guidelines on ways you can prepare for the virus' spread. Then, add a few extra moving-specific tasks to your list.