College Move-In Day Tips To Keep You Organized and Prepared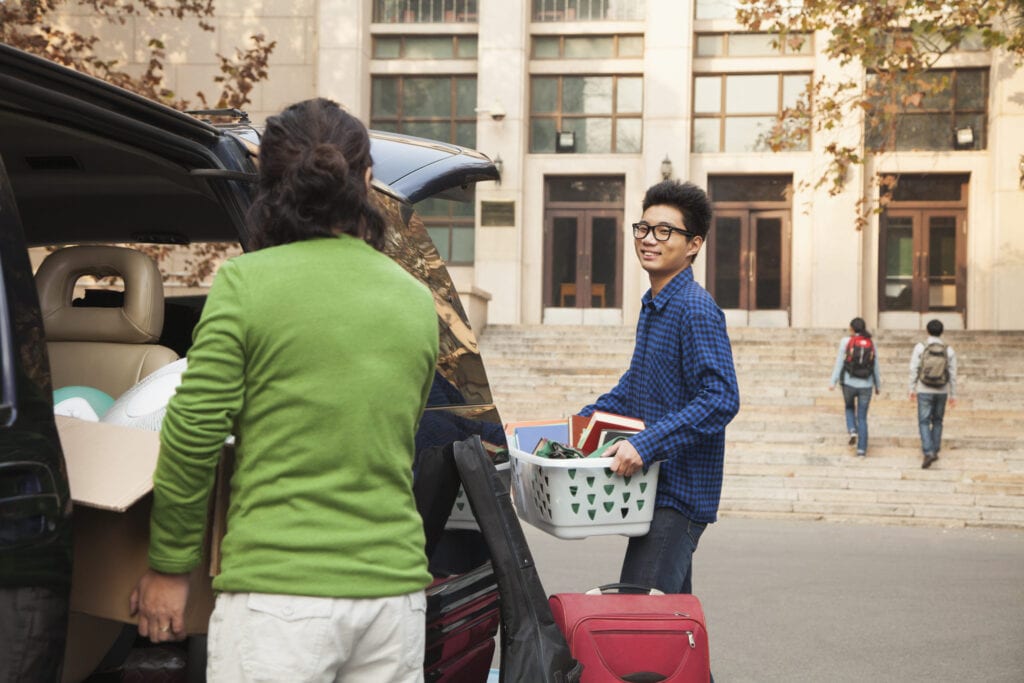 Adventure awaits! You just have to get over the hurdle of packing for college. Armed with these college move-in day tips, you'll ace settling into your new digs.
Plan ahead
Be sure to stay focused on college move-in day prep. There's a lot that goes into successfully navigating the big move, so avoid the temptation to procrastinate. With a bit of planning and help from family and friends, you'll be packing like a pro.

[deals-hub-ad]
1. Coordinate with your roommate
Before the semester starts, your college will connect you with your roommate. Take this time to get to know each other and to map out potentially shared items like mini-fridges, microwaves, and curtains. Some colleges will rent out a microwave/fridge combination each semester, while others require you to bring your own. If your roommate is willing, consider splitting the cost for any shared items, or divvying up who brings what to avoid duplicates.
Whether your roommate lives in the next town over or across the country, you have multiple ways to coordinate virtually. Text and video chat to establish a rapport and create a shared Pinterest board to maximize move-in success.
2. Know your specific move-in date and time
College move-in day could be a logistical nightmare at some schools if all incoming students showed up at once. This is why your school will notify you of your move-in schedule. While every college's move-in process is different, many assign a specific date and time slot to unload your dorm room essentials and begin to set up, often based on dorm assignment or your last name.
Along with your move-in date and time, find out how you'll get your dorm items to your room. Is there any elevator? Can items be dropped off curbside? Are cars to be parked in a specific parking lot and carried? Knowing this information beforehand helps prepare and avoid move-in day confusion.
3. Make a blueprint of your room
Many college dorm layouts are different, including different dorm buildings on campus. Most colleges have gone high-tech and offer virtual tours of each dorm room. Once you know where you'll be staying on campus, request a map of the room dimensions.
Don't forget to find out what furniture is included in your new space. This information is essential for knowing how to best pack for college move-in day. Take advantage of free online room planning websites and app tools such as Roomstyle. Upload your dorm's blueprint and move items around to create the perfect space.
4. Make a dorm inventory and packing list
There are a ton of resources online for essentials to bring to college. Check out sites like CollegeBoard, Fastweb, and Pinterest for dorm inventory lists and what to pack. Use them as a guide to create one pre-move-in list that works for your particular setup.
If your family or friends are helping you plan, create a shared document online for those random moments you think to add items like a trash can or first aid kit.
5. Line up your moving help
While the entire family may want to see you off on college move-in day, too many people crammed into a tiny dorm isn't the best idea. Remember that both you and your roommate will be moving in at the same time, so try to limit your helpers to two people.
Check with your school on their guidelines for move-in day help. Some colleges may offer student representatives to help with your big day or limit the number of adults helping in your dorm room.
Pack like a pro
When you search the "best way to pack for college move-in day", you'll find a ton of information online. Think of packing your car, truck, or minivan the game of Jenga. Everything has to fit properly with as little unused space as possible. Getting your car packed may take more than one try, so don't wait until the morning of your move to load up.
6. Only pack the essentials
It's normal to want to bring a ton of items from your bedroom to your new dorm. But that would leave little room for you to actually get in and out of your dorm. Pack smarter, not harder by choosing multi-purpose items like lamps with USB chargers and nightstands with multiple storage drawers. Think of dorm living almost like camping (minus the mosquitos) — you wouldn't bring your 50" TV or drum set, right?
7. Pack in storage bins, not boxes
Storage bins will be one of your best friends during college move-in day and beyond. Instead of using cardboard boxes that will need to be broken down and disposed of, choose storage bins that you plan on keeping on campus. For example, roll your clothing up tightly and pack them in a lidded under-the-bed rolling storage cart.
8. Only pack for the current season
Storage space will be at a premium. While you may have a closet and chest of drawers, you'll do best by packing for the current season only. There's no need to pack that bulky winter parka when it's 80 degrees (unless you're in a cold climate). If you have a winter break, you can switch out your seasonal clothes then.
9. Make a list of things you'll buy at school
Save space in your car for must-have essentials from home. Grab things like pens, notebooks, laundry detergent, and utensils at your local supermarket or campus store. Keep a separate list for what you need to buy once you get on campus.
10. Moving far from home? Consider renting a small storage unit
Is your college more than a car ride away? This can add an extra level of stress around how to transport your belongings safely. Consider renting a moving container to pack up your dorm room essentials and have them shipped to your college location. Companies such as UPack and Pods offer portable storage containers so you don't have to navigate a moving truck across the country.
The bottom line
College move-in day will be exciting, memorable, and almost stress-free if you prepare a packing plan and dorm room essentials checklist. With proper planning, you can focus on getting to know your dorm mate and begin to experience the next amazing chapter in your life.
Frequently asked questions
When should you start packing for college? 
Two months before college move-in day, start shopping for essentials. Set a staging area to keep all of your dorm room purchases in one place. Once you have bins, strategically pack and label them. Packing takes time, so if you're loading up the family car, begin the day before. Don't wait until the morning of your move or you may miss your move-in time slot.
How can I make my college move-in day easier? 
Decide ahead what essentials you'll need to bring, what containers you'll store them in, and how you'll transport your items.
Do you have to move in on move-in day? 
Colleges differ on guidelines for move-in day. Contact student housing if you're unable to move in during your designated day. Most likely, your school will reassign you a date to bring your dorm necessities and get settled.