College Move-In Day Checklist: Tips To Keep You Organized and Prepared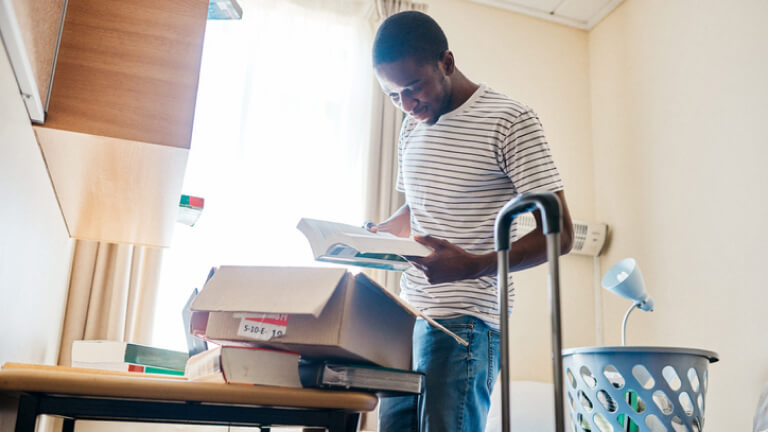 College move-in day is fast approaching, and you're very excited (and maybe a little nervous) to move into your new dorm room and start your college experience. You've filled out all that pesky paperwork, lined up your class schedule, and received your room assignment. All that's left is to get started.
---
Jump to:
---
Before college move-in day
Two months until move-in day

Your move-in day may feel light years away, but it will catch up to you quickly! It's best to take care of some good-to-knows and prep work while you have plenty of time before you move into your dorm.
Contact your school for your mailing and shipping addresses: If you plan on staying at your current home address during breaks, then there is no need to permanently change your address. However, if you will not be staying at your current home address during breaks, it's best to change your address to the one your school provides.
Connect with your roommates and introduce yourself.
Create a packing list.
Make a buying list of things you'll need to purchase.
Read through your student housing contract: Your housing contract will have important details about specific items you can't bring, move-in and move-out timeframes, and general guidelines for your dorm.
Make sure your phone provider reaches wherever your school is located.
MYMOVE pro tip
Take a look at your dorm's floor plan to see where beds and furniture are placed. This is a good way to see what furniture and amenities come with your room.
One month until move-in day

As your college move-in day draws closer, there are a few more to-dos to keep in mind before your big day. The earlier you can scratch these tasks off your list, the less stressed you'll feel on the few days leading up to move-in day.
Know your exact move-in date and time.
Start packing up as much as you can.
Purchase items off your buying list: If you are buying items online make sure you give everything time to ship.
Coordinate with your roommates to figure out who's bringing what: Consider splitting the costs of larger expenses like a microwave and a mini fridge.
Plan out your ride or flight.
Find out where to park and if you need a permit
Line up your moving help: It's easiest to bring a friend or family member if you can, but some schools have move-in day volunteers to assist you.
If you are living off-campus, make sure you have reliable internet for all your online classes and Zoom meetings.
MYMOVE pro tip
If you are flying or have a long car ride, have some of your items shipped to your dorm. Save yourself time, energy, and possibly an extra trip back home.
---
Packing the essentials
The most important thing to remember when packing for college is that space is very limited, but you probably already expected this. Keep in mind that you'll likely be sharing your dorm space with one, two, or sometimes even three people. Try to limit your packing list to the essentials; you'll thank yourself later.
Bedroom:

Twin-size bedspread: Most college dorms have Twin XL mattresses but check your dorm's floor plan just in case.
Memory foam for your bed.
Hangers
Small trash can
Power strips
Mini fridge and small microwave: Contact your roomies about who's bringing what.
Snacks and drinks
Collapsable or lightweight laundry hamper
Plastic storage drawers or bins
Desk lamp
Over the door hooks
Hanging shoe organizer
Footlocker or ottoman: Great for storage space and as a stepping stool.
Bathroom:
Toiletries
Towels and washcloths
Toilet paper
Shower bag and shower shoes: These are must-haves if you are using a communal bathroom.
MYMOVE pro tip
If you have a raised or loft bed, consider getting a clip-on nightstand.
School supplies:

Laptop
Backpack
Calculator
USB drive
Notebooks: Nice to have if you like writing notes down instead of typing them.
Pencils or pens
MYMOVE pro tip
Time management in college is key! Writing in a daily planner is a great way to manage your assignments and upcoming due dates.
Dorm decorations:

Tapestries
String lights: Christmas lights are a cheap and easy substitute.
Posters
Photos
Whiteboard
Wall art
MYMOVE pro tip
Keeping a small plant or two on your windowsill will liven up your room a bit. They also make excellent desk buddies.
Other items to keep handy:

Umbrella
Fan
Refillable water bottle
Cleaning supplies
Miniature vacuum
Scissors
Tape
Command strips and hooks
Clear tacs: If your dorm has plaster or drywall, these are useful for hanging light decorations on your walls.
First aid kit
Small toolkit
MYMOVE pro tip
A good rule of thumb to follow: If it can't fit in the car, it probably won't fit in your dorm room.
---
After college move-in day
Settling into your dorm

Your college dorm is going to be your new home for almost a whole year. Take the first few days before classes start to have some 'you' time. Just unpack, relax, and make your dorm feel as homey as possible.
Take your time unpacking and organizing.
Decorate your side of the room just the way you like it.
Turn on some tunes.
Take a shopping trip to pick up anything else you need.
Set up some ground rules with your roommate: You'll both want to be on the same page about noise levels, lights out, and visitors.
Pop in for a visit to other students in your hall.
Have some of your favorite snacks and drinks.
Get plenty of sleep and don't stress.
MYMOVE pro tip
Prop your door open while you unpack to invite others in your hallway to come in and introduce themselves.
---
Congratulations!
The days leading up to your college move-in day can sometimes feel overwhelming, but we hope these tips help you feel better prepared to move into your college dorm. You've worked hard to get this far, and we wish you all the best in your educational endeavors. Get ready, good luck, and remember to have fun!