A Veteran's Guide to Buying a Home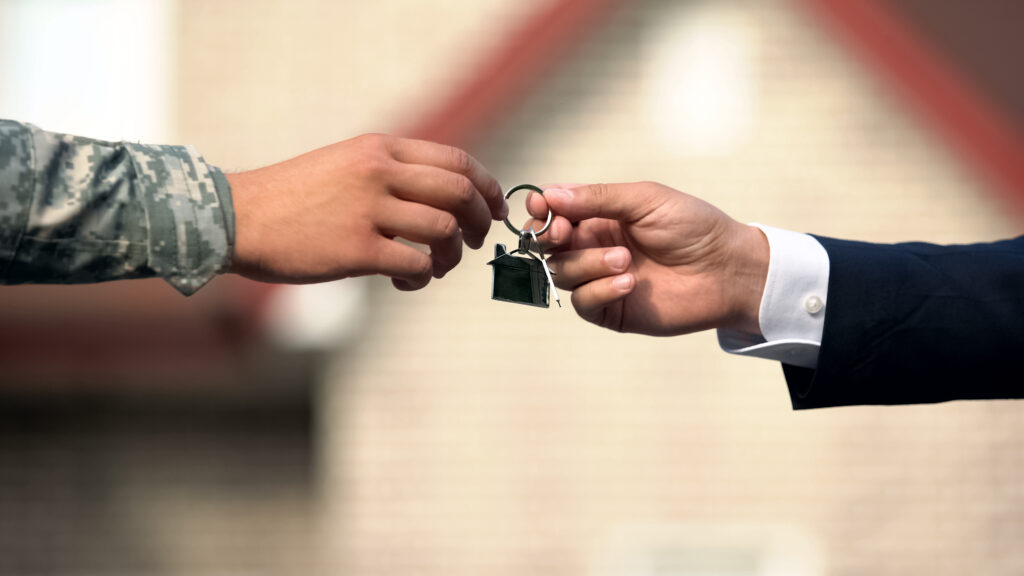 Buying a home is never a stress-free experience. That can be especially true for veterans, who may be in the process of transitioning back to civilian life or dealing with a combat-related disability on top of trying to find and finance a home.
Veterans may qualify for several military benefits for buying a home. This can help save money and improve your chances of qualifying for a loan, but it does further complicate the process. Especially during the challenging time of COVID-19, there are seemingly endless factors to consider.
If you're a veteran looking to find an affordable first home, it's hard to know where to start. But don't worry. We'll cover every aspect of the home buying process for veterans in this guide.
Getting prepared for your move
The process of buying a home can be overwhelming. Between shopping for a home, finding an agent, comparing loans, planning for a move, and getting your finances in order, it's hard to know where to start. Planning ahead will help you feel prepared for the process and reduce your stress.
Here's a veteran's moving checklist you can follow when planning for your move:
Get (and keep) a job. You'll need to show you can afford the monthly payment and costs of homeownership.
Save for closing costs. You won't need to put anything down for a VA loan, but you'll still need to pay a variety of closing costs and fees.
Check your credit score. VA loans offer more flexibility with credit scores, but it's always good to know where you stand (and how you can improve your score while you're preparing to buy).
Confirm your VA loan eligibility. There are a few criteria you need to meet, which we'll get into below.
Gather your paperwork. You'll need all the usual things for a loan closing, including proof of income, bank and other loan statements, tax returns, and — for a VA loan — your Certificate of Eligibility. Discuss these details with your agent.
Find a home. Once you know how much of a loan you're pre-approved for, the house hunting can begin. Don't forget the appraisal, inspection, and any necessary negotiating to get your home for the right price.
Secure your loan. Once your home is picked and the price is finalized, you can lock in your loan and rate.
Plan for your move. Find a moving service with good discounts for veterans and start planning for your move.
Purchase your home. On closing day, you'll review all your documents with your agent and representatives from your lender and title company, then sign off on your new house and get the keys.
Settle into your new life! An exciting new chapter has begun.
Tips for buying a new home
If you're a first-time homebuyer and feeling anxious about the process, here are a few tips to help you prepare.
Check the buying season
Real estate prices fluctuate throughout the year, and the hottest buying season usually runs from April through July. That's the time you'll find the most homes on the market, but it's also when you'll have to pay more to win in a bidding war with other buyers. The right time to buy will depend on your specific area and preferences. Discuss the best strategy with your agent.
Find a VA-savvy real estate agent
Homes purchased with VA loans must meet many specific criteria, and these aren't easy for you to keep track of while you're worrying about everything else involved in buying a home. An agent with experience working with VA-loan buyers will be well equipped to help you sift through these details so you don't waste your time looking at homes that won't work out.
Consider all upfront home-buying costs
VA loans may bring down the costs of buying a home — and help you avoid a down payment — but that doesn't mean you won't have to bring anything to the table at closing. Make sure you understand agent commissions, title fees, loan origination fees, insurance premiums, upfront interest and taxes, and all the costs that you'll need to take into account when buying a home. You may be able to convince the seller to pay some of these, but you shouldn't count on it.
Find the right home
Take the time to consider where you want to live before you start trying to qualify for a loan. Do you prefer a city, a suburb, or something more remote? How much commuting will you tolerate? What kind of amenities do you want nearby? What size home would be ideal? Calculate the cost of living for any areas you're considering so you can make an informed decision.
Consider your financial options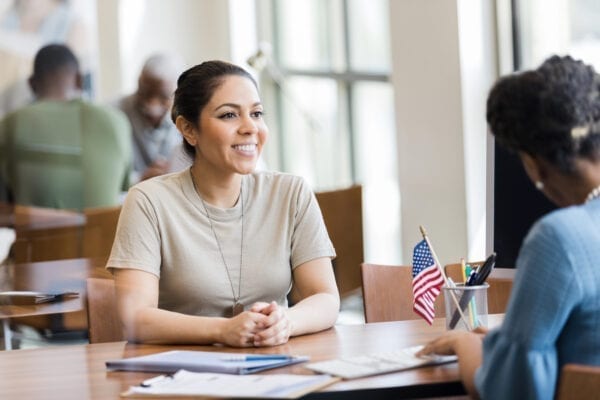 The Department of Veterans Affairs and many other military support groups are dedicated to ensuring that veterans can have a smooth transition back into civilian life. Buying a home is a huge part of that, so these organizations make all sorts of help available to those who have served. There is additional assistance and guidance available for veterans looking to borrow (or struggling to make payments) during the COVID-19 pandemic. Before you choose a home and a loan, be sure you have explored all your options for financing.
General info about VA loans
VA loans are either offered directly through or backed by the Department of Veterans Affairs and provide several benefits for military service members. They allow you to purchase a home (up to your level of eligibility) with no down payment. You'll generally find it easier to get low-interest financing with lower credit scores — and no private mortgage insurance (PMI) — because the VA loan guarantees up to 25% of the total loan amount to your lender if you default. There's no prepayment penalty for paying off your loan early, either.
You'll need to meet specific eligibility criteria, depending on when you served in the military. In most cases, you either need to currently active for 90 continuous days or have served in the past for 24 continuous months or the period for which you were called to active duty (at least 181 days). Discharge due to hardship or service-related disability can change these requirements. Be sure to review the criteria for your service period. Spouses of veterans may also qualify.
Once you are sure you qualify, you can apply for your Certificate of Eligibility, which you'll need to have to prove to your agent and lender that you can get a VA loan.
Purchase loans
Purchase loans are the most common type of VA loan for buying a new home. All of the above information applies to these purchase loans, but your financing is done through another financial institution, not directly through the VA. The VA backs your loan for up to 25% of the home value, which makes it easier to qualify with a third-party lender.
In addition to the above general criteria, you'll need to meet your lender's specific qualifications for credit score, income, and any other stipulations. The VA does not limit you to any particular home amount, as long as you haven't already used any of your VA loan entitlement on another home purchase. Your bank will apply its own limits based on your income and credit score, but having 25% backing from the VA will help you qualify for more than you may have otherwise.
You'll also need to live in the home you're financing with the loan. In addition to any lender and title fees, you'll need to pay a VA loan-funding fee of 2.3% (this goes up to 3.6% if it's not your first home purchase with a VA loan). This can be financed into the home purchase.
Not all lenders are approved for VA loans, so be sure to ask any lender you're considering before you start the process.
NADL Direct Loans
Most home buyers who wish to finance a home with a VA loan will need to opt for a purchase loan through a VA-approved lender. However, you may qualify for a Native American Direct Loan (NADL), which comes directly from the VA. This option takes one more party out of the equation and allows you to finance your loan based solely on the VA's terms. You can also use NADL loans to build a new home or improve an existing one.
Aside from the normal requirements above, you or your spouse must be a Native American whose tribal government has an agreement with the VA regarding how the program works on its trust lands. You'll need to meet the VA's credit terms and prove that you can afford the payments and the additional costs of owning a home. The VA loan-funding fee is lower for NADL loans, at 1.25% for a new purchase and 0.5% for a refinance.
USDA loans
If you're not a veteran — or don't quite meet the criteria for VA loans in some other way — you may want to see whether you qualify for a USDA loan, also known as a Rural Housing Service single-family loan. Like the VA loan, these government-backed mortgages allow home buyers with lower income and credit scores to qualify for a larger mortgage with no down payment and low interest rates.
To qualify for a USDA loan, your income must be no more than 115% of the current median U.S. household income. You also must purchase a home in a qualified rural area. These areas change over time, so be sure to check the USDA map to confirm that your home of choice meets the requirements.
Like VA loans, USDA loans do not require mortgage insurance. However, there is an annual guarantee fee that's usually lumped into your monthly payment.
Conventional loans
Of course, if you'd rather go the more traditional route, you can always consider a conventional loan. These will typically come with a higher interest rate — a quarter-point or more — than a VA loan. There's also the mortgage insurance factor. If you don't have a 20% down payment, you'll likely have to pay mortgage insurance up front or finance it into your loan. This can be significant, usually between 0.5% and 1% of your loan amount per year, but typically rolls off after you pass the 20% threshold in equity.
Because there is no one else backing your loan, lenders may have more stringent requirements to qualify for the best rates and loan amounts on conventional loans. If you are a qualified veteran considering a home purchase, compare the total costs of VA loans and conventional loans to decide which might be a better option for you.
Additional housing assistance for veterans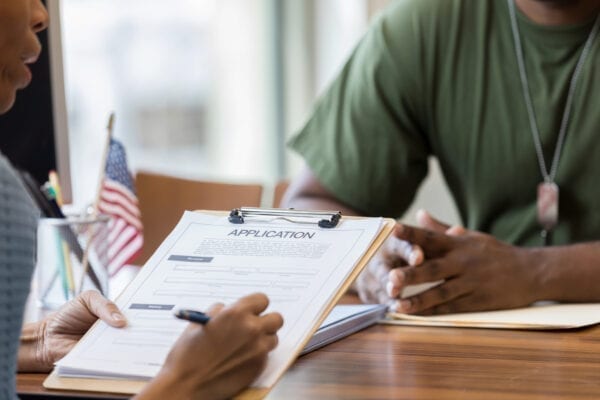 Each veteran's circumstances are unique, and your home-buying journey will have its own twists and turns. You may be an older veteran looking for assisted living, you might have a disability, or you may have income limitations. The good news? Besides VA loans, there are a variety of federal and state programs and grants available to help you afford a home.
The federal government offers a variety of programs and resources for veterans in various situations. Many states offer assistance. There are even programs at a local level, such as the Veterans Community Project in Kansas City, a nonprofit that builds tiny homes to help homeless veterans transition off the street.
If you're looking for help, the National Resource Database is a great place to start. This government resource can help you connect with a wide range of organizations aimed at helping veterans and their families.
Veterans with disabilities
Veterans who have certain service-related disabilities may also qualify for special grants to build or modify their permanent residence to fit their needs. These amounts can range from $20,000 to $100,000, depending on your living situation and specific qualifying disabilities. You can use all of the grant money at once or spread it out over up to six payments over your lifetime.
You may also be able to qualify for a grant to modify your temporary living quarters at a family member's residence. For 2021, these grants range from $7,256 to $40,637. Learn more and apply for this program through the Department of Veterans Affairs.
Common misconceptions about the homebuying process
The homebuying process can be complicated, but it doesn't need to be a major source of anxiety. Many first-time homebuyers base their concerns on common misconceptions, thinking they have to have a perfect credit score to get a loan (you don't) or have a 20% down payment saved up (there are ways around that, like a VA loan).
There are a lot of misconceptions specific to VA loans, too. For instance, many veterans think they won't qualify if they didn't serve in combat or that they will have to deal with too much red tape, so they don't even bother applying. Others think they can't qualify for a VA loan if they already have one, not realizing that there are options for second home purchases as well as refinancing. Be sure to discuss all your choices with your agent and lender.
Speaking of agents, don't fall into the trap of thinking that buying without an agent will save you money. There is a small chance it will, but you're missing out on their expertise in finding you the best home and lender for your VA homebuying experience.
Moving companies that offer veteran discounts
Once you have landed on a house and secured a loan, there's still the moving process to take care of, and that can be a significant expense on its own. There's good news for veterans, though: Many moving companies and services offer special military and veteran discounts as a sign of support and appreciation for your service.