Living Big in Tiny Houses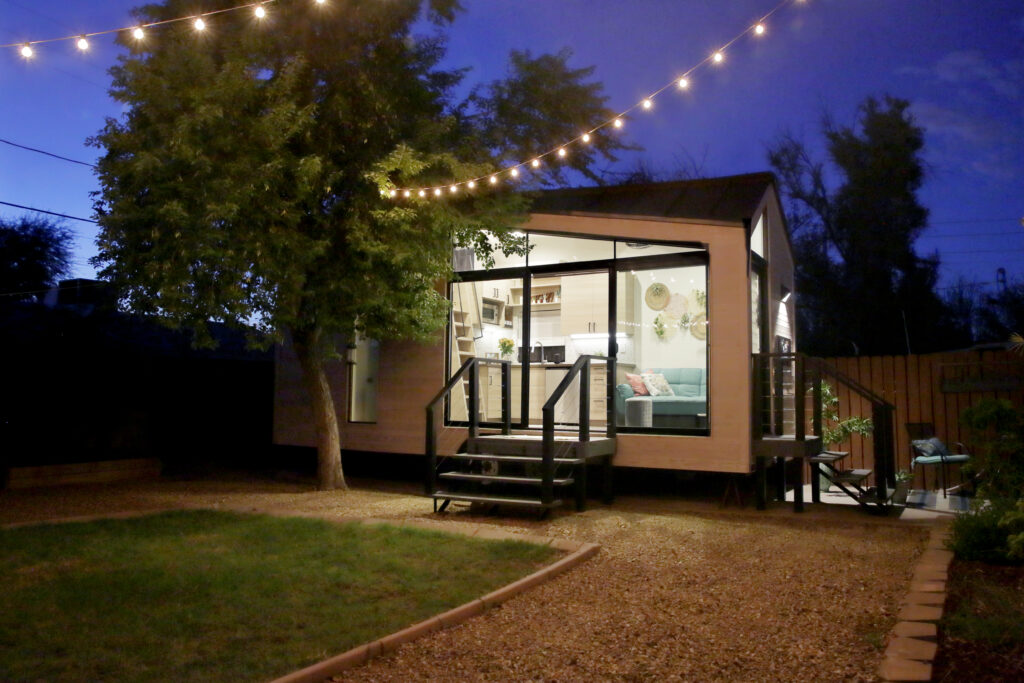 The idea of tiny house living has been around for decades, but in recent years, it has evolved from a fringe trend to a way of life embraced by thousands; in fact, there are more than 10,000 tiny homes in the U.S. in 2020. The real catalyst of today's popularity of the mini-house movement was the 2009 housing crisis. Inflated home values were a major contributing factor to the Great Recession and as foreclosures spiked, many people looked for alternative housing solutions.
For many, the answer was a tiny house. Since then, tiny house living has become a part of mainstream pop culture through television shows on multiple networks. If you've ever wondered what it's like to live in a micro house, keep reading.
What makes a tiny house
A tiny house is defined as a home that is less than 400 square feet. In contrast, the Census Bureau reported that in 2019, the median size of a new single-family home was 2,322 square feet. The median sales price was $321,500 or about $138 per square foot. The New York Times estimates tiny homes to cost anywhere between $35 and $200 per square foot, depending on the quality of the finishes. Other costs to consider with tiny house living include the land, delivery fees, foundation preparation and utility installation.
Tiny house lifestyle: unpacked
A tiny house can be built in one of two ways: stationary or movable. A stationary tiny home must be built on a foundation and meet local building codes. A moveable mini house can be attached to wheels in order to travel, and is typically governed by RV codes. It's important to understand your local zoning and building codes in advance in order to avoid fines on your tiny house.
People choose tiny house living for a variety of reasons. Some want to go off the grid and live a more sustainable lifestyle. Not only does it make the cost of living more affordable, it's easier to use sustainable materials when building. If you're used to living in a traditional home or apartment, the switch to a tiny house may take an adjustment period. Utilizing compact storage solutions maximizes the functionality of your space, so you still get as much use out of it as you would anywhere else. Many tiny homes utilize loft space to make up for limited square footage on the main level.
Who lives in tiny houses?
Tiny houses attract a diverse population of homeowners. The concept is also being used to combat homelessness across the country. In Kansas City, a non-profit group called The Veterans Community Project  built a tiny house village to serve as transitional housing for homeless veterans. The city of Philadelphia is also considering a tiny house village as more than 40,000 residents are on waitlists for affordable housing.
On the opposite end of the spectrum, tiny houses are also becoming an artistic showpiece for artists and the wealthy. Luxury tiny houses with designer finishes are available with prices in the six figures — what many people would spend on a normal home. "Cargotecture" has also become a popular phenomenon in which people transform shipping containers into modern, designer-worthy homes.
But many individuals also opt for a tiny house as a way to take control of their finances. Nearly 70% of tiny house owners don't carry a mortgage and they're also far less likely to have credit card debt compared to other Americans.
The bottom line
Tiny house living is a growing phenomenon that offers the potential for financial freedom and the potential to leave a smaller environmental footprint. Costs can vary widely based on the size and finishes, but ultimately, mini houses are much less expensive than a traditional home. Whether you opt for a movable tiny home or a stationary one, this type of housing allows you to craft a unique lifestyle based on your own values — not anyone else's.
Frequently asked questions
How long do tiny houses last?
Tiny house materials may not last as long as a traditional home simply because there's more wear and tear in a smaller space. Keep up with annual maintenance in order to make your home last for years.
Is it cheaper to build or buy a tiny house?
If your DIY skills are up to snuff, it could be cheaper to build a tiny house on your own. But buying a pre-built tiny house eliminates hidden costs and hiccups, especially compared to unexpectedly hiring out tasks you can't handle on your own.
Where can I find tiny house designs?
You can browse and purchase tiny house designs on a number of websites, such as TinyHousePlans.com. These curated plans can be purchased either digitally or in print form, and generally range between $199 and $389 depending on the design.