The Complete Guide to OCONUS (Overseas) Military Moves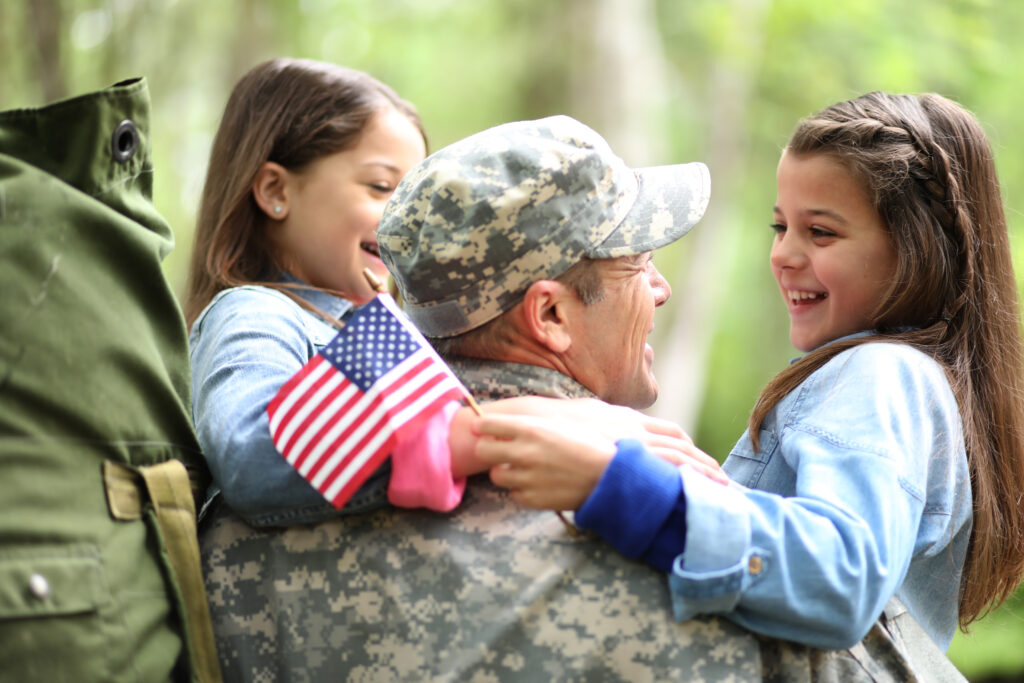 Moving can be stressful, but even more so when you are moving outside of the United States (OCONUS) into military or base housing. There are hundreds of things to take care of, like packing boxes, notifying your landlord, registering with the Defense Personal Property System and completing your counseling, telling your kids and extended family, and so much more.
But first, just what is OCONUS? In the military, OCONUS stands for "Outside the Continental United States." Generally, it means about anywhere outside of the contiguous 48 states, Alaska, Guam, Hawaii, and Puerto Rico, and typically refers to time spent overseas, which can be for temporary purposes or a permanent duty station.
The military will help you understand what's expected, but it doesn't hurt to have an OCONUS PCS guide, some helpful tips, and a military moving overseas checklist in your pocket before your OCONUS move.
How does an overseas military move work?
If you're a service member, you can expect to be called up to relocate to another location in the U.S. or overseas, known as a permanent change of station (PCS). Much of the administrative and procedural steps are the same, or at least similar, as they would be with a PCS within CONUS–Continental United States. but there are some differences.
It is often a lot easier to check out a new town, base housing, schools, etc. when you're moving to another state. But when you know your PCS orders will be sending you abroad, you'll want to contact your Transportation Management Office (TMO) to get the information you need relative to your move. You may also want to log into PlanMyMove, a website set-up by the U.S. Department of Defense in support of the military community.
In the meantime, take a look at these 10 tips to make your OCONUS move overseas a bit less stressful for you and your family.
10 tips you absolutely must know before your OCONUS move
Tip #1:  Make sure your paperwork is in order
If you're married and have a family, make sure everyone is listed on official orders. You'll have to have this information to apply for no-fee government passports, visas, and other paperwork. But, before travel can be arranged, you'll also need to submit the paperwork for your overseas medical clearance to be sure the location you're assigned can handle all of your family's medical needs.
Also make sure your visas, passports, immunizations, and driver's licenses (for you and your spouse) are up to date. You'll also need a few other documents as soon as you arrive at your destination and are allowed through customs. These include:
Your orders
Your overseas clearance/dependent entry approval form
Passports
Birth certificates
ID cards
Marriage license/certificate
Tip #2: Connect with your overseas sponsor
Charlene Wilde, Assistant Secretary of the American Armed Forces Mutual Aid Association (AAFMAA), Army veteran and current Army spouse says, "You will likely be assigned a sponsor for your OCONUS move, or have the opportunity to request one. Connect with them and other families ahead of time to ask questions and learn about their moving experience. They can teach you about the area, provide tips, and even point you to items for sale that you can purchase when you arrive."
Your sponsor will likely be an active-duty member currently stationed at your future overseas base. He or she can help you with all the details of your move and roll out the welcome mat when you arrive.
Tip #3: Find out if you need a Command Sponsorship
If you're moving with your family, you'll want to check if your children are listed in your orders.  If not, you'll need to get Command Sponsorship or Accompanied Orders. A Command Sponsorship helps you get reimbursed for your children's travel and housing expenses, meaning you'll have greater weight allowances for your household goods, your children will have access to legal and medical services and you'll have the right to stay in your host country without a visa.
Tip #4: Make sure your pets are allowed
Not all bases permit pets, but if your host country and the base do allow for pets, you'll need to contact your vet to get medical clearance and a health certificate for your pet before your travel. You'll need to show evidence that all of their vaccinations are up to date. When you arrive at the base, check in with your veterinary treatment facility, as some countries require pets to be quarantined for a length of time.
Tip #5: Shipping your car
If you're planning on shipping your privately owned vehicle (POV) to your new destination, there are some things you need to know. There are some restrictions, and you must be authorized to ship your POV. You also must have car insurance and the vehicle must be licensed.
Maria Reed with Moving With The Military and a 2019 Armed Forces Insurance ARMY Spouse of the Year says, "With some OCONUS moves you cannot bring a personal vehicle and will need to purchase one when you get to your new duty station."
Tip #6: Shipment of your household goods
With an OCONUS move, you will ship your household goods in two separate shipments. An unaccompanied shipment is a partial shipment of your belongings that is shipped to arrive at your base about the same time as you arrive. It includes things you'll need right away, like extra clothes, diapers, and other baby gear, toys, etc. The household good shipments contain everything else, including your furniture, that you won't need right away. Make sure you clearly mark all of your unaccompanied items.
Tip #7: Look into housing options at your new location
A crucial part of your OCONUS move is knowing where you'll rest your head. When moving across the country or overseas, it's nice to know you'll have a place to call home when you arrive. Your sponsor (if you have one) can help with this. You can also look into temporary housing for your family until a new home is found. Other families on the base may be able to send photos and details of available housing. This is also a good time to research your children's school situation. Like you, it will help relieve first-day jitters if they know what  they're getting into
Tip #8: Work out the details of selling or renting your current home
It may be difficult for the family to say goodbye to friends and family, as well as bidding farewell to the current home. If you decide to sell your house, you'll want to contact a realtor. If you decide instead to rent, you can also contact a realtor, talk with friends and family, or list the house locally yourself. Although it would be easier to stay in your home until you leave for your new overseas adventure, sometimes homes sell quickly and you'll need to have a plan set up for temporary housing until you board the plane.
Tip #9: Packing, selling or donating household goods
Moving overseas is a great time to downsize. You may not know your overseas housing situation yet, so taking everything may be out of the question. A garage sale may rid you of some items you know you'll never need and also provide some extra cash for when you arrive at your new destination.
Charlene Wilde, a veteran, says, "Ahead of any overseas move you'll want to take stock of your belongings to determine what needs to come with you, what can be left behind in storage and what can be sold. If you'll be living on-base in furnished housing, you can likely leave behind things like furniture and certain appliances in government-provided storage stateside."
You'll also want to schedule a meeting with your moving company. It will give you and the movers an idea of what's being shipped so they bring the right number and sizes of boxes and crates.
Tip #10: Take care of miscellaneous tasks and yourself
There is so much to think about when moving outside of the United States (OCONUS) into military or base housing. You'll need to cancel memberships, cable, phone service, and subscriptions, obtain all legal, medical, dental, and school documents, pack and label everything that you'll need as soon as the plane lands or that can arrive later, and so much more. It can be a stressful time and you'll want to be sure to make lists so you don't forget anything.
Remember to take a moment or two for yourself. If the sadness gets overwhelming, remember an OCONUS move can also be an exciting time for you and your family – it's an adventure waiting to happen. There are people who can help you along the way, so reach out and stay in touch.
The bottom line
Moving outside of the United States (OCONUS) is something you may only do once or many times in your military career. But when you add moving away from family and friends, language barriers you may have at your new location, and all of the unknowns, it can be nerve-wracking. Talk to fellow military members who have moved overseas in the past, reach out to your commander for suggestions, contact military families living on base at your new location, and follow the ten absolute necessary steps you need to take as you navigate the OCONUS move overseas.
"Make a list of your daily tasks but be flexible, particularly after you've arrived," Wilde advises. "You'll be hit with a lot of information and instruction at once so it's easy to get overwhelmed, especially if you're jet-lagged! Focus on one thing at a time and reach out to your sponsor and the community with questions and for help! But overall, do not forget to enjoy every moment and have fun. This is a once-in-a-lifetime experience."
Frequently asked questions
Does the military pay for your entire OCONUS move?
Managing the cost of your move overseas can be a challenge, so be sure you take advantage of all your entitlements, such as: Dislocation Allowance (DLA), Monetary Allowance in Lieu of Transportation (MALT), Move-In Housing Allowance (MIHA), Per Diem Allowance, Temporary Lodging Allowance (TLA), Advance Basic Pay, and Advance Overseas Housing Allowance (OHA) – all available for an OCONUS move.
What does overseas military housing include?
That depends on the type of housing. As a service member, you have a variety of options.
Military installation housing saves you from paying for most utilities and rent.
Privatized military installation housing provides a basic allowance for housing that can be used to pay rent and some or all of your utility bills.
Single military installation housing, or "the barracks," are rent-free, but you may have to share a room.
Renting a home off the base gives you more choices. However, if you're reassigned or deployed you'll want to be sure you can get out of your lease.
Buying a house also gives you the option of location, size, and any amenities you want. lets you select the size, location and amenities you want.
Can girlfriends or boyfriends live on the military base?
If you live on base or in the barracks, your girlfriend or boyfriend cannot live with you. Only married personnel with accompanied orders may live in base housing. However, if you live off base, then yes. But, you'll need permission to live off base.
---