Fire Safety in Your New Home: Safety Checklist For the Family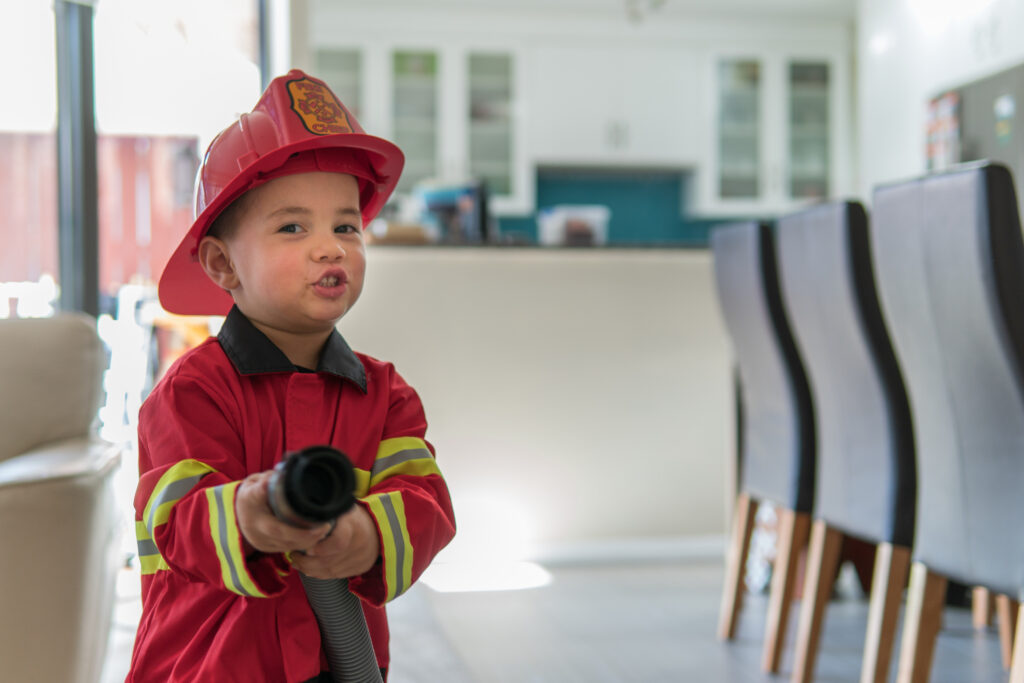 Home fire safety is immensely important for everyone, regardless of where you live and who's at home with you — whether you live alone, with kids, or even your fur babies. In 2018, over 3,600 deaths occurred as a result of fires. The National Fire Protection Association estimates that nearly three out of five fire-related deaths occur in buildings with either no smoke alarm or a non-operating smoke alarm.
To avoid becoming one of these gut-wrenching statistics, follow these fire safety tips to make sure your home (and everyone you love inside of it) is protected.
Fire safety in your new home: hardware
There are several tools to have in your home that contribute to an effective fire safety plan.
Smoke detectors: Equip your house with several smoke detectors to give you and your family the maximum amount of time to realize there's a fire and get out. You can cut in half your risk of dying in a home fire simply by having working smoke alarms in multiple rooms on all floors of your home. Remember to test each one monthly and replace them after 10 years.
Fire extinguishers: Having one or more fire extinguishers in your home can help you control a small fire until the fire department arrives. Keep each extinguisher in higher-risk areas such as the kitchen and next to a fireplace. Learn how to use it before you actually need to, otherwise you could waste precious escape time if you're not able to effectively operate it.
Fire escape ladders: If you live in a two-story home, consider purchasing one or more escape ladders. You can find one that attaches to the windowsill and store it nearby until you need it. Or you can have one permanently installed in the wall beneath bedroom windows.
Fireplace screen: A fireplace screen adds to your home fire prevention plan if you ever use your fireplace. The first benefit is that it stops coals and embers from popping out of the fireplace and catching nearby items on fire. It can also protect children and animals from touching or accidentally falling into the flames.
Fireproof safe: While a fireproof safe won't help stop a fire, it can reduce the headache of dealing with the aftermath. Store any cash, vital legal documents, and other valuables to avoid losing something that's difficult – or impossible – to replace.
Make a fire plan
Creating a fire evacuation plan is a must, especially if you have kids at home. Start off by having a family conversation about multiple escape plans for different areas of the home. Think of at least two ways to get out of each room, in case one path is blocked off by fire or heavy smoke.
Next, designate an outdoor meeting place that everyone can get to easily on their own. It should be far away enough from the house so that it wouldn't be impacted by the fire, but close enough that young kids could get there independently. Hold a fire drill routinely to help everyone practice the home fire escape plan, both during the day and at night.
Help your kids brush up on fire safety tips with our printable "How to Be a Junior Fire Marshal" coloring and activity book!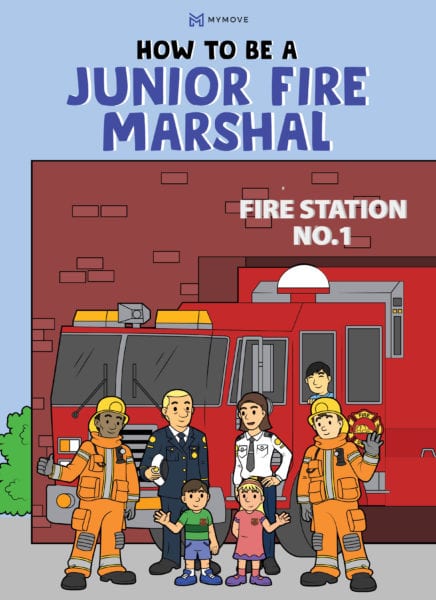 Fire safety tips and hacks
Pack a jump bag. Consider packing a small bag filled with essentials for each family member to keep under their bed in case you need to quickly evacuate. Contents include things like spare keys for the house and car, cash, phone chargers, and a flash drive with copies of important documents.
Set monthly phone reminders to check smoke alarms. It's so important to check your smoke alarms regularly and a repeating reminder on your phone calendar helps make that happen. If you have small children, let them hear the sound of the alarm so they know what it is.
Help firefighters with window stickers. Window stickers help firefighters identify who is inside the home and may be in need of rescue. You can place one on each child's bedroom window so rescuers can quickly prioritize where to look. There are also versions that indicate how many pets are in the home.
Minimize electrical fire risks. Don't cut corners when it comes to faulty electrical items. Throw away any frayed power cords and avoid using extension cords as a permanent solution in your home.
Upgrade space heaters. If you use space heaters, choose ones that automatically shut off when they tip over. Also be sure to only use space heaters on flat surfaces that aren't flammable.
Consider your family's special needs. You may need to tweak your fire safety plan depending on your family's specific needs. For instance, if someone is hearing impaired, get a special smoke alarm with a flashing light. If someone has a vision problem, get one that pauses between alerts so they can listen for instructions.
Fire prevention
Don't leave the stove unattended. It's estimated that 33% of home fires are started while cooking so don't leave your stove unattended for any reason. Another good fire prevention tip: clean up surface grease regularly and make sure there's nothing flammable close to your stovetop, like paper towels or oven mitts.
Practice your fire evacuation plan. You never know when a fire might start, so practice your evacuation route at least twice a year. Do it both during the day and at night so family members can execute a variety of fire escape plans.
Remember PASS for fire extinguishers. Even when you regularly practice using a fire extinguisher, you might feel overwhelmed when faced with a small fire. Use the acronym "PASS" to help operate a fire extinguisher:
Pull the pin
Aim
Squeeze
Sweep from side to side
Use flameless candles. Indoor candles can easily be knocked over and catch the home on fire. Consider using flameless versions, especially if you have flammable decor surrounding the candle, such as mantle or table decorations.
Teach kids how to call 911. No matter the age of your children, teach them how to use the phone and call 911. If you don't have a landline, teach them how to use your phone and how to work it in emergency mode if they don't know your password. Also, make sure they know their address to guide the fire department to your home.
The bottom line
Taking home fire safety seriously can help save lives. Regularly check your smoke alarms and replace them at least every 10 years. Create a fire evacuation plan and practice it twice a year with your family. By regularly checking in on your fire prevention strategies, you'll be prepared to respond and get your family to safety without losing your cool.
Frequently Asked Questions
Does my insurance cover fire damage?
Homeowners insurance usually covers fire damage, unless the company finds you intentionally started the fire. Renters insurance also covers any of your belongings damaged in a fire.
What are some fire safety tips for an apartment?
Know where your fire escape exits are on your floor, especially if you rely on an elevator. You'll need to evacuate via the stairwell in case there's a fire. Ask your building manager for any type of fire evacuation plan that's in place. Once you get out, wait outside at a safe distance until the firefighters give you the clear to go back in.