12 Steps to Install a Sprinkler System Yourself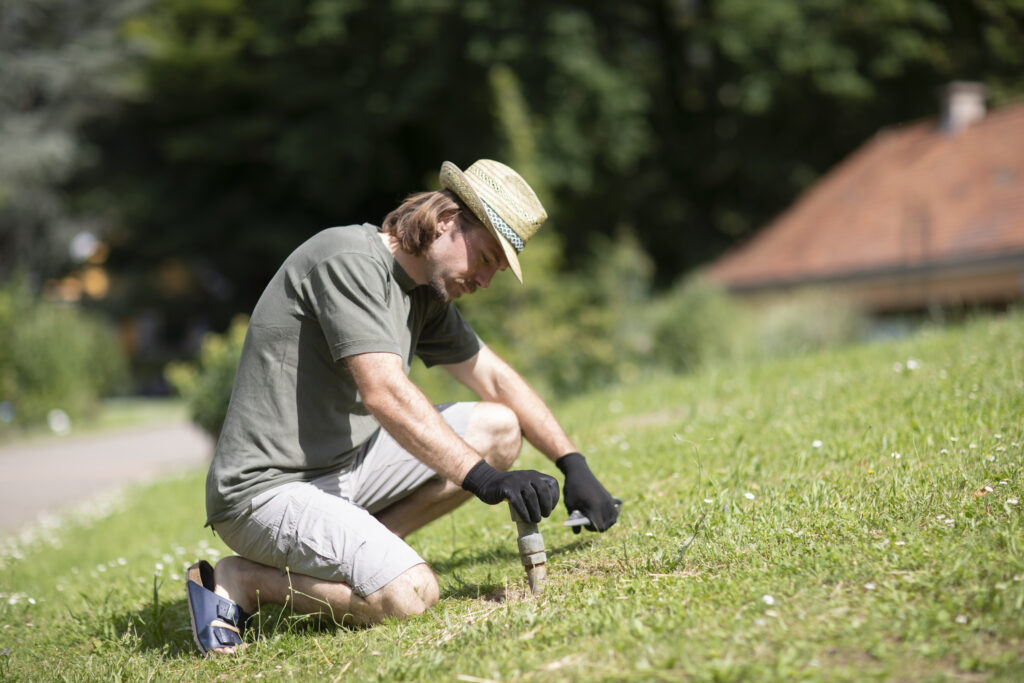 One of the top secrets to a lush and verdant lawn is proper watering. Accomplish this efficiently by using a lawn sprinkler system. Many homeowners choose to hire a contractor to install a sprinkler system, as constructing a DIY sprinkler system can be a challenging project for someone to complete on their own.
However, with the right supplies and a little know-how, you can construct your own sprinkler system and save some money on labor costs. Here's everything you need to know to get started and determine if you're up for the challenge.
How to install your own sprinkler system, step by step
Learning how to install a sprinkler system isn't overly complicated, but it is important to do it properly. Otherwise, you can end up with water flowing places you don't want it to go, or not flowing anywhere at all. Follow these steps carefully to ensure your sprinkler project is a success. One thing to do before you get started is to check with your local building department to see if you need a permit for your DIY irrigation system. You also need to call 811 before starting any digging project to make sure you don't disrupt any underground utility lines.
Step 1: Gather information about your water supply
To make sure you order the right components, you'll need to gather some important information about your water supply, including the following:
Water pressure in PSI
Size of the water meter or well pump
Size of the water service line
Flow rate measured in gallons per minute
Step 2: Create an irrigation map
Draw a diagram of your property, including any trees, shrubs, and flower beds. Mark on the diagram where the control valves and pipes will go. Mark where the sprinkler heads will go as well. Be sure to space them so they'll provide adequate coverage.
Step 3: Gather your supplies
Based on the specifications of your water system and irrigation map, gather the components of your sprinkler system. The main parts of any sprinkler system include:
Control valves
Sprinkler heads
Risers
PVC pipe
Automatic timer
Step 4: Use stakes and string to guide your installation
Place stakes or flags in your yard where each sprinkler will go. Connect the stakes with string to indicate where the pipe will lay.
Step 5: Dig your trenches
Follow the string and dig a trench for your pipe. Your trench should be 8 to 10 inches deep and 4 inches wide.
Step 6: Connect your pipe
Lay your pipe into the complete trench to make sure you have enough. Using a primer and adhesive, connect the ends of the PVC pipe. Use a tee connection where each sprinkler will go.
Step 7: Hook up to the water source
Once your pipe is assembled, you are ready to connect to the main water source. Connect your control valve to an existing faucet or directly to the service line. If connecting to the service line, it's recommended to hire a plumber to complete this step. Your PVC sprinkler pipe will connect to the control valve as well. You can use multiple valves to control water flow to different zones of your yard.
Step 8: Attach the risers
 Place a riser into each tee connection along your PVC pipe.
Step 9: Flush out the system
Before you install your sprinkler heads, you need to flush the system of any dirt that might have gotten into the pipes during construction. Turn on the main water supply to the system and let it go until any debris has flowed out.
Step 10: Install sprinkler heads
Attach a sprinkler head to each riser. Be sure that they are placed pointing in the right direction and that they connect at, or just above, the soil level to ensure proper function.
Step 11:  Install an automatic timer
Wire it to the control valve using a waterproof pipe. A timer can be programmed to schedule different watering zones of your yard at various times.
Step 12: Test your system and bury the pipe
Once you've verified your system is flowing properly with no leaks, you can finally cover the pipe and enjoy your new sprinkler system.
Products and tools you'll need to install a sprinkler system yourself
PVC Pipe: Using a quality PVC pipe is essential to any successful sprinkler system. You'll also need PVC tee fittings, primer, and adhesive.
Rain Bird Professional Anti-Siphon Valve With Flow Control: This control valve is designed for above-ground installation and provides backflow prevention.
Orbit 3-Valve Heavy Duty Manifold: If you're doing a multi-zone sprinkler system, you'll need a manifold like this to control where the water is flowing. Combine with a sprinkler box to make it accessible after it is buried.
Rain Bird Professional Pop Up Sprinkler: These pop-up sprinklers are adjustable to a distance between 8 and 15 feet. The spray angle can be adjusted from 0° to 360°.
Rain Bird Spray Head Riser: You'll need to use risers to connect sprinkler heads to your PVC piping.
Sprinkler Timer/Controller: The Rain Bird SST600IN is simple to set for a multi-zone sprinkler system. For a controller with smart home capabilities, check out the Ranchio 3 Smart Sprinkler Controller.
Thinking of hiring a pro? Here's how much it costs to have a sprinkler system installed
As you can tell from the overview above, installing your own lawn sprinkler system is a labor-intensive process. If you're not up for it, don't feel bad. It's better to hire a professional that can complete the job without any hassle or costly mistakes.
Hiring a professional contractor to build your system will cost you between $3,000 to $4,000 for a 1/4-acre lot.  While more costly than doing it yourself, a contractor will likely be able to design your system in an efficient way that conserves water over time. Vet them carefully. Request an on-site estimate and ask for their professional certifications and references.
The bottom line on DIY sprinkler installation
Installing your sprinkler system is doable if you're willing and able to put in the work and time required to do it right. However, it is one of the more challenging projects a homeowner can take on themselves. Even experienced DIYers may need a plumber or electrician to complete certain aspects.
Frequently Asked Questions
How do I build my own sprinkler system?
To build your own sprinkler system, you need PVC pipe, sprinkler heads, risers, and a control valve. You'll need to dig a trench for the pipe and properly connect the system to your water service line.
How much does it cost to build my own sprinkler system? 
Typically you can build your own sprinkler system for less than $1,500. The size and complexity of the system will greatly determine the cost.