The Best Lawn Aerators of 2022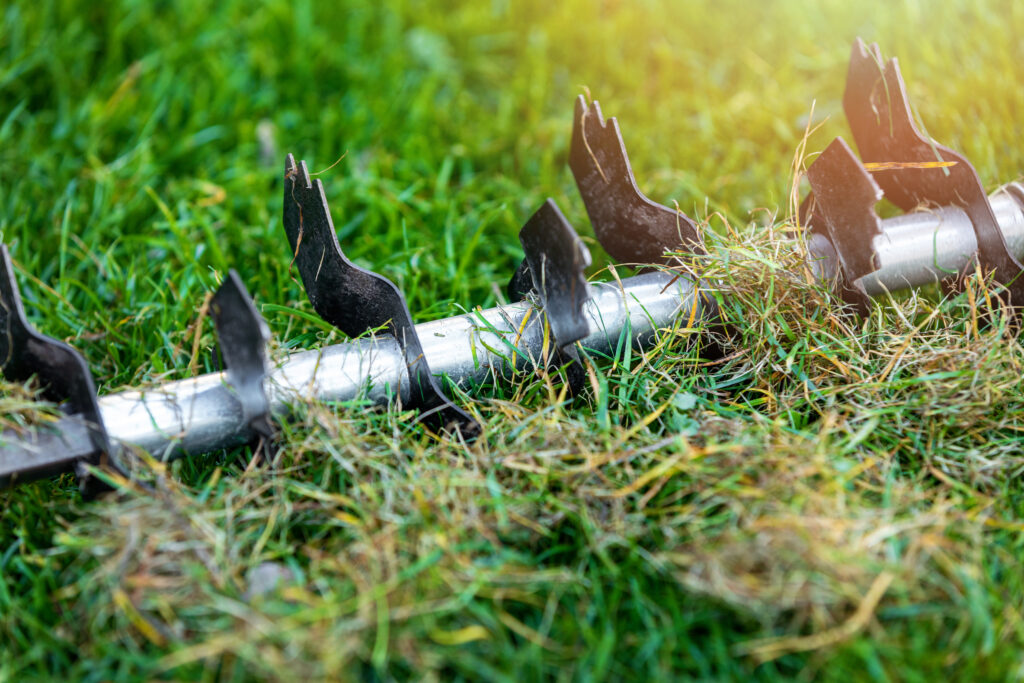 If your lawn has yellow patches, areas of stunted growth, or you just can't get the rich green lawn you want, a lawn aerator might be something you need. Compact soil often kills well-tended lawns, leaving homeowners baffled when their lawn still looks under-watered after regular maintenance.
There are a ton of yard aerators on the market, though, so choosing the right one can be daunting. There are multiple types, some manually powered, others with powerful electric motors, so it's hard to know which one you need.
We researched the most popular companies and their product reviews to put together a comprehensive list of the five best lawn aerators of 2022. This guide will help you determine which aerator will work best for you and your yard, no matter what project you want to tackle.
The 5 best lawn aerators of 2022
In our research, these companies and products stood out in overall performance quality, customer satisfaction, and durability.
Methodology: We compared multiple lists of the best lawn aerators, cross-referenced, and compiled a final tally of the five most-mentioned companies and their models from each list. Each source tested the aerators themselves without accepting payment from manufacturers. We also took into account customer reviews. 
Yard Butler Lawn Coring Aerator: Best for your budget
This manual plug aerator is the most affordable yet high-quality product on our list. Coming in at under $40, the Yard Butler is an excellent tool for those with smaller yards that don't want to invest in an expensive motor plug aerator, but want the same effectiveness.
This model has a resounding 4.6 out of 5 stars on Amazon. While the Yard Butler has excellent reviews, keep in mind that this is designed for smaller yards, as it's strictly manual and requires a lot of work.
Brinly PA-40BH Tow-Behind Plug Aerator, 40-Inch: Best overall
Our best overall aerator, at $269, the Brinly grass aerator has three-inch, heat-treated steel pipes that penetrate compact soil, and a 40-inch tray on top for seeds and fertilizer. It's easily towable behind any lawn mower, ATV, or golf cart, and works great with large yards.
Abco Tech Lawn Aerator Shoes: Best spike aerator
This product ranked consistently for ease of use. The Abco Tech Lawn Aerator Shoes come with three adjustable straps for a secure fit on nearly any pair of outdoor shoes.  Walking in a side-to-side motion across your yard quickly aerates your lawn without much work. These are also affordable at roughly $26 on Amazon.
Customer reviews put the Abco Tech at only a 3.7 out of 5 stars due to mixed reviews on this model's effectiveness for tough, dry soils. While a majority of customers were satisfied, those with larger lawns and more compact soils had a hard time with this aerator. If you have a smaller yard and want an easy way to aerate your lawn, water first to ensure these do a proper job.
These are also affordable at just under $26 on Amazon.
Agri-Fab Tow Plug Aerator: Best warranty parts replacement
Similar to the Brinly, this towable plug aerator is great for larger yards with more compact soil. It also has a 40-inch tray for seeds and fertilizer and easily hooks up behind any lawnmower. Argi-fab is also known for its fantastic warranty replacement plan.
The Agri-Fab will essentially do the same job as the Brinly for the slightly more affordable price point of $151. Customer reviews, however, put it slightly below Brinly. The product gets 4 out of 5 stars on Amazon. Some customers wrote that it was hard to assemble, with a few saying it took 2-4 hours to put together properly.
Sun Joe Electric Scarifier + Lawn Dethatcher: Best motorized aerator
This motorized aerator, scarifier, and dethatcher is one of the most versatile and powerful aerators on the market. Its 12 amp motor makes the biggest lawns easy to work, and its versatility between simple dethatching and more thorough aeration makes this an incredibly handy tool to have around.
But The Sun Joe is one of the most affordable aerators on the list, at $13860. Customer reviews average 4.5 out of 5 stars. Most customers who gave a lower rating felt the scraps collection bag was too small, and the unit itself can be a little heavy.
Things to consider when shopping for a lawn aerator
There are two types of lawn aerators: plug and spike. It is essential to know the difference between the two and which is more suited to the lawn you're working on.
Spike aerators are just spikes designed to punch holes into the soil, so they're best suited for smaller, easier projects and with lighter soils.
Plug aerators punch larger holes into the soil and remove soil/debris as they work. These are best suited for heavy, compact soils and larger lawns.
Plug aerators often come with either an electric, battery, or gas-powered motor to help handle tougher soils. These might be more expensive, while spike aerators are more simply designed and are slightly more affordable.
Don't forget to consider the size of your lawn! This is important when choosing a lawn aerator. Larger properties require a wider plug aerator, while small lawns will only need a smaller spike aerator to get the job done.
Last but not least, it's important to know the difference between dethatching and scarifiers. Dethatching is the gentle process of removing dead grass clippings, while scarifiers do both aeration and dethatching. Some lawn aerators come with these functions.
Frequently asked questions
Do all lawns need to be aerated? 
No. If you live in an area with loose soil that breathes easily, your lawn most likely doesn't need to be aerated. Only dense, compact soils need aerating.
How often should I use a lawn aerator?
The best advice is aerating once every other year.
Should I seed and fertilize my lawn after aerating? 
If you want to give your yard an extra boost, seeding and fertilizing after using a plug aerator is the perfect time, but it isn't necessary.