15 No-Grass Backyard Landscaping Ideas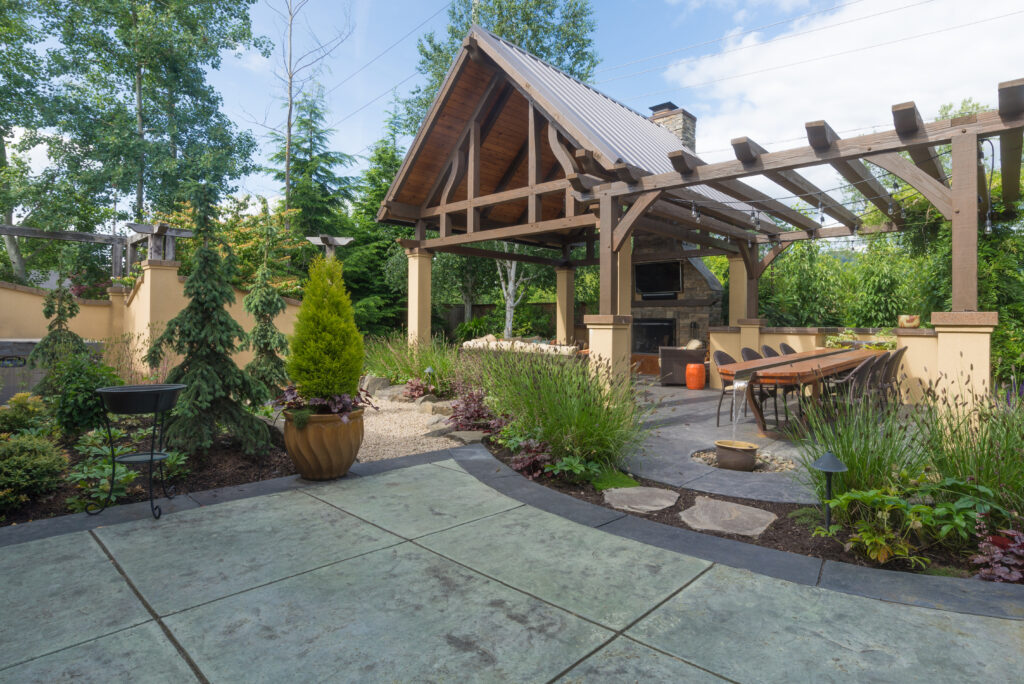 Spending weekends working to create the "perfect lawn" can be exhausting. Mowing, weeding, and watering are time-consuming. Are you looking for a lawn substitute? Read on for 15 fabulous and cheap backyard ideas, no grass needed. Get ready to pack away your lawnmower and genuinely enjoy the outdoors.
Don't have a grassy backyard, but still want to create an oasis? Here are 15 cheap no grass backyard ideas
Idea #1 Grow a no-mow wildflower yard
Create a no-mow wildflower yard you can enjoy without worrying about maintenance. Simply spread a few packets of wildflower seeds and watch your yard transform.
Idea #2 DIY concrete stepping stones
DIY concrete stepping stones allow you to create your backyard design exactly the way you envision. You'll have a fabulous no-grass area with a custom look.
Idea #3 Keep it simple with hardwood patio tiles
If you're looking for cheap, no grass backyard ideas, interlocking hardwood patio tiles are the answer. These real hardwood tiles are not only easy to install, but they also look fantastic.
Idea #4 Create a tranquil pond
Are you searching for peaceful backyard landscaping ideas, no grass required? Adding a water feature such as a pond is a wonderful way to bring a bit of nature into your backyard.
Idea #5 Build a pallet patio
If you have a larger area that needs coverage, wood pallets are the answer. All you need is some free recycled pallets and DIY motivation.
Idea #6: Add wood chips
Are you worried that all non-grass options have a "lack of nature" feel? Well, consider laying down wood chips. Adding wood chips to your yard creates a nature-provided landscape. Contact your local tree service business as they'll have plenty of wood chips from grinding trees.
Idea #7 Roll out the artificial grass
With artificial grass, you get the look of real grass without the hassle of mowing, watering, or maintenance. Measure your outdoor space and purchase a roll that covers the desired area.
Idea #8 Combine pavers and turf
The contrast of stone pavers and green "grass" is an eye-catching combination. Level up your yard game with this elegant look.
Idea #9 Go green with moss
Moss is a wonderfully low-maintenance ground cover that spreads on its own. The rich, green color and velvety feel underfoot stand out in backyards. Moss thrives in most climates across the United States (the only exception is desert locations due to the severely dry terrain) and grows in a range of sun exposure from full sun to full shade.
Idea #10 Add a gravel base
Pea gravel is an excellent choice for spaces around fire pits. Add a layer of gravel, place your fire pit in the center, and add a few Adirondack chairs for lounging.
Idea #11 Pour a concrete patio
If you don't want to go the DIY concrete patio route, hire a contractor to pour a concrete area where you can entertain and enjoy your backyard.
Idea #12 Raise the bar with raised flower beds
No-grass backyards don't have to be bland and boring. Add raised flower beds for a pop of color.
Idea #13 Go natural with a rock garden
A rock garden is another fantastic way to spotlight nature. Add a variety of rocks, from flat slate pieces (also known as flagstone) to river rock and larger-sized boulders for a unique look.
Idea #14 Create some cushion with rubber mulch
If you have a swing set or play area in your backyard, attempting to mow around it is a challenge. Rubber mulch creates a grass-free zone and a barrier to cushion your little ones if they fall.
Idea #15 Add a she (or he) shed
Sheds aren't always for storage; they can be an added space for enjoying the outdoors in style. Create a she-shed complete with seating, an outdoor rug, and fun lighting elements.
The bottom line
Armed with resources, inspiration, and a yard budget, creating a no-grass backyard is fun and easy! Better yet, this low-maintenance domain will provide more quality time to spend with family and friends.
Frequently asked questions
What can I use instead of grass in my backyard? 
From no-mow flower gardens to artificial grass or moss, you can enjoy your backyard without the water waste and lawnmower work.
How can I landscape my yard without grass? 
Landscaping comes in all forms, including ones that are grass-free. Adding a pond or rock garden creates a serene, natural environment, while patio pavers and tiles provide a more structured surface.
How do you build a low-maintenance yard? 
Create your low-maintenance, low-cost yard by sourcing free materials such as rocks, pallets, or wood chips. If your budget is more flexible, consider a concrete poured patio, gravel area, or a shed. Take time to think about what your ideal backyard looks like (and is realistic for your budget).