15 Creative Desert Landscape Ideas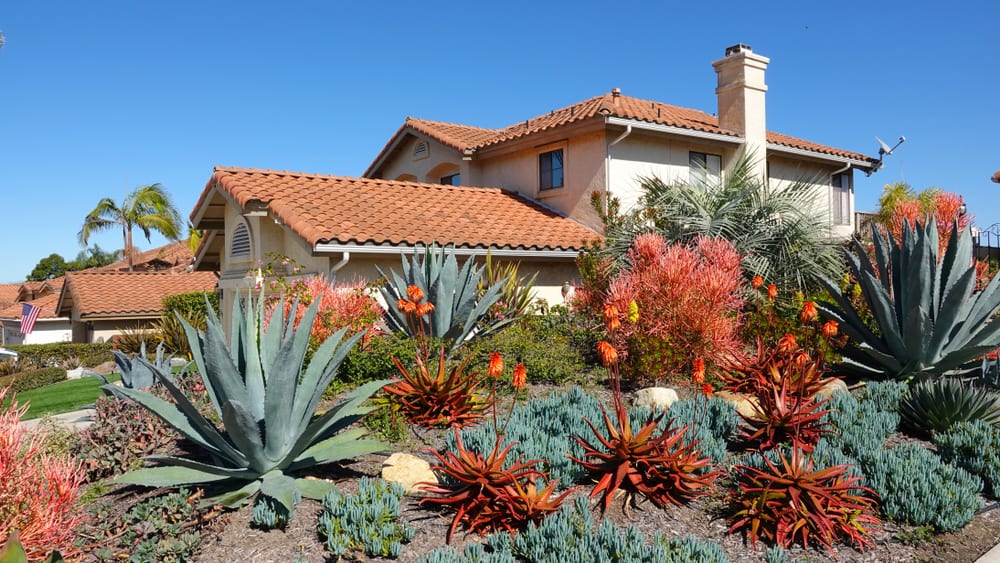 Desert areas have become increasingly popular as both full-time residences and seasonal retreats and vacation homes. Colorado, Arizona, New Mexico, Utah, California, and Nevada are among the areas people of all ages are choosing to settle — both for job and investment opportunities and quality of life. So, if you've recently moved to a desert area, or have plans to, think about ways to transform your home into a unique paradise with creative desert landscape ideas.
But before you let your imagination run rampant with Pinterest inspiration, know that desert homes have specific challenges. Aesthetic appeal, sustainability, and maintenance costs are all critical considerations as you create your own outdoor oasis. So, to get you started, here are some of the top Xeriscaping ideas.
Know Your Environment: What Is Xeriscaping?
Droughts are frequent in desert climates, and many of us are conserving water these days. Xeriscaping is a type of landscaping that minimizes water use as much as 50-75%. You can do it not only through plant choice but also through your irrigation plans. Limiting lawn areas and using water-efficient plants and mulch are among the seven core principles of xeriscaping.
15 landscape ideas to help you create your outdoor oasis
1. Let your Xeriscaping compliment your house style
Outdoor areas should vibe with your house style, which may range from classic adobe to ultra-modern. As with interior home design, you don't have to execute the entire plan at once. Create a timeline that allows you to create your ideal desert landscaping in stages.
2. Understand highs and lows
All deserts are not equal. The elevation of your home can have an impact on temperature and water availability, so be sure to select plants and outdoor decor that are right for your specific climate.
3. Balance shade and sun
Spaces for basking in the sunlight are essential for the desert landscape, but you should also consider the impact of desert heat on your home and family. Creative shade structures like pergolas and gazebos are popular, as are installations that cover carports or the front of your house.
4. Plot your paths
Walkways are not only functional, but they can also add drama and interest to the front of your home. Choose colors and pavers that fit with your decor, drain well, and withstand desert heat.
5. Stay simple with succulents
Succulents require very little watering and maintenance. Create a succulent garden that will stand the tests of time and weather.
6. Consider flowers
When you think of the desert, you might only imagine cacti and dull green or brown vegetation. But many desert plants produce vibrant blooms. Plants flower at different times, so stage your display so you'll have the maximum amount of color in your desert landscaping.
7. Fruit trees are fun and functional
Citrus and nut trees, as well as varieties like these, contain edible parts, but you can also create a veritable fruit salad from these desert-friendly plantings.
8. Birds and butterflies make great house guests
From hummingbirds to monarchs, certain creatures love colors and fragrances. Choose plants that draw birds and butterflies into your desert landscaping.
9. Know your rocks
Throughout the desert, natural rock formations are dramatic and unique. Interspersing different colors and sizes, as in this yard, adds a new dimension — especially for larger areas.
10. Create elevations in flat areas
Rocks and stones can be used to create everything from outdoor furniture to walls that separate different parts of your property. Combine those elements with vegetation to break up the monotony of flat spaces.
11. Small backyard area? No problem
Potted plants, a miniature "zen garden," and wood screens or trellises add visual interest and can also create a sense of privacy.
12. Light it up
According to Kellan Ray, Owner of Blue Ribbon Landscape in Mesa, Arizona, planning for both the path of the sun and evening lighting are essential. Choose fixtures that work with your decor and provide security and ambiance.
13. Create your dream kitchen outdoors
Budget and space permitting, you can build a fully-functional cooking and entertaining area outdoors. These homeowners incorporated stoves, refrigerators, and even fully-functioning bars to their desert kitchens.
14. Splash and soak
Pools and hot tubs are a focal point of many desert dwellings. Naturally-shaped and stone pools that fit with the landscape are especially popular.
15. Choose outdoor furniture that withstands the climate
Temperatures into the 100s are commonplace in the desert, so select dining and lounging options that won't scorch your skin. When you invest in outside decor, think about wearability, longevity, cleaning, and temperature resistance. Practicality and sustainability are as important as visual appeal.
Frequently Asked Questions
How do you build a desert garden? 
Choose plants, rocks, and accessories that fit within the space you have available. Look to Pinterest for inspiration, but let your creativity run wild!
How do you take care of desert landscaping? 
Different plantings require varying sun and water levels and upkeep, although most indigenous desert plants can usually survive with bright sun and minimal water. When you purchase plants, rocks, and decor items, ask lots of questions regarding upkeep.
How can you make desert landscaping beautiful? 
Choose a mix of colors, textures, and elevations that complement your home style and surrounding area. Remember that the desert is not just green and brown. Find plants that bring in a pop of color. Add to the ambiance by putting up string lighting or creating an outdoor fire pit.
How do you install desert landscaping?
That all depends on the size and complexity of the options you choose. If you're planning a simple succulent garden, watching online tutorials and asking the local nursery for plant advice should suffice. If, on the other hand, you are installing a giant cactus, moving rocks, or building an irrigation system, you'll want to find a team of professionals with extensive experience in desert landscaping and reliable local references.