25 Simple and Cheap Landscaping Ideas That Fit Your Budget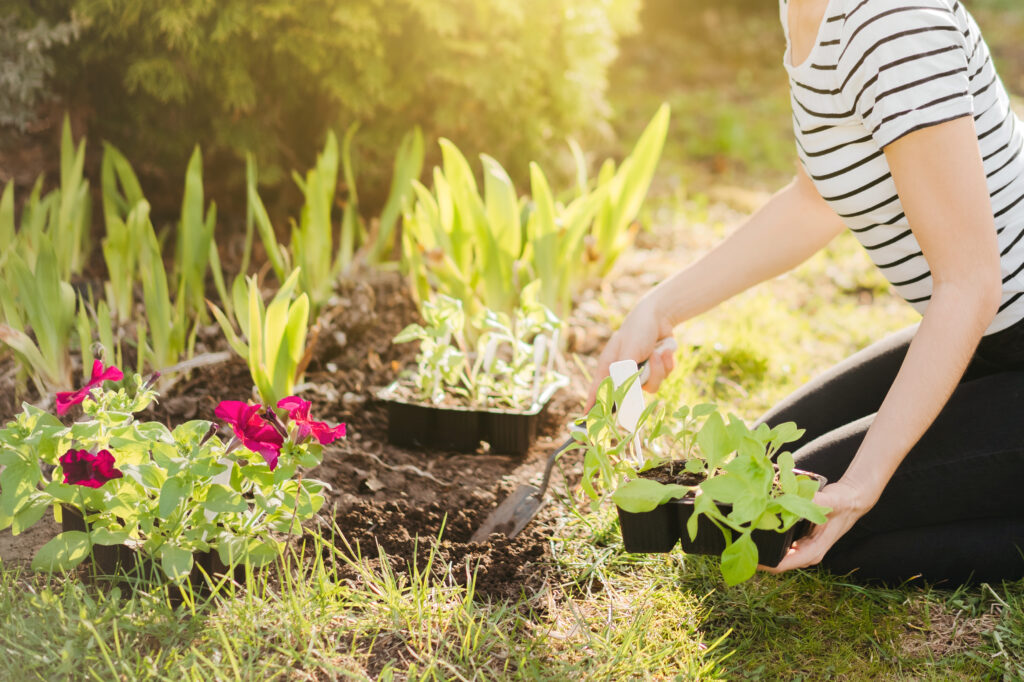 If paying for a professional landscaping company doesn't fit in your budget, don't fret—it doesn't mean that you can't update your outdoors. We've compiled a list of 25 cheap landscaping ideas featuring affordable products and DIY ways to refresh and update your yard on a budget. Even if you're new to yard work, DIY landscaping can be a fun and easy project. These simple landscaping ideas are perfect for anyone who doesn't want to break the bank or for anyone who just enjoys working on outdoor projects.
The 25 best DIY landscaping ideas on a budget
Fancy flower pots
This project can be extremely cheap and is one of the simplest landscaping ideas on this list. You can find a pot and plant for about $15 each. The more detailed and extravagant your flowerpots and plants are, the more expensive it will be. Almost no skill is required for this, so it's a great place to start if you're a first-time DIY landscaper. Plus, if you're feeling unsure of what you'll need or what to do first, just ask one of the experts at your nearest garden center for some tips.
Solid cement and sandstone planters
Like regular flowerpots, this project can be as cheap or expensive as you want. Cement and sandstone planters range from $20 to $150, depending on size. This is another simple DIY landscaping project that requires almost no skill and won't take long to complete.
Fun flower boxes
You can find lovely flower boxes online for around $50, making this a great landscaping idea on a budget. The cost of the plants, flowers, and soil will vary based on size and amount needed. Perfect for first-time DIYers, this project should take about an afternoon to complete.
Blend flowers and greenery
Blending different flowers and greenery will help bring some depth and character to your backyard. This is a great backyard landscaping idea on a budget, as you get to choose how expensive this project will be. You can combine a couple of $10 dollar plants and flowers to keep the budget low or get more extravagant and combine 20 different types of flowers and plants for a higher budget. Minimal skill is needed, and it won't take long to complete.
Create dimension with plants
The cost of this project will vary greatly depending on the size of the area, how many plants and flowers you want to include, and the types of plants or flowers included, which means it could cost anywhere from $100 to $1,000. Fortunately, you can choose a smaller area with cheaper plants and flowers to keep this DIY project in the range of your budget. Combining different widths and heights of flowers and plants doesn't require a ton of skill but does require some thought and planning before you get started.
Flower beds
Flower beds are cheap to DIY depending on the size of the flower bed, the number of flowers, and the type of flowers; however, it can also get expensive quickly. This could cost anywhere from $50 to $550, so do your research before making any final purchases. This project requires a little skill and a lot of potting soil; just be sure to follow directions closely! Depending on the size and intricacy of your flower bed, this could take a couple of days to put together.
Secluded ivy wall
English Ivy, although beautiful and picturesque, can cause a lot of problems on a house. So it's recommended to use a different species of ivy—such as Boston ivy or Moonflower. These plants can get a little costly depending on how much you'd like, but if you're willing to wait, Boston Ivy grows very quickly, so you can start with a little (around $8 per plant) and end up with a lot in a few years' time!
Solitude with shrubbery
There is a large variety of shrubs available, so choose based on your budget, style, and end goal. Larger shrubs are better for more privacy. This is a very simple DIY landscaping project that requires minimal skill and just a little bit of time and effort. Plan on spending anywhere from $25 to $500, depending on your preferences.
Plant some trees
There is a lot to consider before planting a tree, such as utility lines, where and how it will grow, and how it will fit into your yard once it's full-grown. However, growing a tree from the ground up is surprisingly cheap; you can buy a Maple tree from Lowe's for about $40. Planting a tree doesn't require much skill or time, just some love and patience, as it'll be a while before your tree reaches its full potential.
Tasteful tree borders
Another great way to add some privacy to your backyard is by lining the edges with trees. Tree roots are cheap, so the total cost of this project will just depend on how many you'd like to plant. If you want a couple of smaller trees, it could only cost around $30, but 10+ larger trees could end up costing around $500. This is a great project for first-time DIYers as very little skill is required, and all you need is a free afternoon in the sun.
Bonus bold borders
Surrounding your existing trees with other flowers and plants is a great way to add some color and variety to your yard. The cost of this project varies greatly depending on the size of your tree border and what you'd like to include in it, so it could be anywhere between $50 and $500. To keep it simple and cheap, just add some pretty flowers and a modest brick edge.
Multipurpose mulch
Mulch is a very cost-effective way to create borders and add lines in your backyard. It's extremely inexpensive and requires no skill to use, so feel free to get creative! You can get a bag of mulch (2 cubic feet) for as little as $4 at Lowe's.
Relaxed river rock
River rock can be on the pricier side, so to keep costs down, use this accent piece carefully and strategically. You can cover 4 to 6 square feet with one bag of this Yellow River Rock from Lowe's (around $5 for one bag). Fortunately, no skill is required, and very little time is needed to add some river rock to your DIY landscaping list.
Unique and useful walkways
A unique walkway is one of the best ways to give your backyard some character. Plus, it's useful to have! This is one of the pricier projects on this list, but a DIY walkway is still going to be significantly cheaper than if you have one done professionally. Price will vary largely depending on the size of the walkway and the type of materials involved but expect it to cost anywhere from $150 to $1,000. This project requires a little more skill than others, but you can easily finish it in a weekend.
Picturesque stepping stones
Stepping stones are one of the easier and cheaper walkway materials to use. Stones range from $1 to $20, so this project won't break the bank. And not much skill is required—just a little effort and some tools. As always, make sure to do your research before getting started.
Brighten up with rope lighting
Rope lighting is a great way to add some character and make your backyard a great place to be during all hours of the day. Some rope lighting brands are very cheap, and there are solar options, so lighting your backyard won't affect your electric bill. For example, you can find about 20 feet of rope lighting for $18 at Lowe's. Very minimal skill and time are required for this DIY landscaping project.
Quaint string lighting
There's a huge range in pricing for outdoor string lights, so the cost of your project will depend on the amount needed, the style, how creatively you want your lights hung, and the technologies involved. These lights at Lowe's are currently only $39.98 for 24 feet of lighting! Fortunately, not a lot of skill or time is required to complete this project—just a little imagination and resourcefulness!
Charming lanterns
When it comes to backyard lantern lighting, the sizes, colors, shapes, and styles are endless. And if you find the right lanterns or pathway lighting, this DIY landscaping project is extremely cheap. But, keep in mind: the more complex your lighting, the more expensive and time-consuming the project will be. This 6-pack of lights is available at Home Depot for only $18.
Big boulders
Big boulders are a great way to add some earthy vibes to your backyard. They can, however, get a bit expensive. One boulder can cost about $75 to $500 depending on the shape and size, so the best option on a smaller budget is to buy one or two smaller boulders and place them strategically in your yard. . The best part: no skill is required! You might want to ask some muscular friends for help, though.
Scenic birdbaths
Birdbaths are an easy way to add some nature and charm to your backyard. They range in price from $20 to $200 depending on size and style, so this is a great option for cheap and effortless backyard landscaping.
Cozy fire pits
A DIY cheap fire pit can be made for as little as $100 using only pavers and paver sand! Really, no skills are required, but more experienced DIYers can make a bit more elaborate of a fire pit than beginners. Only a couple of hours and a little sweat are needed for this project.
Tranquil benches
You can DIY a bench inexpensively, or you can buy a more expensive bench if you want. You can also let your creative side shine by including mulch, river rocks, flowers, and greenery to make the bench the focal point of the backyard. Depending on your preferences and what you include in this project, the price could range from $50 to $1,000. No skill needed—just a couple hours and some imagination.
Conceal your AC unit
AC units can be eyesores in your backyard. But by using some plants, cheap wood, or fencing, even the most inexperienced DIYers can upgrade their backyard very quickly. A little skill and time are all that's needed for this landscaping idea. Depending on how you decide to upgrade your AC unit, the total cost of this project could range from $50 to $500.
Hide your hose
Water hoses are another unsightly fixture that can easily and cleverly be hidden. You can buy a pot or container that is already made for concealing hoses, or you can build one yourself with some plywood. On the flip side, you can find a decorative hose holder to make a statement. No skill to minimal skill is required for this DIY project, depending on your choice of concealment. Expect to spend $20 to $200 on this outdoor landscaping project.
Perfect patio
This is the most involved project on this list. It's far from impossible, but it will definitely require more skill and time. Each project is different and will require different materials, but it is possible to make your own patio for as little as $500. Do some research and dedicate a weekend to this DIY landscaping project, and your backyard will be forever changed!
Frequently Asked Questions
How can I make my yard look good for cheap?
You can make your yard look good cheaply by using a combination of research, manual labor, and creativity. Adding flowers, greenery, dimension, and focal points are easy ways to freshen up and improve your backyard DIY-style.
How can I make my yard look more expensive?
An easy way to make your yard look expensive without breaking the bank is by finding expensive designs and projects online and then trying to recreate them with cheaper materials and some modifications.
What is the cheapest way to landscape a backyard?
The cheapest way to landscape a backyard is by doing it yourself! Don't pay the excessive costs of a professional service when you're perfectly capable of DIY landscaping, which will be much cheaper.