The Best Lawn Fertilizer for Healthy Grass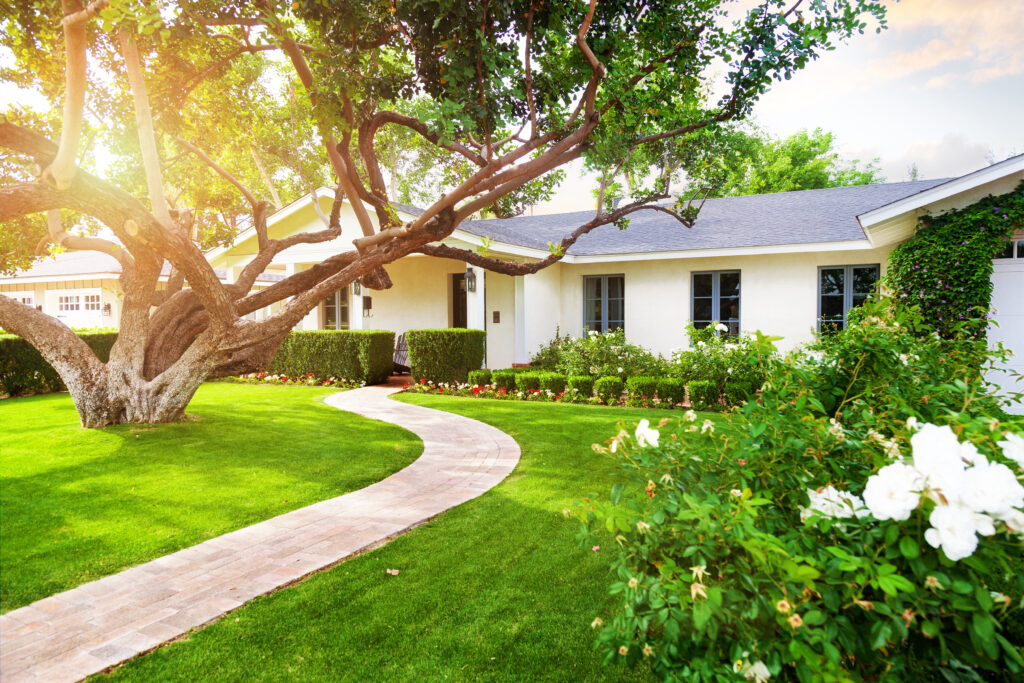 Moving into a new home is exciting, but what if your new lawn isn't up to snuff? Or maybe you're hoping to sell your house, and you know a nice lawn could add curb appeal and increase your sale price. If you need to revive a struggling yard, invest in quality fertilizer. We know there are a ton of options on the market, so start with this guide to find the best lawn fertilizer to make your grass green again.
The best lawn fertilizer of 2021
With so many brands at your local home improvement store, choosing the best fertilizer for grass can be tricky. Should you choose a lawn fertilizer that's organic or synthetic? Liquid or granules? Is the product safe around pets and kids? Are some options better for certain regions?

[deals-hub-ad]

To answer those questions, let's first consider the best of 2020 lawn fertilizers by category:

Methodology: To source our list of the best lawn fertilizers, we gathered the top products sold on Amazon based on customer satisfaction ratings. No product reviewed below received less than a 4-star rating. We then distilled our list based on value, type (organic/synthetic), and usability. 
Most versatile: Simple Lawn Solutions Lawn Booster
Simple Lawn Solutions Lawn Booster is perhaps the most versatile lawn fertilizer on the market. Not only is it safe, but it will also boost the growth of any type of grass. It comes with a handy spray nozzle and combines both organic and chemical nutrients for a full, balanced lawn regimen.
Simple Lawn Solutions Lawn Booster: The pros and cons
Pros
Cons

Good for any type of grass including St. Augustine, Bermuda, Centipede, Bluegrass and more
All-natural, kid-safe, pet-friendly
Commercial-grade w/micronutrients

Covers only 3,200 sq. ft
Because it is granules, excess use can result in run-off to drain systems
Best organic fertilizer: Pearl Valley Organics Coop Poop
Pearl Valley Organics Coop Poop is mainly used in flower beds, although many people also use it for their lawns. As you may have guessed, its main ingredient is 100% natural animal manure. Nothing can be more organic than that!
Pearl Valley Organics Coop Poop: the pros and cons
Pros
Cons

100% natural organics
Safe for kids and pets
Great for flowerbeds and vegetable gardens, too

All organic may mean less effective
Lacks micronutrients, which are added chemicals
Best synthetic fertilizer: Miracle Grow Shake and Feed
Miracle Grow is a trusted name in plant food — and their Shake and Feed product is no exception. This is the best synthetic fertilizer to be found. It contains all the necessary micronutrients grass needs for healthy growth along with natural, organic materials. Miracle Grow provides perhaps the best blend of organic and chemical fertilizers for the best of both worlds.
Miracle Grow Shake and Feed: The pros and cons
Pros
Cons

Granules provide easy spreading onto the lawn surface
Contains micronutrients including Nitrogen, Phosphorus, Magnesium, Iron and more
Contains natural ingredients such as animal waste and compost

It's not organic, so it's not safe for pets and kids
May burn grass if not used as directed
Must carefully follow directions for use
Best for pet safety: Milorganite Slow Release
Milorganite Slow Release is the closest thing to all-natural and pet-safe you'll find in a bagged fertilizer product. But be warned, the natural components (i.e. animal manure) is appealing to dogs, who may try to consume it. Keep the product out of reach from pets because if consumed in high quantities, it could make your dog mildly ill. It won't kill your dog, but he will find the scent appealing (though you won't likely share his feelings).
Milorganite Slow Release: The pros and cons
Pros
Cons

All-natural and organic
Safe for use around kids and pets
High nitrogen content to stimulate healthy grass growth

According to users of the product, it's a bit smelly (because of the all-natural components)
No micronutrients
Dogs have been known to consume it
Scotts Green Max Lawn Food: Best value
Scotts Green Max is perhaps the best value in lawn fertilizer. For about $45, you can cover more than 10,000 square feet of your yard. The essential micronutrient iron is included, which results in greener grass quickly. So, rather than an extended project, within just a few days, the lawn will look better than it has in years. This product lets you cover more area in less time, resulting in less product used and more money saved.
Scotts Green Max Lawn Food: the pros and cons
Pros
Cons

Covers 10,000 sq. ft
Contains micronutrients
Contains supplemental iron

Careful use required
No organic materials
Keep out of reach of children
Types of lawn fertilizer: Organic fertilizer vs. synthetic
No matter the fertilizer, each is composed of some combination of nitrogen, phosphorus, and potassium. These are the three basic plant nutrients.
In the U.S., all bags display a code, known as a fertilizer grade, which indicates how much nitrogen, phosphorus, and potassium are contained in the product. For instance, if the label on a 100-pound bag of lawn fertilizer shows 25-15-20, this means that the bag contains 25 pounds of nitrogen, 15 pounds of phosphorus, and 20 pounds of potassium.
Some lawn fertilizers also contain what are called micronutrients. These are certain metals and minerals which are known to facilitate better growth in some plants and grasses.
However, the types of lawn fertilizers really fall into two main categories: organic and synthetic. What's the difference?
Organic fertilizers
These products are composed of 100% natural compounds, most often manure or similar waste products. Organic fertilizers contain the nutrients needed for your lawn, but quantities will fluctuate a bit.
Synthetic fertilizers
These are made of chemical compounds — the same nutrients found in organic fertilizers but created in a lab. Synthetic fertilizers contain the optimal levels of each nutrient to ensure high-quality grass.
Note: If you don't apply chemical fertilizers carefully, they can burn the grass. (This is not generally a problem with organics.) 
Things to consider when shopping for fertilizer
When shopping for lawn fertilizer, you should consider your lawn's location, type of grass, and the time of year.
Many brands like Scotts carry products specifically designed for southern or northern climates. Others specialize in treating different types of grass like Bermuda, Kentucky Bluegrass, Johnson grass, and others. Each of these products will contain the needed micronutrients to properly feed that specific grass, but they're generally synthetic.
Frequently Asked Questions
What is the best lawn fertilizer for early spring?
Spring is the best time of year to apply any lawn fertilizer because that's when the grass is starting to put off new growth. Of course, any time is a good time if the lawn is in poor condition, but spring is best. That said, the best lawn fertilizer for spring use is Scotts Turf Builder Triple Action. Not only does it feed the grass, but it will also kill those pesky weeds that have been lying dormant all winter.
How do I choose a fertilizer for my lawn?
There is no one-size-fits-all solution for lawn fertilizers. A lot depends on the grass and the region. Budget often plays a role as well. But the most important thing to keep in mind when choosing a fertilizer for your lawn is how well you can properly apply it. If applied incorrectly, fertilizer will be ineffective.
What lawn fertilizer has the most nitrogen?
Nitrogen is perhaps the single most important nutrient in fertilizer. Because of this, some fertilizers contain far higher concentrations of nitrogen than others. The highest concentrations are found in urea-based products, often referred to as ammonium nitrate; the concentrations are often as high as 47%.