9 Things You Can Do With That Blank Wall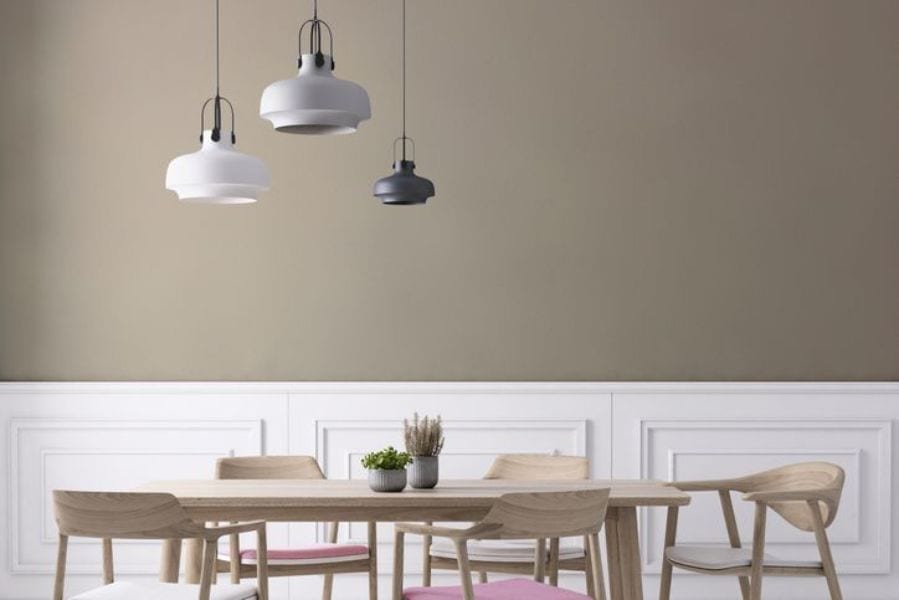 When decorating your home, it's not uncommon to have a one or two blank walls that leave you puzzled. You don't really know what to do with them, but you do know that those barren spaces are driving you crazy. So, what are your options? Below are several ideas to help make those blank walls the highlight of each room.
Add millwork
Shop These Products Now: Hanging Lamp – Dining Chair
Wainscoting, rail and molding can instantly transform a space. "For example, you can add dimension, architectural detail and a huge impact to any blank wall by using picture molding or batten molding to frame out artwork," says Kymberlyn Lacy, Principal Designer at International Flair Designs.
Create a wood pallet wall
Shop These Products Now: Wood Wall Pallets
"Installing wooden pallet planks onto your walls is a great weekend project," says Shawn Breyer, Owner of Breyer Home Buyers. "The materials are free as you are able to recycle old pallets that are being thrown away." However, he recommends painting the wall you are modifying a dark color. "The pallet boards will not bump up to each other perfectly and you don't want bright paint showing through the gaps."
Add a map
Shop These Products Now: Map Wall Mural – Blanket
Eric Gustafson, President of PureModern, recommends hanging one large framed map as a statement piece. "You could also create an accent wall with a collage of different maps, which could even be a fun project to do with the kids."
Add mirrors and sconces — or ledges
Shop These Products Now: Wall Mirror – Wall Sconces
Gustafson also recommends decorating a blank wall with sconces and a mirror. "Fancy sconces can add a little flair to any area in your home," he says, especially when used with a mirror. "The way the light from the sconces reflects off the mirror can really light up a room," he adds. In your bedroom, you could also install sconces on the wall and add a large piece of art."Or, install multiple picture ledges to display your collections," says Shandra Ward, Designer at Houston-based Signature Designs. "They're the perfect solution to fill a blank space and it allows you to switch out your collections as often as you like." Alix Greenberg, Founder + CEO of ArtSugar, advises readers to save money when decorating by buying a group of budget-friendly framed prints instead of original works of art.
Add a dramatic color
Shop These Products Now: Accent Chair – Side Table
Paint is an inexpensive way to create a focal wall. "I suggest using a bold color such as black, navy or a dark green hue to stay on trend," Lacy says. Since black is the most stylish color of every year, it can be casual or elegant. Just remember that your color choices are important, and they can create a calming atmosphere or a high-energy environment.However, you're not limited to solid colors. "Painting horizontal stripes or a geometric design is a fast, easy and inexpensive way to add some color and interest to a wall," Ward says. "You could also use Washi tape if you're decorating a room for a child."
Create interesting storage options
Shop These Products Now: Modern Wall Shelves – Cubic Ottoman
Use your imagination to arrange shelves and storage options to create an interesting design. In the photo above, you can see how ledges can be used for book storage or to display collectibles — or you can leave them blank.  Or, as demonstrated in the photo below, you can add more storage space in the kitchen when maintaining an open look.
Shop These Products Now: Counter Stool – Wooden Storage Box
Create a graffiti wall
Shop These Products Now: Wall Mural – Blanket
If you really want to make a statement, consider using that blank wall to show off your artistic skills. Or, you could hire someone to sketch or paint a design on the wall. Yet another option is to purchase graffiti mural wallpaper.
Create an authentic-looking wood or stone wall
Shop These Products Now: Wooden Wallpaper
If you like the look of wood — but not the time, effort or money it would cost to install — you can try Stikwood, a peel-and-stick reclaimed and sustainable wood planking. Jerry McCall, Co-founder of Stikwood, tells Freshome that the product was developed with ease of use in mind. "We value our customers' time, so we wanted to make a product that a homeowner, without any construction or woodworking experience, could use in their homes without a lot of time involved." In fact, McCall says it would only take a few hours to complete a 100-square-foot wall.
Shop These Products Now: Bricks Wallpaper – Media Console Storage
If you prefer the look of brick and stone walls, TrikBrik by Havwoods International is another product that can be easily installed. According to Allan Singh, General Manager at Havwoods International, "TrikBrik is actually made of stone. The crushed marble stone is mixed with high-density polyurethane and polyester resin to produce an exceptionally light — yet durable — highly realistic pane."