How to Use the Most Stylish Color of Every Year: Black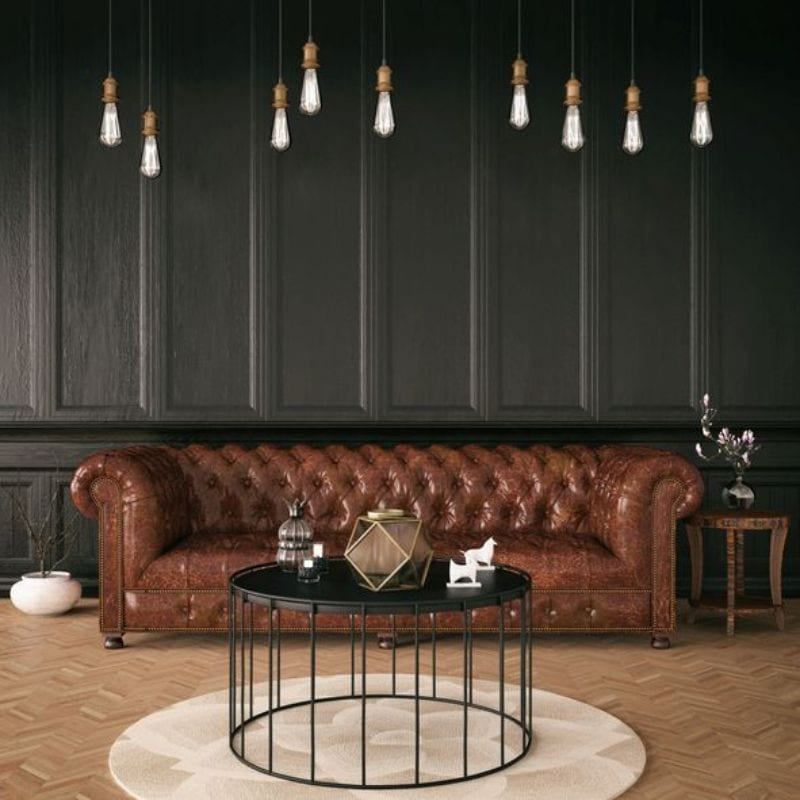 We hope you like the products we recommend. Just so you are aware, Freshome may collect a share of sales from the links on this page. 
Black accent walls, ceilings, furniture – this color never seems to go out of style. While opinions vary on whether the kitchen work triangle is an outdated design rule, there's no doubt about the staying power of the color black. Similar to the little black dress, it's a color that can be casual or elegant, depending on the accessories. It is the boldest color, and yet black is also neutral, making it the perfect choice when decorating. Here are some of the trendiest ways to use the color black in your next decorating project.
Create a cozy, calming atmosphere
According to Dee Schlotter, senior color marketing manager for the PPG Paints brand, "Black is a classic color that is now finding its way onto the walls, creating silence, space and quiet in a very busy, distracting world." If you treat it as a neutral paint color, it will create a lot of design options. "It goes with everything and can take the guesswork out of decorating," she says.
Use it as a statement color
Black Flame is the PPG Paints 2018 Color of the Year and Schlotter says it no only complements other design elements, but also can be used to make a statement. She recommends treating it as the fashion statement that it is. "Treat your walls like a fashion runway and envelop the wall, trim and ceiling in it, and the hue will act like a black curtain and allow your artwork, furniture and other elements to take center stage."
Accent a wall
While black can be used in a variety of applications, Andrea Magno, Benjamin Moore Color and Design Expert, warns readers to maintain balance when using this color. "Black works best as a wall color when there is ample natural and artificial light in a room, and when there are elements in the space that are lighter in color," she explains. "For instance, in a living or dining room painted black, pale floors and light furniture will balance out the wall color so that the overall look isn't too dark or heavy."
Highlight windows, ceilings, and doors
You can use the color to define certain spaces and also direct the eye in a certain direction. Traditionally, white has been used to bring out architectural details. However, Magno says that using black on the trim and windows will contrast well with light-colored walls. "Sheen also plays a role with black paint, because a high sheen will be more apparent on a darker color as the highlights on the surface will appear more defined, while a lower sheen will complement a dark color by making a surface look very rich."
And Schlotter notes that interior doors have become the new accent wall in the house. "Painting interior doors offers a great opportunity to showcase the door or just add some interest in a room," she says.
Make your kitchen glamorous
Black is used liberally in this kitchen. But, if you're not ready for a full makeover, you can still use this color on a budget. "Modernize your kitchen by incorporating black matte lower cabinets with upper open shelving, adding sophistication and elegance into your cooking space," Schlotter advises. Or you can juxtapose black and white cabinets.
Create a stylish bathroom
It's a myth that small places should only be painted light colors. "Dark colors, like black, can be perfect for smaller spaces, like a powder room or a small full bathroom, making it unexpected and on-trend," Schlotter says. "You will be the talk of the neighborhood by being so bold — and it will look amazing."
And acccording to Lyndsey Dianne, the owner and operator of DianneDecor.com, you can also use black to punctuate a room. "Cabinet hardware in a matte black finish is very popular right now," she says. "Plumbing fixtures such as showerheads and sink faucets in matte black are also trendy options for your home."
Add pops of color
According to Texas-based designer Pablo Solomon, the most common trends now are black/white tile patterns, photos, art and area rug patterns, plus the selective painting of accent furniture.
While it may seem like a daunting color, Magno says that it can produce amazing results — when you use it in a way that best suits both the room and your design goals.
How will you be using this coloryour next design?