Are Half Walls Back in Style?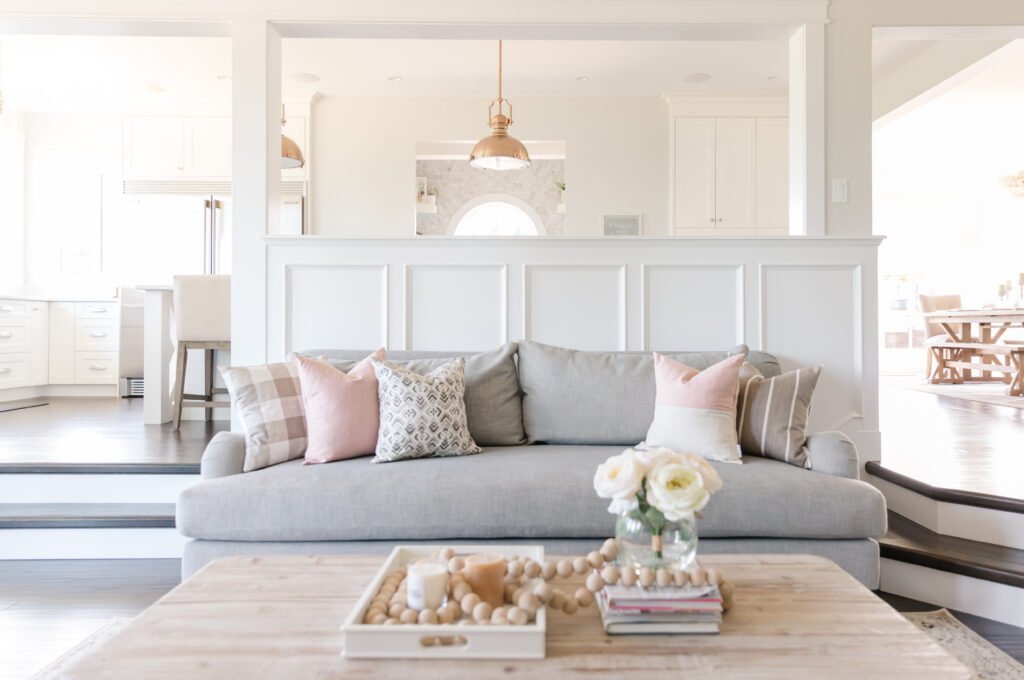 Half walls, also known as pony walls, can create separation and provide a degree of privacy. But for years, whenever you watched a home renovation show, half walls were the first casualty in the demolition process. On the other hand, some designers are using half walls to add architectural interest, storage space and needed separation.So are half walls still considered outdated — like formal living rooms — or are they back in style? It depends on who you ask.
Designers use half walls judiciously
"Creating spaces that evoke a sense of place, scale and comfort can often require definition," says Curtis D. Krahn, Founder and Principal at Synthesis Design. "In this era of open plans, which we love because of the flexibility it affords the spaces, we are still tasked with defining the spaces."And Krahn says sometimes a half wall creates the delineation. "The half wall is tricky and not a solution to be treated lightly," he warns. "If the application is not correct, it can look dated before the paint dries.""Traditional and Craftsman style homes — now that is where one can incorporate a half wall to, for example, help define an entry. But it has to be detailed in keeping with the architectural style," Krahn explains. The photo above is from one of Synthesis Design's projects. "Detailed with raised panels, bases and a substantial top, either stained to bring out the natural wood or painted a glossy white, [a half wall] can be an elegant interior finish," Krahn says.
Half walls create visual lines
Shop These Products Now: Wall Clock – Bricks Wallpaper
"Often, the half wall terminates at a column (or columns) framed with a lintel or a slight arch," Krahn adds. "This enhances the sense of entry while still providing glimpses of the adjacent rooms." In addition, he says that half walls can incorporate inset shelves or niches for books and other items.However, Krahn would not recommend using a half wall in a modern house. "Modern homes, for us, are more about the feature walls that extend, often above the roof, or horizontal lines that are large and imposing to juxtapose the large spaces within." While he believes they have their place, Krahn recommends seeking the advice of a professional before you decide to get a half wall.
When and where to use half walls
Shop These Products Now: Throw Pillow – Sleep Pillow
"As a concept, one must be extremely judicious in choosing where to use a half wall," warns Melanie Giordano, Principal at Barnes Vanze Architects in Washington, DC. "There can be something truly disturbing about this architectural element, which came into style along with mid-century fads like the conversation pit."
Shop These Products Now: Wall Shelves – Pendant Lights
Giordano likens a half wall to an implicit tease. "It stops you from moving through a space, even though it shows you what lies beyond." Half walls are common in many mid-century ramblers, serving to separate the entry from the formal living area. "In that case, a half wall short-circuits the ritual of accepting a friend or stranger into your home because the visitor can survey its private quarters with one sweeping glance through the front door."
However, this isn't what happened in Giordano's design in a home in Gibson Island, MD, featured in the photo above. "The use of half walls in this lakeside master suite successfully separates a sitting area without closing it off from the light and the views of the sweeping shoreline off the rear balcony," she says.Giordano explains that it works because the owners have already entered their private area. "I designed the walls with pilasters and columns that frame an entry into the main bedroom so one doesn't feel cut off from circulating through the space," she says. "The left-hand half wall also defines a cozy corner for the armchair so it's not floating along the larger side wall."
Half walls in the bathroom
"Half or partial walls are a great way to 'screen' areas in a bathroom without completely closing them off," says Jenni Leasia of Jenni Leasia Design in Portland, OR. She created the design in the photo above.Leasia explains that the homeowners wanted the level of privacy provided by a wall instead of glass. "The height is roughly 50″, so it's high enough to control the splash but low enough so the person in the shower doesn't feel closed in, and can see outside of the shower while using it," she says. "The open, airy feeling is enhanced by eliminating the shower door." And there's another advantage to using a tile wall instead of glass. "The homeowners don't need to worry about water marks and using a squeegee after every shower," Leasia says.
What about resale value?
Shop These Products Now: Blanket – Modern Table Lamp
"Half walls can be very stylish when used correctly to create separation or to give flow to a larger space," says John Manning, Managing Broker at RE/MAX on Market in Seattle, WA. "For example, a half wall can provide a pleasing barrier against which a couch can be placed with a hallway behind it." While Manning doesn't think half walls are a great choice for bedrooms (for example, used as stair transitions) he believes they definitely have their place, especially in more traditional homes.If half walls are making a comeback, Patrick Garrett, Broker/Realtor at H&H Realty in Trussville, AL, isn't holding his breath waiting for their return. "From what I have been seeing, half walls have not fully made their way back to being a sought-out attribute for new home buyers," Garrett says. "Many homebuyers are continuito request open concept homes. In my market, half walls would turn off homebuyers," he concludes.