30 Classic Home Library Design Ideas Imposing Style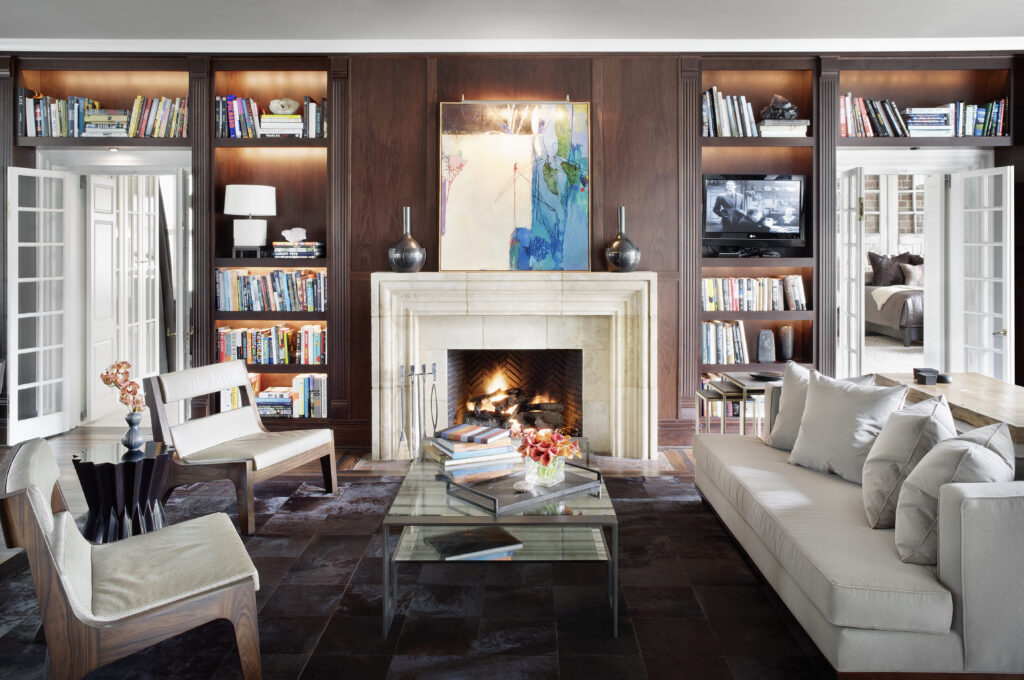 "A reader lives a thousand lives before he dies. The man who never reads lives only one." – George RR Martin
Owning a home library conjures up feelings of excitement as well as promises of comfort, privacy and growth. Imagine walking in to find an almost forgotten world, where light, furnishings and scented books hold the collective key to diving into unique experiences of the mind. Whenever faced with someone's home library, I avidly scan titles in search of that distinct feeling of comfort: aesthetic, sensory-based and promising. Classic library design holds the key to that specific feeling. As soon as you enter a classic home library, you bask in the ambiance of this promise of adventure, romance and transcendence. This dedicated space in your home is the fantastic realm of your imagination entangled with each author's strain of though. When Groucho Marx said:"I find television very educating. Every time somebody turns on the set, I go into the other room and read a book" he might have been thinking about a dream home library like the ones you're about to see. And trust me, details will stick with you for a long time.
Facing the fireplace, a cozy armchair invites you to take a seat and warm your legs with a book in your lap. This residential library appearing in a Connecticut home in Crisp Architects' portfolio hints towards the owner's love for gardening, entertaining and relaxing in their country home. Everything that brings joy to the soul, knowledge to the mind and vivacity in the body is worth investing in. Within a naturally rural landscape, a country home library seems to be the crowning of relaxation.
Imagined by Peter S. Balsam Interior Design Associates in warm walnut paneling, this English style library design marries new and antique furnishings in a warm synonym and inviting environment. With light creating the perfect reading atmosphere, the library seems to lack modern technology. But don't be fooled, a TV projector and screen drop from ceiling when you need them.
Custom library design starts with custom cabinetry and shelving. Imperial Design creates fine custom cabinetry for the entire home environment and the library example above is part of their portfolio. Showcasing a mix of deep, warm colors, this library provokes you to take a trip down memory lane while looking through your photo albums or share an adventure with fictional characters in a comfortable setting.
Re-purposing spaces in your home might get you that fabulous library you kept dreaming about. See Pierre Paul Design's work on a home library that did not exist in the original footprint of the house. The designer imagined this cozy library in a space reserved for the home's second story open foyer.
This Far Hills home library and office boast a welcoming atmosphere, a symmetric library layout that cocoons you into a protective space while you sail adventurous imagination waters. Millwork & More created this delightful library showcasing mirroring bookcases, a distinctive area rug in the middle plus two different armchairs where you can have a cup of tea while reading your favorite novel once more.
This wood-paneled library provokes the mind to take a darker road, one mustering with adventure under the carefully dissipated lights. Susan Fredman Design Group knew how to create a classic home library design that acts as a quiet retreat and employs the aesthetic power of textures and subtle tones.
This is actually a clubhouse library and it holds inspiration for building your own home library inspired by classic design.  Part of the Village at Tuscan Lakes, this elegant library beautifully displays a wooden-paneled comfort zone where socialization and reading entangle in an effortless good time. Do you belong to a book club?
The Dome Penthouse at the legendary Plaza shelters a library you are rarely given the chance to see. This fabulous home overlooking Central Park and 5th Avenue was designed to bring together classic stylish elements in a very modern setting.
There's one last example of a home library in our list – a comfortable, simple, and serious library that bounces us from luxury library design back to cozy, welcoming reading/writing spaces within the home. This dedicated space can be seen in Ruth Mortensen's design portfolio – a library where there's a place for everything and everything is in its place. Now that we've seen 30 classic home libraries bordering on fairytale, we would love to know that people inspired by Freshome read the coolest books. We're curious what book would you choose to read in which of the libraries in this list? So share with us your dream library setting in the comments below.