10 Things Nobody Tells You About Decorating A Tiny Apartment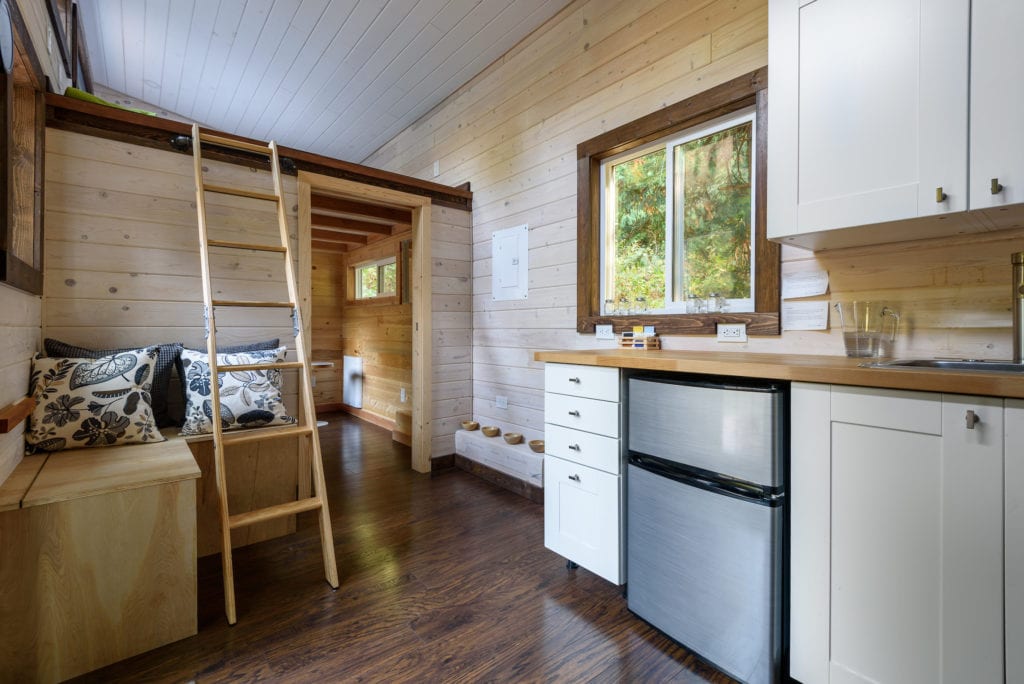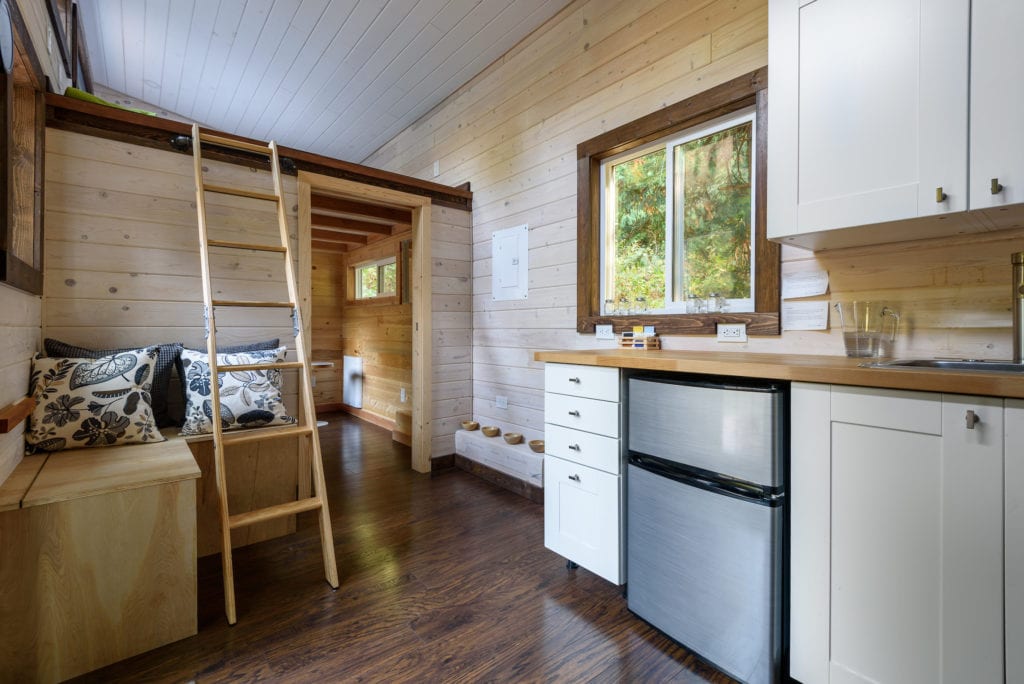 Shop These Products Now: Ladder – Throw Pillow – Drawer Storage – Mini Fridge
Small apartments have their upsides – lower rent, often a closer proximity to bustling downtown areas, and a certain irreplaceable cozy charm. That is, if you know how decorate.
One misconception that people often fall prey to when  decorating tiny apartments is that all the focus should be on functionality rather than design. That sentiment could not be further from the truth. Your apartment may be short on space, but that doesn't mean it has to be short on style.
Rather, it's finding the right balance between the two is critically important to creating a space that you'll be comfortable living in for the foreseeable future. You need to focus on filling your home with items that fit your needs while highlighting  your personal aesthetic. Follow these decorating tips that ensure that you make the most of the space you have while still letting your personality come through. While you may think it's difficult to decorate a small apartment, see how to live large in a small apartment tips here too!
1. Carefully Delineate Separate Areas
At first glance, it may seem like open concept living is the way to go when decorating a tiny apartment. However, this can be overwhelming to the eye and over time a lack of definition to the space can lead to things looking messy.Do your best to define separate areas and give each area a specific purpose. Put coat and shoe racks by the door to round off your entranceway. Position a buffet between your kitchen and dining areas for easy serving and extra storage. Back your sofa up to the foot of your bed to instantly draw the eye into your living area. If you are sharing a room with a home office look at these 30 creative home office ideas to be productive and save space.
If you have a particular interest or hobby, don't be afraid to let those play a key role in separating the space while showing who you are. An indoor bike rack like this one by Thomas Walde leaves your bike looking like it's an internal  part of the room rather than just being stored. Or, you could use plants from an indoor garden to signify changes in the use of space.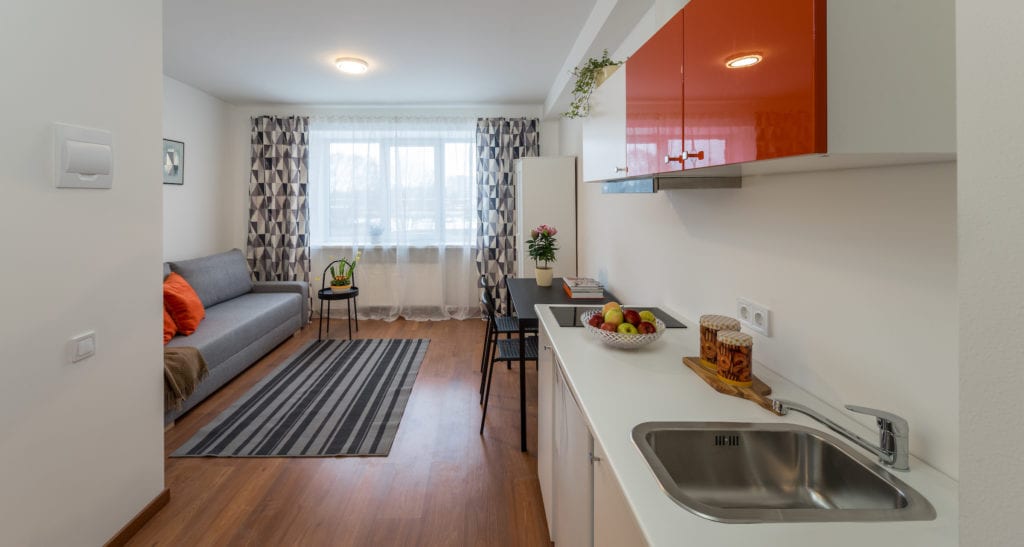 Shop These Products Now: Curtains – Sink Faucet – Fruit Bowl – Ceiling Lights
2. Invest in Dual-Purpose Furniture
When dealing with a small space, every inch counts. Make the most of the room you have by investing in furniture pieces that will do double duty. Rather than trying to work your space around furniture, focus on buying pieces that will work with you. Bedrooms are the perfect rooms to have multi-purpose furniture. Look at these 22 ways to maximize space in your small bedroom.
Consider a trundle bed that can be folded into a sofa when watching TV, a hollow ottoman that can be used for can be used for storage, or a dining table with a built-in leaf that will make it much easier to entertain guests.
Whichever duel-purpose furniture you choose, make sure to select pieces that are size-appropriate to your space. Overstuffed models will only serve to make your living space look even smaller. Don't worry too much about finding sofas  that are daintily-scaled, many companies like Smart Furniture and Apt2B specialize in creating furniture that is fit for micro-living situations.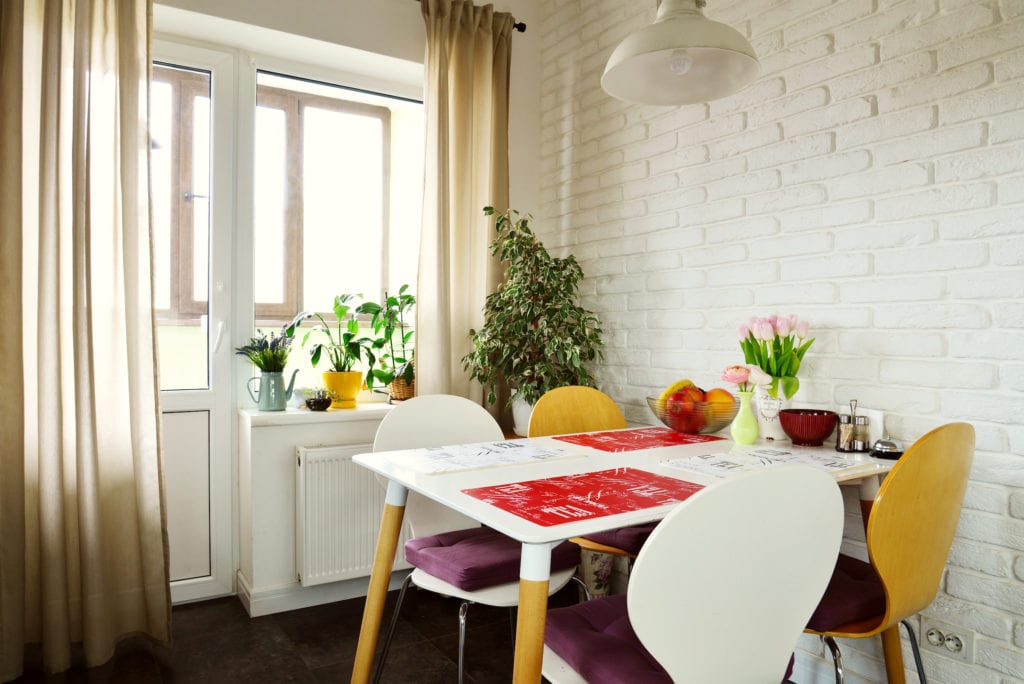 Shop These Products Now: Dining Chairs – Curtains – Flower Pots – Ceiling Lamp
3. Rethink Unused Spaces
After living in the same space for a considerable amount of time, it can be easy to get stuck in a rut in regards to how you use it. You know that you store extra baking dishes in the oven it is not in use, extra candles in one of the coveted kitchen drawers and clean linens in a storage box under your bed. But, have you ever considered the possibility that maybe you're not using your space in the most effective way possible?
Challenge yourself to look around your apartment and identify all of the "dead spaces" or spaces that aren't currently serving a useful purpose. Think about unused corners and blank walls. Then, try to brainstorm ways to use those spaces to your advantage.
Turn a large windowsill into a workspace for when you need to take business home for the night. Purchase a corner shelving unit to give yourself a place to store your bar essentials. Place a few baskets on top of your refrigerator and use them to hide your lesser-used serving plates.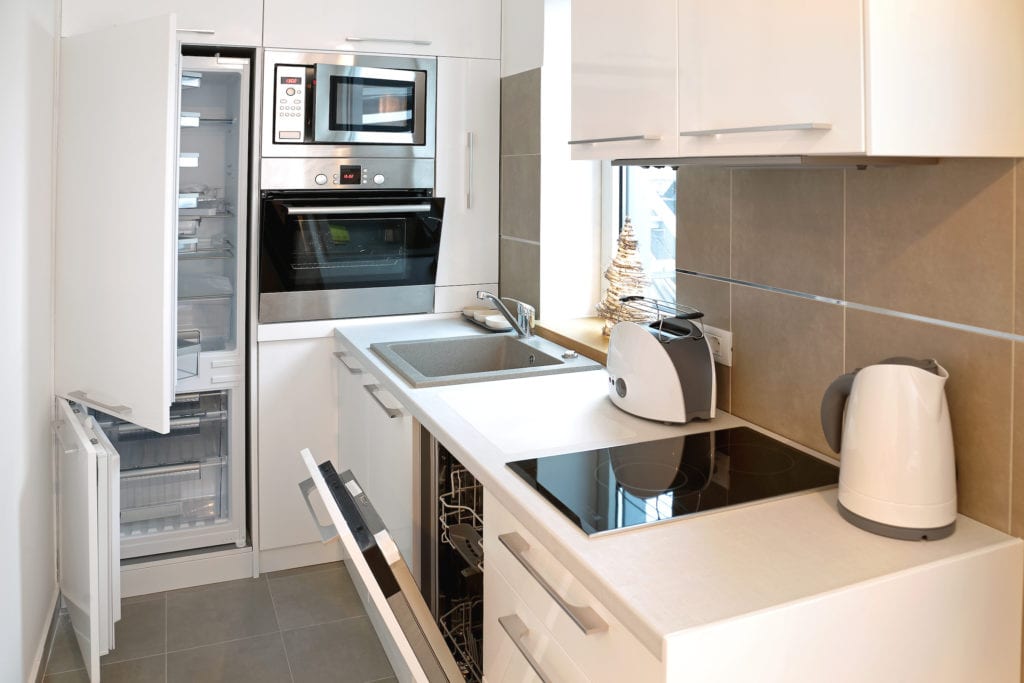 Shop These Products Now: Microwave Oven – Refrigerator – Toaster – Sink Faucet
4. Go Vertical with Storage
In planning the best way to make use of a space, it's critical to think vertically as well as horizontally. Tall, narrow storage systems are your best bet when trying to get the most storage out of the least amount of space.
Place two identical bookshelves on either side of a doorway for a built-in shelving look. Or, a large entertainment center that reaches from floor to ceiling serves as a great room divider between your sleeping and living areas.
If you really want to take storage to the next level, consider using your available wall space as a hiding place for fold-away furniture. Murphy beds get a bad rap, but this transformable technology has come a long way from the cheap motels of the past. The LGM Tavolo by Clei features a queen-size wall bed, 35 linear feet of shelving, and a 5 foot fold-down workspace table. Since each feature folds independently, it truly lets you dictate how you'd like to use your space.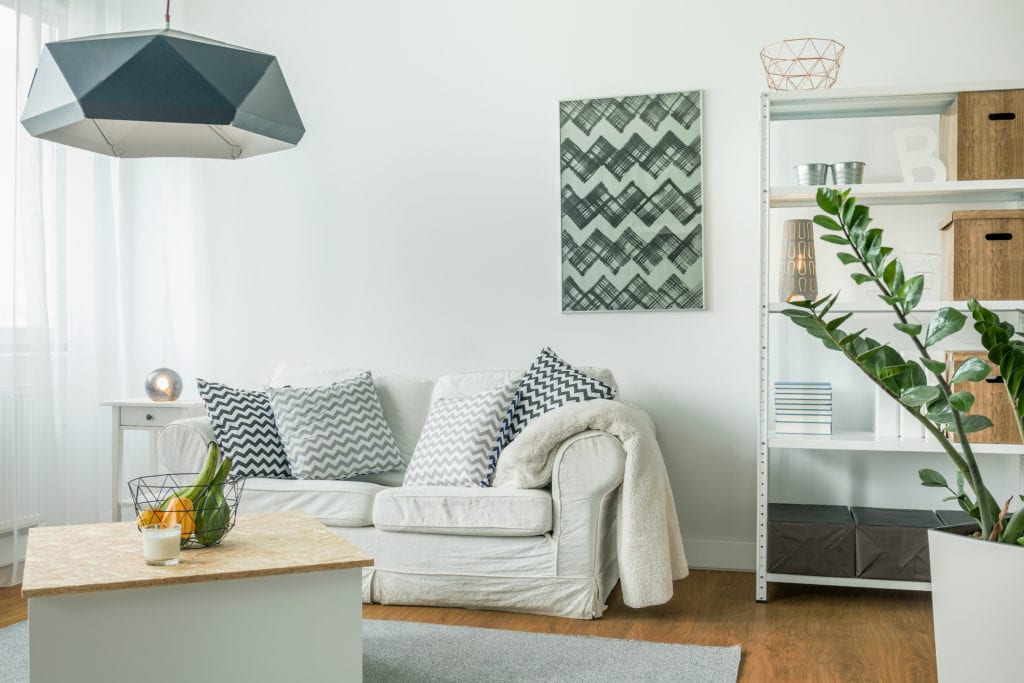 Shop These Products Now: Sofa – Throw Pillow – Display Shelves – Artificial Plants
5. Find an Organization System
Everyone knows that storage is king when it comes to small apartment living. You need vehicles to help you hide unavoidable clutter from view. But, when it comes down to practical use and being able to find what you need, all the storage in the world will not be helpful to you if it's so messy inside that you cannot tell what's being stored. Invest in some organizers that will help keep you on track.
Back-of-the-door shoe-hangers offer pockets that can be used to hold anything from cleaning products to extra snacks. Lining shelves with small baskets creates a uniform look while hiding any clutter from view.
Once you own a few organization tools, the key is actually utilizing it. According to a study by Phillippa Lally, a health psychology researcher at University College London, it takes an average of 66 days to form a habit. Set a goal to return items to their proper places immediately after using them for those 66 days. After the adjustment period, keeping your apartment organized will be a snap.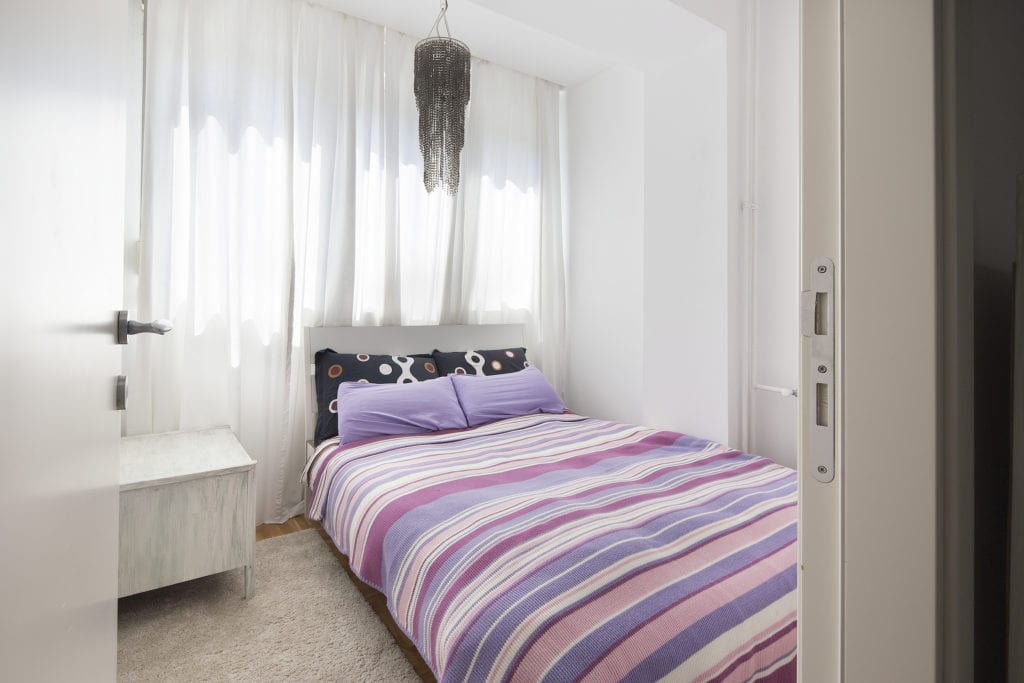 Shop These Products Now: Pillows – Bed Sheet – Curtains – Hanging Lights
6. Choose a Light Color Palette
Keep things light when choosing colors for you apartment. While rich, darker colors have a tendency to make spaces appear smaller to the eye, light shades open things back up. Try using the right color palette for your interiors when choosing colors for your small apartment.
When choosing your palette, focus on using three colors: two, light, bright shades that decorate the majority of the space. Then, add in one darker accent color to ensure things stay visually interesting.
If you absolutely cannot live in a world with so little bold color, you can still get your fix with furniture. Choose one main color and buy or paint all of the furniture for that area in the same shade. Then, pick a second bold color for the room's accents. However, you may want to limit your pop of color to one section of the apartment. Too many statement colors in one tiny space can get overwhelming.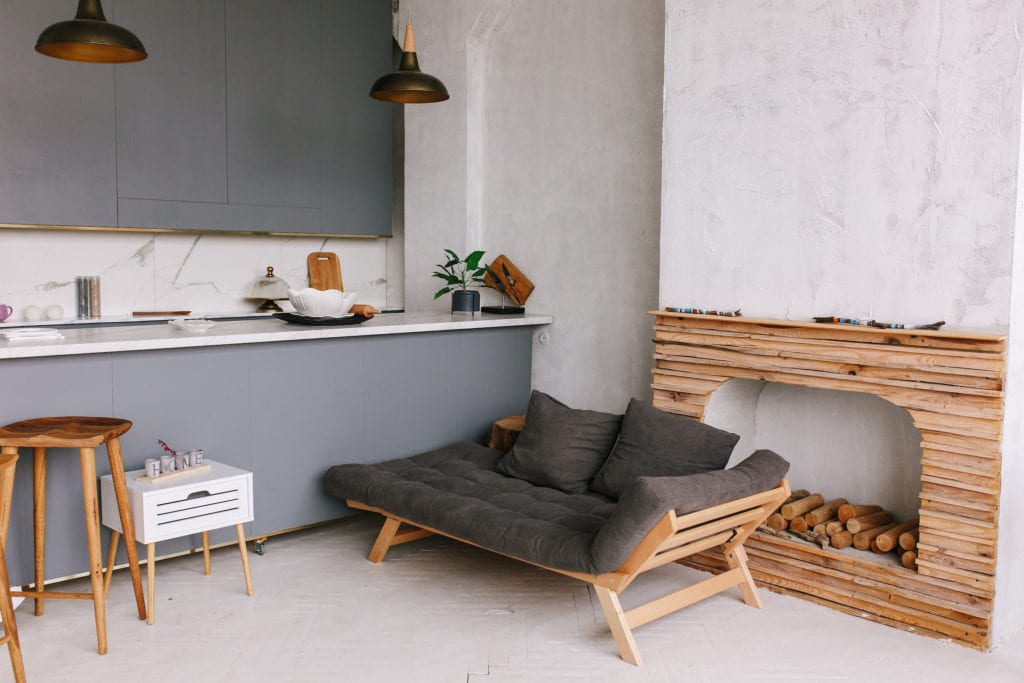 Shop These Products Now: Throw Pillow – Wooden Stool – Flower Pot – Ceiling Lamps
7. Add Curves with Furniture and Decor
Since most tiny apartments tend to be box-shaped, use your furniture to add some curves back in. According to Libby Langdon, a small-space consultant on HGTV's "Small Space, Big Style", curvaceous furniture will keep things from looking monotone.
Think about using a round dining table or a sofa and chair set with angled sides.
Once you've found pieces that suit your needs and your personal style, make sure to compliment those curves by using similar shapes in your accessories. Rather than choosing a plain, rectangular bathroom mirror, opt for a round one that makes a statement. Rather than settling for a straight floor lamps, try a few table lamps that have a more rounded shape.
If there is any natural shape to your apartment itself, make sure you play it up. Turn a curved window into a cozy reading spot by adding a chair and bookcase by the spot. Make exposed beams a focal point by embracing an industrial design scheme.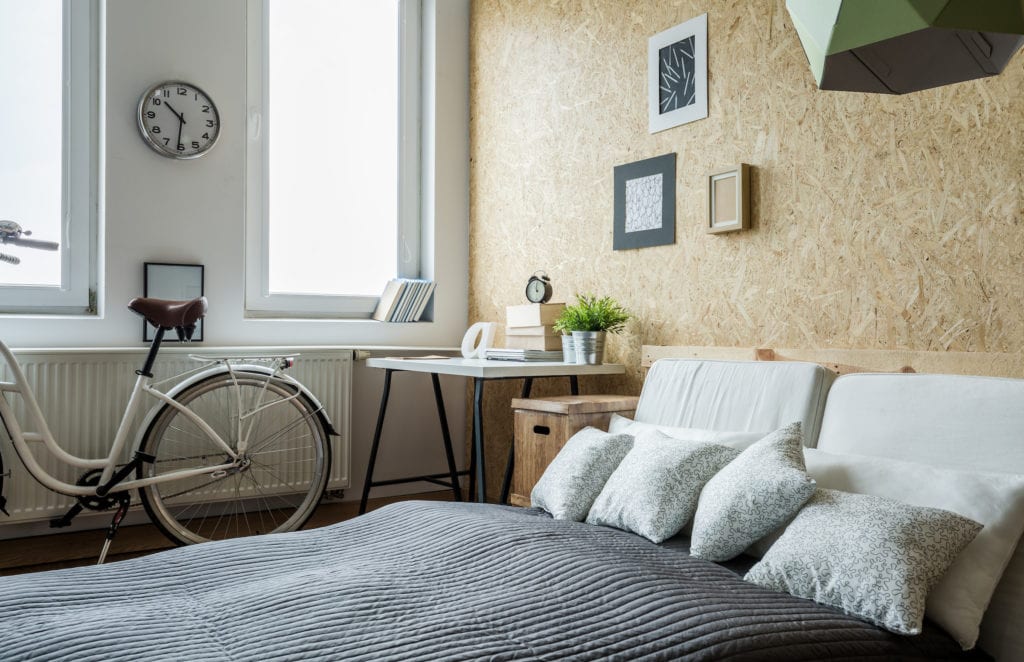 Shop These Products Now: Wall Clock – Wall Mural – Throw Pillow – Bedroom Plants
8. Layer to Add Depth
One thing that small spaces lack is depth, since there is only so much space for the eye to take in. Luckily, you can make up that depth easily by layering in your design.
Shadow boxes make excellent wall hangings. Add a few throw rugs to help cover up less-than-luxurious carpeting. Layer your bedding with multiple blankets and throw pillows add depth while keeping you warm and cozy.
It's important to note that layering is not just about piling one design element on top of another. It's also about creating contrast. So, when you're selecting the items that you'd like to layer throughout your apartment, go for pieces that have varying materials, textures, and patterns. For instance, if your sofa is very neutral chose boldly-patterned throw pillows. If your flooring builder-grade opt for a heavier throw rug in order to add weight.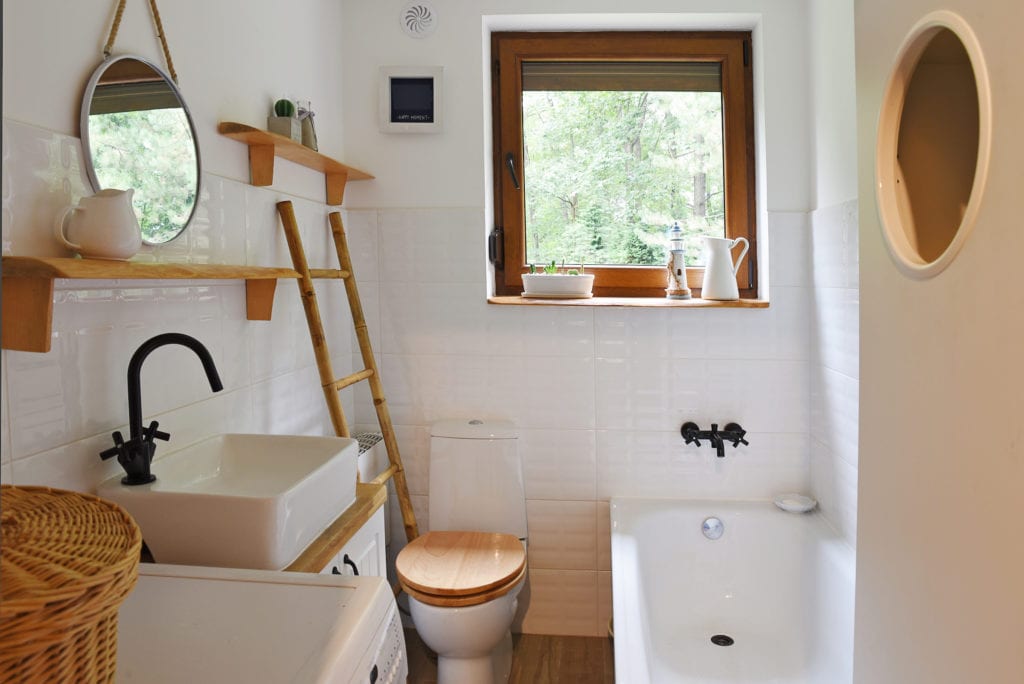 Shop These Products Now: Sink Faucet – Bathtub – Toilet Seat – Towel Ladder
9. Embrace the Floating Design Trend
Large, bulky furniture pieces can make a small apartment seem closed-off. Incorporating floating elements into your design can open things up by allowing the eye to travel all the way through the space, while still providing the same functionality.
Try using floating shelves in lieu of a bookcase or a floating sink in place of a traditional vanity. In terms of furniture, pieces with legs will seem to take up less space than those that sit directly on the floor.
Tie everything together as part into a cohesive look by incorporating floating design into your décor. Create a gallery-style display by purchasing a few floating shelves in varying sizes. Have fun staggering them to create a unique arrangement. Then, look for a variety of painting, photographs, statues, and accessories to fill in the space. In no time at all, you'll have your very own art house installation.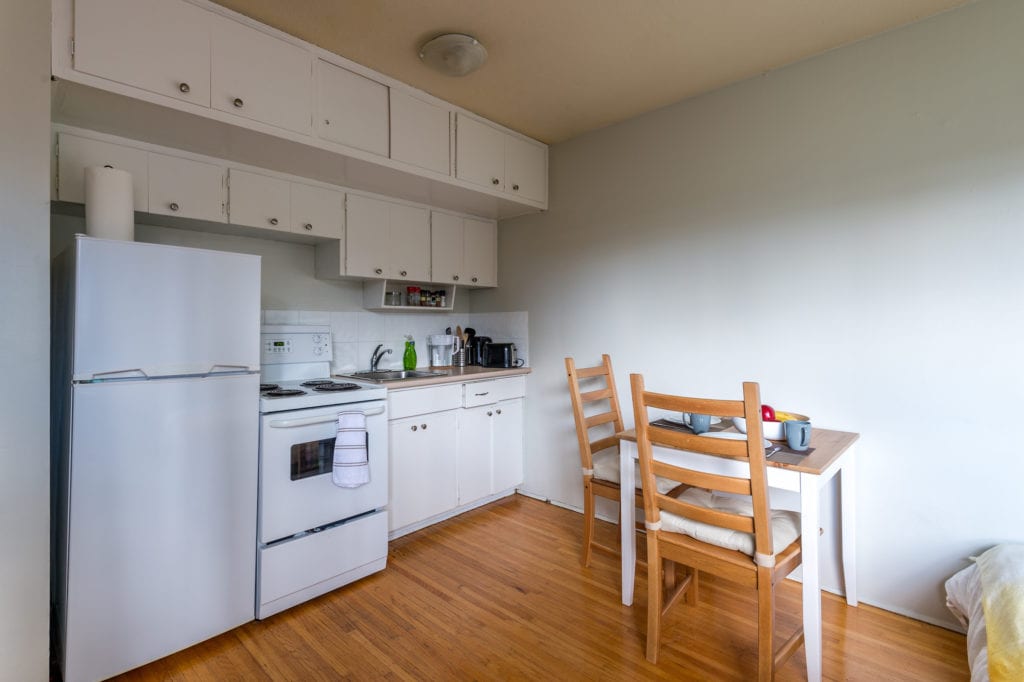 Shop These Products Now: Coffee Mugs – Refrigerator – Fruit Bowl – Ceiling Lights
10. Unclutter Your Apartment Regularly
It's only natural to accumulate clutter after living in the same place for some time. However, when living in a small apartment, the clutter is much more apparent because there are fewer places for it to hide.
Once or twice a year, make an effort to go through your possessions and revaluate what should be kept. You'll be surprised how many items are less than necessary and how much clearer your home looks once you've finished.
For those who have a hard time combatting clutter, professional organizer, Linda Rothschild, shares her tips. She recommends setting a deadline, tackling one area in of organization at a time, starting with the most cluttered area first. She believes keeping organizational tasks small will help them seem more manageable and prevent fatigue.
Living in a small apartment doesn't mean that you have to let go of interior design for the sake of functionality. Instead, you should try to strike a balance between the two focuses. Refer to this article when decorating your tiny apartment to make sure that it suits your needs while looking sharp. If you have a design tip related to small spaces, feel free to share it in the comments below.