MYMOVE's Guide to Small Apartments, Compact Living, and Minimalism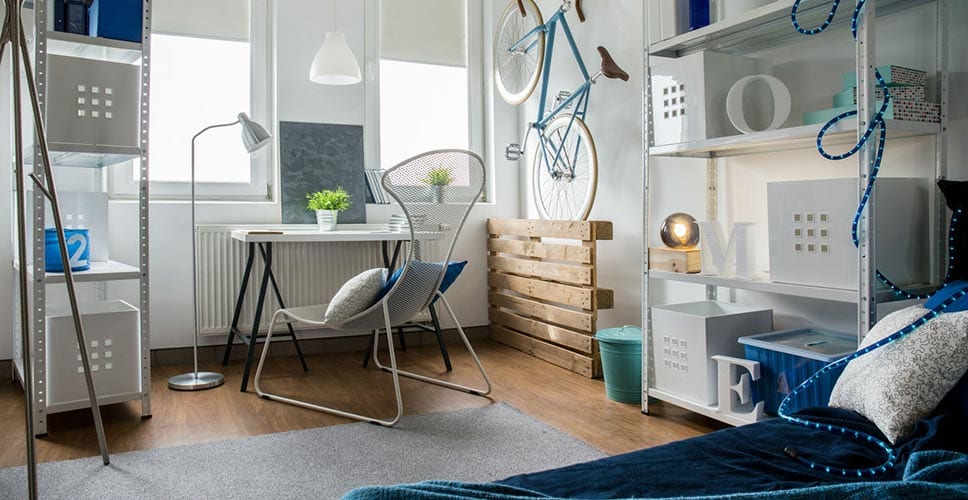 Today's world allows people to travel, work, and make a living simultaneously. This gives young people the freedom to venture out of their hometowns and explore the world at large. A 2016 study found that millennials take an average of 4.2 trips annually. Due to a changing culture aided by technology that enables a transient lifestyle, there is a major shift in the demands of the market evoked by America's youth — especially in real estate.
This has given rise to the phenomenon of minimalist living — or living with less. That means fewer possessions and, often, smaller living spaces. The inception of van life, tiny house living, and small city-apartments can be due, in part, to the young person's craving for a lifestyle unhindered by an excess of things.
MYMOVE has taken a look at the minimalist lifestyle — both why people choose it and how they do it.
Why people are choosing to live small
Sustainability
As it turns out, minimalism is trending. There are more than 750,000 combined followers on Instagram accounts that support downsizing and sustainability — accounts like @cabinlove @tiny_living @projectvanlife. Eco-friendliness, less energy use, and decreased waste promoted by small, sustainable living are all reasons people choose to downsize — in both the city and the woods.
Cost-Efficiency
With the high cost of living in big cities, residents are looking to smaller spaces as a matter of affordability.
A 2018 survey of apartments showed that on average, apartments are 941 square feet. In cities such as Manhattan and San Francisco, one-bedroom apartments are 733 square feet and 737 square feet, respectively. According to a 2018 study, the median rental price for NYC was $2,560/month while San Fran's was $3,100/month. Based on those numbers, residents of NYC will be paying about $25,800 a year in living expenses. San Francisco's tally comes to $29,640 annually.
As it turns out, people are looking to live small and save a buck. (2018 numbers show a downsize from a one-bedroom to a two-bedroom could save the renter about $400 to $600/month.)
While 700-foot studio apartments may seem like a stretch, 21st-century technology has provided solutions to managing a small living space. From digitizing documents to unique storage options, one can live comfortably in the confines of a tiny space.
Lifestyle Flexibility
Downsizing for millennials means more money put toward saving, paying off debt, entertainment, and travel. Simple living has allowed young people to remove the clutter from their lives and take advantage of their youth. Whatever the reason or circumstance, a compact living situation does not have to be approached with dread.
The ultimate small pad set-up
The small living space is an opportunity and a haven for creativity and ingenuity. Whether you are living in a small cabin in the woods or a big-city apartment, there are endless options for storage, entertainment, and decor.
Here's a list of tips to help make the most of your living space:
Get the right tech
The home is a sanctuary for sleep, meals, and relaxation. Equipping the household with the right smart home gadgets and tools can help make a small living space more vivacious. Access to multiple entertainment outlets is a huge bonus for modern living.
"Having dynamic entertainment options is imperative for the modern-day consumer," stated John Nelson, a home services expert, "there are various needs that one fixed package or deal will simply not fulfill."
Also, using TV disguises can help make a room seem bigger. Disguises such as The Shutter TV Wall Cabinet and the Samsung Frame are great examples of how a living room can be transformed to appear bigger and more decorative.
Cordless features such as Sonos, Amazon Fire Stick, and Alexa clear up the clutter and provide a cleaner looking space. Mark Scott, a remodeler based out of D.C., says, "Other nice features for home entertainment include hidden sound systems in zones that you control from a smartphone."
Less is always more when moving into an apartment or small house, but having the right technology can help make the use of space more efficient.
Be smart with storage
There are many innovative storage solutions to creating more space in tight quarters. Storage designs include elevating beds and furniture, hanging pots and pans, and utilizing wall storage. The best way to save space is to be effective in storing clothes, dishware, and even bikes. Use the wall space to hang bikes, store shoes in small spaces, and use closets to store more than just clothes.
If you have the OK from your landlord or own the living space, you can experiment with folding walls, lofts, and even adding storage to the ceilings and stairs.
Follow influencers on social media
Most inspiration comes from following influencers on social media. Ideas range from IKEA DIY Ideas on Pinterest to attic designs on Instagram and compact living models on Twitter. Seeking advice on social media can help you start building an ideal home in a small space and even inspire a home out of the ordinary.
Some of the best ideas come from homes that are unlike yours, and people that have entirely different motives, backgrounds, and interests. Finding the right people on social media can be as easy as entering keywords into the search query like: "tiny living," "small homes," and "apartment ideas." By exploring unique views on living spaces, you can create an ideal home you never thought you would have.
Living like nomads
As millennials begin to graduate from high school and college, a subculture of full-time travelers has emerged by making money in a true 21st-century fashion — working remotely. Therefore, many young people are moving into the lifestyle dubbed, #VanLife. While this sort of lifestyle is cut out for only the truest of nomads, there are many takeaways from this type of minimalistic living.
Elements of some of the world's most innovative van conversions today can be translated to small apartments, cabins, and houses. The biggest takeaway is the overall efficiency in storage, energy use, and space. Ideas include: creating space for storing clothes under your bed, using wood designs to give the space a warmer atmosphere, and designing a room for multiple uses. As mentioned above, the best ideas come from people who know this lifestyle best, social media influencers.
The future of the real estate market
The current projected age for home buyers is 25 to 45 years of age, and this could mean a surge in the real estate market. Being one of the largest generations in history, it can be both good and bad news for real estate markets across the country. Millennials may be moving toward big cities and away from rural towns, but according to a 2015 study conducted by The Urban Land Institute, 13 percent of millennials live in a downtown area and 63 percent live in the suburbs.
Despite a surge of roughly 11 million millennials moving to the city, it is projected that as millennials grow older they will grow out of the apartment life and into a home. This trend of the rising generation will greatly impact the way our cities function. However, future-proofing your home starts with the ability to live compact and efficient lifestyles.