7 Small Space Storage Hacks You Need to Know Stat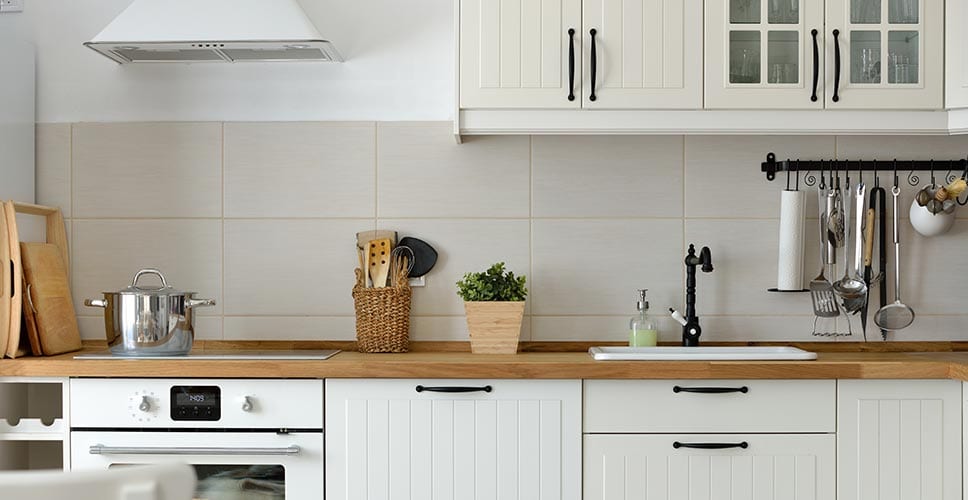 You're just about to move into a small rented space. Despite every effort to purge yourself of any nonessential possession, you're still going to be crammed in your new digs. Yes?
While the internet is brimming with small space hacks, many put your rental at risk for incurred damage. If — and when — you move again, one thing's for sure: you'll want that security deposit.
Small space renters unite! These damage-free storage hacks have your back. Here's how you can organize your chaos without robbing yourself of necessities — or that security deposit.
Seven Small-Space Storage Hacks
1. Play hide-and-seek with a peekaboo pantry
Just between us (and the wall): here's an instant way to spice up your kitchen. Slide an extra-slim rolling cart into a crevice — such as the one commonly found between the fridge and the wall — to store spices, oils, and other kitchen essentials. These rolling slim shelves typically hover around $30, but the freed-up cabinet space is well worth the investment (as is the peace of mind that you won't have glass spice containers tumbling onto you from overhead).
2. Collapse your kitchen clutter
Even stackable kitchen essentials — like bowls and pans — can take up precious culinary real estate. What's a chef to do? Enter collapsible kitchen tools. From colanders to pans to bowls to cake carriers, there are endless products you can consolidate for more cabinet and storage space. For proof, check out these 15 collapsible kitchen tools. Voilà!
3. Find furniture that adapts to your needs
When casually installing a Murphy bed into your wall isn't a reality, look to free-standing convertible furniture for comfort. Futons aren't the only furniture that can transform at the flick of a wrist. How about a console table that can expand into a dining table? Or a bed that can pop out of — wait for it — an ottoman? When searching for this type of furniture, keywords like "convertible," "collapsible," and "transformable" can help populate results and inspiration. Here are 20 pieces of convertible furniture to get you started.
4. "Multi-Purpose" the furniture you have
If you're already equipped with — or emotionally attached to — furniture, dig deeper into how you can multi-purpose these prized pieces. For example, use an entry table or living room console table as a desk. Double a desk as a vanity station. You can even use two identical desks or tables to create a dining table when hosting. If you can dream it, it probably exists — such as a book seat: a curved bookshelf that's also a reading seat.
5. Arm yourself with a couch sleeve
Coffee tables are essential for many renters, but they're also space-dominant. Reimagine its identity — so it's not monopolizing too much floor space (or really any space at all) — with a wooden couch sleeve. Couch sleeves envelop the armrest with a hard surface, giving you an ergonomic place to rest your arm, drink, book, or remote. These improvised tray tables typically run upwards of $25. Are you an avid DIYer? Create your own.
6. Step up your under-the-bed storage game
Increase your under-the-bed storage vastly with bed risers. They'll enable you to store many more organizational and storage tools — such as large plastic bins —accessibly but out of sight. Though risers range in pricing depending upon height and weight support, some options are under $10. Bonus: the added elevation will make you feel like royalty.
7. Use the damage-free hooks at your command
Your wish is an adhesive hook's command! Damage-free hooks — such as Command Strips — allow you to quickly, easily and temporarily organize clutter in nooks not capitalized on. When paired with household sidekicks, these hooks can make just about anything happen. Hook a magazine holding sleeve on the side of your bathroom vanity to store hairdryers and hair products, or affix one to the inside of a kitchen cabinet to vertically store foil and cling wrap. Adhere a shower shelf on the inside of your bathroom cabinet to keep toiletries. Hang a curtain rod in your closet to dangle high heels from, or even in the kitchen to suspend coffee cups near your coffee pot.
Inspiration: on. Limitations: off